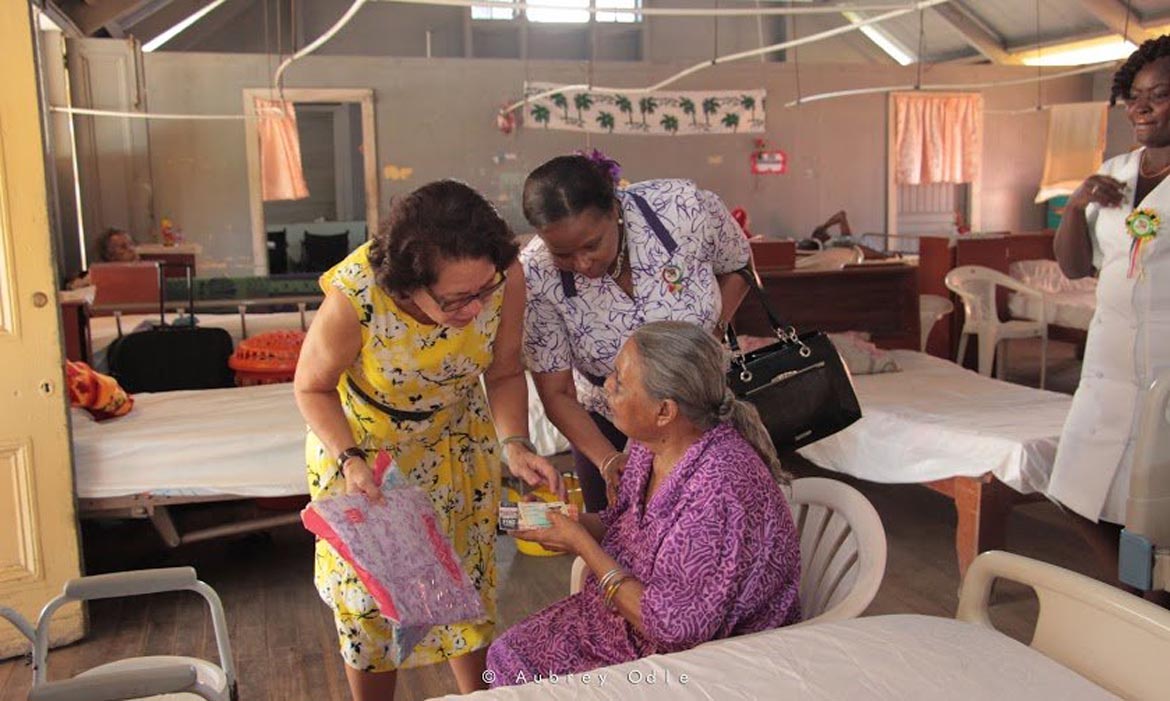 Georgetown, Guyana – (May 25, 2016) First Lady, Mrs. Sandra Granger, today, paid a special visit to The Palms Geriatric Home as part of an initiative to treat the female residents in honour of Guyana's 50th Independence Anniversary Celebrations.
The First Lady explained that this was a collaborative effort with the Ministry of Social Protection as well as the Women Across Differences (WAD) group. The women received a donation of 96 sets of bed linen and dusters from the First Lady and Minister of Social Protection, Ms. Volda Lawrence.
"This is all part of sharing the love and spirit of Independence," Mrs. Granger said, "It is also an inter-generational activity because the girls [from Women Across Differences] were able to meet with seniors they might not have met in their ordinary lives and I think they had a good time."
On Monday, representatives of WAD had visited the 96 female residents of the home and treated them to a special 'spa' session of manicures, pedicures and hairdos.
The First Lady, Mr. Sandra Granger, interacting with one of the female residents during her visit at the Palms Geriatric Home
(Photo by: Aubrey Odle)
Minister Lawrence explained that the initiative was conceptualised with an aim the aim of reminding others that there are those less fortunate among us even as we celebrate the nation's Jubilee.
"We are celebrating and in order to celebrate you have to prepare and this is just one of the ventures that we have partnered with NGOs and other organisations to ensure we bring cheer to the persons whom we are given the permission to care for," the Minister said.
The Minister also said that she hopes that the initiative could be repeated for the male residents on Father's Day.
Meanwhile, Representative of WAD, Ms. Ann Greene said that the organisation enjoyed working with the First Lady and lauded the initiative.
"We give thanks to the First Lady for this initiative and we at Women Across Differences will continue to work with her. It was a very good experience with the girls. The girls got to speak with the women about what was going on in 1966. I think it was very encouraging. They enjoyed interacting with the ladies and all the ladies were very accommodating to the girls," she said.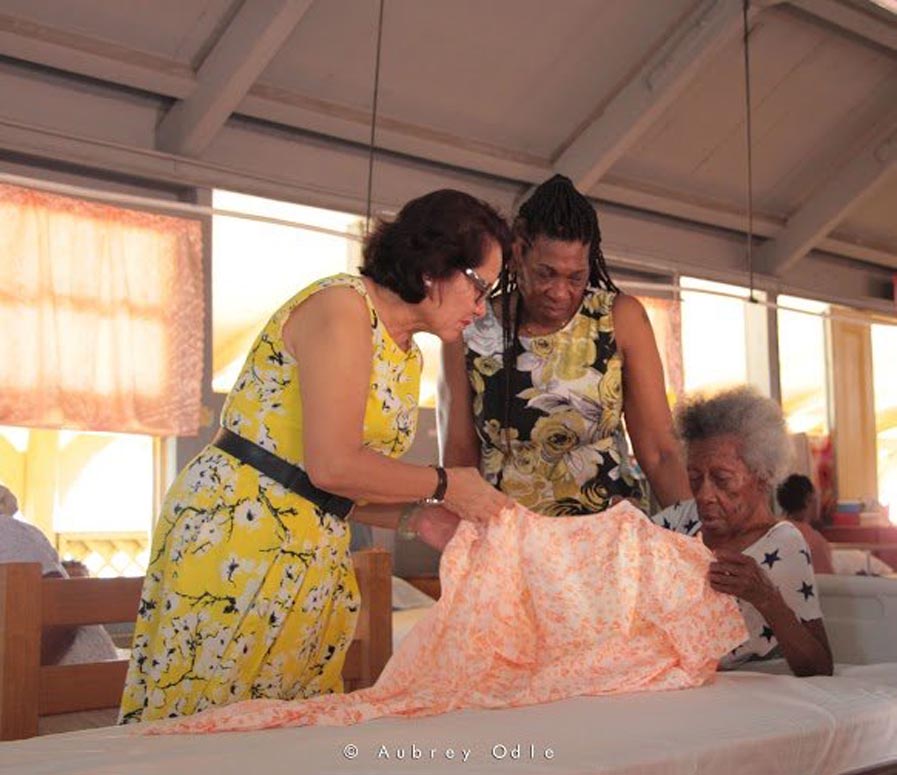 The First Lady presenting a duster to one of the female residents at the Palms Geriatric Home
(Photo by: Aubrey Odle)