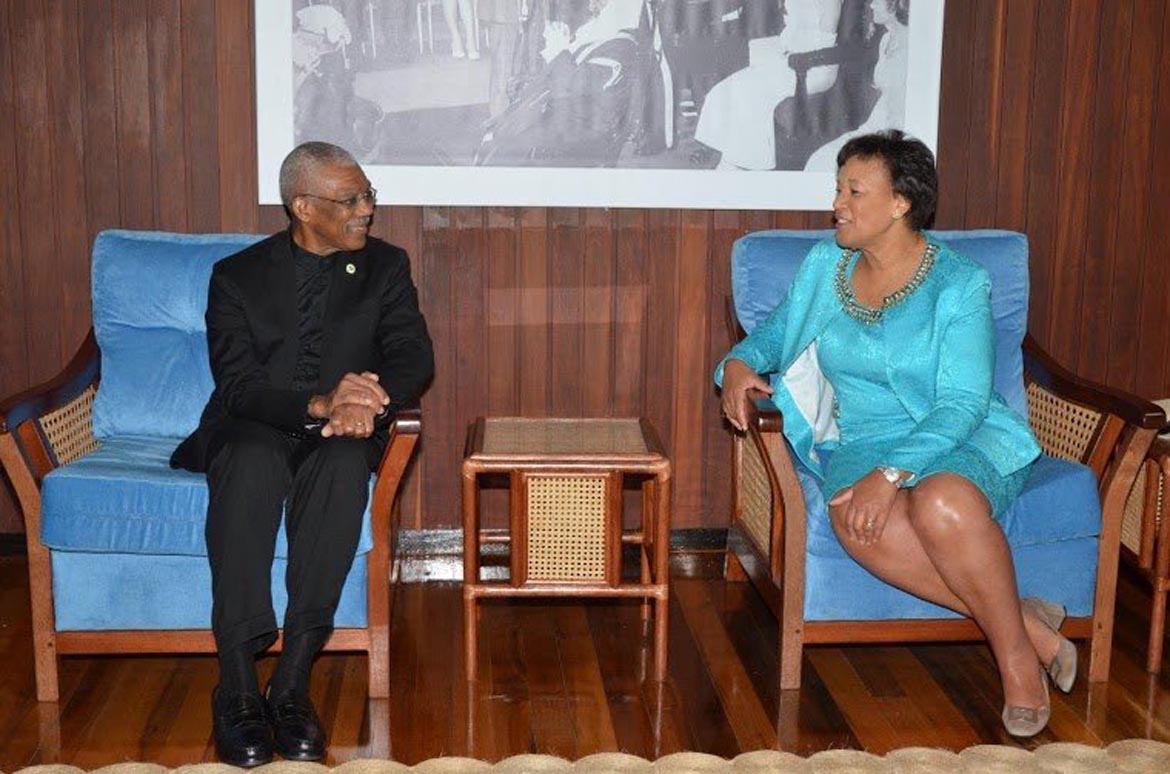 Georgetown, Guyana – (May 25, 2016) Secretary-General of the Commonwealth of Nations, Baroness Patricia Scotland, this morning, during a courtesy call on President David Granger, at the Ministry of the Presidency, said Guyana is a diamond in the Region and that the Commonwealth stands resolutely behind this country in the face of Venezuela's claims on its territory.
Baroness Scotland, who is here to participate in the Golden Jubilee Anniversary of Independence celebrations, held discussions with the President and Minister of Foreign Affairs, Mr. Carl Greenidge, on the on-going Guyana/Venezuela Border controversy. The Secretary-General said that the Commonwealth stands behind Guyana and is willing to lend whatever support is required.
"The Commonwealth has always stood resolutely by Guyana's side and I think that it's easy to forget that we represent 2.3 billion people and 53 countries; so Venezuela understands absolutely that if they decide to single out one of our sister countries then it is singling out all 53. So it is really important for Guyanese people to know that one third of the world's population stands with you and you do not stand alone and you never will. Once I am Secretary-General, I am going to remind the rest of the world that you are not on your own," Baroness Scotland emphasised.
Baroness Scotland's visit comes at a time when Guyanese are preparing to celebrate 50 years of Independence but May 26 will also mark one year since Venezuela issued Decree 1787, which claimed a significant portion of Guyana's territorial waters. The new Decree was followed by a military show of aggression on September 22, when Venezuela's army deployed over 200 troops with missiles, machine guns and a military boat on Guyana's frontier between San Martin and Ankoko Island.
President David Granger and Baroness Patricia Scotland, Secretary-General of Commonwealth of Nations during the meeting.
Nevertheless, the Secretary General said that Guyanese have much to celebrate and should use this momentous occasion as a time of reflection even as they look back with pride on their accomplishments to date.
"I think we need to rejoice. This is a golden anniversary. Guyana is a beautiful country and it has some of the most beautiful people in our region because it is a mix. I think if you look at the faces of the Guyanese people, you'll see our history… I think that it is an opportunity for us to celebrate because Guyana has always been one of the diamonds of our region; a small state but with real beauty. So I am here to celebrate, I hope in real Guyanese style and I know that it will be fabulous so I want to say to all of Guyana, happy anniversary. Be proud of your nation; be proud of all the wonderful things you have achieved over the last 50 years," Baroness Scotland said.
The Secretary-General noted that while there is still work to be done, Guyana has indeed come a far way.