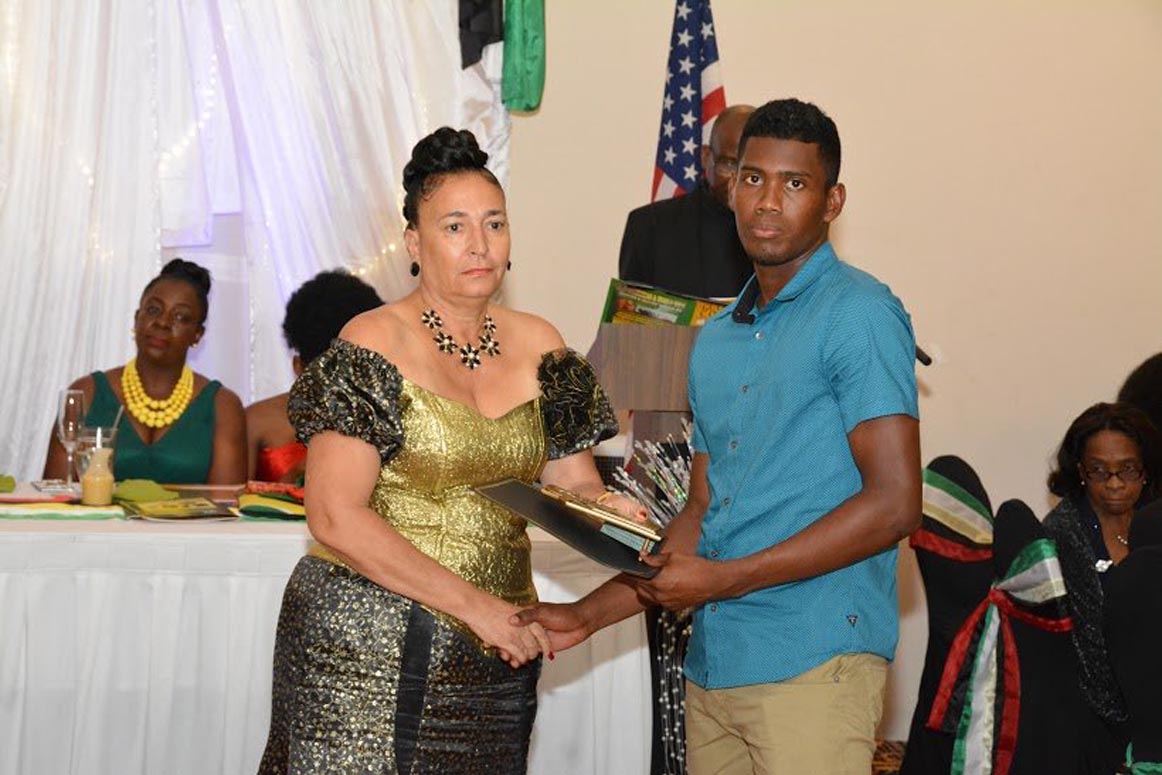 Georgetown, Guyana – (May 21, 2016) First Lady, Mrs. Sandra Granger, this evening, was awarded for her contribution to the improvement in the lives of the most vulnerable sections of the Guyanese population by the Guyana Action Committee (GAC). The award was presented at the GAC's fundraising gala, held at the Pegasus Hotel, Kingston. The proceeds from the event will go towards the Burnham Educational Scholarship Trust (BEST).
The First Lady, in brief remarks, said that the GAC and her Office are working towards common goals, particularly as it relates to helping the vulnerable, particularly women and children.
She said, "The GAC and I believe in education as a means of advancement… Because of this we focus on ensuring that our young children and adolescents in particular are given the means to become educated and therefore able contributors to the growth and development of our beautiful Guyana."
President of the GAC, Mr. Errol Lewis, in his remarks, called for greater unity among Guyanese both locally and in the diaspora.
Mayor Patricia Chase Green presenting an award to Cricketer, Kemo Paul
"If we are to advance our purpose and our cause, utilising the rich potential we possess, our nation must be educated enough to understand that we cannot continue to ostracise anyone, moreso our youths…we must never again allow bigotry and hatred to define us as a people…"he said.
Apart from the First Lady, five other individuals were also honoured. They are: Educator and Activist, Mr. Stanton Lambert, Deputy Principal of President's College, Ms. Yvonette Chichester, Educator, Mr. Wilfred Success, Computer Specialist, Ms. Marva Wiltshire-Gordon, and Businessman and Social Activist, Mr. James Bovell Jr.
The GAC also awarded several youths for outstanding performances in the field of sport. They are cricketers: Kemo Paul, Shemaine Campbelle, Shimron Hetmyer, Tevin Imlach, and Tremayne Smartt.
The GAC is a non-profit organisation that was established in 2011 in New York. Its mission is to engage in projects and discussions aimed at providing means for cultural, economic and social change for Guyanese here in Guyana and the diaspora.