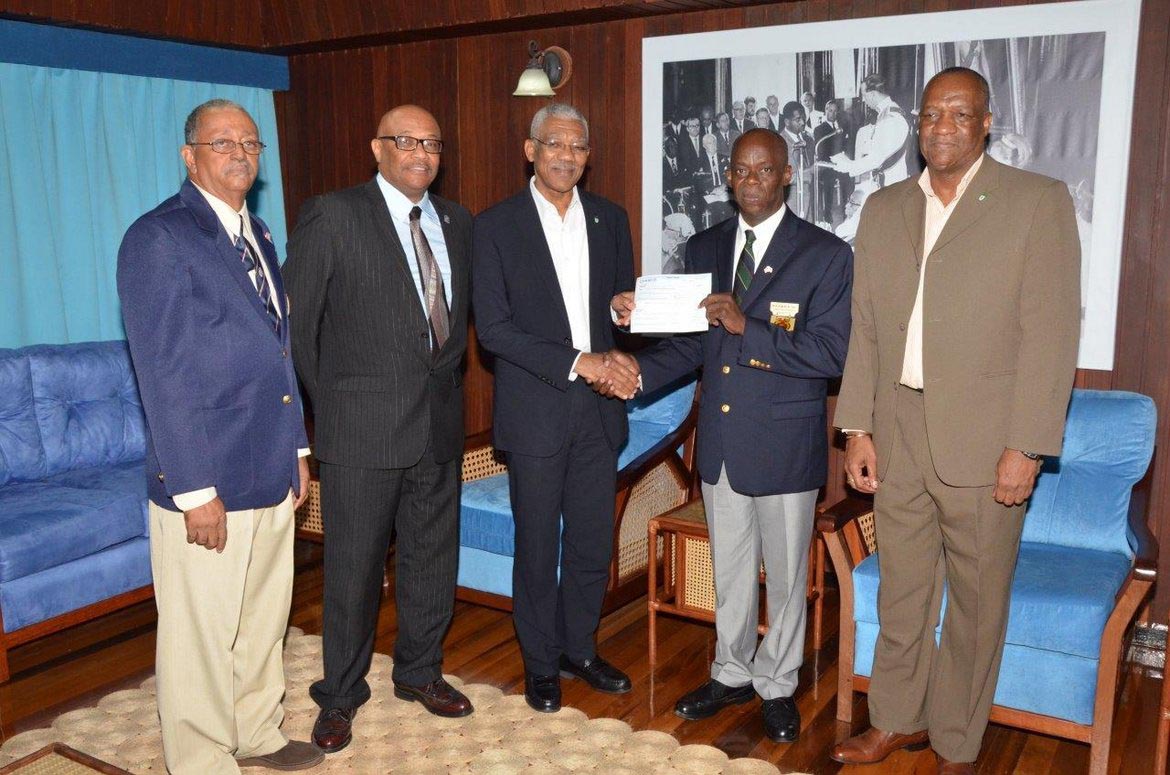 Georgetown, Guyana – (May 19, 2016) Representatives from the Ex-Police Association of the United States of America and the Canadian Chapters, today, donated US$1,760 or GYD$352,000 to President David Granger's 'Five Bs' programme, during a courtesy call at the Ministry of the Presidency.
Mr. Leroy Charles, President of the Ex-Police Association of the USA, Mr. John Johnson, President of the Canada Chapter and Mr. Nicholas Suffrein, President of the Guyana Chapter also discussed with the President the possible areas in which they can lend assistance to the Guyana Police Force (GPF). Minister of State, Mr. Joseph Harmon also attended the meeting.
Accepting the donation from Mr. Charles, President Granger said that the money will be used to augment the 'Boats, Buses and Bicycles plus Breakfast and Books' ('Five Bs') programme.
Mr. Leroy Charles presented the cheque to President David Granger as (from left) Mr. Nicholas Suffrein, Mr. John Johnson and Minister of State, Mr. Joseph Harmon look on.
"Both my wife and I and…the entire Government support the idea of keeping our children in school… We want to ensure that our children do not drop out of school because they don't have transport so this cheque will be applied to providing bicycles. It is very encouraging that you all in the diaspora continue to think of your homeland, think of the Force and the children of this country," President Granger said.
Meanwhile, Mr. Charles, in an invited comment, said that the meeting was convened to share ideas and discuss possible areas of collaboration between the Government and the Ex-Policemen Associations based in Guyana, Canada and the United States.
"The purpose of the meeting is to bring the ex-policemen diaspora from Canada, America and Guyana to see what assistance we could give to the ex-policemen and also the Guyana Police Force; [to] see how we can assist in educating members and preparing them for life after the Police Force," he said.
The President asked the Association to prepare a memorandum with the various recommendations, so that the matters raised can be discussed with the Minister of Public Security and other relevant stakeholders.
"I believe the meeting with the President was very upbeat. I am optimistic that at the end of the day we will be able to accomplish a lot. We are satisfied with the response of the President. We feel that the President is supportive of our cause and he also gave us the opportunity to further our cause," Mr. Charles added.
The President was inducted into the United States Chapter as an ex-officio member and into the Canadian Association as an honorary member.