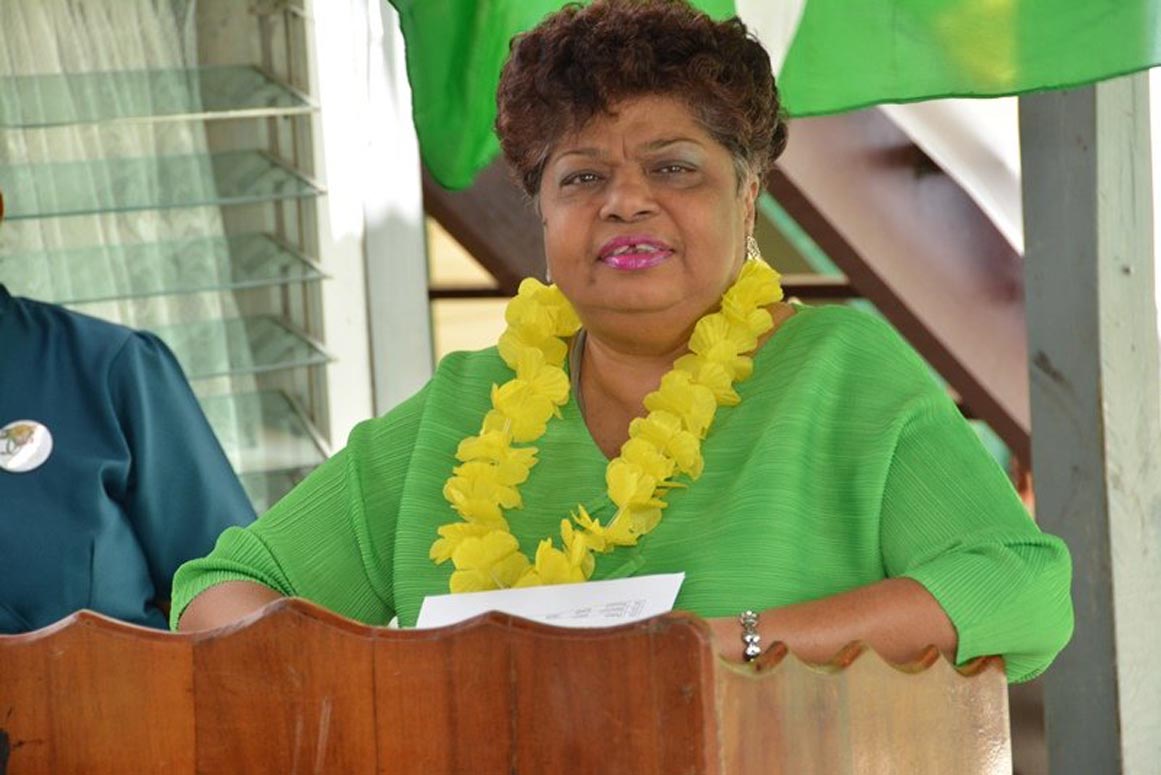 Georgetown, Guyana – (May 16, 2016) Sixty students from five schools across Mahaica-Berbice (Region Five) and East Berbice-Corentyne (Region Six), today, benefited from bicycles under President David Granger's 'Boats, Buses, Bicycles plus Breakfast and Books' or 'Five Bs' programme.
Minister of Social Cohesion, Ms. Amna Ally, under whose Ministry the programme is managed, and First Lady, Mrs. Sandra Granger, who has thrown her support behind the initiative, personally presented the bicycles to the students who were identified by regional educational officials.
Starting off in East Berbice-Corentyne (Region Six) at the Department of Education building, New Amsterdam, Minister Ally and the First Lady handed over 30 of the 60 bicycles to students from the Canje Secondary School, Angoy's Avenue and Sandvoort. Addressing the students and teachers, Minister Ally said that the government believes that an educated nation will help to foster a good life for all.
Minister of Social Cohesion, Ms. Amna Ally addresses the students and teachers at the Department of Education, New Amsterdam.
"This project is the vision of President Granger because he wants every child in school, to have the opportunity to have a good education and it is not by accident or for show that he has introduced the Bs project. This project has benefited a number of students and I hope that all the students of this region will make use full use of this opportunity to ensure that they get to school on time and not tired. This Government is very serious about this project. We want to give you the opportunity to have a better life in Guyana," Minister Ally said.
She noted that while the Government has only been in office for a little over a year, it has impacted the education sector in almost all of the regions across the country.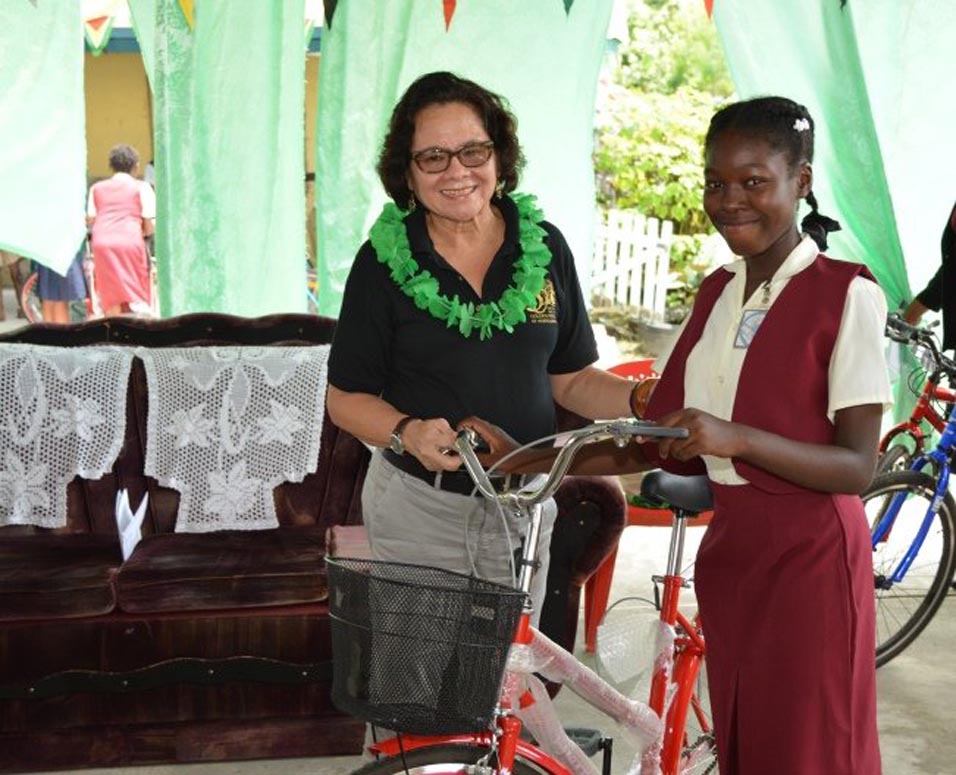 First Lady, Mrs. Sandra Granger presents one of the sixty bicycles to this student from East Berbice-Corentyne (Region Six)
"We have touched education to provide transport for our children; we have touched schools to provide footwear. So we have touched many lives in this one year, particularly in the educational aspect," she said.
The Minister said that while everything cannot be done at once, "as soon as is practicable, all the other regions will get more buses, boats and bicycles." She thanked the corporate citizens who have been supporting the programme stating that it is necessary to note that the Government was putting "no pressure on anyone to give what they are giving, but they understand the President's vision and what he wants for Guyana and they too understand that if they invest in education we will have a better nation."
Meanwhile, the First Lady, in her brief comments, said that the contributors must be appreciated and lauded for their efforts to realise the project. She then charged the students to take care of the bicycles, noting that it must serve to strengthen their resolve and drive to pursue their education.
This student smiles brightly as he receives his bicycle from First Lady, Mrs. Sandra Granger.
"It is important that we have educated people who will take decisions, which can grow and develop our country," Mrs. Granger said.
'Bicycles provide an opportunity for education'
Regional Educational Officer of the East Berbice-Corentyne, Ms. Volika Jaikishun remarked that the presentation of the bicycles was a testimony of the fact that the President and the Government of Guyana were committed to providing the good life to all Guyanese.
"We are very thankful for the buses. The three buses are facilitating more than 1000 students per day. I know that our children will make full use of the bicycles and we know that this initiative will continue because the President has promised a good life to all Guyanese," Ms. Jaikishun said.
Regional Executive Officer of East Berbice-Corentyne, Dr. Veerasammy Ramayya echoed these sentiments, noting that the bicycles provide the opportunity for students to acquire an education.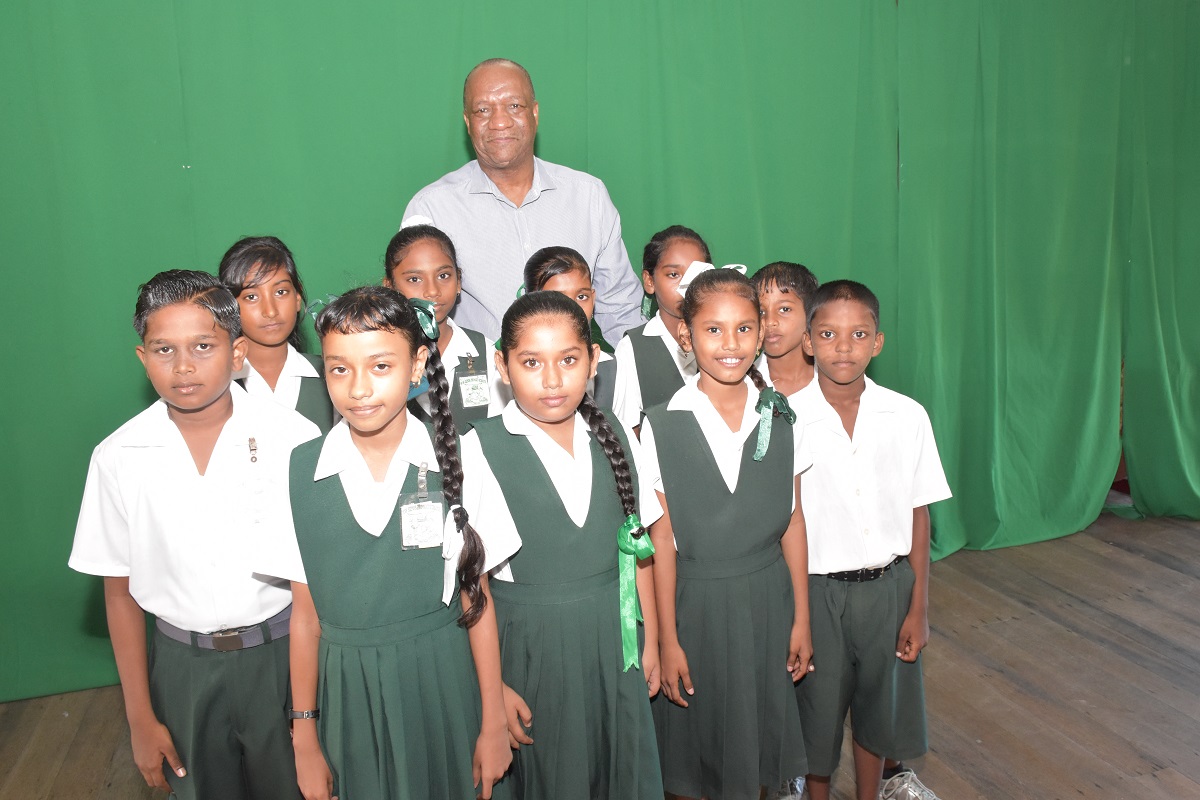 First Lady, Mrs. Sandra Granger addresses students and teachers of Mahaicony Secondary School at the presentation ceremony, earlier today.
In addition, Headmistress of the Canje Secondary School, Ms. Vanessa Jacobs, from which seven students benefited, said that she is pleased with the effort that the Government has made to ensure that the most vulnerable students are given the opportunity to get to school.
"These bicycles will be very beneficial. Some of the students who benefited from the bicycles are coming from homes which have more than one student so you will find two persons using one bicycle, for those who received. The catchment area for Canje Secondary School is very wide and so they are coming from very, very far areas so the cost for the parents is quite high so that will be a great relief for the parents and it will help with the punctuality of the students," Ms. Jacobs said.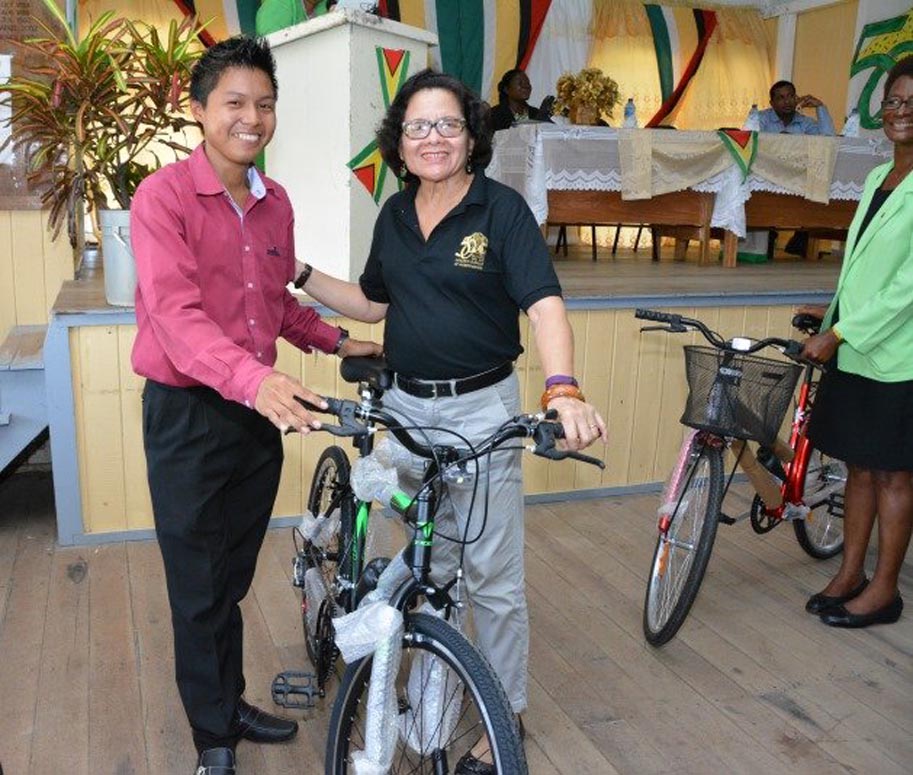 This teenager is happy to receive his new bicycle from First Lady, Mrs. Sandra Granger.
Over at the Mahaicony Secondary School (Mahaica- Berbice), Region Five, Minister Ally and Mrs. Granger handed over another thirty bicycles to beneficiaries including those from the Mahaicony Secondary and Novar Secondary Schools.
"Children I hope that you will not only take care of these bicycles, but that you will be safe in riding these to your schools," the Minister said.
Meanwhile, Deputy Regional Education Officer, Ms. Annesta Douglas said that education is valued in the region and it is good to see that the students are being given the opportunity to stay in school through the bicycles.
"These bicycles are providing the opportunity to reduce absenteeism and unpunctuality. It is going to make sure that our students are always on time and regular… On behalf of the Department of Education, we want to say thank you and we will encourage them to care the bicycles," she said.
In an invited comment, Headmistress of the Mahaicony Secondary School, Ms. Francine McKenzie said she expects the donation to impact school attendance and punctuality. "The students who have benefited today are students who are often absent [and] late … so this will get them to school. Most of them are high achievers [but] because of the absenteeism factor; they are unable to cope with the work so I am happy to see that they are benefiting from this programme."
Ms. Sharon Heeralall, Headmistress of Novar Secondary School, shared similar sentiments, noting that she expects that the beneficiaries will now be more motivated to attend school.
"Our absenteeism rate is very high and we are hoping that these students will be in school regularly and punctually from now. From what I can see, they are now upbeat and I hope that this will transcend to their attendance in school," she said.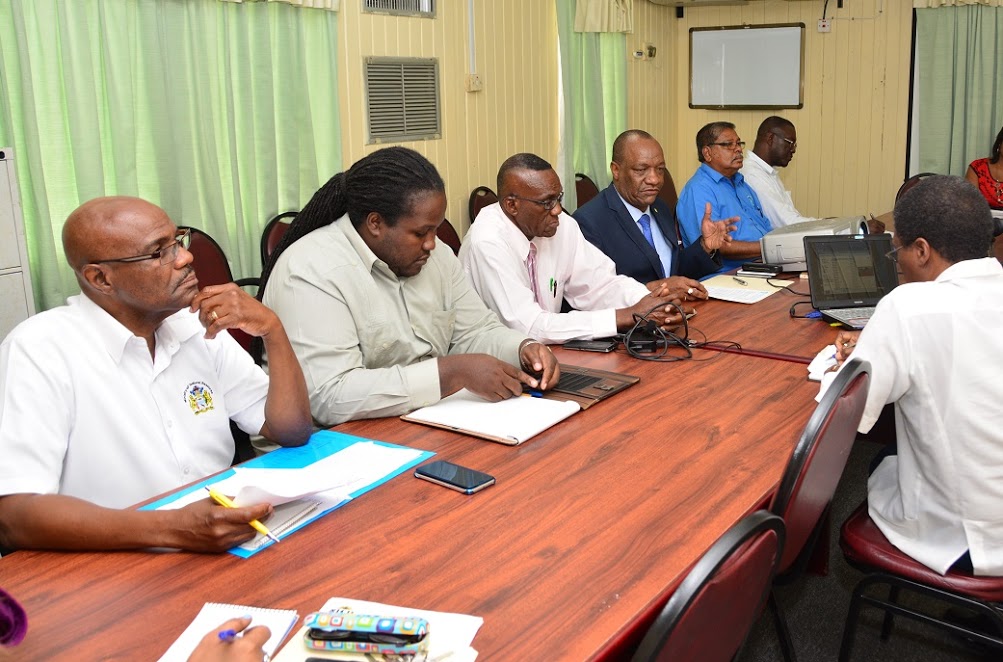 From left: Regional Councillor, Ms. Carol Smith-Joseph, Regional Member of Parliament for A Partnership for National Unity/Alliance For Change, Ms. Jennifer Wade, Minister of Social Cohesion, Ms. Amna Ally and First Lady, Mrs. Sandra Granger with other regional officials and the beneficiaries of Mahaica-Berbice (Region Five).
The Five Bs' programme aims to ensure that all of Guyana's children are able to get to school. The 'Boats, Buses and Bicycles' initiative started back in July 2015 when President Granger celebrated his 70th birthday and made a call for support for the initiative that will ensure transportation is provided so that children can get to school safely and comfortably. Since then, there has been a tremendous national response, with private citizens and businesses donating boats and engines, buses, bicycles and shoes to the programme. Recently, the President added breakfast and books to the programme to ensure that all the bases are covered for children to be in school