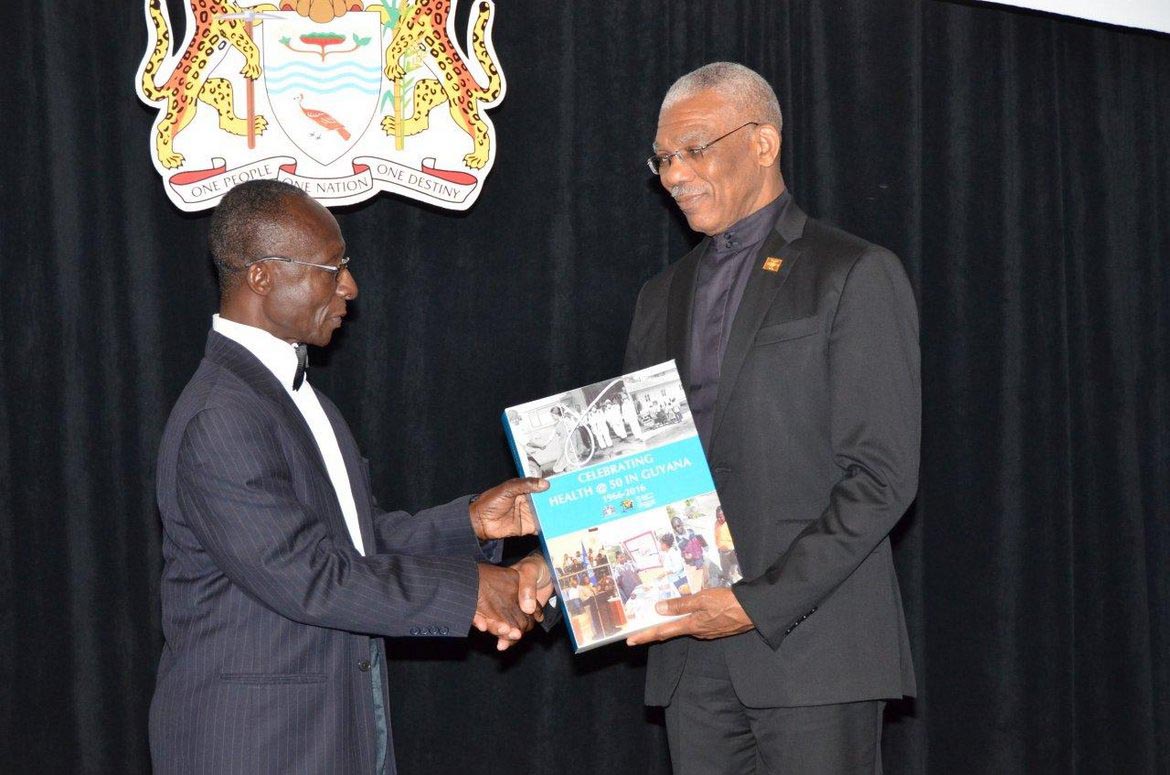 Georgetown, Guyana – (May 15, 2016) President David Granger, last evening, called for a broader national effort in the fight against vector borne diseases such as Zika, Malaria, Filariasis, Chikungunya and dengue.
The President was at the time delivering the feature address at the Pan American Health Organisation's (PAHO) and the Ministry of Public Health's Launch of the "Health at 50 in Guyana Progress" Health Report (1966-2016) and Dinner and Awards Ceremony in celebration of Guyana 50th Independence Anniversary, which was held at the Marriott Hotel.
In attendance were First Lady, Mrs. Sandra Granger, Prime Minister Moses Nagamootoo and Mrs. Sita Nagamootoo, Attorney General and Minister of Legal Affairs, Mr. Basil Williams, Minister of Health, Dr. George Norton, Minister of Agriculture, Mr. Noel Holder, Minister within the Ministry of Health, Dr. Karen Cummings, Minister within the Ministry of Education, Ms. Nicolette Henry, members of the diplomatic corps, officials from PAHO/WHO, Non-Governmental Organisations (NGOs) and members of civil society.
President Granger said that vector-borne diseases pose a public health threat throughout the Americas and Guyana is not an exception to the rule. The risks and threats, he said are changing constantly and it is therefore imperative that the measures in place be enforced to combat these diseases.
"Legitimate intercontinental air travel, contraband smuggling as well as the notorious and illegal back-track practices to neighbouring and foreign countries [and] global shipping transport can lead, possibly, to the transmission of mosquito-borne diseases. Invasive mosquitoes can introduce new infections and become established in our terrain [through] changes in land use, global warming, the extension of public infrastructure and economic exploitation of the environment by mining, logging, trading and tourism, the importation of used tyres and the increased human and commodity traffic at port towns such as Bartica, Charity, Corriverton, Kumaka and Parika. International cooperation is, therefore, necessary to manage these changes and combat these threats," he said.
According to President Granger, there were 9,044 positive test results for malaria, or one every hour, in 2015; 76.8 percent of these affected people between the ages of 15-49 years – the most productive years of any person's life. Guyana, he said, cannot afford the human, health social and economic costs associated with these five diseases.
President Granger receiving his copy of the Health at 50 in Guyana Progress Health Report (1966-2016) from PAHO/WHO Representative in Guyana, Dr. William Adu-Krow.
"Vector-borne diseases can severely impair health and reduce human productivity. They can kill. They impose a huge burden on the limited resources of the family, community and State. Vector borne-diseases are a national problem. The Barima-Waini, Cuyuni-Mazaruni, Potaro-Siparuni and Rupununi regions are the most affected in our country. Vector-borne diseases, therefore, must be eradicated at all three levels – the municipal, regional and the national," President Granger said.
It is on this note, he said, that Guyana must continue its policy to push for reducing environmental risks and reduced degradation of the environment since this is one of the surest means of tackling diseases, which have proven to be extremely resilient with apparent eradication often being followed by relapses and reversals, despite several attempts.
"A much broader approach to combating this public health threat is required. That approach must involve the management of the environment. Vector-borne diseases must be tackled as an environmental hazard. Guyana has opened a new chapter in its development. Guyana is pursuing a green agenda that is a pathway to economic prosperity and social well-being… Guyana's green agenda, therefore, is important to public health. It recognises that diseases, particularly vector-borne diseases, and their spread are associated with environmental hazards. Guyana's green agenda is an opportunity for us to establish the mastery of our environment to achieve the goal of reducing the spread of vector-borne diseases," the Head of State said.
Sound environmental practices and plans, he said are pivotal to reducing and removing the breeding sites for mosquitoes that cause vector-borne diseases. Sound environmental practices must be a part of the solution of the vector-borne disease threat. The President noted that while Public health is the responsibility of the State, it is however, a complex issue that cannot be solved by the State alone.
"The central government must work closely with the ten regional administrations, which, in turn, must work more closely with the municipalities and neighbourhoods… Every region must have a hardy hospital and a robust public health programme. Guyana, also, must work more closely with social and international partners in order to achieve the public health outcomes that we seek in order to enjoy a good life over the next 50 years," President Granger said.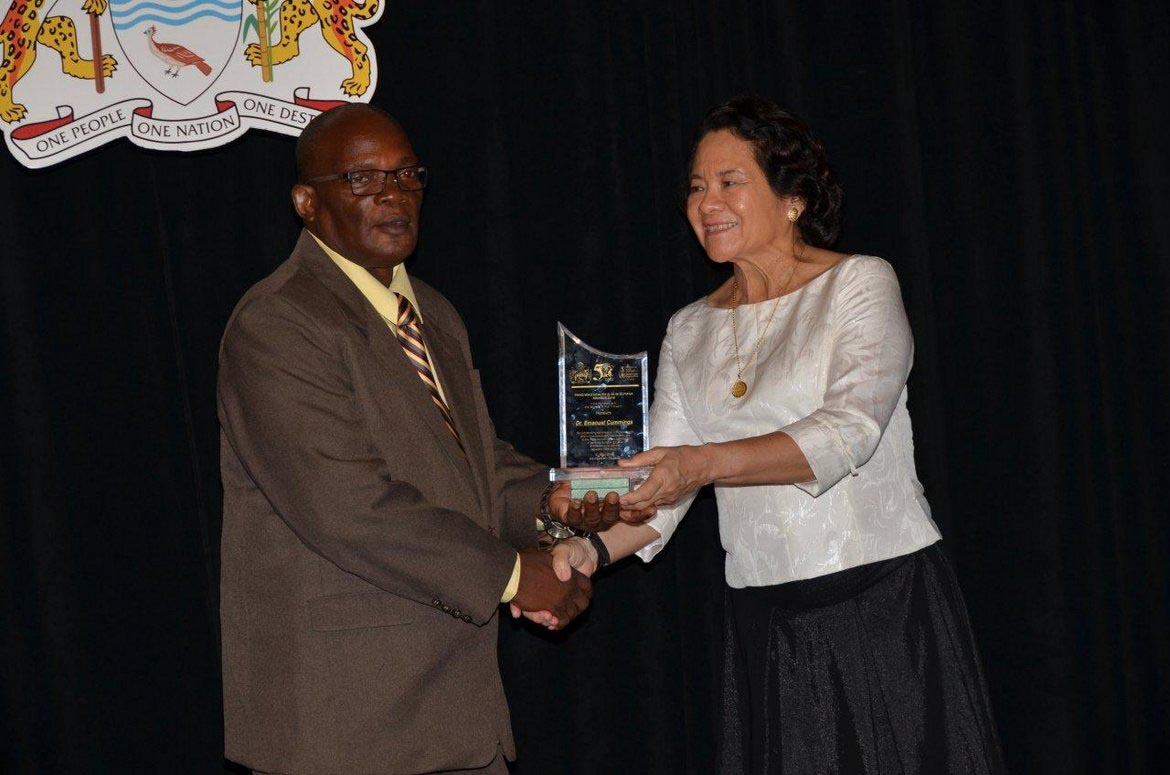 Dr. Emmaunel Cummings, an outstanding medical practitioner and educator, receiving his award from First Lady, Mrs. Sandra Granger.
Meanwhile, Minister of Public Health, Dr. George Norton, in expressing congratulations to the awardees, said that though the achievements of the Public Health Sector ever since 1966 are impressive and well recorded, thought should be given to what innovative health service delivery improvements needs to be put in place, particularly as new health challenges are being faced.
Speaking to health care providers the Minister said, "W we have recognised and we value your work as health care providers. Without you the buildings will be empty and machines will be none operational. Even as we grow the healthcare workforce, we will constantly be looking at ways to innovate and improve productivity. This means empowering our healthcare practitioners to do more, not simply by working harder or longer, but by working smarter – with better skills, increased knowledge, and enabling technologies. With higher productivity per worker, we will be able to provide better and more cost effective care for patients, enhance salaries for healthcare workers and, most importantly, provide quality and affordable healthcare to Guyanese. Under the current administration, we will see an expansion in our public healthcare services to ensure that our citizens continue to have access to quality and affordable care," Dr. Norton said.
Dr. Norton also used the opportunity to encourage the healthcare providers to continue to upgrade their skills and training, as he noted that it is important to meet the needs of the future.
"Patients are facing increasingly complex conditions, and expectations of the quality of care are also rising. Thus, it is critical for healthcare staff to continually seek to deepen their skills and knowledge in order to support new care models and to achieve higher care standards," he said.
PAHO/WHO's Representative in Guyana, Dr. William Adu-Krow, said that the international organisation is pleased to collaborate with the Ministry of Public Health in launching the progress report. The Report, he said, speaks to the achievements over the past 50 years, while identifying and outlining the challenges.
As the country prepares to observe its Golden Jubilee, Dr. Adu-Krow said that it provides the ideal opportunity to explore the challenges and formulate solutions and measures.
"As you peruse the report, one will note that the country has made significant achievements in the strengthening of it healthcare system as well as elimination, prevention and control of diseases," Dr. Adu-Krow said.
The Awardees were recognised for their years of service to the health sector in Guyana between the years 1996 to 2016.
Awards were given based on the years of service, contributions and efforts made in improving the lives of Guyanese through their service to the health sector between 1966-2016. Among the awardees were Dr. Emmanuel Cummings, Dr. Shamdeo Persaud, who is also the Chief Medical Officer at the Ministry of Public Health, Dr. Karen Boyle and Mr. William Boyle.