Georgetown, Guyana – (May 12, 2016) President David Granger, this evening, said that Guyana's premier Trade Fair and Exposition (GuyExpo) can lead the way towards developing and promoting green solutions, which will see the vision of a 'green economy' and a 'green Guyana', becoming a reality.
"Green' solutions are needed to address the challenges and threats facing the country, particularly those caused by climate change such as; improved coastal zone management, flooding, drought, environmental degradation, deforestation, conservation of protected areas and waterways and the provision of environmental. A 'green' economy is good for Guyana. It will lead us to the good life. There is no better vision of the next 50 years of Guyana's growth than to usher in a green economy. It is my hope that GuyExpo 2016 can do just that!" President Granger said.
He was at the time addressing a large gathering at the Sophia Exhibition Site, where GuyExpo 2016 was officially declared open.
From right: Coordinator of GUYEXPO 2016, Ms. Tamecka Sukhdeo- Singh, President David Granger and Mrs. Sandra Granger and Minister of Business, Mr. Dominic Gaskin and his wife, Han Gaskin, cut the ribbon to officially open GuyExpo 2016.
Green development is good for business, he said and as such, believes that GuyExpo is the ideal place for the 'green' solutions to be conceptualised.
"Guyana's green revolution will spawn a wide range of businesses, will produce and create employment opportunities. Electric cars, hybrid vehicles, energy-saving devices, solar home systems, organic health foods, recycling plants, environmentally-friendly buildings, 'green' construction materials, bio-degradable packaging materials, sustainable agriculture and 'green' financing options are just some of the areas around which new enterprises and jobs will be created. A green economy represents an investment opportunity for our business community; represents an emerging target market for our financial sector that will spur entrepreneurial activity… will reduce our fuel import bill to allow the economy to harness its under-utilised resources; sun, water, wind and biomass," President Granger said.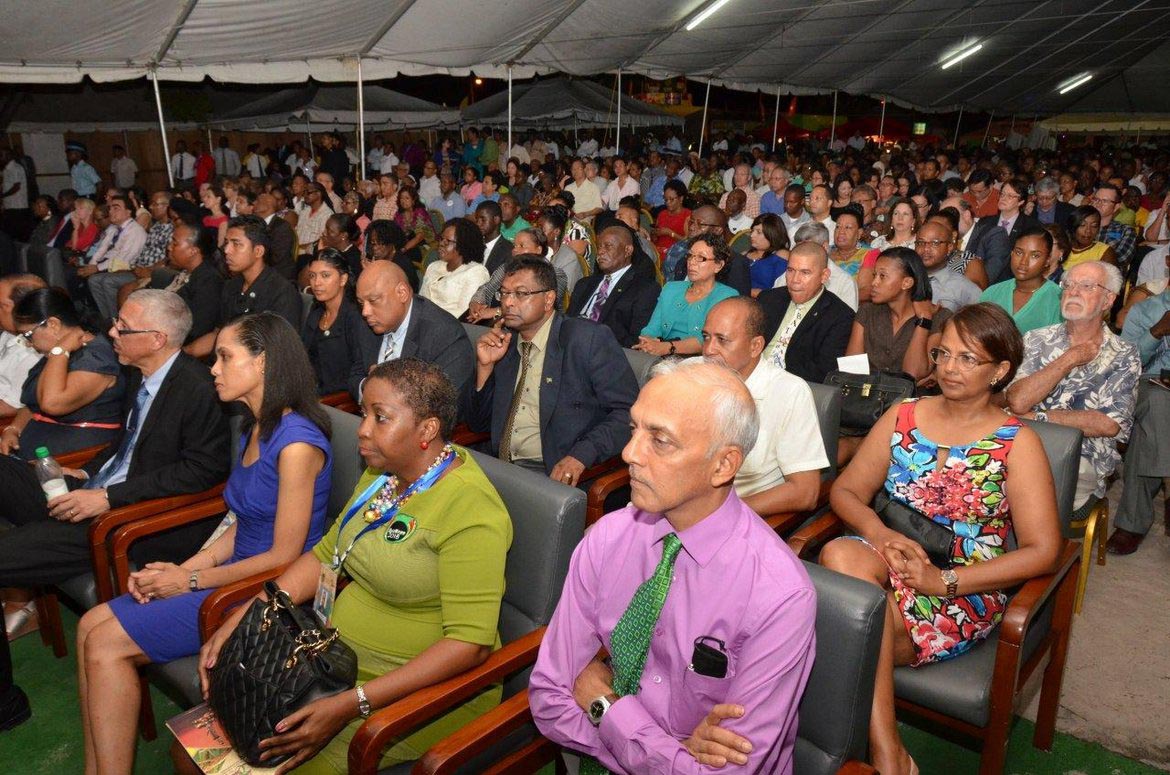 A section of the attendees at the opening ceremony of GuyExpo 2016, which was officially declared opened by President David Granger earlier this evening.
The President, who has been pushing for the development of green technologies and a sustainable approach to the exploitation of the country's natural resources in the fight against climate change, since his administration took office, said that Guyana must wean itself off of its addiction to fossil fuels, since the importation of these fuels exacts a heavy burden on the economy.
Guyana, in 2012 alone, expended the equivalent of 24 per cent of its Gross Domestic Product on petroleum-based products. It is this context that the President said that Guyana needs a Green Development Strategy, which will create the needed transformation.
"We will transition our economy rapidly towards renewable, clean and cheaper sources of energy. We will craft a comprehensive Coastal Zone Management Plan to protect human habitation, our coastal economic sectors and coastal ecosystems. We will create 'green' enterprises and jobs and we will inculcate 'green' education in our schools. Guyana's 'green' development strategy will rest on four pillars: energy; environmental security, ecological services, enterprise and employment," he said.
On energy, the President said that Guyana will rapidly accelerate the transition towards renewable sources of energy as part of its 'green' development thrust.
"We will invest in solar, wind, hydro and biomass sources of energy over the next five years. We have the potential for generating hydro-electricity with more than one hundred sites, which are suitable for the development of large or small projects, the potential for the development of wind energy from wind farms along the 425 km long coastline, the potential for Solar energy generation since irradiation levels are high, making Guyana ideal for the establishment of industrial scale solar farms, the potential for producing energy from bagasse and other by products from the rice and sugar industry," President Granger said.
The Government, he said, will lead the way in transitioning towards greater renewable energy use. Every government building, including hospitals and schools will, within the next five years, be utilising alternative sources of energy, President Granger promised. Energy- saving devices will be encouraged in order to promote energy conservation while the Government will offer incentives to catalyse private investment in renewable energy.
A 'green' economy, the Head of State said, must be a clean economy, noting that "our communities must evince cleanliness and healthiness and free of litter. Our waterways must be protected from pollution. Municipal and neighbourhood councils must have solid waste disposal plans. Citizens must enjoy the good life in a safe and clean environment. We will, therefore, rigidly enforce laws against littering. We will promote the use of bio-degradable packaging materials. The Regional, Municipal and Neighbourhood Councils must ensure that there are adequate, properly managed and safe solid-waste dumpsites and sewage processing facilities in every region."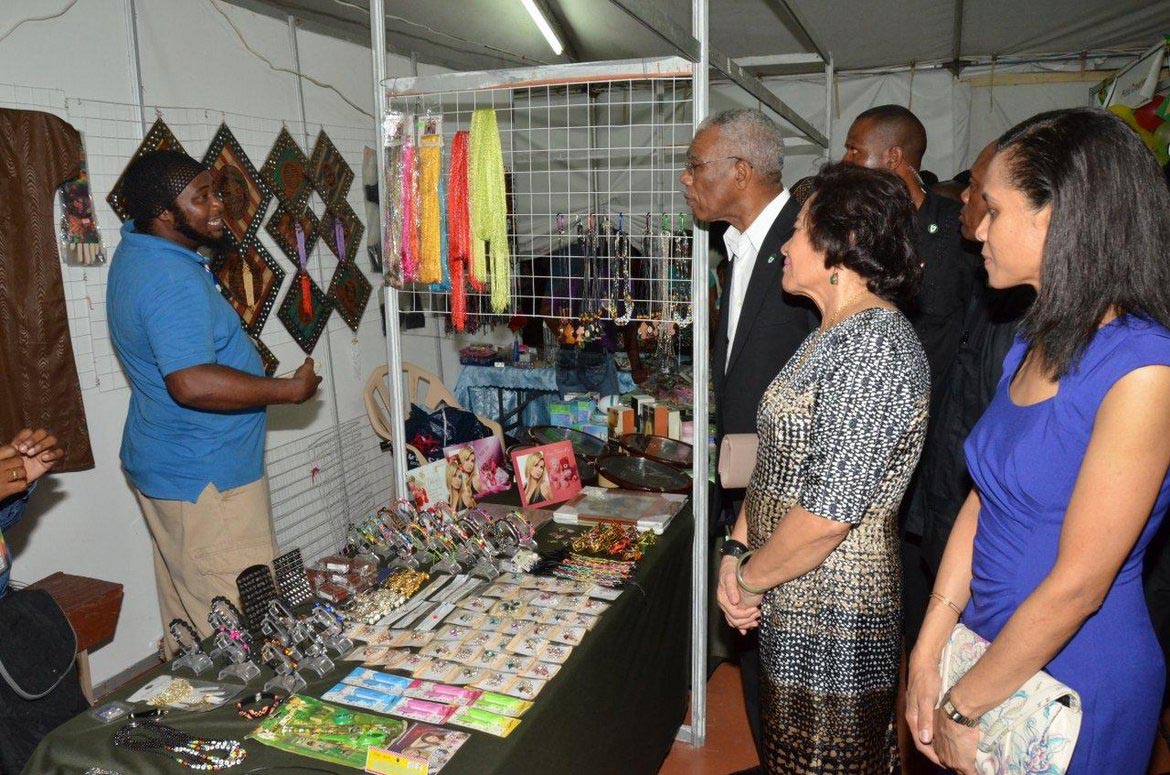 This exhibitor caught the attention of President Granger and Mrs. Sandra Granger during their walkabout at the Sophia Exhibition Centre as their daughter Han Gaskin looks on.
In the meantime, Minister of Business, Mr. Dominic Gaskin, in his brief remarks, noted that GuyExpo 2016 is more than just an event. As the country prepares to celebrate its 50th independence anniversary, Minister Gaskin said that the event provides the ideal opportunity for Guyana to evaluate its position and refocus on where it needs to be in the field.
"As a nation, we have a lot that we can be proud of… however when it comes to our economy, I believe that had we known back in 1966 that 50 years later we would be where we are today perhaps we would have planned things differently. We have not become the dynamic enterprising regional powerhouse that we ought to have been after 50 years in the business of self-determination. GuyExpo 2016 provides a baseline from which we must progressively develop an economy that in 10 years' time, while still growing, will be the envy of the region and this is entirely possible," Minister Gaskin said.
It is his belief that the event can become the best regionally, which can provide the platform for businesses, both new and established businesses, to create their marks.
"Guyana means business must become the slogan for the event and it must become the launch pad for businesses seeking access to local and foreign markets. GuyExpo is intended to serve a purpose," he said.
Ms. Dawn Holder-Alert, Chairperson of the GuyExpo 2016 Committee said that there are approximately 260 exhibitors this year at the venue. She noted that a tremendous amount of effort has gone into every aspect of the event, which caters to small, medium and large businesses.
Additionally, she disclosed that the Ministry will be providing workshops to the exhibitors during the four days so that they benefit not only from sales but expertise. The workshops will focus on the benefits of social media, packaging and labelling, creating a business plan and obtaining finance among others.
President of the Georgetown Chamber of Commerce and Industry (GCCI) Mr. Vishnu Doerga in his comments said that the forum provides and highlights available business opportunities and for this reason alone, it must be praised and appreciated.
Exhibitor Jenell Pierre, the founder of Bow-Jays, a small business which provides custom made bow ties, in an invited comment said that the event provides her with the ideal opportunity to network and interact with her customers.
The opening ceremony was also attended by First Lady, Mrs. Sandra Granger, Prime Minister Moses Nagamootoo and his wife, Sita Nagamootoo, Ministers of the Government, members of the National Assembly, members of the Diplomatic Corps, members of the Private sector among other stakeholders.
The event will run until Sunday, May 15, 2016.