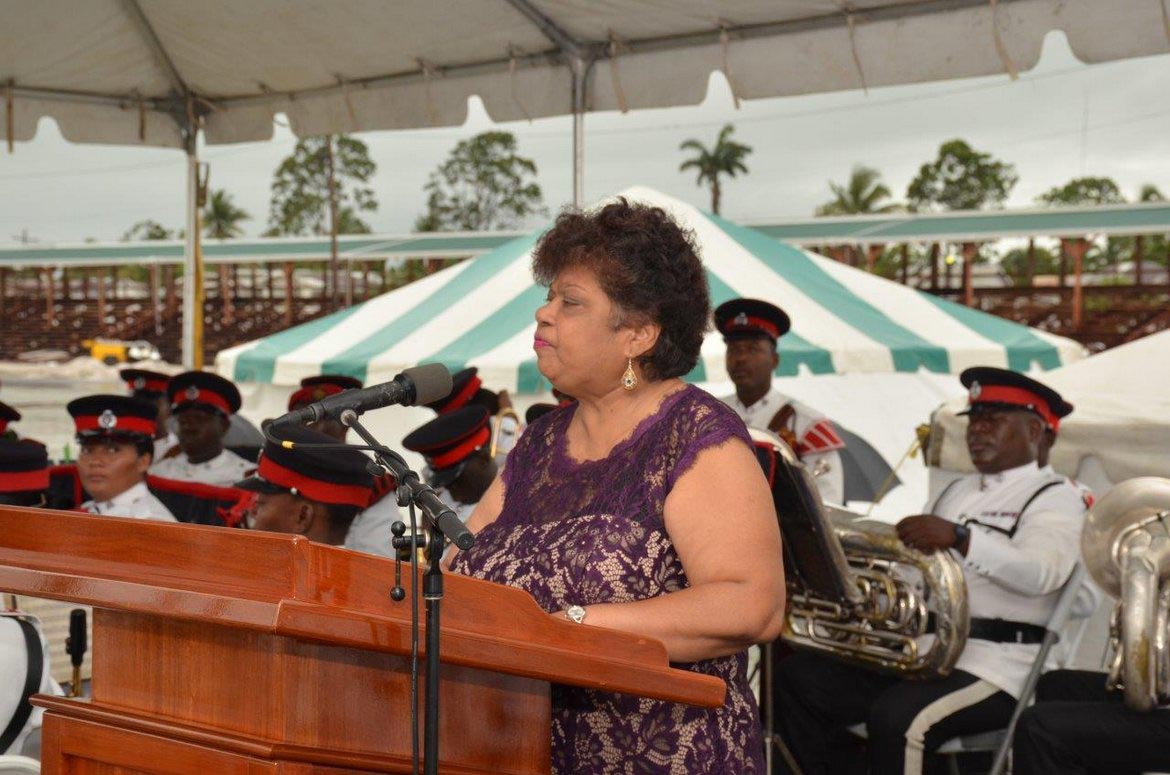 Georgetown, Guyana – (May 11, 2016) President David Granger, today, called on the nation to view Guyana's diversity as an asset and not a liability and to use the occasion of the declaration of Social Cohesion Day, May 11, to reject divisive political culture and instead, deepen its commitment to a more inclusive society. The President made these remarks at the National Day of Prayer event.
"We are proud to belong to a society of many faiths. We are proud of the tapestry of ethnicity within our country," President Granger said, in his charge to the large gathering of people, who braved the rain to assemble at D'urban Park to mark the occasion. The President noted that social cohesion does not require persons to abandon their cultural practices and to adopt another. Rather, it accords greater recognition to every ethnic group and encourages the promotion of their practices.
"Social Cohesion Day is about creating a sense of belonging and combating exclusion. It is based on the belief that citizens "…share a moral community, which enables them to trust each other," [according to Christian Albrekt Larsen's "The Rise and Fall of Social Cohesion"]. Social Cohesion Day celebrates and appreciates people's different backgrounds and circumstances. Social cohesion recognises that our nation is now, and always will be, multi-religious, multi-ethnic and multi-cultural. Miscegenation is forever," he said.
Minister of Social Cohesion, Ms. Amna Ally delivers her address at the National Day of Prayer event held to mark the premiere Social Cohesion Day in Guyana.
The President also noted that it was most auspicious that Social Cohesion Day is being observed at the start of celebrations for Guyana's Golden Jubilee Independence Anniversary, as the nation prepares to usher in a new era.
"Social cohesion can prevent social instability, arising from social, economic, political and class divisions between groups, from festering. Social cohesion can create an environment in which accords and agreements, beliefs and laws are respected and enforced and society is not allowed to degenerate into distrust, disharmony and, worst of all, disorder. Social cohesion can help to build cooperative relationships at all levels of our society among our religious and ethnic groups, among our political parties and among communities and regions," he said.
On this note the Head of State, who had been advocating for national unity since during his years in the political opposition, said that Guyana's diversity is an asset and social cohesion respects the differences between the various social groups. However, if left unattended, he noted, these differences can create distrust and weaken people's sense of belonging. The Head of State then charged the younger generation to take up the challenge to repair past damage, to restore trust, to rebuild the bases of a 'moral community' and to demonstrate how we can cooperate and co-exist with each other.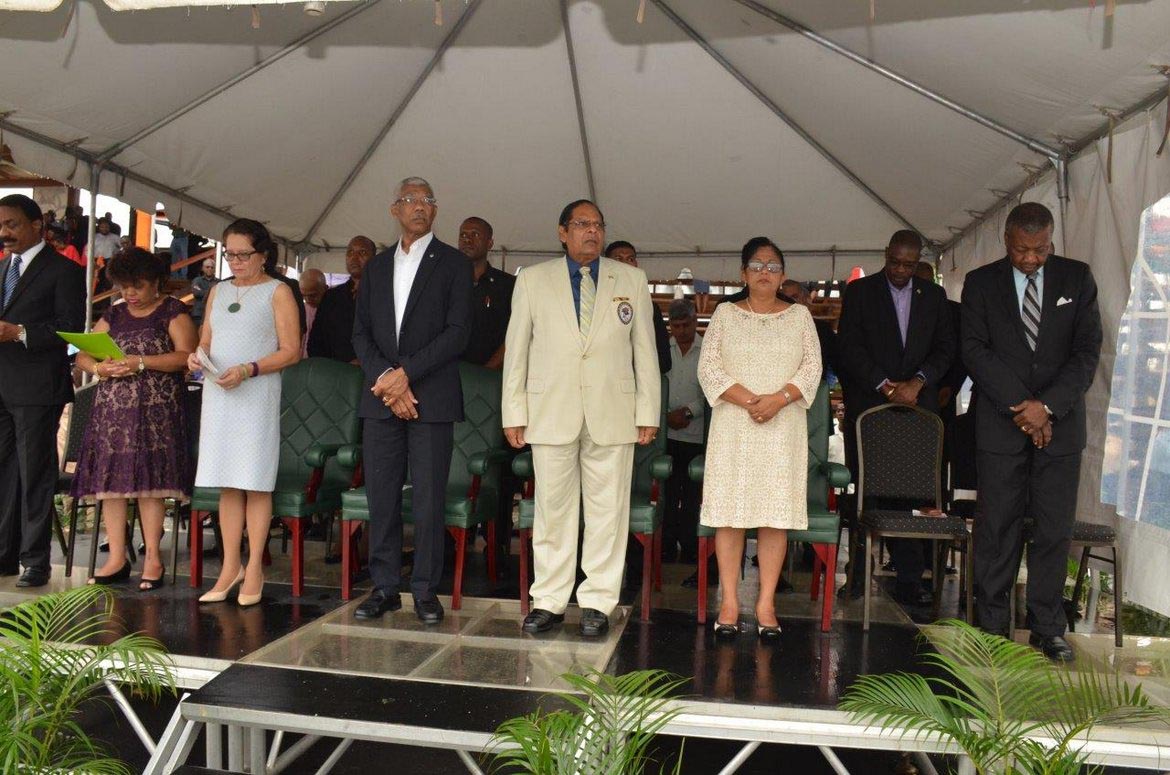 President Granger and Mrs. Sandra Granger, Prime Minister Moses Nagamootoo, Speaker of the National Assembly, Dr. Barton Scotland and Ministers of the Government stand in reverence to the prayers being said.
"We can construct a more cohesive country by doing more to eliminate extreme poverty; to eradicate the worst forms of inequality (including gender inequality); to ensure equal access to education for everyone; to enable greater participation and inclusion at the political level through regular general and regional and municipal and local government elections; to enforce employment and anti-discrimination laws, which ensure the health, happiness and safety of our women, working people and girl children and infants," he said.
Meanwhile, Minister of Social Cohesion, Ms. Amna Ally remarked that Social Cohesion Day will be recorded in history as a demonstration of the administration's commitment to ensuring that every Guyanese feels valued and appreciated.
"Never before has such an event occurred. We are about to create history. Since May 2015, our administration has promised to do all that is within its power to ensure that Guyana becomes a functionally transformative and sustainable nation in every aspect. The event, this morning, signifies that we will endeavour to inculcate every complement that will facilitate that process," Minister Ally said in her address.
Further, she noted, National Day of Prayer will be integral to the programme of activities to mark Social Cohesion Day and it will be observed in all Ten Administrative Regions.
"Prayers have always been significant in our Guyanese culture. Almost all Guyanese have long turned to prayer to seek protection, peace and exhibit appreciation. Prayer sustains us in moments of great uncertainty and moments of sorrows. Prayer provides an outlet for reflection and expressing our expectation and desires. On this National Day of Prayer, we must rededicate ourselves a unified and socially cohesive nation," she said.
Prayers from the Muslim, Christian, Hindu, Baha'i and Rastafarian communities were offered and cultural performances and musical renditions were done by representatives of the Muslim, Hindu and Christian communities.
The event was also attended by First Lady, Mrs. Sandra Granger, Prime Minister Moses Nagamootoo and his wife, Mrs. Sita Nagamootoo, Speaker of the National Assembly, Dr. Barton Scotland, Attorney General and Minister of Legal Affairs, Mr. Basil Williams, Minister of State, Mr. Joseph Harmon, Minister of Agriculture, Mr. Noel Holder, Minister of Natural Resources, Mr. Raphael Trotman, Minister of Public Infrastructure, Mr. David Patterson, Minister of Public Telecommunications, Ms. Catherine Hughes, Minister of Indigenous People'' Affairs, Mr. Sydney Allicock, Minister of Social Protection, Ms. Volda Lawrence, Minister within the Ministry of Education, Ms. Nicolette Henry and Minister within the Ministry of Natural Resources, Ms. Simona Broomes.
Chief of Staff of the Guyana Defence Force, Brigadier Mark Phillips, Commissioner of Police, Mr. Seelall Persaud, members of the diplomatic corps, heads and members of the various religious communities and Government agencies, also attended the event.