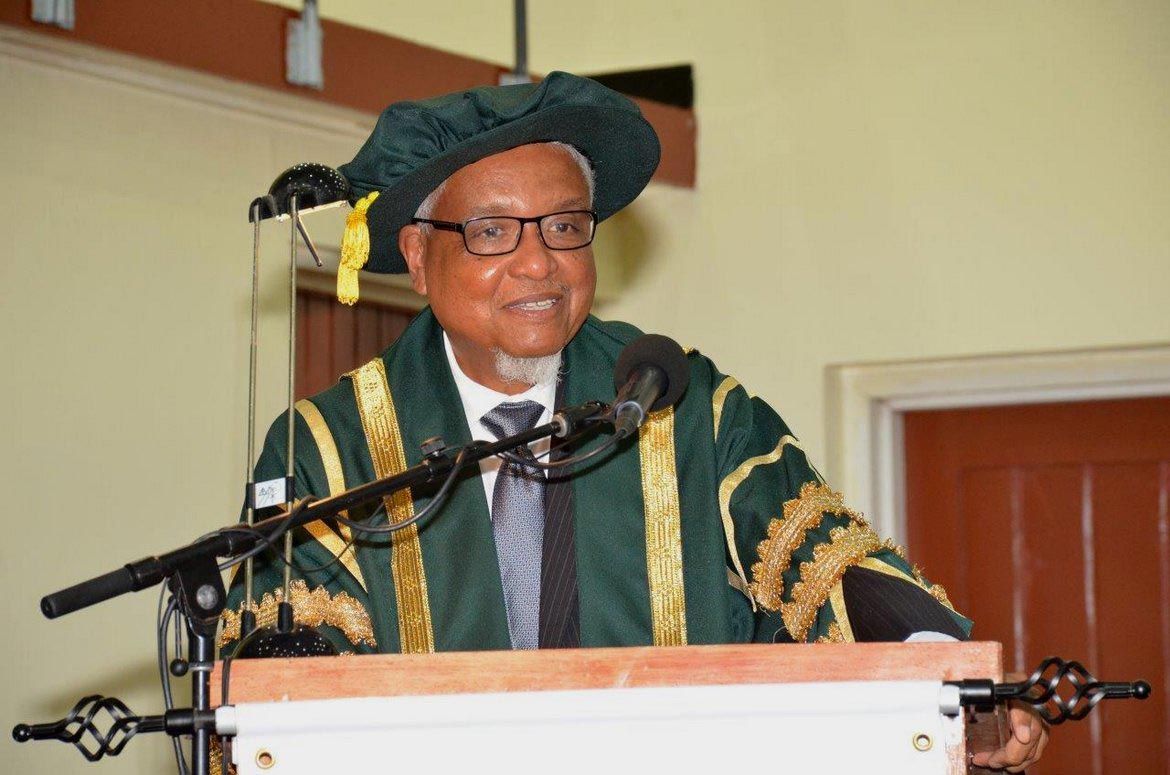 Georgetown, Guyana – (May 11, 2016) President David Granger, Prime Minister Moses Nagamootoo and several Cabinet members today attended the installation of Professor Eon Nigel Harris as the Ninth Chancellor of the University of Guyana (UG). The ceremony was held in the George Walcott Lecture Theatre (GWLT) at the Turkeyen Campus.
Professor Harris, a Guyanese by birth, is taking up the mantle of leadership of this premier tertiary education institution at a time when it is facing many challenges and is about to embark on a retooling process. He joins the rank of former chancellors including: Mr. Edgar Mortimer Duke, Sir Arthur Lewis, Dr. William Demas, Sir Shridath Ramphal, Mr. Samuel Rudolph Insanally, Professor Calestous Juma, Dr. Bertrand Ramcharran and Dr. Compton Bourne, all of whom are distinguished academics.
Congratulating the new Chancellor on the Government's behalf, Prime Minister Nagamootoo, who commended UG on its choice, said that Professor Harris' "selection has fulfilled great hopes for this noble institution of higher learning since he brings to our national university, impeccable credentials as a prominent and preeminent scholar and an outstanding academic leader."
The Prime Minister added that the Government is very optimistic that UG will overcome its challenges and play a significant role in the socio-economic development of the country. He also gave assurances of the Administration's full support to ensure that the institution becomes one of excellence.
Meanwhile, in his inaugural address as Chancellor, Professor Harris that said that he was leaning towards retirement but decided he could not refuse an opportunity to give back to the country of his birth. He said that in an ever-changing global environment, it is imperative for Guyana to link with and participate in that revolution and UG must be a critical component of that participation.
Professor Eon Nigel Harris delivering his inaugural address as the Ninth Chancellor of the University of Guyana
The new Chancellor called on the Government, the private sector, the academic community, civil society and the diaspora to join together to create a vibrant alliance to transform the university. "Without appropriate financing the university cannot, I emphasise the word cannot, achieve the transformation necessary to lift it to a level that will serve our country's interest in a rapidly evolving world," he said.
Professor Harris informed that Professor Ivelaw Griffith, an internationally recognised scholar in the field of crime and security and a UG graduate, has been selected as the new Vice-Chancellor. He has been chosen after a rigorous and objective selection process and is expected to take his new Office from June 14.
During the ceremony Professor Harris's academic achievements and new appointment were extolled by several outstanding scholars from the region including Pro-Chancellor of the University of the West Indies, St. Augustine Campus, Professor Clement Sankat and Pro-Vice Chancellor of the Cave Hill Campus, Professor Violet Barriteau who referred to him as a "quintessential Caribbean man with international reach".
A number of leading regional and international education institutions also sent congratulatory messages to the new Chancellor.
Professor E. Nigel Harris recently demitted office as the Vice-Chancellor of the University of the West Indies, St. Augustine Campus, a position he held from October 1, 2004 to April 30, 2015. On his retirement he was named Vice-Chancellor Emeritus. He also served as Dean and Senior Vice President of Academic Affairs at the Morehouse School of Medicine in the United States. He rose to the rank of Professor of Medicine and Chief of the Division of Rheumatology at the University of Louisville, Kentucky.
He served as President of the Association of Caribbean Universities and Research Institutions from 2012-2015; was elected Chairman of the Association of Commonwealth Universities (2011-2013), served in numerous other distinguished posts and received many honours and awards including the National Award, the Cacique's Crown of Honour (CCH) in 2011.
Professor Harris is married to Dr. Yvette Williams-Harris and is the father of three children and five grandchildren.