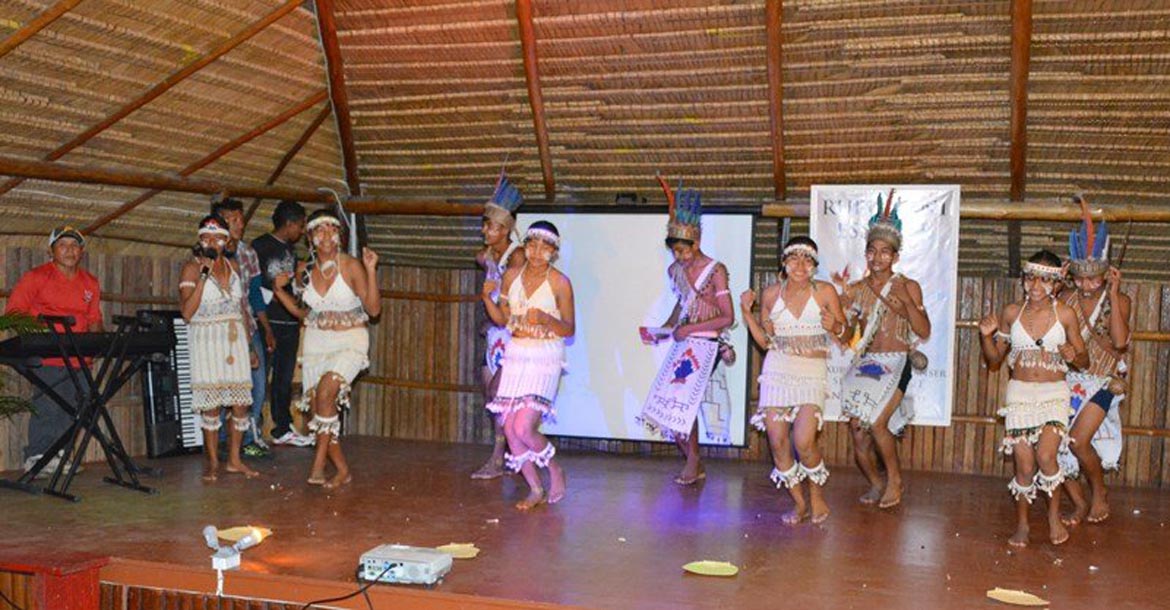 Georgetown, Guyana – (May 9, 2016) Minister of Social Cohesion, Ms. Amna Ally, this evening, said she was "proud and happy" to be a part of the momentous launching of the Rupununi Essence Luxury Facial Cleanser, developed by the Makushi Research Unit (MRU), Medicine from Trees and other groups, in collaboration with the Institute of Applied Science and Technology (IAST).
The 100 percent organic skin cleanser was created through a partnership among the Ministry, the IAST, under the stewardship of Director, Professor Suresh Narine, and indigenous producers from the North Rupununi. The partnership was started in November 2015 with the aim of adding value to the products produced by indigenous groups through adding flavours and scents and by refining their production techniques to ensure access to higher priced markets.
"This event is of great significance not only to the Makushi people but to all of our indigenous brothers and sisters because it showcases the novel and innovative mechanisms they can be employed to produce products such as the Rupununi Essence Brand," Minister Ally told the packed audience at the Sophia Exhibition Centre.
Dancers from the Rupertee Culture Group charm the audience with their performance, which depicted their way of life.
She noted that traditional knowledge has always played a vital role in the lives of indigenous peoples and constitutes part of their cultural heritage.
"Our indigenous peoples and their civilisations have contributed greatly to the world's agricultural diversity and its related biological diversity and knowledge diversity. They are the originators and custodians of millennial and dynamic agriculture and food systems that remain viable in the 21st century," the Minister said.
Recognising that there is now a niche market for organic products both locally and internationally, the partnership, along with the Ministry of Indigenous People's Affairs and woman's and social activist, Ms. Vanda Radzik, embarked on a "robust business plan" aimed at empowering, in particular, women producers. They created a list of sustainable products to develop, such as soaps, body lotions and cleaners made from crabwood oil and other botanicals, which the producers are now exporting and which will be available for sale locally at high-end retailers. The Parishara peanut butter factory was also refurbished through this collaboration.
"The Ministry of Social Cohesion will continue to work with communities to …empower them… We intend to promote and develop projects such as these that will ensure economic empowerment of our indigenous population. We will invest in initiatives to provide technical assistance and capacity strengthening programmes for indigenous organisations that require funding," Minister Ally said.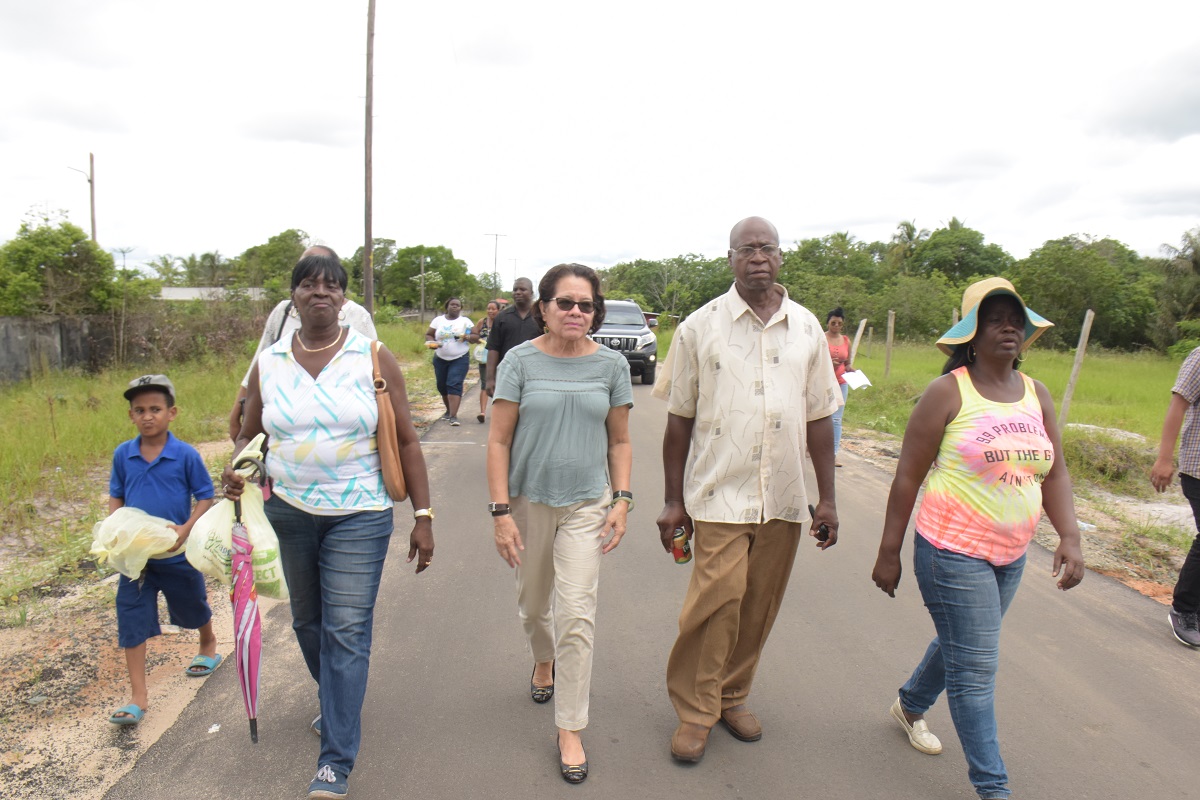 Minister of Business, Mr. Dominic Gaskin, a young woman, who is featured in the advertising campaign of the Luxury Facial Cleanser, Minister within the Ministry of Indigenous People's Affairs, Ms. Valerie Garrido-Lowe and Vice President and Minister of Indigenous People's Affairs, Mr. Sydney Allicock display the a few bottles of the cleaner and the soap.
The Ministry and the Ministry of Indigenous People's Affairs have also signed a Memorandum of Understanding to collaborate on the application of technology in indigenous communities to alleviate poverty and promote community-based enterprise and cohesion.
Meanwhile, Minister of Indigenous People's Affairs, Mr. Sydney Allicock extended congratulations to the MRU and other groups for creating the product and noted that it is essential that they all continue to work to create economic stability within their group and the national economy.
"You have demonstrated the will to stay close to your culture and heritage. You have therefore helped with the preservation, growth and development of your culture, customs and practices. This is a need…it is the best way to allow, not only man alone to survive, but also all the other living things within the ecosystem. We hear so much about climate change, but little do we know that when we destroy it is slow suicide to us," he said.
In his address, Professor Narine heaped praise on a number of persons instrumental in helping to create the cleanser, including Minister Ally, the "tireless" Ms. Radzik, Dr. Paloma Mohamed, who was instrumental in crafting the marketing and advertising for the product; Dr. Marie Correia, who taught the group how to make liquid soap and the "indefatigable" Mrs Annette Arjoon-Martins, who was accompanied by her husband, celebrated singer/songwriter Mr. Dave Martins.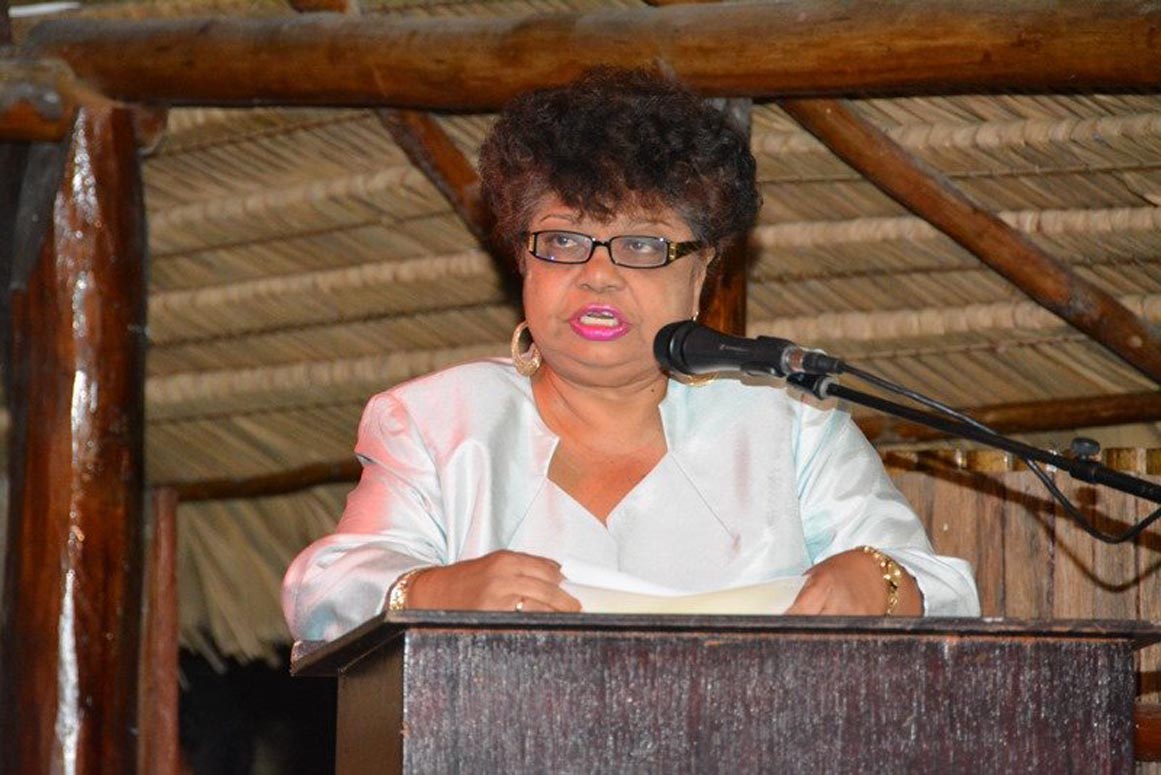 Minister of Social Cohesion, Ms. Amna Ally said she was proud of the efforts that have been put into making the Rupununi Essence Luxury Facial Cleanser a reality.
"For too long we have ignored this amazing patrimony, the gift of knowledge from our indigenous peoples. We like to say that it is "knew" knowledge because they have known this for millennia," Professor Narine said.
He too noted that as the world grapples with the adverse effects of climate change and faces the end of oil, the knowledge possessed by our indigenous peoples "offers elegant solutions to what we must do as a planet. Certainly their approach to conservation is something that many of us on the coastland need to not only learn, but inculcate."
Minister within the Ministry of Indigenous People's Affairs, Ms. Valerie Garrido-Lowe, Minister of Business, Mr. Dominic Gaskin, Minister of Citizenship, Mr. Winston Felix, Speaker of the National Assembly, Dr. Barton Scotland, Commissioner and Chief Executive Officer of the Guyana Lands and Surveys Commission, Mr. Trevor Benn, Chancellor of the University of Guyana, Dr. Nigel Harris, Dr. Patrick Chesney of the United Nations Development Programme, representatives from The Amerindian Action Movement of Guyana, Guyana Organisation of Indigenous Peoples, the Amerindian People's Association and the Guyana Geology and Mines Commission, also attended the launch.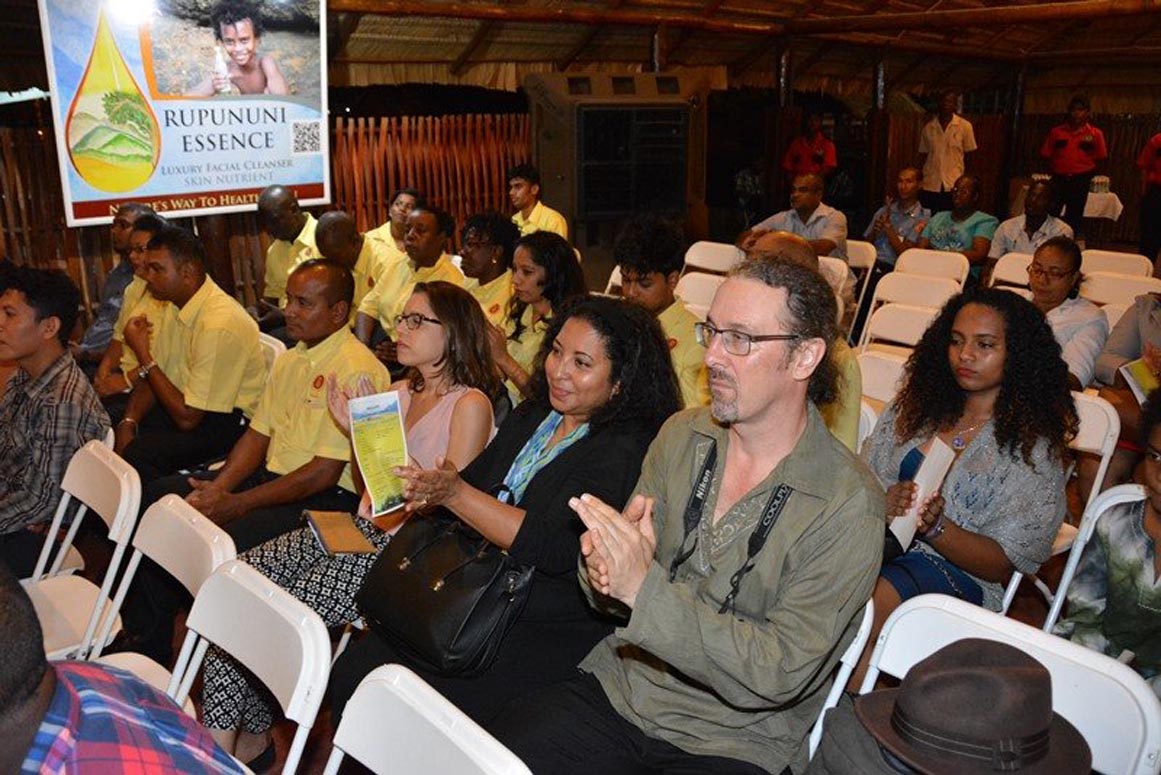 A section of the audience at the launching of the Rupununi Essence Luxury Facial Cleanser at the Sophia Exhibition Centre last evening. Dr. Paloma Mohamed and Dr. Marie Correia are pictured second and third from right.
Attendees were treated to musical accompaniment by the Police Steel Orchestra Band and were also entertained by cultural presentations of indigenous song and dance by the Surama and Rupertee culture groups. Local men's quartet Circle of Love also charmed the audience with their a cappella renditions of a medley of folk favourites including "Etaname" (Itanami) as well as Dave Martins and the Tradewind's "Not a blade o' grass".
Mr. Ovid Williams chaired the proceedings. Mr. Eugene Xavier, a Wapishana who speaks Makushi, delivered the vote of thanks.