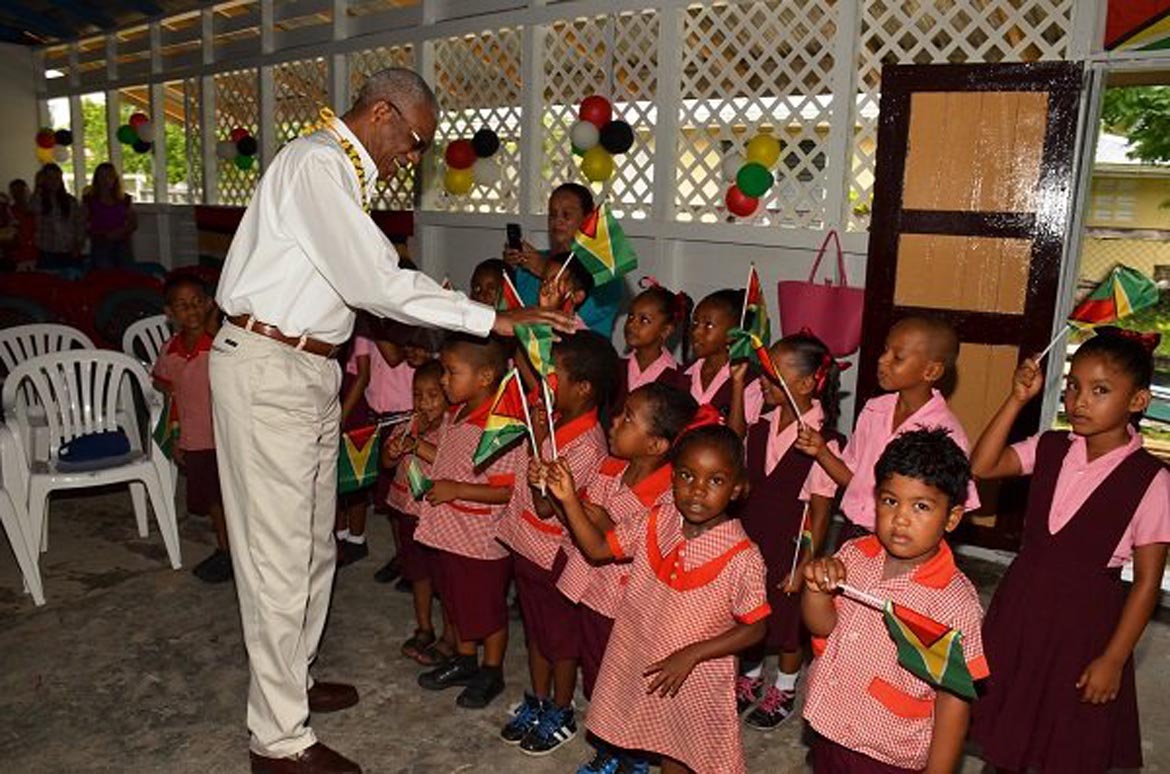 Georgetown, Guyana – (May 7, 2016) Residents of River's View, Upper Demerara – Berbice (Region 10) are the latest beneficiaries of the Government's "Boats, Buses and Bicycles plus Breakfast and Books" ('Five Bs') programme. President David Granger, today, commissioned two speed boats in that community. One was donated by Mr. Nazar Mohamed and his son Mr. Azruddin Mohamed of Mohamed's Enterprise Mining Sector and will be used to ferry children to and from school, while the other, which was donated by Berbice businessman Mr. Peter Lewis, will be used for medical and other emergencies.
The President was accompanied by First Lady, Mrs. Sandra Granger, Minister of Social Cohesion, Ms. Amna Ally, Minister of Social Protection, Ms. Volda Lawrence and Minister of Public Health, Dr. George Norton.
President Granger expressed satisfaction and pride in the manner in which the private sector has been partnering with the Government. He said that the support that the 'Five Bs' programme has been receiving is tangible evidence of the fact that Guyanese are ready to be unified and to move the country's development forward. The President explained that the idea for the programme came from ordinary Guyanese who face daily financial and other struggles to send their children to school.
President David Granger took a moment to greet these nursery school students at River's View
"This initiative is about equality, so that children wherever they are, whether they are fromCorriverton or River's View…must have equal access to education, whatever their ethnicity, whatever their geography, whatever their status in life, every single Guyanese child must have a place in school. It is my view and the view of my Administration that no child should have to paddle two hours to go to school and two miles to get back or to walk 10 miles to go to school…at the top of our agenda is making sure that there is equality in this country," President Granger said.
The Head of State explained that the Cuyuni-Mazaruni Region alone is bigger than the Netherlands and as such it needs educated people to propel its development; building proper infrastructure, creating employment, securing investments and developing the mining sector.
"You cannot build infrastructure without educated engineers, scientists, technologists and mathematicians. I am dismayed and distressed when I see the results of the National Grade Six Assessment…too many children in Region Seven are failing all of their subjects. This boat hopefully, will enable children to get to school and do better," President Granger said.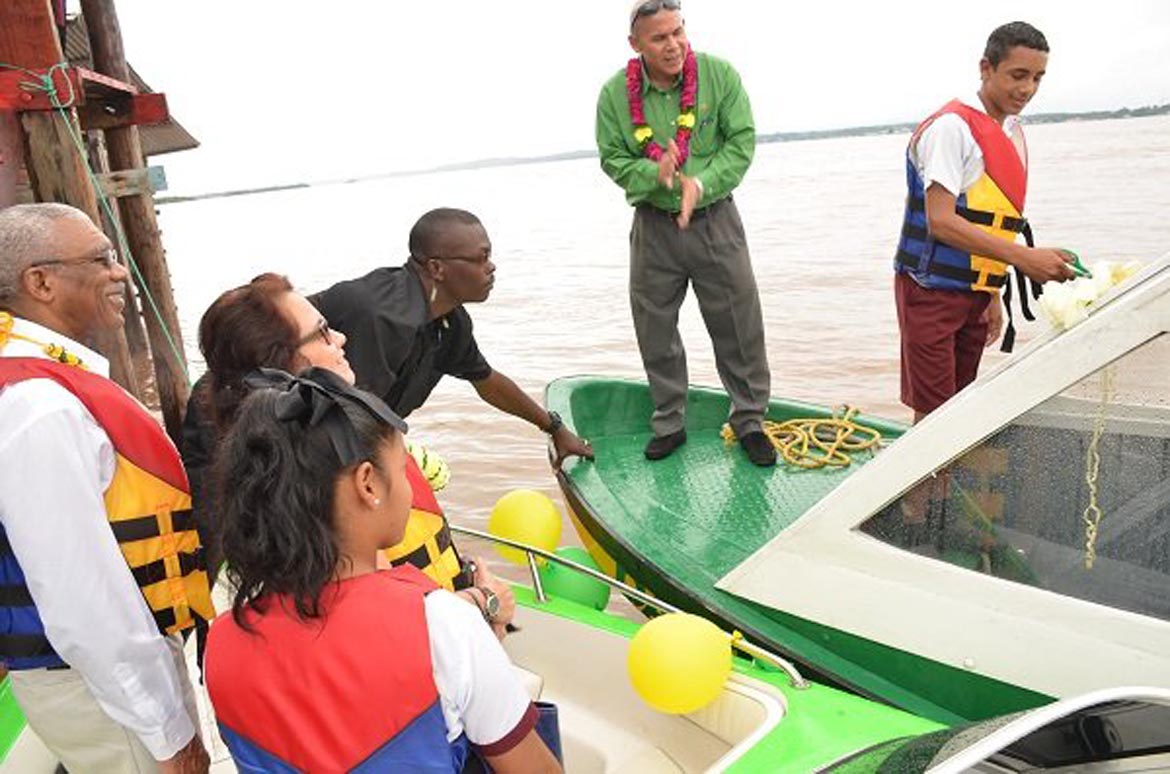 President David Granger, First Lady Mrs. Sandra Granger and Minister of Public Health, Dr. George Norton witness the cutting of the ribbon to officially commission the David G. 7
Meanwhile Dr. Norton, who hails from River's View Village, pointed out that this is the first time that the River's View/Goshen/Falmouth area has a designated school boat. He added that children from these areas will also benefit from the school bus that was handed over to Bartica in early March, since many of them attend the Bartica Secondary School.
Mr. Nizam Zaman, who spoke on behalf of the donors, said that they are happy to be part of a programme that will ensure that the question of affordability does not stand in the way of children whose dreams are to reach the highest levels of academic achievements.
"By way of this donation, we join with the Government of Guyana in this noble effort…and ensuring that education talents are materialised," he said.
River's View Toshao, Mr. Elvis Williams expressed his gratitude to the Government and highlighted that this is the first time that a sitting President has visited his community in decades.
The school boat, the David G. 7, is one of many that has been handed over to riverine communities under the programme since its launch last year.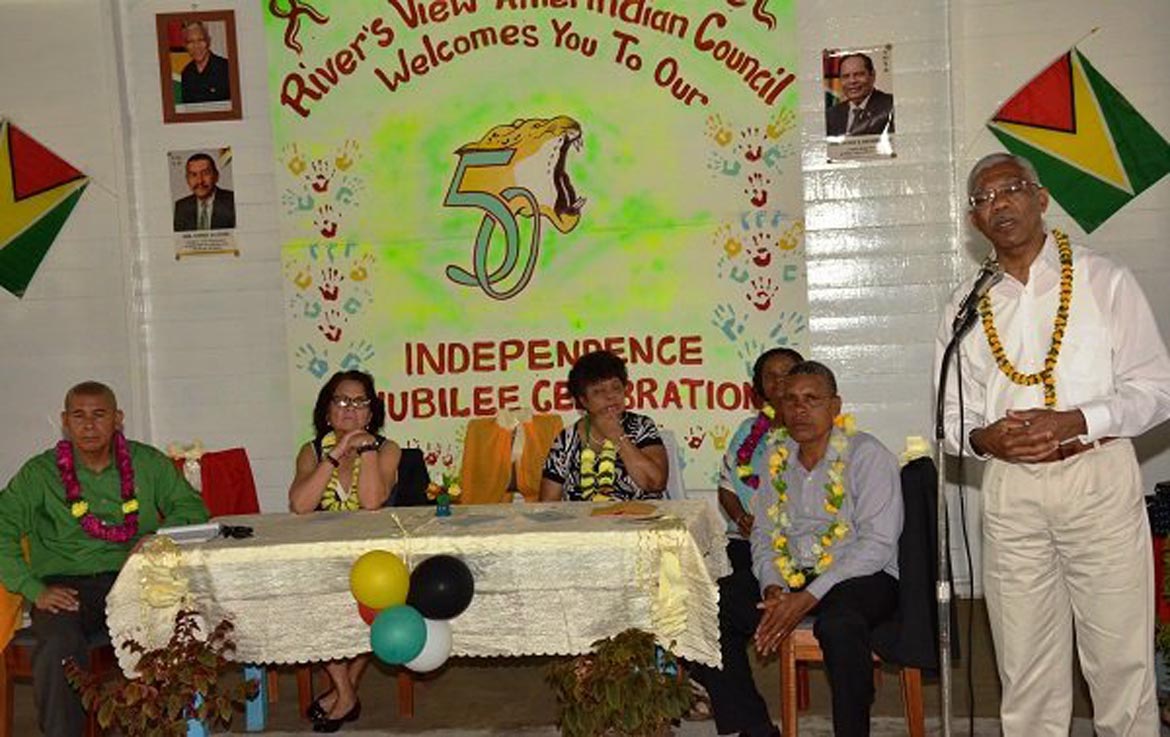 President David Granger addresses residents of River's View Village at the Holy Name Primary School. Seated at the head table are from left: Dr. George Norton, First Lady, Mrs. Sandra Granger, Minister of Social Cohesion, Ms. Amna Ally, Minister of Social Protection, Ms. Volda Lawrence and Regional Chairman, Region Seven, Mr. Gordon Bradford