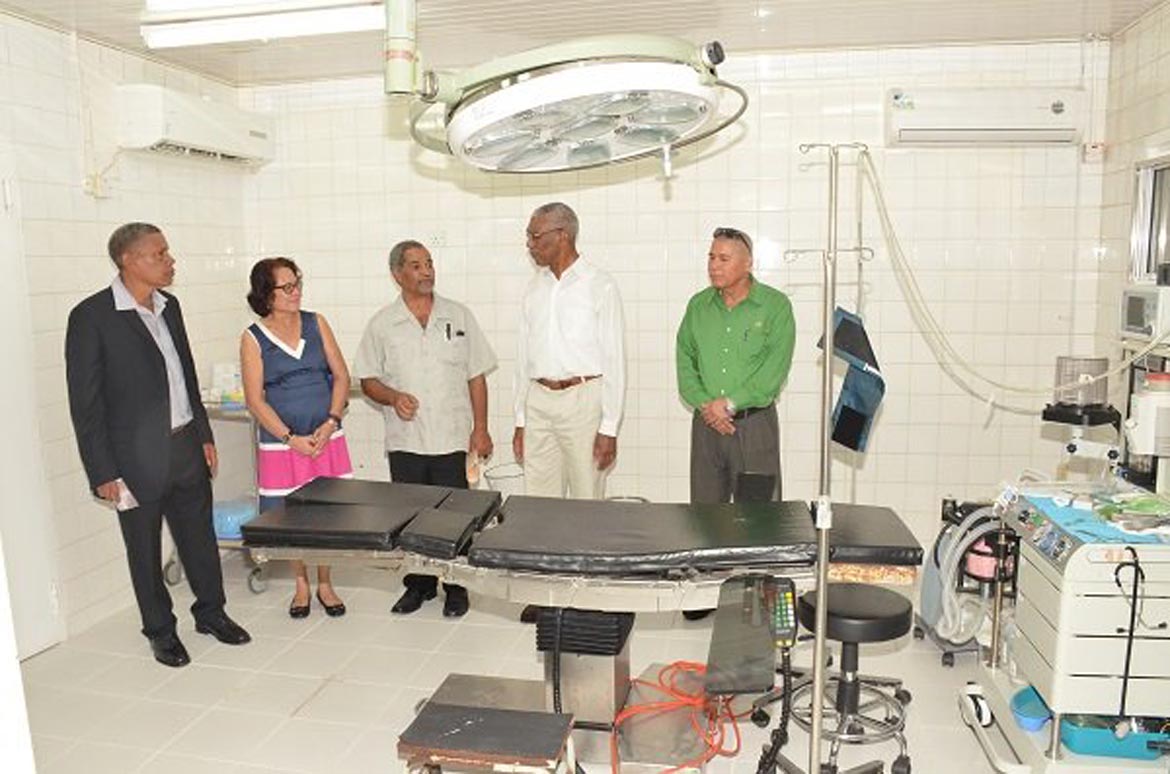 Georgetown, Guyana – (May 7, 2016) As a result of vast improvements in the range and quality of services provided by the Bartica Regional Hospital over the past eight months, referrals to the Georgetown Public Hospital Corporation (GPHC) has reduced by almost 50 per cent. This was revealed by Regional Health Officer (RHO), Cuyuni-Mazaruni (Region Seven), Dr. Edward Sagala.
The RHO made these remarks during the commissioning of a new Neonatal Intensive Care Unit (NICU) and the refurbished main operating theatre at the hospital earlier today. President David Granger, First Lady, Mrs. Sandra Granger, Minister of State, Mr. Joseph Harmon, Minister of Social Cohesion, Ms. Amna Ally, Minister of Social Protection, Ms. Volda Lawrence, Minister of Communities, Mr. Ronald Bulkan and Minister of Public Health, Dr. George Norton also attended the ceremony.
The NICU was established as a result of a collaborative venture between the Ministry of Public Health and the Guyana Help the Kids Charity.
Dr. Sagala said that the Bartica Regional Hospital caters not only for Region Seven residents, but also those from areas like Saxacalli, Essequibo Islands – West Demerara (Region Three), River's View, Upper Demerara-Berbice (Region 10) and more recently, residents of Parika who choose to travel to Bartica rather than to the city.
From left: Regional Chairman, Region Seven, Mr. Gordon Bradford, First Lady, Mrs. Sandra Granger, Regional Health Officer, Dr. Edward Sagala, President David Granger and Minister of Public Health, Dr. George Norton in the newly refurbished main operating theatre
The RHO recalled that during the 2015 elections campaign, President Granger had promised residents of Region Seven that he would ensure that the hospital was upgraded to become a full-fledged regional hospital and this feat has been achieved within his first eight months in office.
He informed that today the Cuyuni-Mazaruni region has a total of 22 doctors. The Bartica Regional Hospital alone, which previously had only four doctors, now has 16, seven of whom are medical specialists, while the others are general practitioners. Most of the specialists are university professors and has worked in countrie4s such as Haiti, Angola and Yemen.
For the first time in the history of the Bartica Hospital, residents can be treated by medical specialists such as dermatologists, ear and throat specialists, cardiologist, obstetrician/gynaecologist, general surgeon, anaesthetist and paediatrician. The hospital also holds a monthly mental health clinic led by renowned Guyanese psychiatrist, Dr. Bhiro Harry. Prior to these services being taken to Bartica, patients had to travel to Region Three and Georgetown for specialised medical care.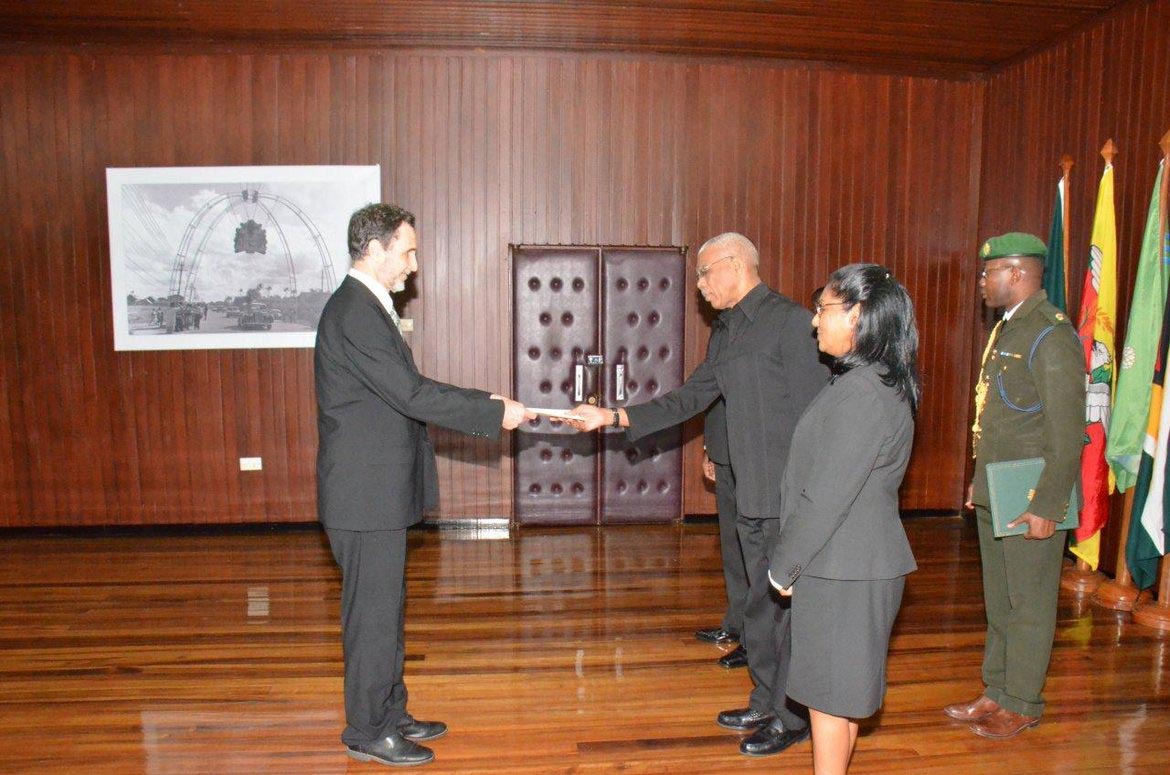 President David Granger, First Lady, Mrs. Sandra Granger and Minister of Public Health, Dr. George Norton check on a patient during a tour of the facility
"The works are still ongoing in order to upgrade this institution because infrastructure alone cannot operate in a vacuum; we need people who are highly trained and well-motivated….This is not all that you are seeing, within the next year you would be surprise to see how many more health services will be offered here. We intend to become one of the best regional hospitals in the country," Dr. Sagala said.
Meanwhile, President Granger expressed his Administration's appreciation to the doctors, nurses and staff of the Bartica hospital who have been working tirelessly to save lives, particularly those of new born babies. He said that regardless of the cost, his Government will ensure that there is a national maternity hospital in the near future.
"We want to aim at zero maternal deaths not just a reduction. There should be no reason in 2016 for babies to die…we want to ensure that no resident must have to leave his or her region to get access to basic public services," the Head of State said.
He added that now that Bartica has achieved township status it must possess all of the necessary resources to ensure that residents are provided with all of the services that they need.
Minister Norton informed that while neonatal mortality rates has been decreasing in Guyana, it continues to be a major public health concern, which is why it remains the primary focus of his Ministry's Health Vision 2020.
"The opening of the NICU at this hospital will see fewer women travelling from Region Seven to Region Three for specialised health care… The close cooperation between the Ministry of Public Health and the Guyana Help the Kids has no doubt lead to a significant decline in neonatal deaths at the Georgetown Public Hospital Corporation. In December, 2015, the GPHC recorded a drop in mortality from 35 per cent to seven per cent," Dr. Norton said.
President of the Guyana Help the Kids organisation, Dr. Narendra Singh said their mission is to ensure that every single baby born in Guyana has a fighting chance to survive. This led to the commencement of the paediatric post-graduate residency programme of which he is the director.
"I am thrilled to say that as of yesterday we have graduated 10 well-trained, brilliant Guyanese paediatricians," Dr. Singh said.
Additionally, the organisation has trained 30 neonatal intensive care nurses who will be deployed to the GPHC and the regional hospitals. This is the sixth NICU that the Canada-registered organisation has established in Guyana. The others are located at the GPHC and at the Linden, New Amsterdam, Suddie and the West Demerara hospitals.