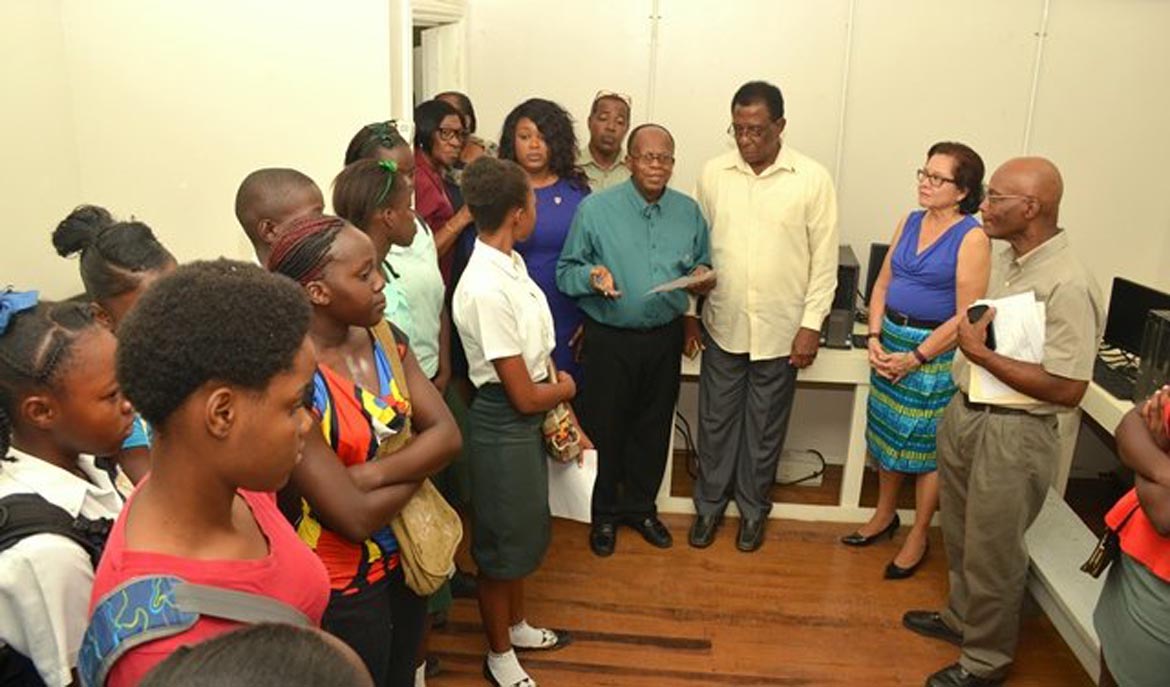 Georgetown, Guyana – (May 03, 2016) First Lady, Mrs. Sandra Granger, this afternoon, officially declared open an Information Technology (IT) and vocational skills training programme for the youths of Victoria Village, East Coast Demerara. The event was held at the Golden Grove, Nabacalis, Haslington Community Centre, which is also the venue of the 13-week training programme.
Apart from IT training, the participants, which include high school students and out of school youth, will also benefit from remedial Mathematics and English courses as well as sessions on sexual and reproductive health, office ethics and microenterprise development.
Mrs. Granger said the programme is a comprehensive one, which aims to ensure that participants are given valuable life skills to prepare them for the world of work. She also spoke of how vital IT is for advancement in today's world.
First Lady Mrs. Sandra Granger looks on as Facilitator, Mr. Fitzroy Young explains some ground rules to the participants during the orientation
"You will be learning not only how to communicate using IT, but also how to conduct yourself in the workplace… It is a workshop, which we hope will give you the tools to shape your lives and be everything that you want to be," the First Lady said.
Meanwhile, Regional Vice Chairman, Demerara-Mahaica (Region Four), Mr. Earl Lambert said that this initiative fits into the Administration's overall vision of creating a more technology-savvy and educated population and urged the participants to make the most of this opportunity.
"You at this young age are given this opportunity and so you should grasp it with both hands… education is important and this programme will open many doors for you," he said.
Similar sentiments were expressed by one of the facilitators, Mr. Desmond Saul, who encouraged the youths to use the skills they learn during the next 13 weeks to enhance themselves, their families and their communities.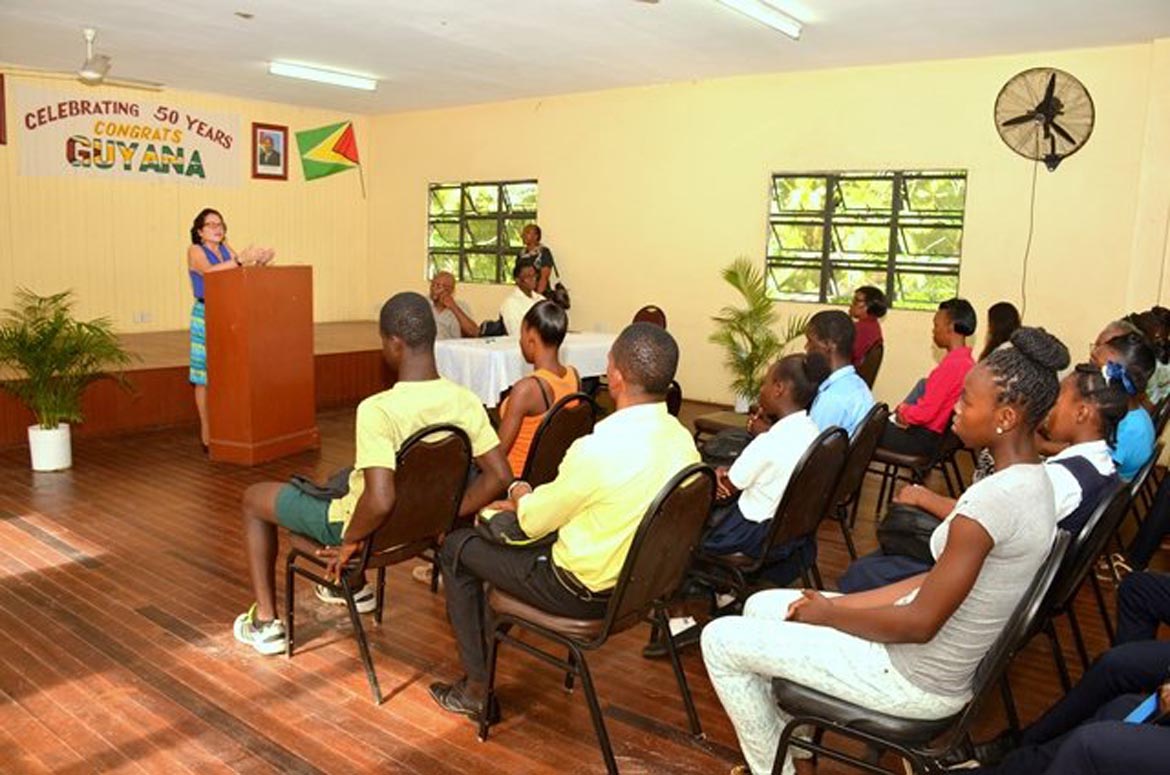 First Lady, Mrs. Sandra Granger delivering remarks at the opening of an Information Technology (IT) and vocational skills training programme at the Golden Grove, Nabacalis, Haslington Community Centre
The classes commence tomorrow and will run until August 2. Sessions will be held three days per week, Mondays, Wednesdays and Fridays from 15:30h to 19:30h.
The participants will be assessed on a weekly basis for the duration of the programme and at the end of the 13 weeks they will be awarded with a certificate which is accredited by the Board of Industrial Training (BIT).
This youth development programme is the brainchild of the First Lady. It is aimed at empowering youths, particularly those who, for various reasons, did not have a chance to complete their formal education. In September last year, a similar programme was successfully implemented in Buxton-Friendship.