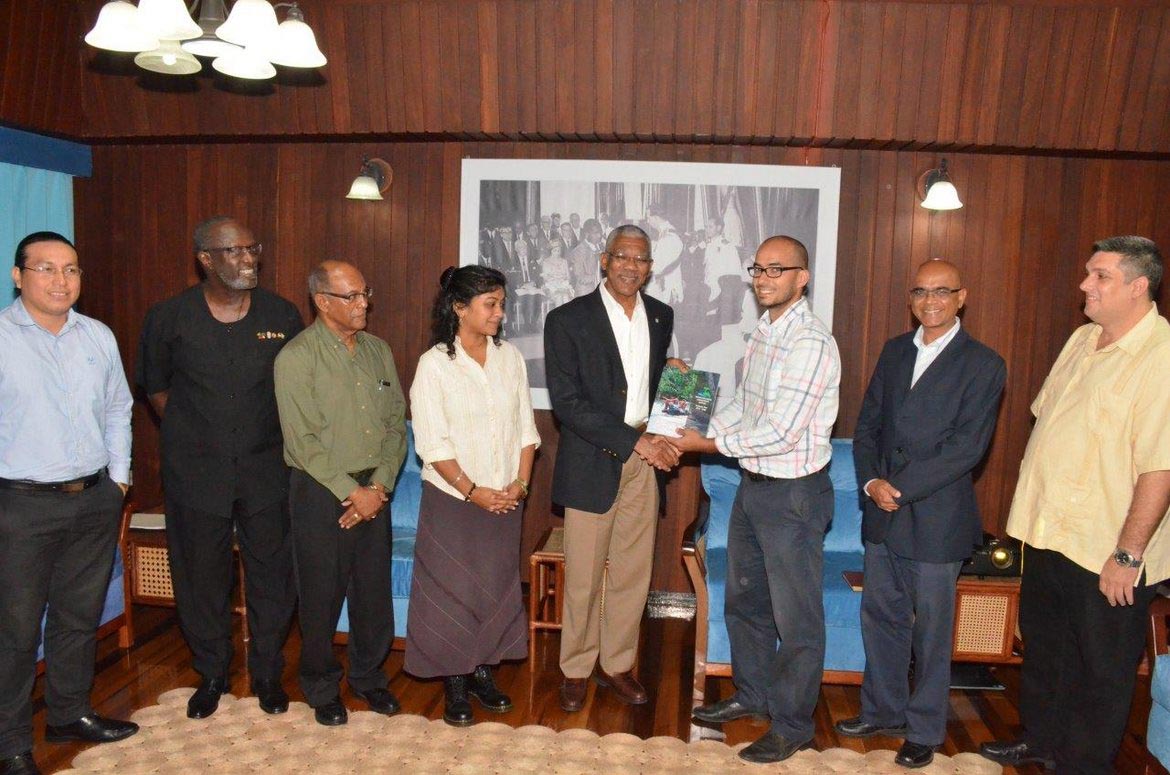 Georgetown, Guyana – (April 28, 2016) President David Granger, today, met with the Chairman and Commissioners of the Board of the Protected Areas Commission (PAC), who updated him on their workplan as it relates to protecting Guyana's natural patrimony.
The team was led by Dr. David Singh and included Mr. Clayton Hall, Mr. Gerhard Ramsaroop, Ms. Varshnie Singh, Mr. Damian Fernandes, Mr. Anil Roberts and Permanent Secretary of the Ministry of Indigenous Peoples' Affairs, Mr. Vibert Welsh. The PAC is currently working on a project to develop the Zoological Park, the Botanical Gardens and the Joe Vieira Park at Schoonord, West Bank Demerara.
"Every region should have its own botanical zone to protect its flora and fauna. Our children have to see these plants and animals and know what they mean… our botanical gardens and parks must be a place for education," President David Granger said.
PAC Commissioner, Mr. Damian Fernandes presents President David Granger with a document the Commission compiled, while the other commissioners look on.
The Head of State also noted that the PAC has an integral role to play in protecting and safeguarding Guyana's heritage and called for the body to take a holistic approach in this regard. He said that all 10 Administrative Regions of Guyana have their own unique elements of biodiversity and historical and cultural heritage, which makes up the country's national patrimony and which should be preserved for future generations to enjoy.
The President also spoke of the need for legislation to safeguard Guyana's rich biodiversity and protected areas to ensure that they are managed in a sustainable way. Additionally, he pointed to the need for training of a cadre of professionals in the areas of botany, biodiversity and conservation.