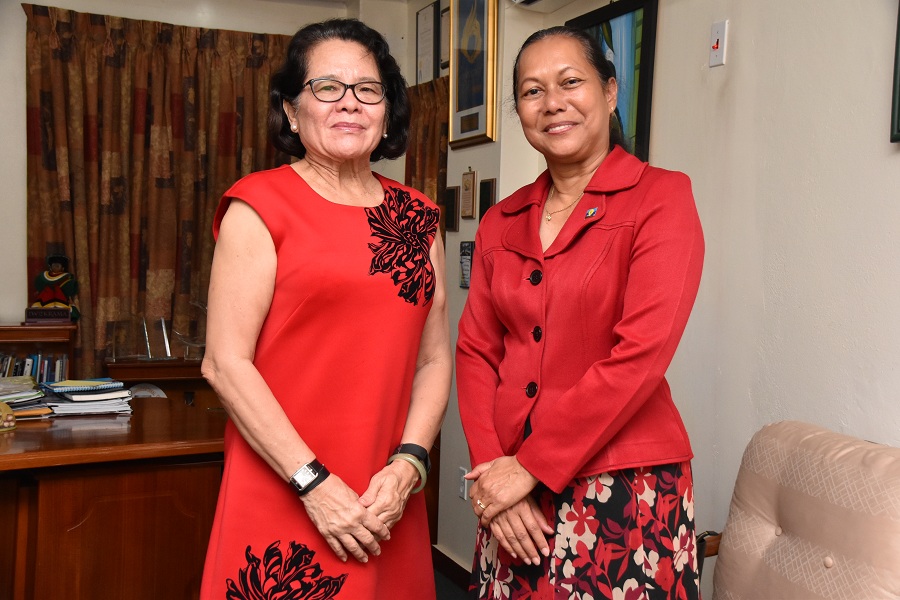 Georgetown, Guyana – (April 27, 2016) The Ministry of Social Cohesion, today, hosted a conversation with members of the Hindu community in keeping with its pledge to explore avenues with religious and other groups to foster national unity.
Representatives from the Viraat Sabha, Shri Satya Sai Baba, the Pandits' Council, the Gandhi Youth Organisation, the Maha Kaapalani Shakti Devi Mandir, the Sanatan Dharma, the Seeta Ram Mandir, the Central Arya Samaj, Bhakti Bhavan, Oneness Guyana, the Timehri Shakti Mandir, the Guyana Divya Jyoti Organisation, the Ananda Marga group, and others met with Minister of Social Cohesion, Ms. Amna Ally in the auditorium of the National Centre for Education Resource Development (NCERD).
The meeting is the third in a series the Ministry has held with religious groups, in keeping with its wider programme to engage every section of society, to partner in a convivial atmosphere to foster social cohesion.
"Under my stewardship we want to be able to implement those initiatives that will allow Guyanese, irrespective of our diversity, to partner in an atmosphere of trust. We want small groups and communities to be allowed to contribute in strategic ways to Guyana's social, economic and political landscape. I believe Guyana's religious community can play a very significant role in fostering social cohesion," Minister Ally said.
The Minister reiterated that she has high expectations of these engagements with religious leaders as all religious groups extoll the virtues of brotherly love, unity, care, charity, compassion and selflessness. "I consider you a critical part of the process," she said, adding that "we have to rebuild bridges while breaking down walls and anything to divide us."
The Minister agreed that while today's meeting can be considered "a small start", it aims to provide an opportunity for the Hindu community to tell the Ministry how it can remove biases and foster strong community relations. She also encouraged the meeting to form smaller working groups and to agree on a later time and date to deepen the discourse, formulate training and other initiatives to advance the process to create change at the levels of the family, community, in workplaces and the wider society.
Minister of Social Cohesion, Ms. Amna Ally (centre) is flanked by, from left, Ms. Sharon Patterson, Programme Coordinator and Ms. Pamela Nauth, Technical Officer, both of the Ministry of Social Cohesion.
Pandit Ravindranath Persaud, President of the Viraat Sabha, in his presentation, titled Hinduism and Nation-building, said the latter "always demands genuine partnerships. There must be communication between people on the ground and in distant Government offices". He also posited that the steps to nation-building are five-fold and, in addition to forming partnerships, must encompass processes, problem solving, purpose and people.
"Nation-building is a process which does not produce clear, quick results. It's a gradual snowballing process, which is rooted in human values, that is, it includes ethics, principles and morality. Compromising values in aspect of development will lead to inconsistency, which means disharmony," he said.
Pandit Persaud also called for the development of policy that integrates spiritual values and organisational leadership in the nation-building process.
Meanwhile, Mr. Deonarine Liliah, Leader at the Viraat Sabha, said before social cohesion can advance it is important that the nation respects the emblems that are important to all religions. He called for steps to be taken to preserve the lotus leaves and bamboo plant, used in important Hindu functions, for a building to establish an Indian museum to preserve its rich cultural legacy and for an umbrella body for all Hindu organisations to be set-up.
In addition, Ms. Devina Celtic of the Shri Satya Sai Baba group made it clear that her organisation is not strictly a Hindu group, rather, it aims to inculcate love, righteous and other positive values to its members to enhance their lives. She further suggested that the Education Ministry should consider incorporating initiatives that promote these virtues in its Health and Family Life Education (HFLE) curriculum.
In response Minister Ally said she welcomed and appreciated these suggestions. She also pledged to ensure that the lotus plant is preserved noting that Government respects its value to the Hindu community. She also noted that steps are being taken to augment the HFLE and Social Studies curriculum and booklets will published for schools.