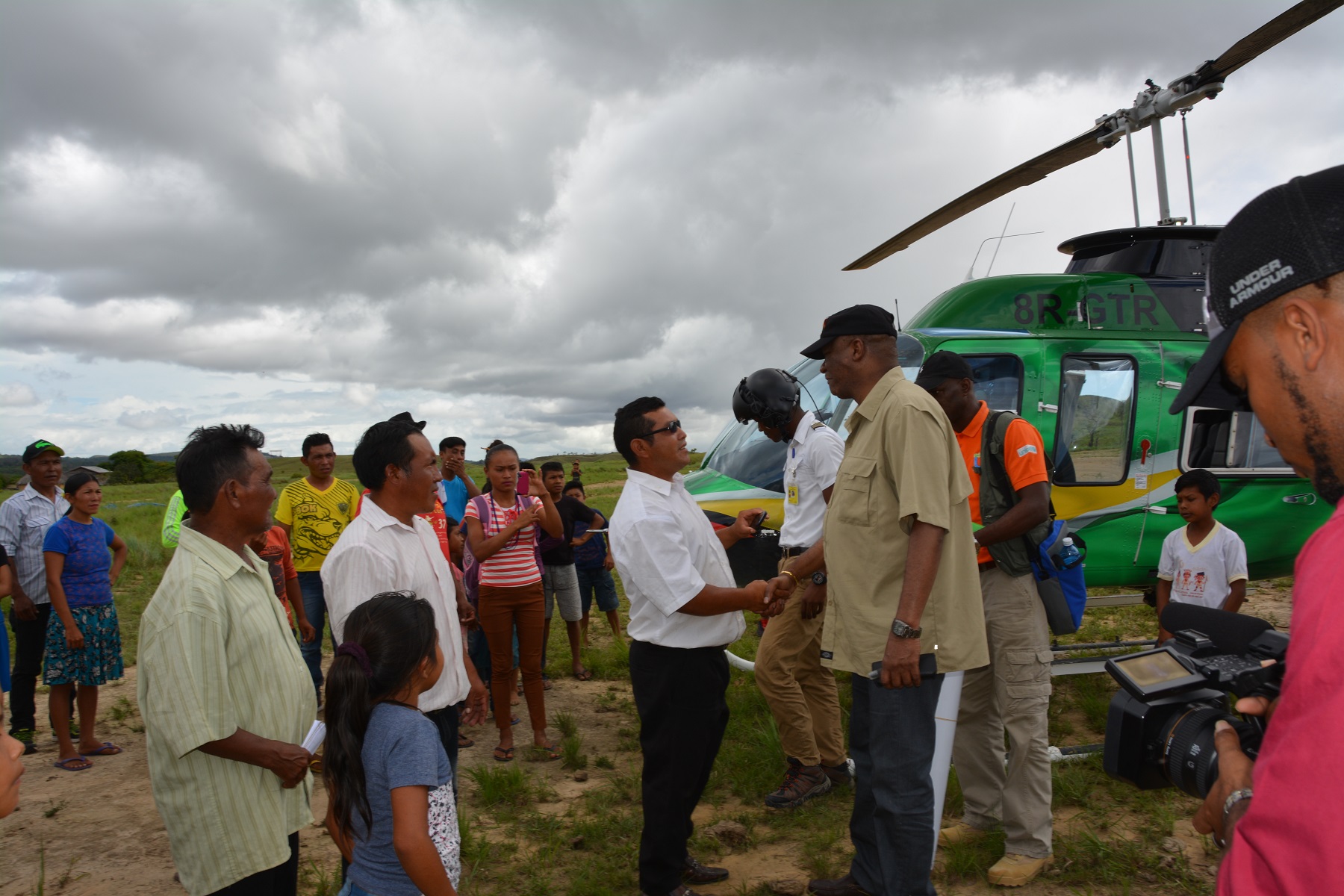 Georgetown, Guyana – (April 21, 2016) Minister of Social Cohesion, Ms. Amna Ally, this morning, told education officials and head teachers in East Berbice-Corentyne (Region Six) that they have an important role to play in creating an enabling environment in schools that can foster social cohesion.
The Minister made these remarks in her opening address at the meeting, which was held in the auditorium of the St. Aloysius Primary School in New Amsterdam. She said the objective of the meeting is to highlight the importance of social cohesion to nation building and to share new ideas and techniques about how it can be promoted in schools.
Education Officers Mr. Claude Johnson, Ms. Selestine La Rose, Ms. Basmatie Etwaroo-Baboolal, Ms. Bhagmattie La Cruz, Regional Education Officer Ms. Volika Jaikishun, Education Officer (Nursery) Ms. Hazel Mathews-George, Head Teacher at the St. Aloysius Primary School, Ms. Hollis Schweirs, Head Teacher at the Canje Secondary School, Ms. Vanessa Jacobs, other head teachers and managers and representatives from the Guyana Teachers Union turned out in their numbers for the meeting.
Minister of Social Cohesion, Ms. Amna Ally is seated at the head table along with, from left to right: Education Officer (Nursery) Ms. Hazel Mathews-George, Technical Officer at the Ministry, Ms. Natasha Lewis, Regional Education Officer Ms. Volika Jaikishun and other education officers and head teachers.
Minister Ally said schools have long been recognised as strategic institutions that can have a significant impact on social cohesion in Guyana; therefore it is imperative that our education system is efficiently structured to promote national unity.
"Education can play a vital part in building social cohesion among diverse groups in any society," she said, adding that "If used positively it can forge a national identity which unites communities" [as] "schools prepare students with the knowledge and skills necessary for the future to participate effectively in a democratic society such as ours. It is a critical mechanism in the promotion of social cohesion through the transmission of knowledge and the shaping of attitudes of individuals towards diversity and change.
The Minister debunked the widely-held belief that social cohesion was only about race and ethnicity, pointing out that it aims to bring people together, regardless of their differences, whether those differences were based on culture, economic or social background, age, geography, race, political persuasion or otherwise.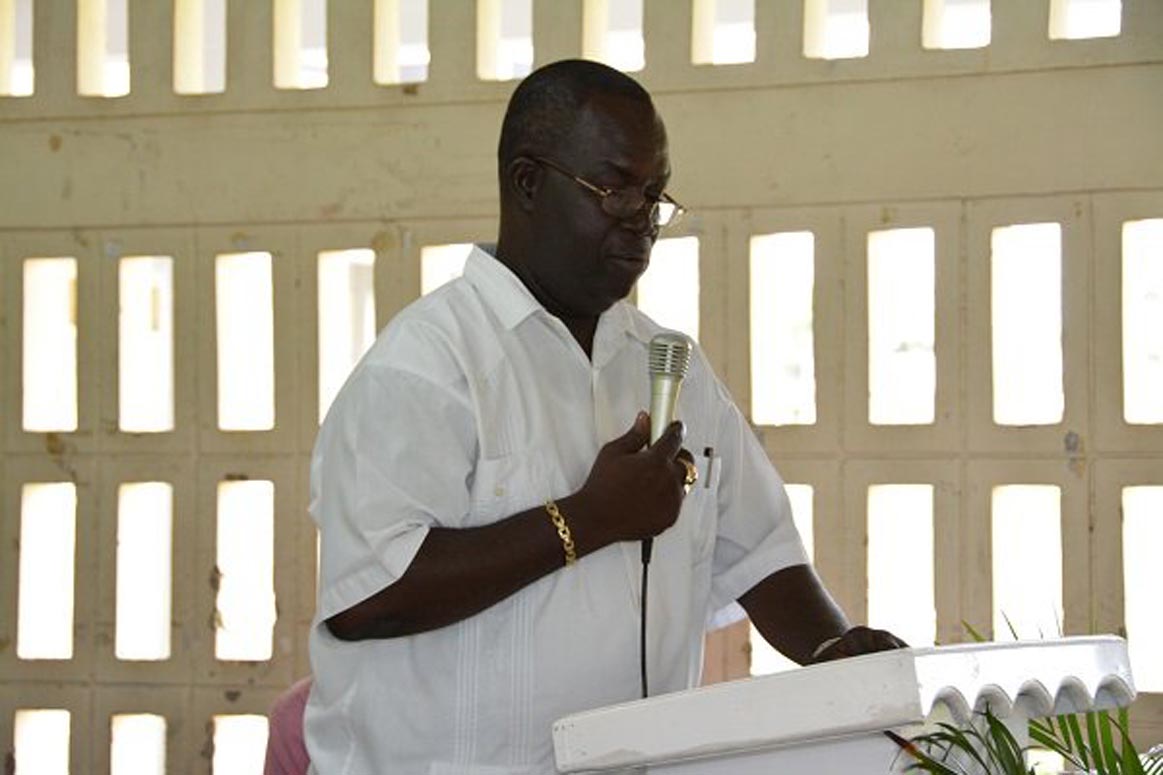 Education Officer Mr. Claude Johnson said the meeting had developed into a "staff development session" and expressed gratitude to Minister Ally for her presentation.
"Social cohesion is the willingness of members of a society to cooperate with each other in order to survive and prosper. I want you to understand that this willingness to cooperate means people freely choose to form partnerships. We don't want segregation. We've got to meet, come together and form partnerships," Minister Ally said.
The Minister told the gathering that when people choose to form partnerships it is because they have a reasonable expectation of achieving their goals. This can only happen "because they are willing to cooperate and share the fruits of their endeavours equitably… this is what social cohesion is all about," she said.
She further noted that this concept of "coming together to work together for the good of all" through self-help initiatives is not new to Guyana since this how communities such as Melanie Damishana and Festival City were built. "We want to reignite that flame in developing our country," she said.
Minister Ally also noted that it is important to recognise and value our diversity and not to allow them to become barriers as a dearth of cohesion could lead to the enactment of policies and laws that do not consider the rights of all Guyanese; a lack of respect for human rights, discrimination, intolerance and fear and can curtail access to basic services like health care and education for all.
In order to further promote the advantages of having a united society the Ministry of Social Cohesion has assembled a task force comprising Technical Officer at the Ministry, Ms. Natasha Lewis and Dr. Theo Gittens and Dr Michael Scott, both of the University of Guyana, to develop a strategic five-year plan for the Ministry and a booklet to be used in schools to promote national unity.
Minister Ally said her Ministry and the Education Ministry is also collaborating in this endeavour and she charged teachers to take up their roles to promote national unity. She suggested that this can be done by incorporating brief messages about the importance of social cohesion in 'moral talks' with students and by encouraging their participation in extracurricular activities like cultural programmes to learn with, from and about other groups; through field to other diverse communities and by promoting shared values.
Meanwhile, Education Officer, Mr. Johnson thanked the Minister for her presentation noting that it had become "more of a staff development session as she has expertly and aptly explained the concept of social cohesion. We are all more enlightened by her presentation."
Ms. Mathews-George, another education officer, shared these views. She thanked Minister Ally for sharing of her knowledge and experience in the education with the group and likened her presentation "to a full day's meal, not a snack".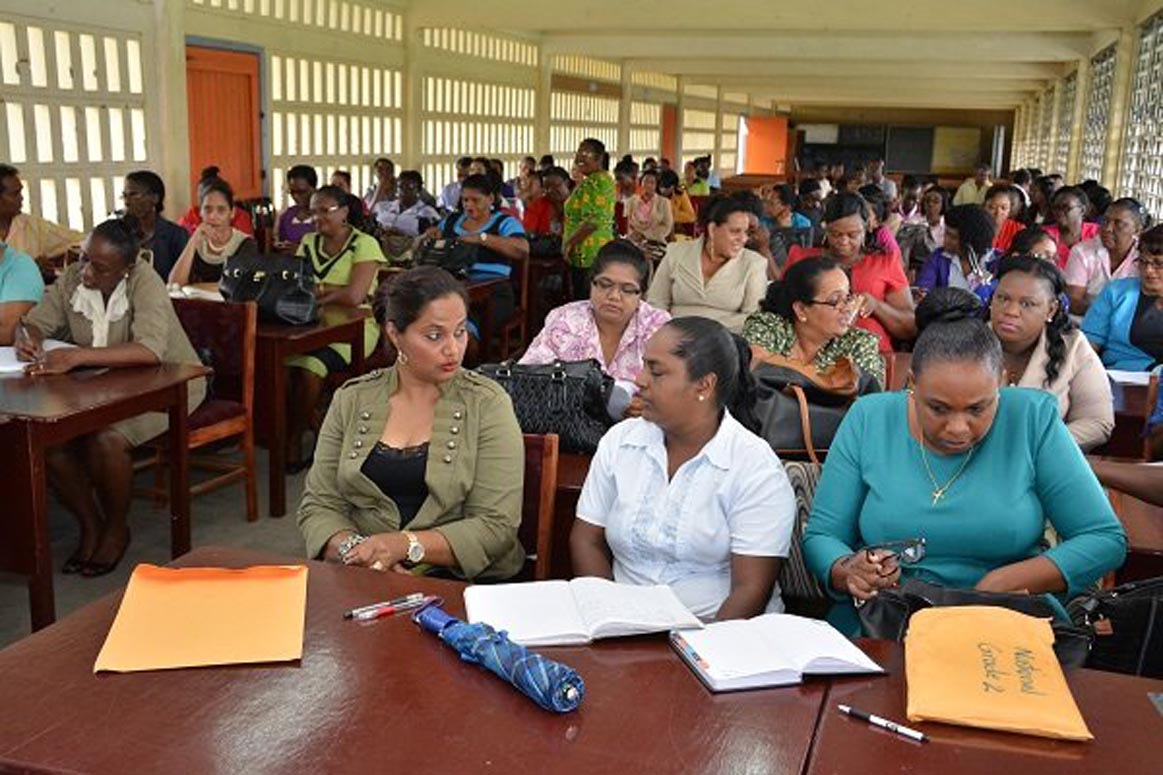 A section of the gathering of head teachers, managers and education officials from East Berbice-Corentyne schools including Corentyne Comprehensive Secondary School, Number 48 Village Primary School, Manchester Secondary, Hibiscus Nursery and others, in the auditorium of the St. Aloysius Primary School, New Amsterdam.