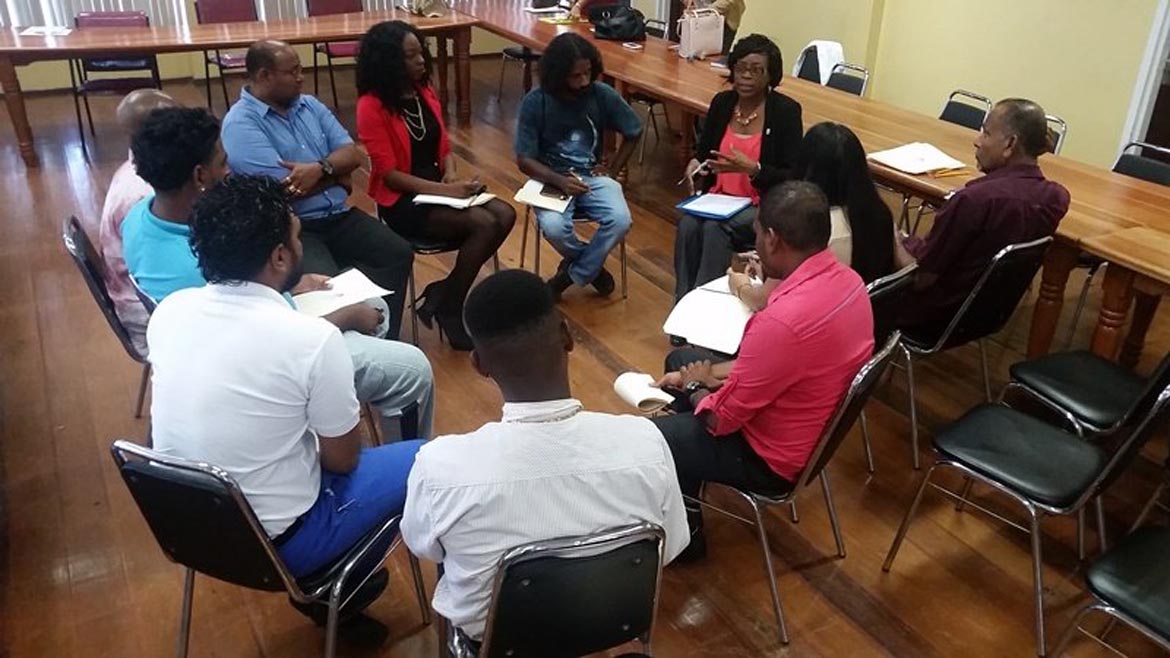 Georgetown, Guyana – (April 20, 2016) Minister of Social Cohesion, Ms. Amna Ally, this morning, engaged members of the entertainment fraternity to "big up social cohesion", declaring that she was eager to see the benefits that would accrue from partnering with them as they are able to reach the public in their comfort zone.
Minister Ally made these remarks at a conversation hosted with representatives from the entertainment and performance arts genres, in keeping with the Ministry's pledge to engage society's partners to develop new strategies for national unity.
Participants included Mr. Linden "Jumbie" Jones, Mr. Gavin Mendonca, Ms. Andrea Joseph of the National Communications Network (NCN), Mr. Amar Ramessar of Radio Guyana, Mr. Mark Pierre of 89.1 FM, Mr. Jaidev Doodnauth of NCN Radio, Ms. Surida Nagreadi of 98.5 FM, Mr. WR Reaz of Team MMR, DJ Mo Money, DJ Killer Feelings, Lexxus Blingers, Ms. Soyini Fraser, Public Relations Officer of Hits and Jams Entertainment, Mr. Troy Peters, Public Relations Officer of Banks DIH Limited, Mr. Lorry Wills, Brand Manager, Demerara Distillers Limited and others, who met with the Minister in the auditorium of the National Sports Resource Centre on Woolford Avenue.
Representatives from the entertainment fraternity, who formed a Working Group to collaborate with the Ministry at their first working session with Ms. Sharon Patterson, Programme Coordinator at the Ministry of Social Cohesion, after today's meeting.
Although the Ministry plans to engage with other media representatives, Minister Ally said this meeting was convened with those from the entertainment sector first "because we believe that you have a very important role to play in nation-building… You all are very influential to varying degrees. You command a certain amount of attention; you have your own fan clubs and captive audiences and in many ways you are listened to. You are popular and you are frequently heard in and out of Guyana that is why you are important in this process."
The meeting is the third in a series of consultations the Ministry has planned to engage all of the religious groups, communities and organisations in Guyana to help devise new strategies on social cohesion.
"Under my stewardship, we want to undertake those initiatives that would allow Guyanese, irrespective of our diversities…to partner in an atmosphere of trust… We want to promote nation-building," Minister Ally said, adding that "we want small groups and communities to contribute in strategic ways to Guyana's social, economic and political landscape."
She noted that the forum provides an opportunity for the group to provide insight on how the media, entertainment industry and the ministry can collaborate to ensure that there are strong community relations and opportunities to foster social cohesion.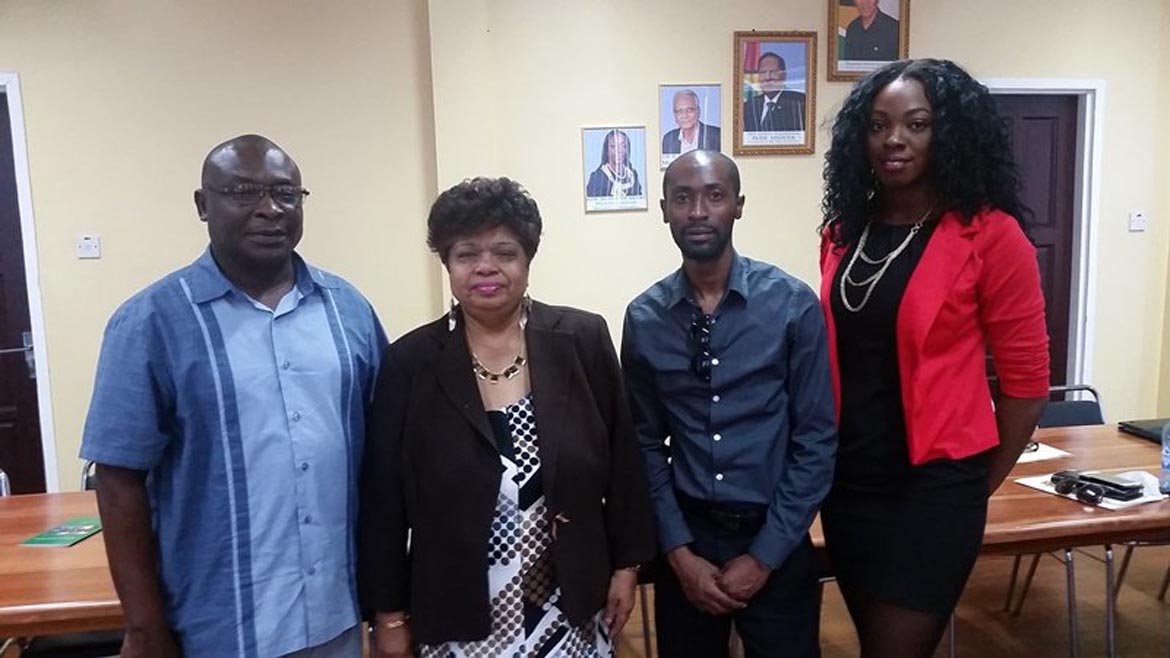 Mr. Troy Peters, Public Relations Officer, Banks DIH Limited, Minister of Social Cohesion, Ms. Amna Ally, Mr. Lorry Wills, Brand Manager, Demerara Distillers Limited and Ms. Soyini Fraser, Public Relations Officer at Hits and Jams Entertainment, after the meeting
The participants welcomed the initiative. WR Reaz said he was pleased that the Ministry has been able to "recognise us as valuable resources" in this endeavour.
Similar sentiments were echoed by Mr. Jones, who said that "the Ministry is one of the most important miniseries to promote nation-building … I believe that social cohesion is very important. You cannot progress, especially in a country like ours with so much diversity, without social cohesion."
Minister Ally remarked entertainers are also integral to that process because of their close interactions with the public. They can share ideas about how to encourage their involvement and participation in the social cohesion process as well as share messages about its usefulness in Guyana's development.
"Our simple messages may be focused on encouraging parents to say and do the right things to prevent their children from being raised with prejudices," the Minister said, explaining that for this reason the Ministry is targeting schools to teach children to look beyond differences and to interact with each other. However, Mr. Doodnauth pointed out that "We can only build bridges if we respect people's culture. We cannot build bridges by suppressing cultures."
Other participants shared similar views, citing a dearth of public respect and tolerance of different perspectives, a lack of appreciation four our 'Guyaneseness' , the country's history and local talent as barriers that must be surmounted if social cohesion is to be achieved.
"Do we really have a national identity? Our content on radio … we don't hear much Guyanese content," Mr. Peters said. Ms. Joseph shares similar concerns, though she posited that the onus was on media representatives to be the change agents to evoke pride in being Guyanese. "We as frontrunners must, first and foremost, promote being Guyanese," she said.
In response, Minister Ally said that focus could first be given to celebrating the things we enjoy across all cultures and differences, such as food and clothing, as her Ministry's vision is to see "a society of shared values, shared challenges and equal opportunities for all".
Mr. Jones then suggested the Ministry incorporate edutainment as a teaching aid and include entertainers in its programme to advance its message. He noted that his television show "Love and Laughter" is one which promotes unity and suggested that the Ministry examines ways to reward and/or support entertainers who promote positive and inclusive messages.
The Minister then invited the group to participate in a roster of national programmes aimed at promoting social cohesion, principally in schools, and in the observances of Social Cohesion Day on May 11. Participants Mr. Jones, Mr. Reaz, Mr. Mendonca, Mr. Pierre, Ms. Fraser, Ms. Nagreadi, Mr. Ramessar, Mr. Doodnauth, DJ Mo Money, DJ Killer Feelings and Lexxus Blingers agreed to form a Working Group to collaborate with the Ministry in this matter. The group met with Ms. Sharon Patterson, Programme Coordinator at the Ministry, immediately following the meeting. Representatives of sponsors Banks DIH,
Demerara Distillers Limited and Hits and Jams Entertainment also agreed that a team from the Ministry could meet with their staff members to educate them about social cohesion.