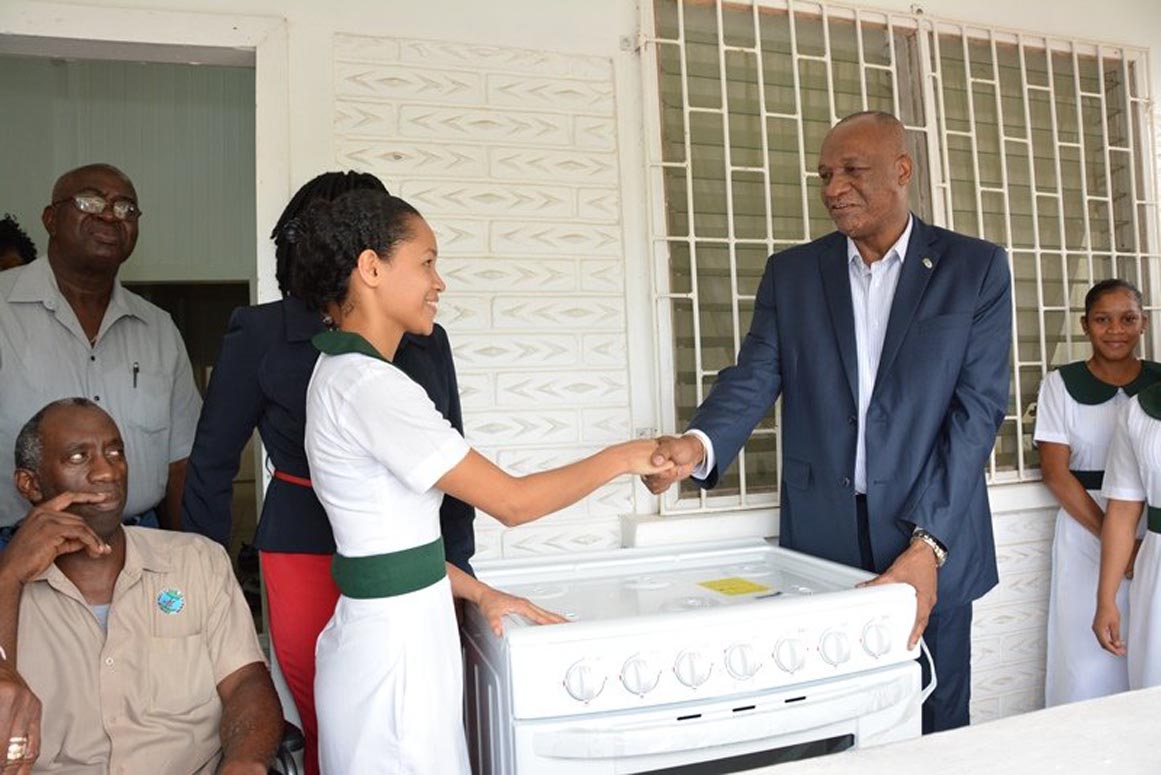 Georgetown, Guyana – (April 18, 2016) Minister of State, Mr. Joseph Harmon, today, travelled to the mining town of Linden to present a six-burner gas stove to the students of the Charles Roza School of Nursing, in fulfilment of a request they had made since 2013 to the previous administration.
The Minister presented the stove to the students, who were visibly overwhelmed with gratitude, at a simple ceremony, held in the school's compound, in the presence of Regional officials including the Regional Chairman, Mr. Renis Morian and newly sworn in Mayor, Mr. Carwyn Holland.
In brief remarks, Minister Harmon said that after receiving the students' request, he was also informed that there was only a small, two-burner table top stove available to them, forcing them to walk to the Mackenzie Hospital Complex to utilise the stove there.
"I felt that the least I can do is to step in and provide this facility. We have to ensure that our communities develop in a holistic way…. We have to work to ensure that our collective energies work for the people of Guyana and the people of Linden. It is very important… We must not lose focus of what we have to do and that is to provide service to the people. Every small step we take in assisting human development is a step in developing our country. It is these baby steps that develop our country," Minister Harmon said.
Minister of State, Mr. Joseph Harmon presents the six-burner gas stove to a student of the Charles Roza School of Nursing, MacKenzie, Linden.
He then pledged to continue to support the students' development.
Meanwhile, Ms. Lovern Sam, a student at the school, who was visibly overjoyed by the gesture, in an invited comment said that the students have been asking for a stove since 2013 and their plea appeared to have fallen on deaf ears.
"We are students from various regions and we came into this building with a lack of many necessities so we have been trying to get donations. As a last resort, we opted to ask the Minister for help through a letter. We asked for the stove last month and we had been asking the previous administration since 2013, but we never got it and we wrote to the Minister and we have it here today," Ms. Sam said.
The Regional Chairman also expressed gratitude and appreciation for the gesture, noting that it shows the Minister's interest in the well-being of the Guyanese people.
"Minister, we want to thank you for being here. I know that so many persons have been asking for things and it is nice that you can respond to the needs of Region 10 and we want to say thanks to you," Mr. Morian said.
The new Mayor expressed similar sentiments. "I am happy that our Minister is taking a hands on approach to assisting us in Linden. This shows us your commitment to the smallest of things and we know that you have Linden at heart. We really appreciate this," Mr. Holland said.
Meeting with Mayor
Later, Minister Harmon and Mr. Holland met at the latter's office to discuss the new Council's plans for the development.
In an invited comment, Mr. Holland said that the new Council envisions advancing Linden to the status of a modern city. To this end, he said, the Council, though only two weeks in office, has already started putting steps in place to ensure that this becomes a reality.
"If we are to move this town to a city, we need to do several things. We need to fix our infrastructure, our human and natural resources – we need better management of those; we need a total economic revival, we need to stimulate the economy to create jobs, and we need to enable entrepreneurship. We are also looking at affordable housing and the regularisation of homes. There are also plans to promote a farmer's market and to transform the Wismar market to a wholesale hub," Mr. Holland said.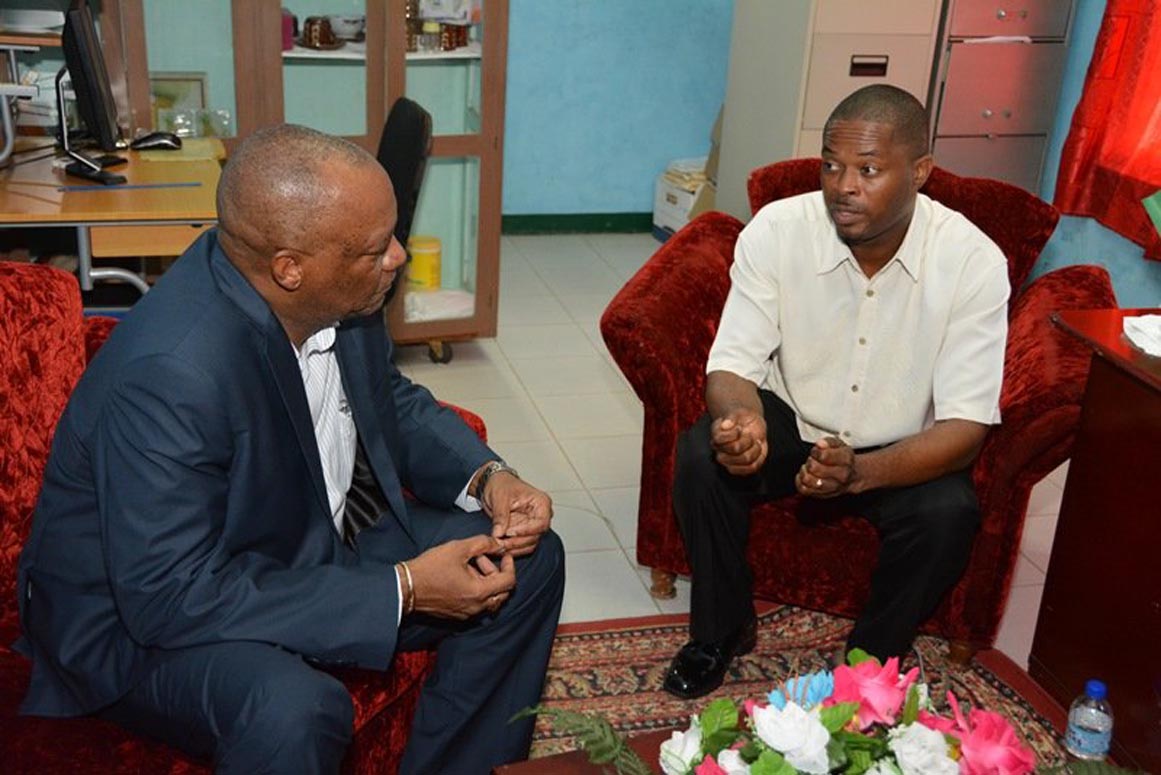 Minister of State, Mr. Joseph Harmon pays keen attention to Mayor of Linden, His Worship Carwyn Holland, during a meeting earlier today in Linden.
He also made it clear that the Council is working to ensure that Linden, like Bartica, becomes a 'green' town in keeping with the President's vision.
"It is our top priority to make Linden a green town and we have a road-map. Some of the things we have in train are waste management, which we want to carefully reconstruct. We want to do waste to energy instead of simply disposing waste, develop landfill development strategies, find alternative energy solutions, we are looking at hydro-power given the many falls, which we have around," the Mayor said.