Georgetown, Guyana – (April 12, 2016) President David Granger said rum, including the world renowned El Dorado brand produced by Demerara Distillers Limited (DDL), is an important part of Guyanese history, heritage, economy and culture that must be preserved and protected since it is a major contributor to the economy and foreign exchange earner.
President Granger made these remarks in his address, last evening, at the launch of the El Dorado 50th Anniversary Special Edition Rum, held at the Demerara Distillers Limited Heritage Site, Plantation Diamond, East Bank Demerara. This limited edition rum has been launched solely to celebrate Guyana's golden jubilee independence anniversary.
As May 26 draws near, the President said Guyanese must now start to build a foundation for a stronger economy which can ensure that for our 75th independence anniversary, greater achievements are celebrated.
"DDL is setting in cask another three barrels of the Special 50th Anniversary Edition rum which will be aged for another 25 years, to be unveiled when Guyana celebrates its 75th anniversary of Independence in 2041. The 75th anniversary of the nation's independence must find Guyanese stronger as a nation," President Granger said. This, he added, does not apply only to industry and commerce, but to our solidarity as a nation.
President David Granger (centre) is escorted into the event by Prime Minister Moses Nagamootoo and Chairman of DDL, Mr. Komal Samaroo.
The President said that rum has most likely been produced for as long as sugar cane has been grown in Guyana and has now become one of the leading earners in the local economy.
"Rum is a heritage industry. It has always been an important contributor to the national economy… The rum industry is part of Guyana's beverage industry, which employs thousands of workers and, indirectly through bars, hotels and, of course, traditional 'rum shops' [and] helps to sustain employment of more than 20,000 persons. Guyana's two rum producers, Demerara Distillers Limited and Banks DIH, together paid G$9.1 billion in taxes to the state in 2015. The domestic production of alcoholic beverages in 2015 contributed G$3.4 billion in excise taxes to the state," the President said.
On a historical note, he said that the company and Guyana as a whole, have come a far way since it was during those earlier years that it was almost impossible for anyone, other than the ruling class to have or keep any still apparatus "'for the purpose of making, rectifying or compounding spirits of any description without having first obtained a licence for that purpose'."
The President also said that rum, over the years, has become a value-added product and a major contributor to exports, to employment and to excise revenues, noting that the earnings of other exports in 2014 were US$119.5 million of which rum and other sprits earned US$30 million or 25 per cent, apart from the six major exports.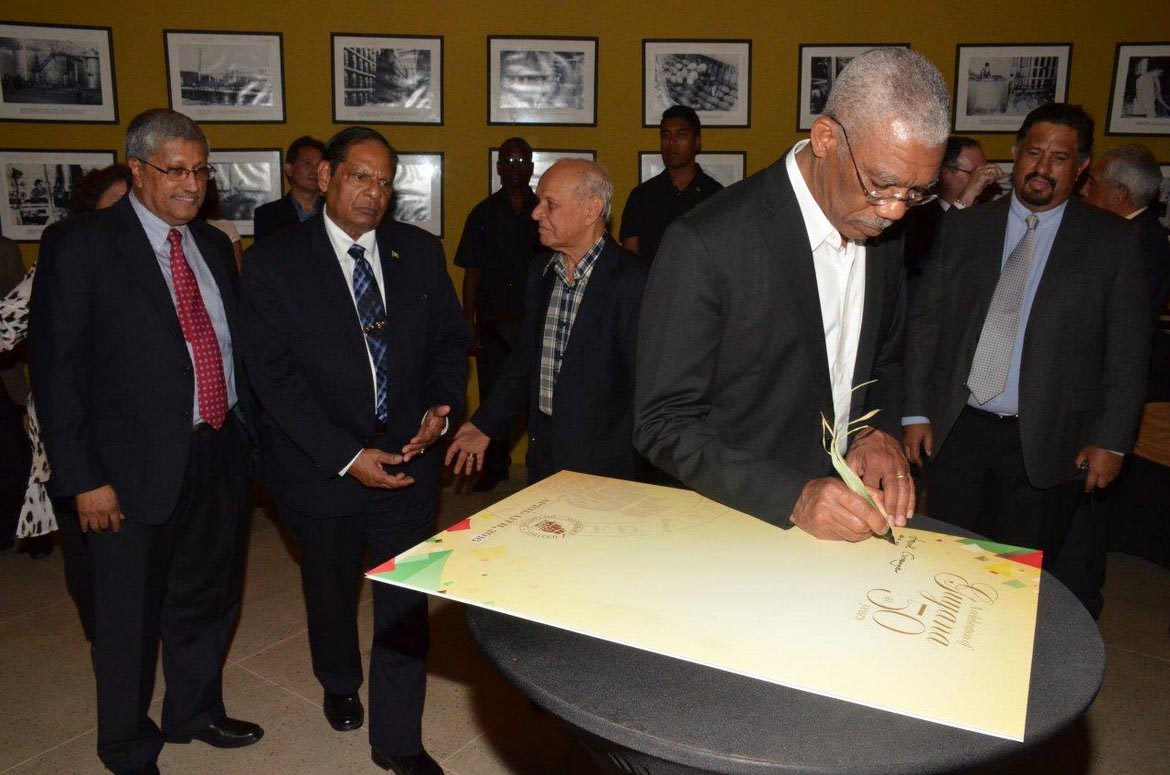 President David Granger signs the Time Capsule Register.
Guyana's global footprint in the rum industry
The President said too that while many other countries are known for their tourist attractions and experiences, Guyana is now better known to millions of people around the world because of its acclaimed rums and this is something of which all Guyanese must be proud.
"Guyana's rums have popularized our country. 'Demerara sugar' is a term that appears in the best dictionaries and 'Demerara' rum follows its famous sister. Guyana's rums are our best-known, manufactured products. The El Dorado brand, produced by this corporation, is a celebrated brand around the world. The El Dorado brand and its variety of rums has earned international acclaim and has won international awards. Demerara Distillers Limited has preserved, protected and promoted the El Dorado brand which carries with it connotations of discovery, exploration and wealth. El Dorado is now firmly associated, around the world, with high-class Demerara rums," the President said.
Master Distiller, Mr. Shaun Caleb (centre) explains the process of blending to President David Granger as (second from left) as Prime Minister Moses Nagamootoo (first, right), Master Blender, Mrs. Sharon Sue Hang, and Chairman of Demerara Distillers Limited (DDL), Mr. Komal Samaroo look on.
Economic survival and sustainability
Given the significance in the national economy, the President noted that rum production has allowed the corporations to diversify their operations.
"The industry has enabled corporate giants – DDL and Banks DIH – to diversify into banking, beverages, bottled water, fast-food suppliers, restaurants and shipping. The industry has an impressive corporate social responsibility presence. Rum production is a profitable enterprise for a small state such as ours, but there are big threats. Rum is widely produced around the world and Guyana's rums must sell in a highly-competitive international market. Guyana's rums seeking to enter new markets have to compete not just with the local rums produced in those markets but with other imported rums," President Granger said.
Caribbean competition
The President further noted that Caribbean rum producers face a major threat to their competitiveness owing to the trade-distorting measures of the US federal government which allows a tax rebate – estimated to be valued at several million dollars per annum – to the US Virgin Islands and Puerto Rico, thereby affording them an advantage over other Caribbean rums in the highly-competitive US market. He issued a call for the Caribbean Community (CARICOM) to use its diplomatic strength to help resolve this problem which is affecting the health and wealth of Regional economies.
"Caribbean countries stand to lose US$700M per annum and some 15,000 jobs are likely to be affected unless these tax rebates are withdrawn. Litigation in the World Trade Organization (WTO) is likely to be an extremely expensive and exhausting process," he said. To this end, the Head of State noted that Guyana's rum industry is therefore precious and must be protected and preserved in the face of this peril.
"Workers' jobs and the livelihood of those who indirectly depend on the industry are at stake. The loss of foreign exchange and excise earnings by the rum industry can result in severe problems in our economy. Guyana's rums are an important economic sub-sector. It is in the national interest to ensure the survival and sustainability of this industry. The government of Guyana is committed to supporting the industry," he said.
Meanwhile, Mr. Komal Samaroo, Chairman of DDL, said that there was no better a time for the launch of the Special Edition Rum than the observance of the golden jubilee of the country.
He remarked that the El Dorado Rum brand has grown tremendously over the years, despite initial hiccups and resistance from outside markets at the beginning of the journey.
The El Dorado 'Golden Bearers' with the drum containing the first bottle of the 50th Anniversary Special Edition Rum
"Our export of branded rums has grown over the past 25 years while bulk rum exports have reduced. In 2015, for the first time in the history, the value of bottled branded rum was greater than exported bulk rum… We had set out to create rums which can be sipped neat or on the rocks. It was a revolutionary strategy. Our blenders were challenged to create the best possible rum and we started with our signature
El Dorado 15 year old rum…We showed that rum can be premiumised but much more work needs to be done and more investments need to be made to secure our place in the market," he said.
Meanwhile, Master Distiller, Mr. Shaun Caleb said that the Special Edition blend was augmented by almost equally old rums in the style of the historic Albion, Skeldon and La Bonne Intention Estates which were all distilled and aged in oak between 1966 and 1976. Mr. Caleb said the bottles are individually numbered and is adorned by a specially commissioned 50th Anniversary Gold Medallion which was crafted by Guyanese jewellers in 18 carat premium gold as a tribute to Guyana's mining industry. There are only 600 bottles of the Special Edition available and these will be sold at $500,000 plus value-added tax.
Prime Minister, Mr. Moses Nagamootoo, Minister of Business, Mr. Dominic Gaskin, Minister of Public Telecommunications and Tourism, Mrs. Catherine Hughes, Minister of Foreign Affairs, Mr. Carl Greenidge, members from the diplomatic corps and private sector also attended the event.