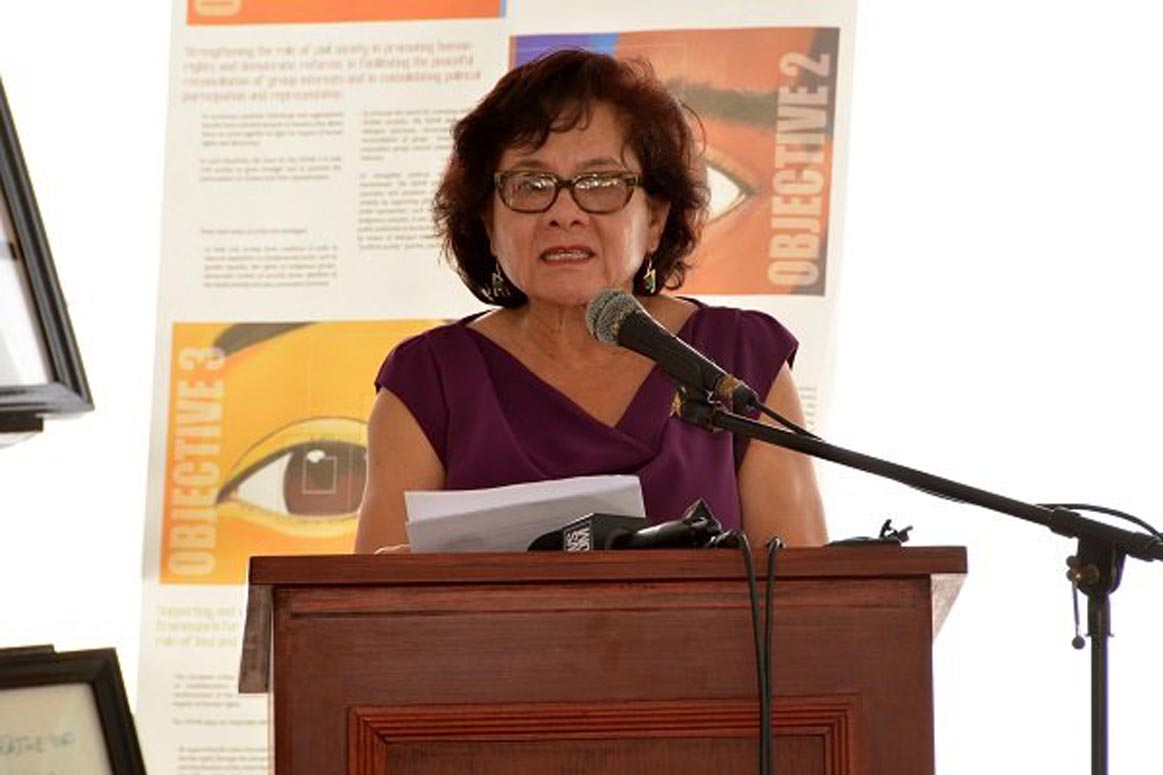 Georgetown, Guyana – (April 12, 2016) First Lady, Mrs. Sandra Granger, yesterday, said that the opening of a Travelling Exhibition on Sexual Violence against Children "is a sad reflection of how we as a society continue to fail our children, particularly in addressing sexual violence against them", even as she called on all stakeholders to protect the most vulnerable members of our society.
The Exhibition, which was launched at the Brickdam Police Station, has as its tagline 'Break the Silence, Stop Child Sexual Abuse' is a collaboration among the Delegation of the European Union (EU) in Guyana, the United Nations Children's Fund (UNICEF), the Government of Guyana through the Ministries of Social Protection and Public Security and the Guyana Police Force (GPF) and local non-governmental organisation Blossom Incorporated.
Quoting from a UNICEF publication on sexual violence against children, Mrs. Granger said, "Sexual violence against children is a gross violation of children's rights. Yet it is a global reality across all countries and social groups."
Last year more than 70 cases of child sexual abuse were reported to the Child Care and Protection Agency (CCPA). "The reported cases of sexual violence against children committed during the period 2011-March 2016 amounted to 1145, with A, C and F divisions posting the highest number of cases," Mrs. Granger said. However, she added that she did not believe these figures to be a true representation of the scope of the problem as there is likely some under reporting.
First Lady, Mrs. Sandra Granger appeals for all stakeholders to collaborate to protect children.
The First Lady said the onus is now on stakeholders to obtain empirical data about the incidences of these crimes against children in the geographical areas in which it is known to occur and put systems in place to prosecute offenders and counsel and support the victims and their families. She further commended the organisers and sponsors of the Travelling Exhibition noting that it "seeks to bring into focus the experiences of children, who have received counselling and the expression of their pain through nine pieces of art".
Mrs. Granger also said it is fitting that the exhibition is being displayed in police stations in Regions Two, Four, Six and Ten, and called for consideration be given to hosting it in all Ten Administrative Regions. "In this way, it may be assumed that our legal enforcers are becoming attuned to their responsibility to protect and serve all, and in particular the most vulnerable among us," she said.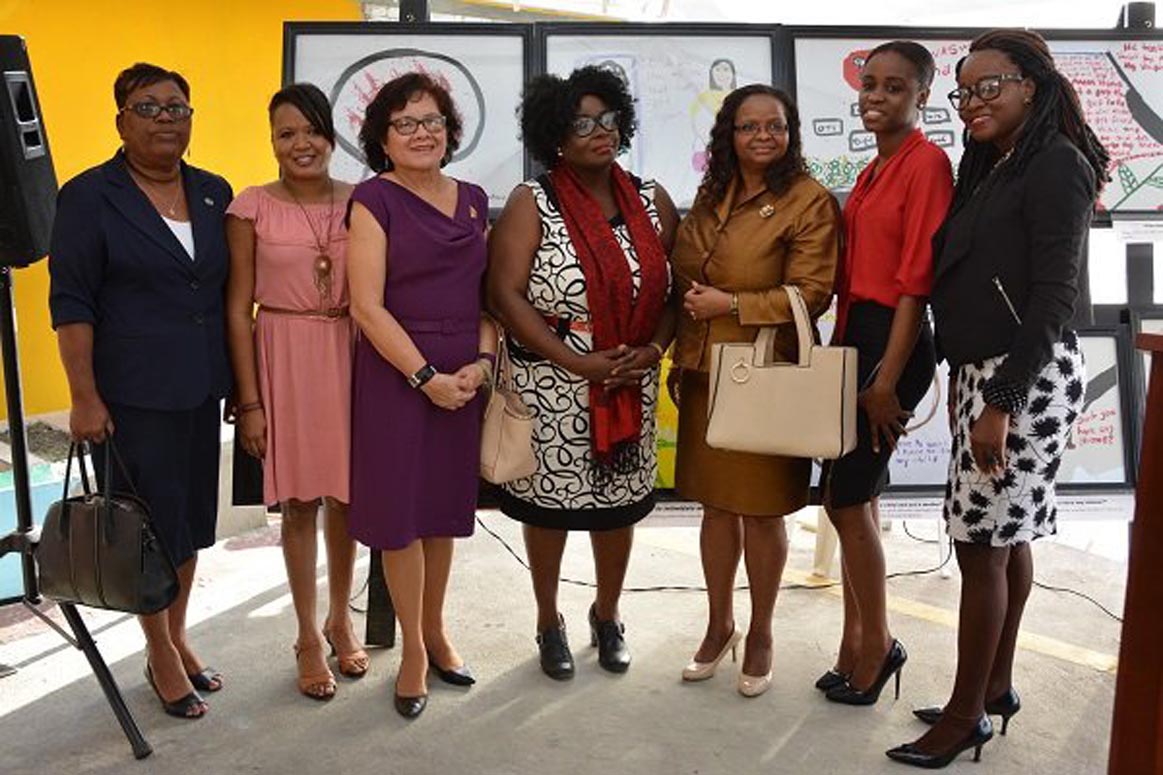 First Lady Mrs. Sandra Granger (third from right) is flanked by, from left Ms. Ann Greene, Director the Childcare and Protection Agency; Ms. Nicola Foo and Ms. Shaundelle Shipley, both of Blossom Incorporated; Minister of Social Protection, Ms. Volda Lawrence with Ms. Michelle Amsterdam and Ms. Tiffany Griffith, both also of Blossom Incorporated.
The First Lady noted that "Our child victims need to be assured that when violence against them is reported, the law will act quickly to persecute the perpetrators… that our judicial system will function efficiently and equitably to bring such criminals to justice; and that the victims will receive the support and counselling they need to overcome the trauma of sexual violence."
The works of art displayed were done by children who are receiving counselling and therapy from Blossom Incorporated, a children's charity, which advocates for their rights and welfare and offers support to families in difficult circumstances.
The Guyana Police Force is considered an important partner in the fight against child sexual violence. Assistant Commissioner – Operations, GPF, Mr. David Ramnarine said the police are aware of their important role in clamping down on this scourge and is taking several steps to augment the services it provides for the treatment of victims of gender-based and /or sexual violence. This includes introducing officers specially trained to investigate sexual crimes against children in the gender-based violence units; installing these units in the GPF's seven divisional headquarters and a special unit at the sub-divisional levels to address issues related to domestic violence, sexual offences and trafficking in persons.
"We will continue at all costs, the process of ensuring that children in Guyana are given the necessary treatment, are given the necessary responses, are given the necessary attention, in terms of what is available in the justice system, taking into account that the police force is one element of the criminal justice system," Mr. Ramnarine said.
Ms. Shaundelle Shipley, one of the programme managers at Blossom Incorporated, who works directly with children who have suffered sexual violence, said she stands in solidarity with these survivors. She made particular mention of the survivors, whose cases were recently heard in the Demerara Assizes where only two convictions were handed down from 19 completed sexual offences matters. Ms. Shipley said she is "outraged" by this "alarming record" because although 19 children found the courage to report their abuse, 17 of them were still denied justice.
"As a representative of Blossom Incorporated, I stand here today with those 19 children, who had the courage to talk. Nineteen children who had the courage to tell someone what had happened. A parent who listened and heard the pain," Ms. Shipley said.
More proactive, more protection
Ms. Shipley noted that children who report sexual abuse in Guyana are particularly brave as discussing sexual abuse in any context, especially in an open forum in Guyana is still taboo, resulting in few children disclosing their abuse.
Ms. Shipley explained, when the idea for the exhibition was first discussed, the group was excited to explore this medium of communication as it provided an opportunity for persons to see the hurt inflicted on children, from the child's perspective, through their artwork. According to the Programme Manager, the Ministry of Social Protection and the CCPA immediately threw their support behind the project.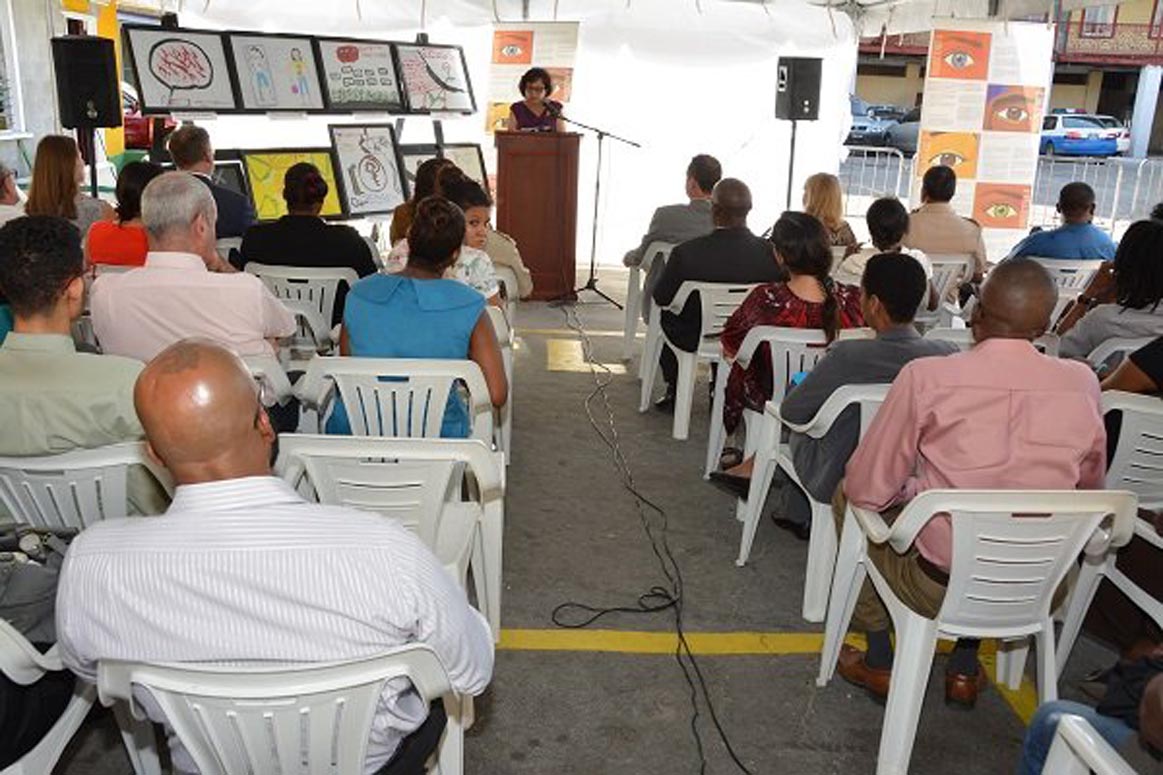 A section of the gathering as First Lady, Mrs. Sandra Granger makes her presentation.
Art as therapy
Art therapy was introduced as part of the care being provided to the children at Blossom Incorporated based on the widely held view that its inclusion can reduce the symptoms of post-traumatic stress disorder (PTSD).
Mr. Ewout Sandker, Head of Cooperation at the EU Delegation in Guyana recalled that it was about one year ago when he first pondered the idea of hosting an art exhibition displaying the works of abused children and invited his wife, Sigrid, a creative art therapist, to volunteer her expertise to help in the treatment process of the sexually abused children at Blossom Incorporated.
After conveying his wife's regrets that she could not attend the opening of the exhibition, he read her message about the two-month period she spent with the children. Mrs. Sandker said she provided the colours, canvas and tools as means of expression for the children, who had experienced domestic and sexual abuse and guided them in the creative process.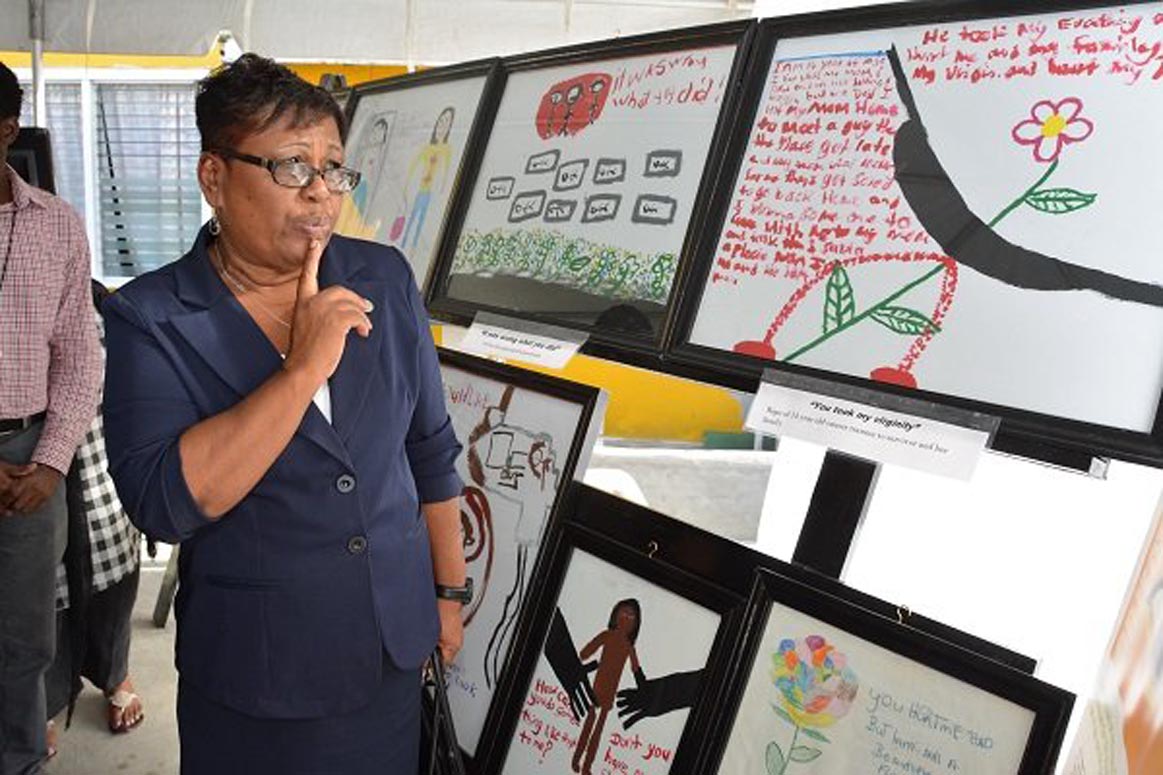 Ms. Ann Greene, Director the Childcare and Protection Agency, looks closely at one of the paintings
"Words don't come easy but a picture could tell a story about their internal life that isn't accessible in words. These children were brave… they were open and talked and listened and asked for help and finally expressed their emotions in these paintings," Mr. Sandker quoted from his wife's message.
Head of the EU Delegation to Guyana, Suriname, Trinidad and Tobago and for the Dutch Overseas Territories, Ambassador Jernej Videtic commended the steps the CCPA has taken to foster inter-agency collaboration with stakeholders, including from faith-based groups, to expand the network of support for children and families affected by sexual violence and abuse.
"It is imperative that this terrible vice of child sexual abuse is attacked at the source; that programmes are engaged that will allow persons in the community to first identify signs of abuse and to develop the habit of reporting such cases," Ambassador Videtic said, "It is imperative that we work with families and schools."
Meanwhile, UNICEF Representative for Guyana and Suriname, Ms. Marianne Flach said that the pictures displayed reflect "the pain of violence, which has left its mark on these children". She said that child abuse forms parts of the spectrum of interpersonal violence that includes physical, sexual, emotional and verbal abuse and neglect and is "any act of commission or omission that endangers the child's physical or emotional development". The Exhibition is sponsored by the EU and UNICEF.
Minister of Social Protection, Ms. Volda Lawrence, GPF Commander 'A' Division, Mr. Clifton Hicken, other representatives of the EU and members of the diplomatic corps also attended the opening.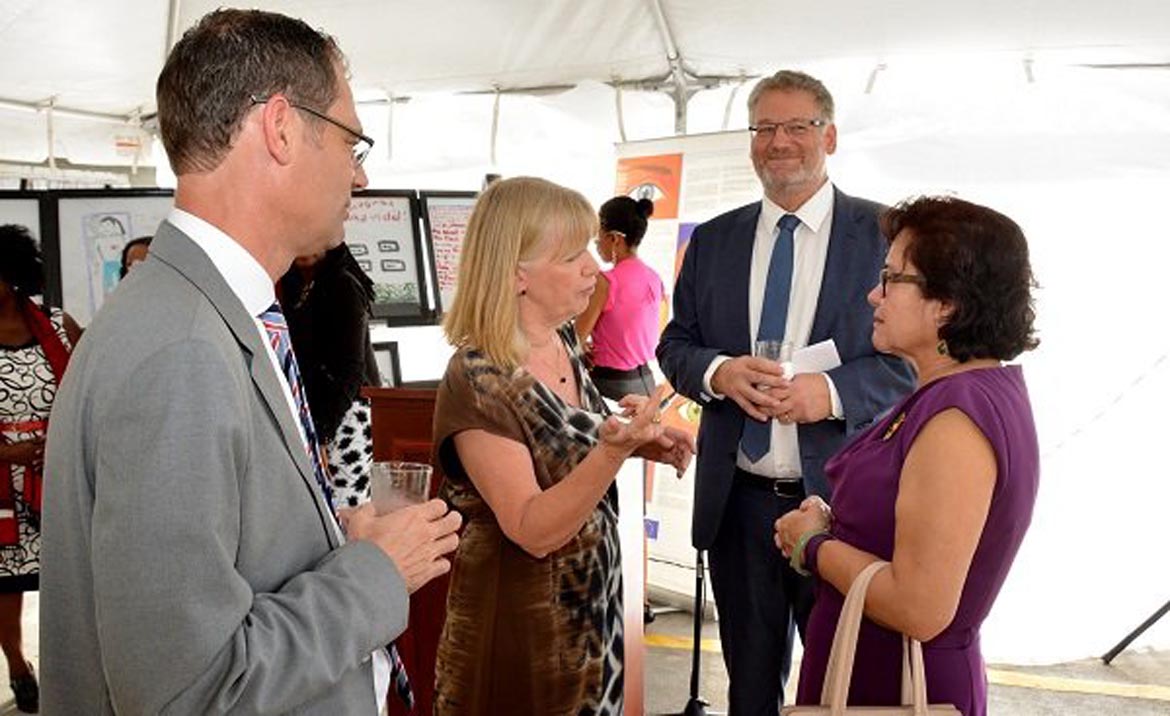 UNICEF Representative for Guyana and Suriname, Ms. Marianne Flach gestures as she makes a point to First Lady, Mrs. Sandra Granger, as Ambassador of the Delegation of the EU to Guyana, Mr. Jernej Videtic and Head of Cooperation at the EU Delegation in Guyana, Mr. Ewout Sandker look on.