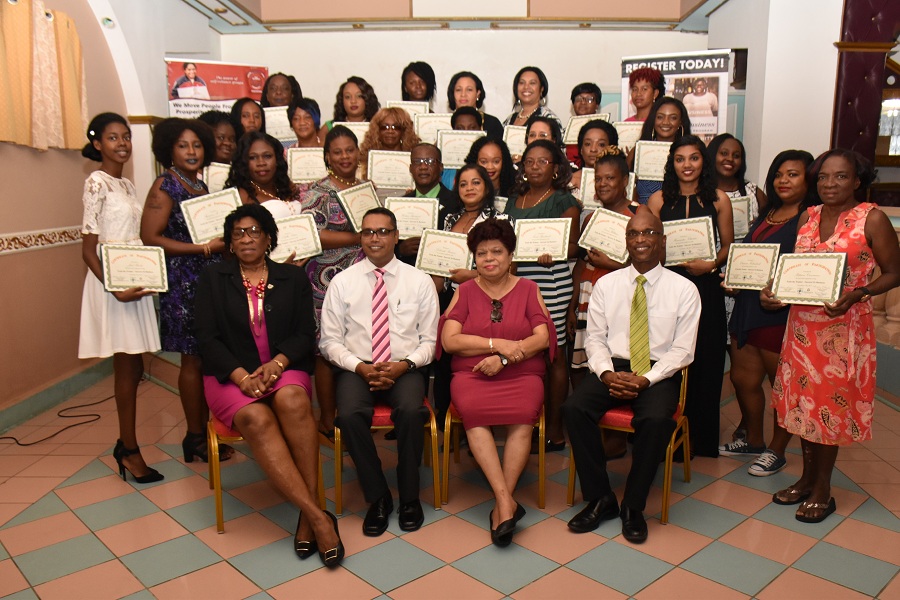 Georgetown, Guyana – (April 7, 2016) First Lady, Mrs. Sandra Granger, today, received a courtesy call from the wives of the Master Brewers Association of the Americas (MBAA) and several women executives from Banks DIH, at her State House office.
The group was led by Ms. Sharon Nelson, Human Resources Manager at Banks DIH Limited and included Mrs. Mena Carto, wife of Mr. Paul Andrew Carto, Human Resources Director, Mrs. Liz Pereira, wife of Mr. Michael Pereira, Operations Director, Mrs. Hollie Kendall, wife of Brewer Mr. Mathew Kendall, along with Ms. Techla Gonsalves, Human Resource Executive, Ms. Kavorn Kyte-Williams, Corporate Legal Officer and Ms. Shaundelle Easton, Linden Branch Manager, all of Banks DIH Limited. The delegation also included Mrs. Gail Chu-Fook, wife of Mr. Allan Chu-Fook of the Caribbean District of the MBAA, Mrs. Val Simpson, wife of Mr. Bill Simpson, who is the keynote speaker at the 55th MBAA Convention – Caribbean, and MBAA attendee Ms. Lisa Ramsumair of Trinidad and Tobago, among others.
The First Lady said that while the meeting was "supposed to be a courtesy call" it turned into a warm interactive brunch session where the women exchanged views on a number of topical issues. "I filled them in on my service activities and answered their questions," Mrs. Granger said.
First Lady, Mrs. Sandra Granger displays the bouquet presented to her by Mrs. Hollie Kendall, wife of Banks DIH Brewer Mr. Matthew Kendall, at the close of the session.
In an invited comment, Ms. Nelson said the objective of the meeting was to allow some of the spouses and women executives from Banks DIH to meet with the First Lady. Ms. Nelson said she admires the First Lady's convivial nature and was very pleased with the meeting.
Meanwhile, Mrs. Carto, also in an invited comment, said "while the men are in formal sessions, the women paid a courtesy call on Mrs. Granger, who entertained us to brunch and we had a very nice conversation… She told us all about the service activities, which she is involved in and the life of the wife of the President and we were able to share our views with her. It was a very pleasant morning".
Mrs. Simpson, another MBAA spouse, said while she has attended other conferences around the world this is her first trip to Guyana and she is honoured to meet the First Lady. "It's been very nice," she said, adding that she was enjoying socialising with the other spouses, delegates and dignitaries.
The MBAA wives have accompanied their husbands to Guyana to attend convention, which is being hosted by Banks DIH at the Pegasus Hotel. Over 94 companies from across the Caribbean, North America and Europe, including suppliers and brewers, are attending this annual convention, which is held in a different country every year.
Mrs. Carto told the Ministry of the Presidency that the MBAA meeting is "being held Guyana for the third time, and, coincidentally, it's been held here every ten years so the first was 1986, then 2006 and now 2016".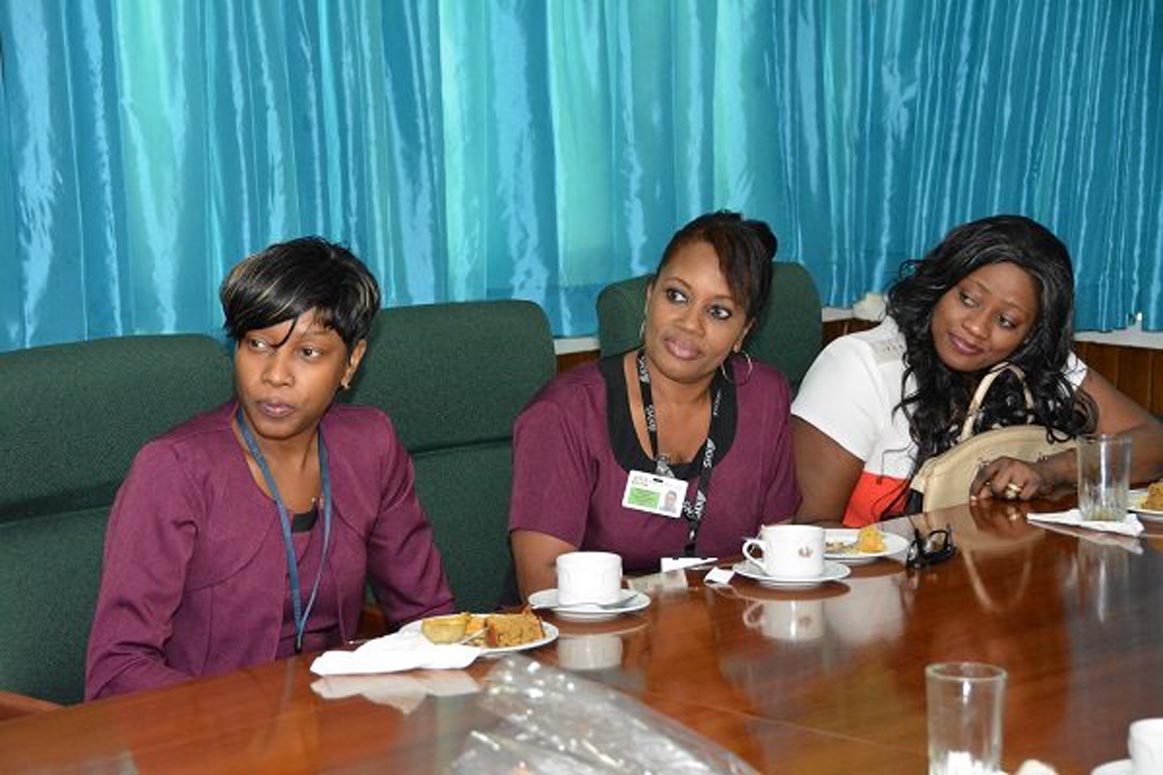 Ms. Sharon Nelson, Manager-Human Resources at Banks DIH Limited (centre) and two other attendees at the meeting pay keen attention to first Lady, Mrs. Sandra Granger as she makes an address.