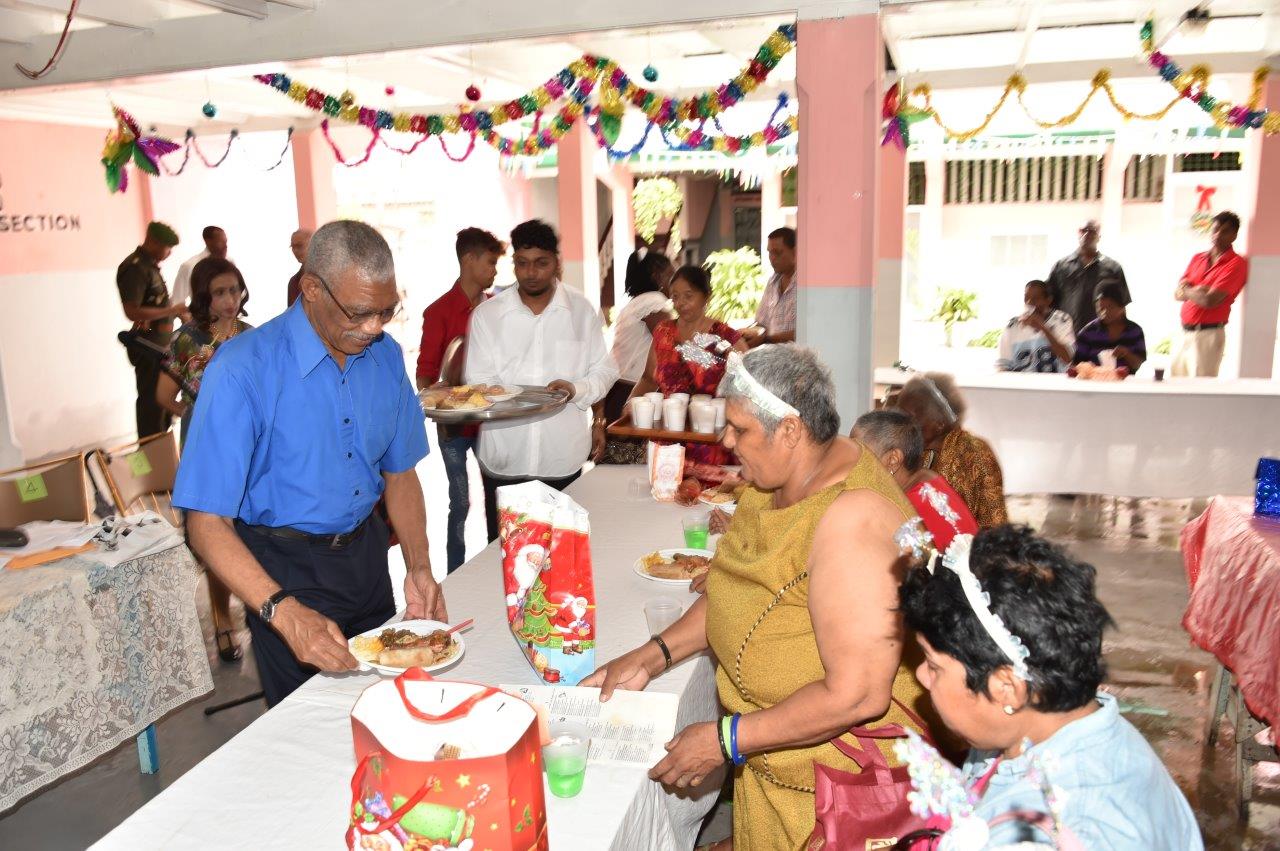 Georgetown, Guyana – (April 7, 2016) President David Granger, Prime Minister Moses Nagamootoo and Ministers of the Government, today, met with the United Kingdom/Commonwealth Parliamentary Association (UK/CPA) at the Ministry of the Presidency, where a number of issues including the strengthening of coalition forms of governments and the implementation of inclusive democracy were on the front burner.
The team was headed by Rt. Honorable Baroness Dawn Primarolo DBE PC from the British Labour Party, United Kingdom Parliament and included Rt. Honorable Alistair Carmichael MP (Liberal Democrat), United Kingdom Parliament, Nigel Evans MP (Conservative), United Kingdom, Andrew Tuggey, Head of the UK/CPA and Gosia Mc. Bride, Clerk of the Women's Committee at the House of Commons.
The Roundtable meeting was aimed at sharing the United Kingdom's experience with coalition governments with the Government of Guyana and vice versa. The meeting provided an opportunity for the UK/CPA and the Government to learn from the strengths and weaknesses from each country's experience.
During the meeting, the roles of a majority coalition party versus a minority coalition party were examined through case studies from Guyana and the United Kingdom. In addition, the role of Cabinet Committees, Cabinet functions and expectations and long term aspirations were also discussed.
President David Granger at the conclusion of the meeting noted that it was an enriching experience, which will prove beneficial to the administration.
"Thank you for this engagement and sharing your experience. It has been a good experience for us. We have decided to embrace the coalition… we are concerned about national unity and it was really a bold step when we decided to adopt the coalition system… the coalition is still a work in progress and we do need to do more work… but we are moving in a direction of almost stable organisation," he said.
He told the visiting team that it is his belief that many of the problems faced by the country can best be solved by 'inclusionary democracy' and in order for the country to move forward, a higher degree of national unity than has been Guyana's experience for the last fifty years, must be present. He said this must be accomplished "because that absence is an impediment to all forms of development, not least of all, economic development."
"We need to create an institution, a vehicle which can give prevalence to our concept of inclusionary democracy. It is not something we wish to see perish. We wish for future generations to learn from our experiences and create a system of governance so that at the central, regional and local levels, we work in a more collaborative manner to resolve problems of this country," the President noted.
The Roundtable with the President, Prime Minister, Ministers of Government and the Commonwealth Parliamentary Association, in session today at the Ministry of the Presidency.
In an invited comment, Honorable Baroness Dawn Primarolo said that the visit was meant to be beneficial to both countries since they both have coalition governments and there are lessons to be learnt, especially given the fact that the United Kingdom provides for a coalition after elections, while Guyana's laws do not.
"I think what all of us are trying to learn…is how can we make sure that those coalitions, which have been elected by the people in a democratic vote, can work in order to develop the hopes and aspirations of the people. One of our experiences is the inner workings of coalition governments… What is important in any government is that we have that inclusive approach and that we are doing it in a way that our electors trust us and our work and so the problem for all of us is that there is no one formula and so we were here to share our experiences and how the Parliament works and evolves," she said.
The British politician noted that that there is a lot to learn from Guyana's coalition government and the team is using its opportunity to garner as much information as possible. Of particular interest she said, was the issue of inclusive democracy.
"In the UK, we are changing our system so that we can involve more people in it, in [terms of] setting the agendas for Parliament and expressing views on what we are debating and the Guyanese Members of Parliament wanted to know how we were doing it and how we were achieving that inclusivity so we shared experiences on that as well," she noted.