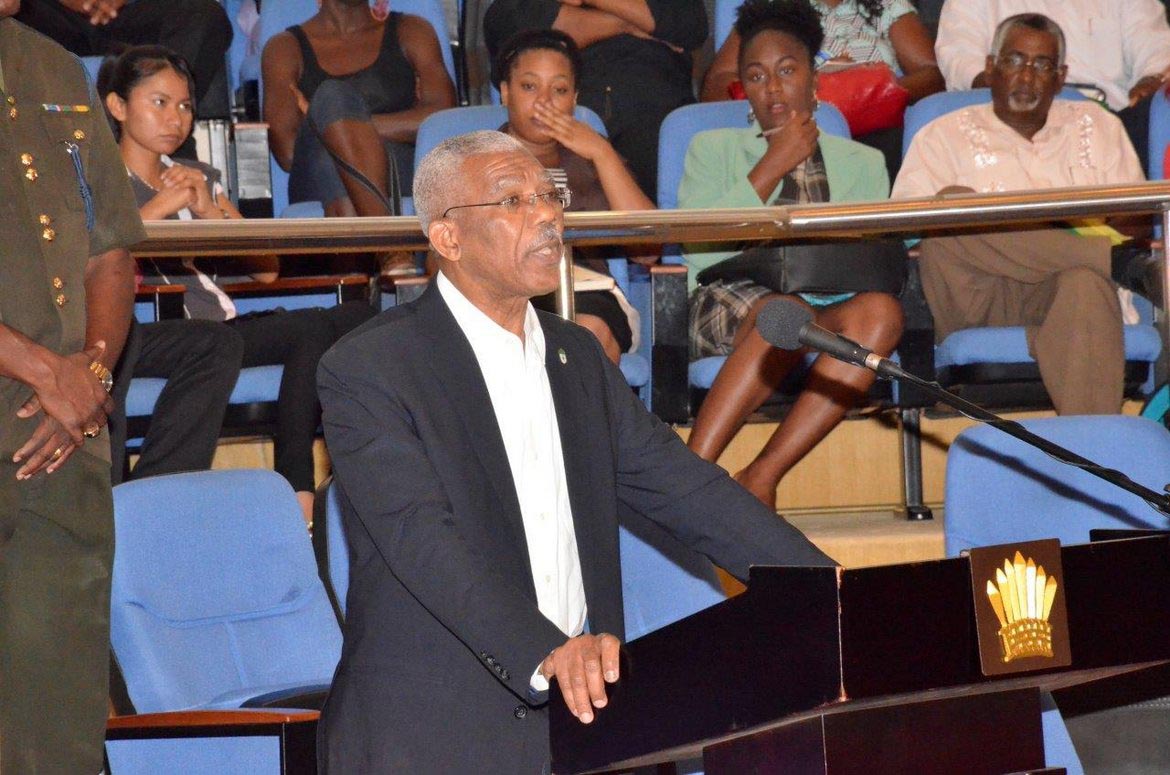 Georgetown, Guyana – (April 06, 2016) President David Granger, today, called on stakeholders to pool their expertise to prevent the incidence of suicides in Guyana, noting that it is a complex issue, which requires concerted and collaborative efforts. The President made this appeal in his address at the opening of the Ministry of Public Health's 'Suicide Prevention Forum', held at the Arthur Chung Convention Centre (ACCC).
"Strategies to prevent suicide must provide for concerted, coordinated and collaborative approaches. These measures, in turn, must be supported by a practical implementation plan which is built on four pillars: investigation, information, inclusion and interventions," President Granger said, adding that preventing suicide requires an approach that brings together all the stakeholders to channel their energies and expertise into a national campaign.
While noting that the Government, non-governmental and international organisations have identified suicide as a public health concern, the President said that "the time for bemoaning the problem has passed".
He said that suicide is rarely, if ever, sudden or spontaneous and may stem from the existence and persistence of conditions such as unhappiness, distress and depression, making it seem like a permanent solution.
"Talk will not end the deaths. Action will. It is time for us to take concerted action. It is high time for all the stakeholders to join the Government to tackle the scourge of suicide," the President said. "We must work to find ways to build happy households and end suffering by providing conditions for a good life."
President David Granger calls for a concerted effort to be made to tackle the scourge of suicide in Guyana, in his address at the Ministry of Public Health's Suicide Prevention Forum, held at the ACCC.
The Head of State also said that while efforts such as the setting up of the Committee for the Prevention of Suicidal Behaviour (NCPSB) in 2001, the National Committee for Suicide Prevention (NCSP) in 2007 and the establishment of a crisis hotline service and the Gatekeeper's Programme were well intentioned, they have produced little to no results in the reduction of the suicide rate in Guyana.
"Guyana is known, notoriously, as the suicide capital of the world. This country's suicide rate stood, according to the World Health Organisation, at 44.2 deaths per 100,000 in 2014. This rate is way above the global average of 11.4 per 100,000 and the average rate in Latin America and the Caribbean of 6.1 deaths per 100,000. One Guyanese kills himself or herself every two days all year, every year. Deaths by suicide were calculated to be 1,947 in the decade between 2003 and 2012," the President said.
The National Suicide Prevention Plan, which is currently being implemented by the Ministry of Public Health, is an attempt to provide a national strategic framework that could produce better results in suicide prevention, he said.
The Head of State also noted that for public awareness campaigns to be effective they must address the personal concerns of those who are at risk of contemplating suicide.
"These persons need to know that know that help is available to them, what form this help will take and from where it can be accessed," he said.
Meanwhile, Minister of Public Health, Dr. George Norton said that while the forum has been long overdue no effort will be spared to focus on finding solutions to this scourge.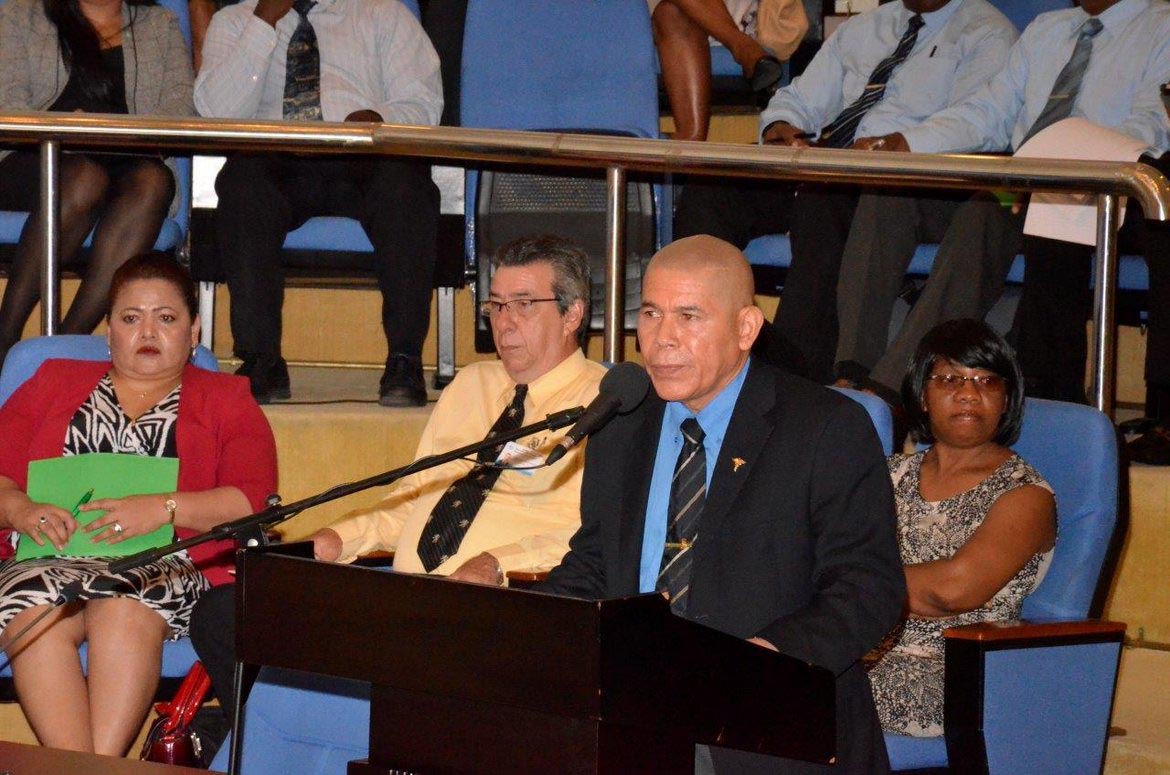 Minister of Public Health, Dr. George Norton addresses stakeholders, participants and invitees at the forum
"This Forum is being held in collaboration with other ministries and various other stakeholders, as we redouble our efforts to confront, in the most forceful manner, suicide in Guyana …this has been going on for quite some time. Suicide affects the entire country… the loss of lives affects everyone and everyone has a role to play in tackling this scourge," Minister Norton said.
In addition, Dr. William Adu-Krow, the Pan American Health Organisation (PAHO) Representative in Guyana, echoed the President's sentiments that tackling suicide requires action from all stakeholders. He gave assurances that PAHO will continue to support the Government and the Ministry of Public Health to reduce the rate of suicides in Guyana.
"Going forward, please count on us. We are here and I always say that PAHO is a secretariat and as a secretariat, we are here to assist you," he said.
The Forum was convened by the Ministry of Public Health to peruse the National Suicide Prevention Strategy, which spans the period 2015-2020 and which identifies various actions that will lead to a solution to this epidemic.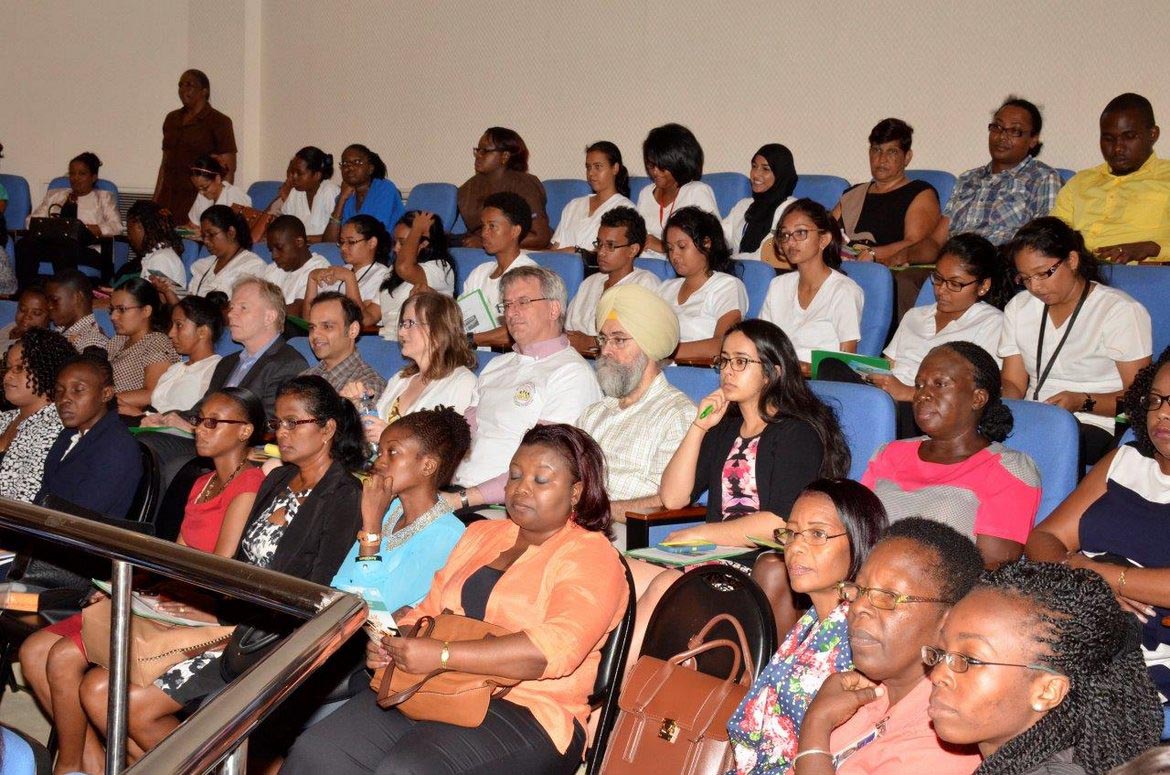 A section of the audience at the suicide Prevention forum
The all-day session saw presentations from a number of notable professionals. Dr. Jorge Baleiro, from the Georgetown Public Hospital, gave an overview of the Mental Health and Suicide Action Plan 2015-2020. The meeting was also given an introduction and update on the national activities conducted for mental health, suicide prevention and control by stakeholders. The seminar also featured group sessions and discussions on areas such as risk factors reduction, health promotion and prevention, reducing access to suicide, among others.
Representatives from civil society, faith-based organisations, ministries, non-governmental organisations, the University of Guyana, as well as health administrators, general health professionals and community and institutional-based mental health care providers are also expected to attend this stakeholders' conference.
Several senior government functionaries, including Second Vice President and Minister of Public Security, Mr. Khemraj Ramjattan; Fourth Vice President and Minister of Indigenous Peoples' Affairs, Mr. Sydney Allicock; Minister of Social Protection, Ms. Volda Lawrence, Minister within the Ministry of Public Health, Dr. Karen Cummings and Minister within the Ministry of Indigenous Peoples' Affairs, Ms. Valerie Garrido-Lowe, members of the diplomatic corps, non-governmental organisations, civil society and other stakeholders attended the forum.