Georgetown, Guyana – (March 31, 2016) First Lady, Mrs. Sandra Granger, today, met with representatives from the Women's Association for Sustainable Development (WASD), in collaboration with the Sonia Noel Foundation for Creative Arts. The meeting was held at the First Lady's State House office.
In an invited comment, fashion designer and entrepreneur, Ms. Sonia Noel, a representative of both groups, said since empowerment specialists Dr. Linda Wallace and Mrs. Anna McCoy were in Guyana to mark the WASD's first anniversary she thought it would be remiss of her not to seek out a courtesy call with the First Lady since she they are all very keen on empowering women.
"We have two very phenomenal women here so…I thought a courtesy call was a must. I wouldn't let them leave without coming to see [the First Lady] so we plan to actually have discussions with her to see where we can collaborate for the advancement of women in Guyana," she said.
The First Lady said while she was pleased to facilitate Ms. Noel's request for a courtesy call, "it became a much more in-depth meeting" and she is eager to see the benefits that will accrue from further collaboration.
Dr. Linda Wallace and Mrs. Anna McCoy (first and second, left) First Lady, Mrs. Sandra Granger, second from right and Ms. Sonia Noel, share a warm exchange after today's meeting.
"We exchanged our visions on enhancing life … for the people of Guyana and they have indicated their willingness to support initiatives that will benefit the people of Guyana, women and children so we're going work and keep in touch," Mrs. Granger said.
Meanwhile, Dr. Wallace, who is a pastor, Empowerment Specialist, Global Solutionist and an Advocate for Women's Rights, said the WASD is doing its part to ensure that women reach their full potential by sharing its knowledge and creating linkages with like-minded persons.
"The WASD is trying to align its efforts with the United Nations mandate for the empowerment of women as we're building relationships, fostering opportunities with women outside of the US to bring our business models and training and education to fulfil that mandate to educate women and children. We want to see women reach their potential. Strong women are healthy women and produce healthy families which in turn produces a healthy nation so we're just joining the movement, so to speak, to do our part and what we can to support women globally and men as well," she said.
Mrs. McCoy, who is also a pastor and founder of Women Act Now, shared similar sentiments. In an invited comment she said that she is "honoured to be a part of this [effort] having an opportunity to meet with [the First Lady]."
She also said that she is "happy" to be in Guyana to support and advance efforts to promote women's wholeness.
"I'm excited about the women in business, the sustainability that it will bring to this country. I believe that the First Lady also has a heart for women's empowerment. It certainly is our hope to align with other women around the world, such as her, such as Sonia Noel and the group of women that we've had the opportunity to speak to, to really teach and share business principles that can really advance what they're doing. And I think a part of it and really supporting the things she's doing is really what our hope is," Mrs. McCoy said.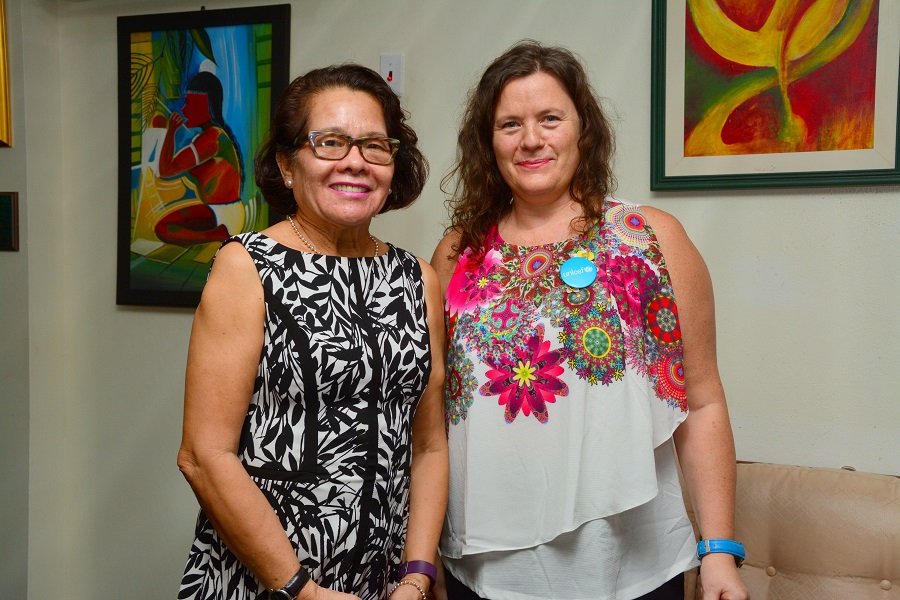 Fashion designer and entrepreneur Ms. Sonia Noel, empowerment specialists Dr Linda Wallace and Mrs. Anna McCoy, allrepresentatives of the Women's Association for Sustainable Development (WASD), flank First Lady, Mrs. Sandra Granger after a meeting today at her State House office.