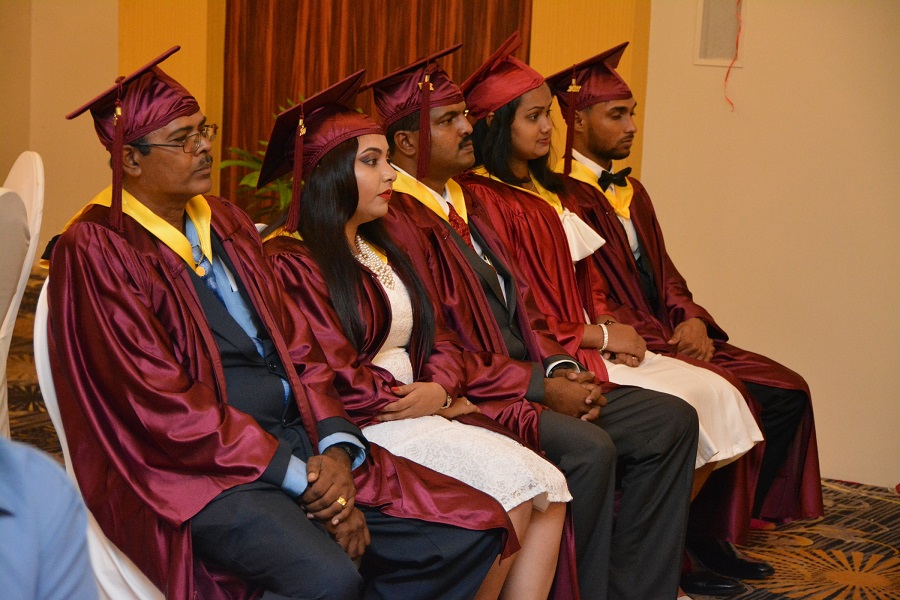 Georgetown, Guyana – (March 24, 2016) President David Granger told the Georgetown Chamber of Commerce and Industry (GCCI) that the recently concluded Local Government Elections have unshackled the business and economic potential of towns across the Ten Administrative Regions and the Government, as well as the private sector, must ensure that efforts of development are not concentrated solely in the capital city, but spread throughout the country.
The President was at the time addressing shareholders and stakeholders at the GCCI's 126th Annual General Meeting (AGM), which was held this afternoon at the Pegasus Hotel, Georgetown. He noted that the democratization of local government is necessary for the planned economic take-off of Guyana's towns and regions.
"Guyana's hinterland and rural landscape will be opened for orderly development. Our towns will lead this charge and in the process, create boundless business opportunities for the business community in Guyana. Our aim is to modernize local government and to catapult our municipalities into the 21st century. Our objective is to catalyse the economies of our towns and communities… Tremendous opportunities for all will unfold as we boost the economies of our regions through the instrumentality of our 'capital towns'. The challenges that present themselves will be dwarfed by the opportunities for economic growth that lie ahead," President Granger said.
President David Granger (second from left) shares a light moment with from left, outgoing GCCI president, Mr. Lance Hinds, Junior Vice President, Ms. Padma Kunjbeharry and GCCI Secretary, Mr. Nicholas Boyer.
The Head of State noted that the local government elections, which were held last Friday, were more than mere respect for constitutionality, but a reaffirmation of Guyana's political democracy and an opportunity for economic change. The "colonial compound mentality" where the citizens were solely dependent on Central Government to meet their needs, largely continued over the years due to the absence of local government elections, he added.
"The elections restored the right of citizens to participate in decision-making in their municipalities and neighbourhood councils. They also renewed economic opportunities for innovation, investment and infrastructural development. The elections for our neighbourhood democratic councils and municipalities paved the way for a change in the way our towns and communities are governed. They also paved the way for a reappraisal of the contribution they can make toward creating economically powerful regions," the President said.
President Granger makes a point to the outgoing President of the GCCI, Mr. Lance Hinds (left) and Senior Vice President, Mr. Vishnu Doerga after the opening of the AGM this afternoon at the Pegasus Hotel.
This democratisation has been accompanied by the first major extension in municipal administration in over four decades, with the Official Gazette (Extraordinary) published on October 21, 2015 authorising the establishment of three new towns: Bartica, in the Cuyuni-Mazaruni (Region Seven); Lethem, in the Rupununi, Upper Takutu-Upper Essequibo (Region Nine) and Mabaruma, in the Barima-Waini (Region One). Mahdia, in the Potaro-Siparuni (Region Eight), is a village which will become a town later this year, according to the President.
With the elections now over, local authorities are expected to be weaned off of Central Government dictation, domination and dependency. It will allow for a more collaborative and forward-looking model of governance, the President said.
'Capital towns' to spearhead development
"The new model will … instil a 'capital town' mind set, which emphasizes the role of towns in moving beyond providing traditional municipal services. The new emphasis should be on promoting business, driving economic development and giving leadership to our regions. Guyana will develop only if regions are strong. Our regions must no longer be viewed as mere administrative appendages of the Central Government. Our regions must become motors of economic growth. The potential of our regions is indisputable," the Head of State said.
He further noted that a 'capital town' will be established in every region to spearhead development.
"Bartica will be the 'capital town' of Cuyuni-Mazaruni. Lethem will be the 'capital town' of the Rupununi. Mabaruma will be the 'capital town' of Barima-Waini. Mahdia will become the 'capital town' of Potaro-Siparuni. More suitable sites will be identified to transform the compounds into 'capital towns' in the coastal Demerara-Mahaica, Essequibo Islands-West Demerara and Mahaica-Berbice regions," he said.
These 'capital towns' are expected to lead economic development in each region by encouraging growth through four factors: infrastructure, investment, information and communications technology and innovation. Infrastructure, the President said, will reduce transportation costs; provide access to markets; increase the competitiveness of production and stimulate increased output, while investment inflows will spur new industries and aid in overcoming competitive disadvantages and diseconomies of scale and by fostering job-creation, particularly non-agricultural jobs such as banking and engineering.
President Granger is led into the Meeting by Ms. Padma Kunjbeharry, Junior Vice President (left) and Senior vice President, Mr. Vishnu Doerga.
"'Capital towns' can compensate for their lack of size with big ideas, bold innovations and business dynamism as innovative technologies would stimulate agro-processing and manufacturing while the playing field between rural villages and towns can be levelled by the application of information communication technology (ICT)," he added.
The President also noted that 'capital towns', however small in the initial stages, will grow into centres of economic vibrancy and engines of economic diversification. They must position themselves at the cutting edge of the economy, he pointed out.
"'Capital towns' must provide the full range of public services: education, health, housing, water, energy, law enforcement, taxation, immigration, insurance and the registration of births, deaths and businesses. A person should not have to leave his or her region to obtain these services. Education is an important public service. Our town councils must take an interest in the education of our children. 'Capital towns' must provide economic services to citizens: commerce, shipping, insurance, banking, micro-financing, telecommunication, tourism and manufacturing. The availability of these services will be an indicator of economic development within our regions," the President told the meeting.
Municipalities, he said, must function like corporations. This status will allow them greater autonomy and financial independence. It will also allow them to engage in promoting businesses, industries and manufacturing and, thereby, create employment.
"Towns must become motors of business. A corporate model for our municipalities will allow them to actively promote and partner with private investors, for example, to process this country's abundant agricultural produce for local use and for export. The expansion of agro-processing can become a source of employment and profit for municipalities," President Granger said.
In order to address the challenges of urbanization, Central Government will implement the necessary systems to ensure that every region becomes an economic hub, he added.
Meanwhile, Secretary of the GCCI, Mr. Nicholas Boyer, in brief remarks at the conclusion of the opening ceremony of the AGM, acknowledged that there are regions where potential has remained untapped by investors. He said this matter will be added to the Chamber's agenda.