Georgetown, Guyana – (March 11, 2016) First Lady, Mrs. Sandra Granger, today, presented certificates to 26 women from Mahaica- Berbice (Region Five) who graduated from her fifth Self Reliance and Success in Business Workshop.
In her address at the graduation ceremony, held at the People's National Congress Reform (PNCR) office in Rosignol, the First Lady said she is heartened by the response to the seminar.
"It is always a pleasure to feel the energy and excitement at the end of these workshops. I am sure you, the women feel much more confident now and I hope that when you leave, you take whatever you learn, back to the communities," Mrs. Granger said.
The workshop, which aims to empower women to become self-reliant, was initiated under the auspices of the Office of the First Lady, with support from the Ministry of Social Protection and the Ministry of Indigenous Peoples' Affairs.
First lady, Mrs. Sandra Granger presents a certificate of completion to one of the recipients of the Self Reliance and Success in Business workshop held for Region Five women.
Ms. Janice Whyte, a Management and Financial Analyst at the Regional Democratic Council (RDC), who delivered the feature address, told the graduates to ensure that they put what they have learnt into practice.
"Take what you do seriously. You cannot expect to be effective and successful unless you believe in what you are doing," she said. Ms. Whyte further urged them to utilise their skills and training not only to develop themselves, but their communities as well.
The participants praised the workshop, noting that they have now been provided with the skills to grow and develop their businesses so that they can enjoy a better standard of living.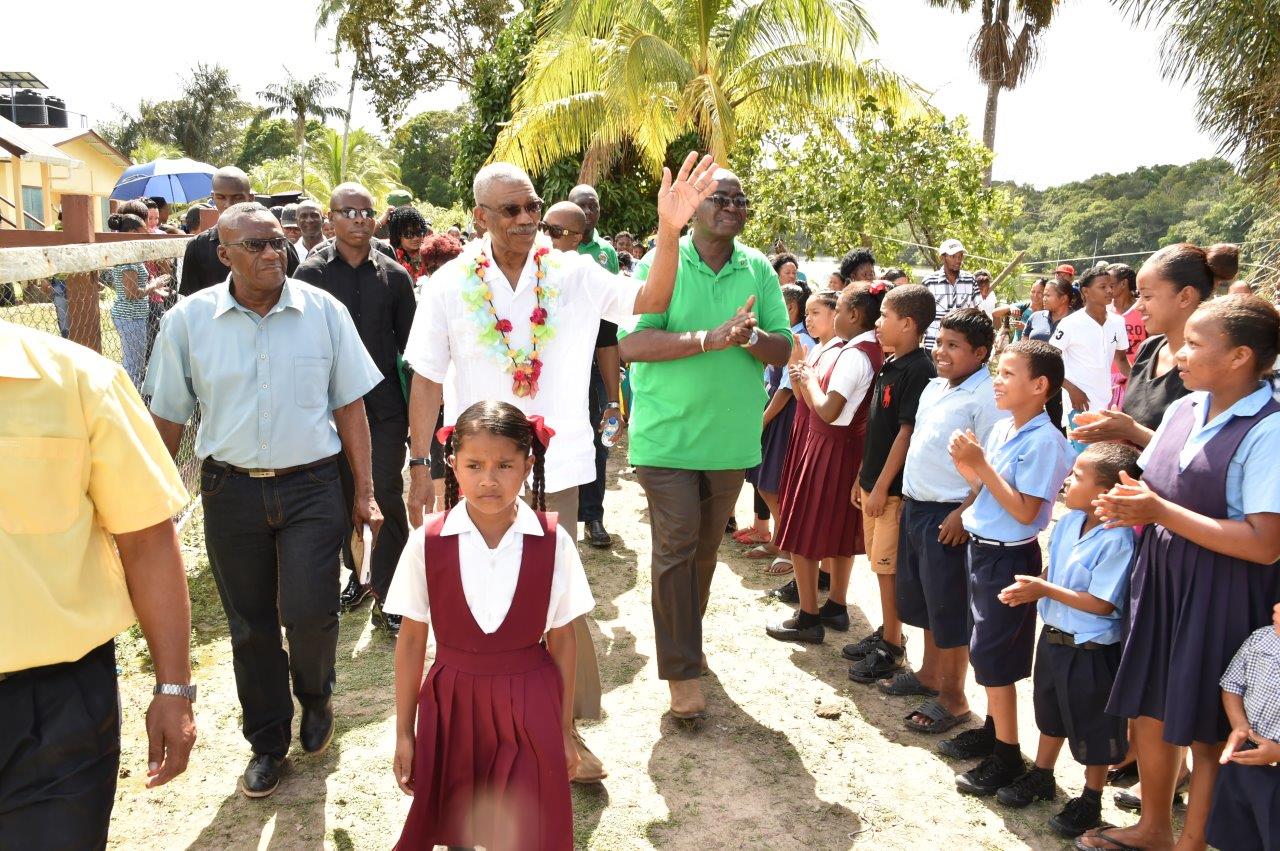 The women draw close to First Lady, Mrs. Sandra Granger as she shares a warm moment with one of the graduates.
Ms. Britney Nestor, in an invited comment said, "It feels [good] to be empowered. This now enables me to manage my money better and [has taught me] how I can do promotions to promote my business, so I feel good. This will really help me to move forward with my business."
Ms. Lynda Todd, from Tempe Village, said that while she manages her own business but the workshop has now taught her how to promote it.
"I learnt how to market what I sell and how to promote my business…I want to say thank you to the First Lady and the Ministers because it was definitely worth the while. I will be taking back whatever I have learnt here, over the past days, to my community and hopefully I can share with a lot of people," she said.
The workshop was first launched at Good Hope, East Coast Demerara with a batch of 12 women and was later taken to Blue Berry Hill, Linden; Lethem, Upper Takutu-Upper Essequibo (Region Nine); Mabaruma, Barima-Waini (Region One) before it reached Rosignol.
The sessions are being conducted by Mr. Wayne Barrow of Interweave Solutions, who said that at the end of the training, the women will be empowered to manage a small business, develop small business plans, and write grant proposals, among other skills.
Interweave Solutions is a non-governmental organisation that helps local organisations and congregations in developing countries to determine their own destinies by providing them with the necessary training to implement and promote their own business plans.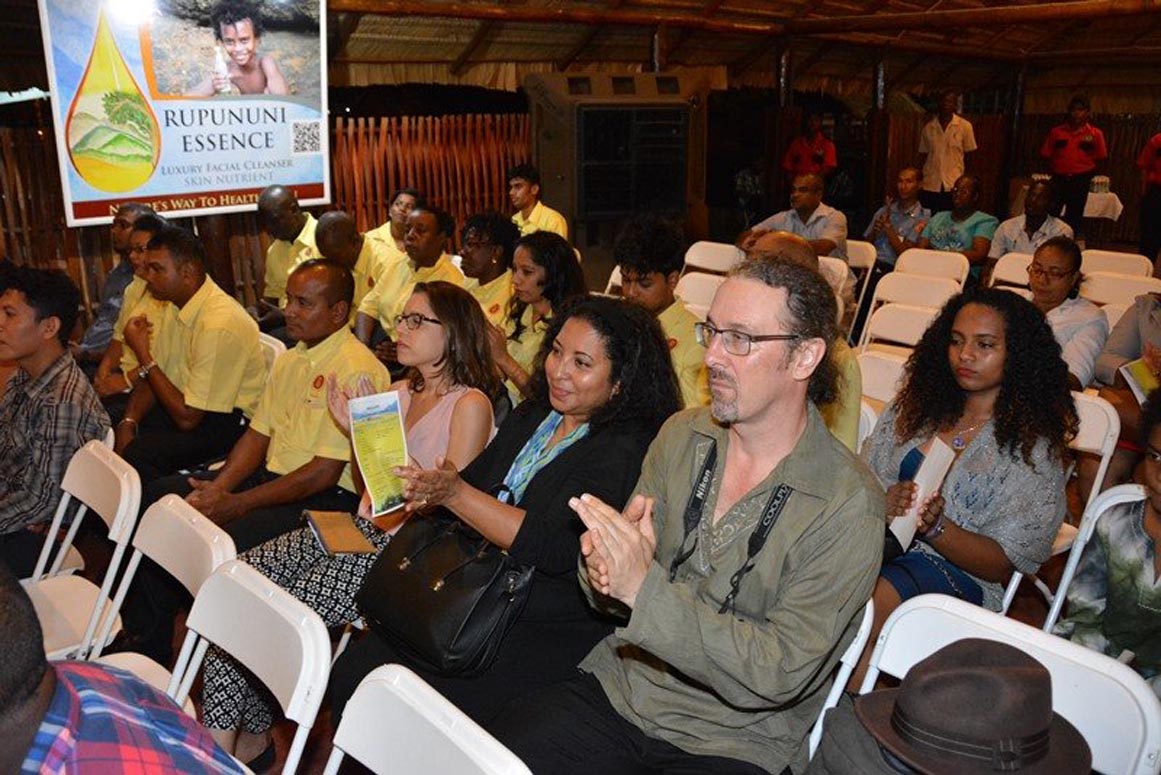 Mrs. Granger receives a locally made, embroidered pillowcase from one of the ladies who benefited from the five-day workshop.
The other graduates of this workshop are Ms. Euclin Abrams, Ms. Coreen August, Ms. Nichola Bacchus, Ms. Thornzia Benjamin, Ms. Lolita Chesney, Ms. Donette Cummings, Ms. Abiola Daniels, Ms. Stacey Fraser, Ms. Cordella Halley, Ms. Louisa Haynes, Ms. Shurva Isaacs, Ms. Melissa King, Ms. Simonica London, Ms. Ann Joseph Marks, Ms. Ruth McFarlane, Ms. Nina McKenzie, Ms. Tumika Ms. Pherson-Lewis, Ms. Amanda Mingo, Ms. Sherrol Mingo, Ms. Reneque Mitchell, Ms. Jennifer Monah, Ms. Britney Nestor, Ms. Carlyn Peters, Ms. Feona Robinson, Ms. Lynda Todd and Ms. Alexis Wray.
To date, over 120 women have completed the programme and are on their way to establishing themselves as successful small businesses owners.