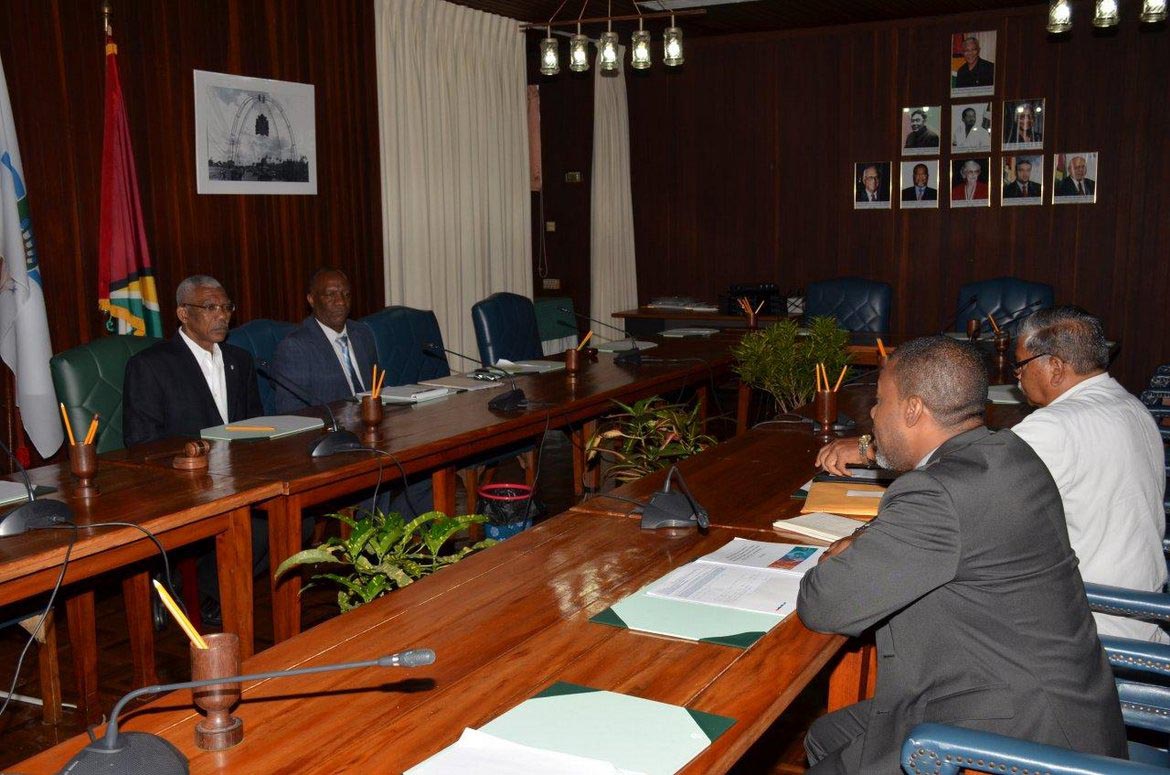 Georgetown, Guyana – (March 10, 2016) Executive Director of the Caribbean Disaster Emergency Management Agency (CDEMA), Mr. Ronald Jackson, today, met with President David Granger to discuss the work of the regional body, particularly in the context of Guyana's disaster risk management expectations.
Minister of State, Mr. Joseph Harmon and Director General of the Civil Defence Commission (CDC), Colonel (ret'd) Chabilall Ramsarup also attended the meeting, at the Ministry of the Presidency.
This is the first engagement between CDEMA's leadership and the new Administration. Mr. Jackson explained that he wants to bring to the fore discussions regarding the "priorities for dealing with disaster risk reduction and climate change adaptation in Guyana".
President Granger noted that while Guyana is not prone to disasters such as hurricanes, which are typical to other Caribbean countries, it is facing serious challenges coping with two extreme weather-related conditions; flooding and drought.
He informed that because of Guyana's rough terrain and scattered population, the Government is looking to recruit and train a corps of volunteers to act as first responders and render assistance, in a timely manner, during disasters. This however, is just a small aspect of a wider, more holistic disaster risk reduction and management strategy that the Government is examining.
President David Granger and Minister of State, Mr. Joseph Harmon (first and second, left) in discussions with CDEMA's Executive Director, Mr. Ronald Jackson and the CDC's Director General, Colonel (ret'd) Chabilall Ramsarup, at the Ministry of the Presidency.
Meanwhile, Minister Harmon explained that the Administration has already activated mechanisms in the law that empowers the CDC, as the point agency, to take specific actions in certain situations. This is something that was never done before.
Mr. Jackson concluded that countries in the Region have to develop their individual capacities in order to craft a comprehensive regional response plan that takes into account the peculiarities of each member country.
CDEMA is a regional inter-governmental agency for disaster management in CARICOM. It was established in 1991 as Caribbean Disaster Emergency Response Agency (CDERA) with the primary responsibility for the coordination of emergency response and relief efforts to Participating States that require such assistance. It transitioned to CDEMA in 2009 to fully embrace the principles and practices of Comprehensive Disaster Management.
CDEMA currently comprises 18 CARICOM and non-CARICOM countries in the Caribbean.