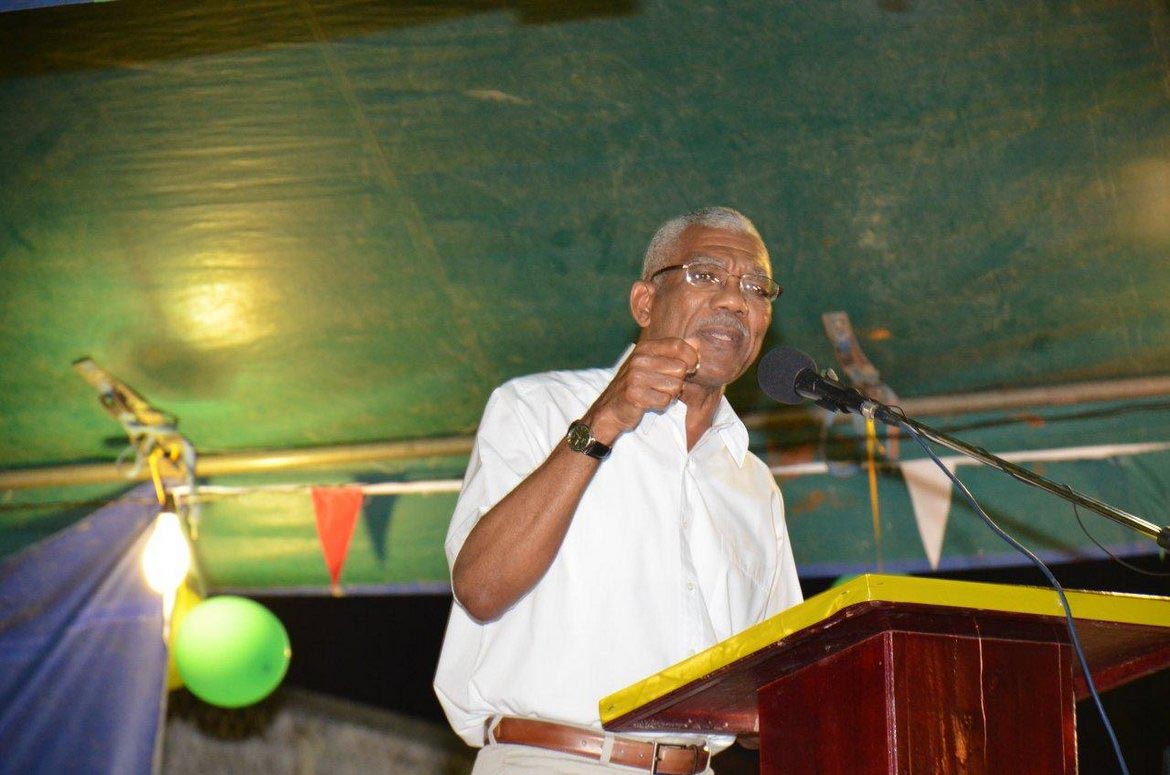 Georgetown, Guyana – (March 11, 2016) President David Granger, last evening, called on the residents of Rose Hall Town, East Berbice-Corentyne (Region Six) and its environs, to go out in their numbers on March 18 and exercise their democratic right to determine who manages their communities, at the Local Government Elections (LGEs).
Addressing a large crowd at a meeting with residents, held at the Rose Hall Independence Arch Square, President Granger recalled that it was his administration while in Opposition, which fought for the holding of the LGEs after a 23-year gap. He cautioned citizens against complacency and encouraged them to vote.
"Next week Friday is a big day. It is the day of empowerment. It is stepping out of 23 years of the denial of democracy, of Interim Management Committees (IMC). Don't stay home. Don't take it for granted. Go out in your numbers. Don't become complacent… if you don't turn out, you lose. You will have IMCs; people you don't know and who don't know you will end up in the council. We struggled in the National Assembly to bring [back] local democracy. Everything you want you can be… you have the power in your hands," President Granger said.
The President said that his Government fought for local government elections since he believes that it is imperative that citizens are given the right to manage their own communities and affairs.
"[You should] be given the right to sit and decide how Rose Hall Town is governed…There must be no way that one man can sit down in Fort Street, Kingston and know what is going on in your community. The Minister doesn't know. You have to know. You live in your house and you know where it is leaking and that is why there is so much emphasis on communities. Everything is about the community," he said.
President David Granger addresses residents of Rose Hall Town, Berbice, during a meeting with the people yesterday.
'Empowerment leads to enterprise'
The President also noted that while there are three levels of Government: the national, regional and local, it is the local one which forms the foundation as this is where Government and governance begins. This, he said, is the main reason why the LGEs should not be taken for granted. It is where an individual is empowered to make decisions that affect his/her community and the country as whole.
Empowerment he said, leads to enterprise and given the Corentyne's vast potential, the LGEs must also kick-start and advance the region's economic development.
"You must put a council which is going to promote business, fix pot holes, install street lights, fix the drains, but most of all promote business opportunities… Instead of producing paddy you should be producing rice crispies; you should be producing rice cereal; juice and guava cheese, plantain chips and coconut water.
This town must become an economic powerhouse. People must flood to Rose Hall Town because they are getting work. I want to see factories and supermarkets when I walk through here," he said.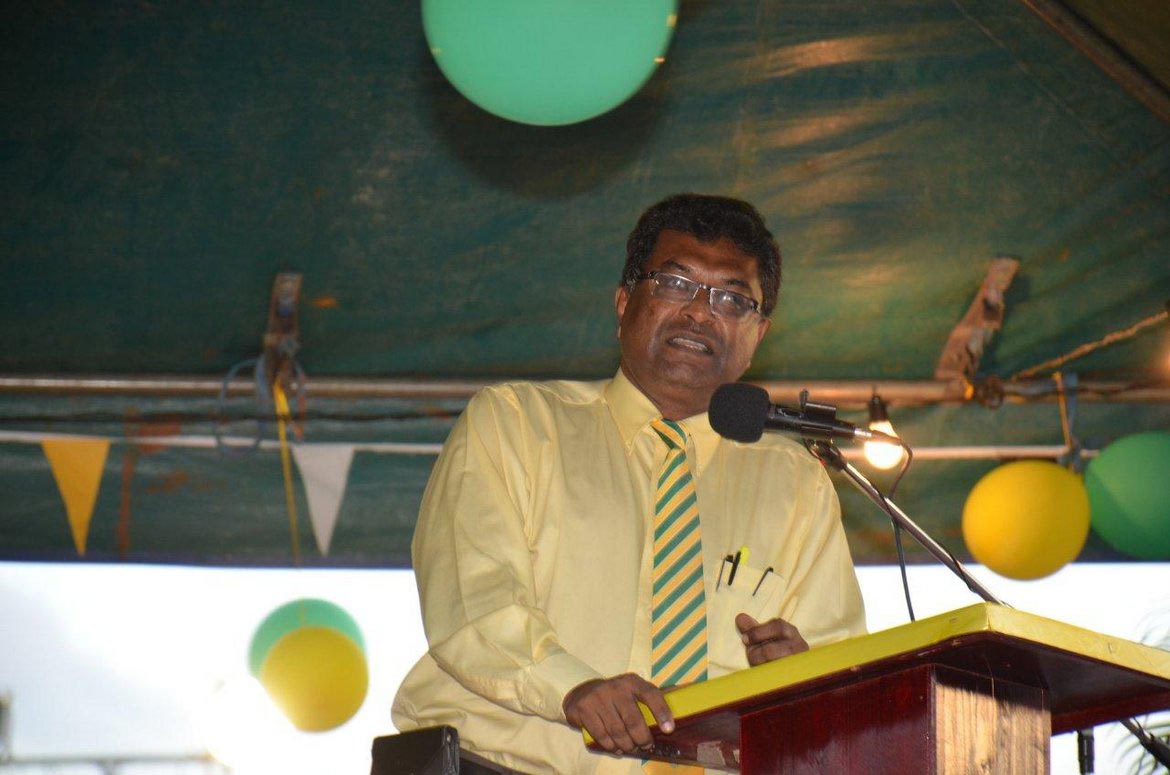 Minister of Public Security, Mr. Khemraj Ramjattan addresses the gathering in Rose Hall Town.
The Head of State also informed the gathering that if an elected council fails to advance the community's livelihood, then the people must use their power to effect change.
"If you are not satisfied, you move them. As long as we are here, we are going to make sure that you exercise your democratic right every three years," President Granger said.
Turning his attention to the councillors, the President charged them to do their utmost, upon election, to ensure that every child in the community attends school, every voice in the community is heard and the welfare of all is looked after.
"Do not feel you are going on a vacation when you get to office. Go to the constituency and speak to the people. If you don't speak to them, they won't speak to you… Every councillor must ensure that every child goes to school…The Mayor must ensure that every child can go to school. The [other] thing is you must ensure your people get jobs. Don't look to Central Government. Employment is right here," he said.
A number of high-level ministers, who accompanied the President to Rose Hall Town, expressed similar sentiments and encouraged the crowd to view the LGEs as an opportunity to exercise their democratic right to chart the course of development for their region. Minister of Public Telecommunications, Mrs. Catherine Hughes, in her address, urged the crowd to capitalize on the opportunity to ensure that their communities are developed.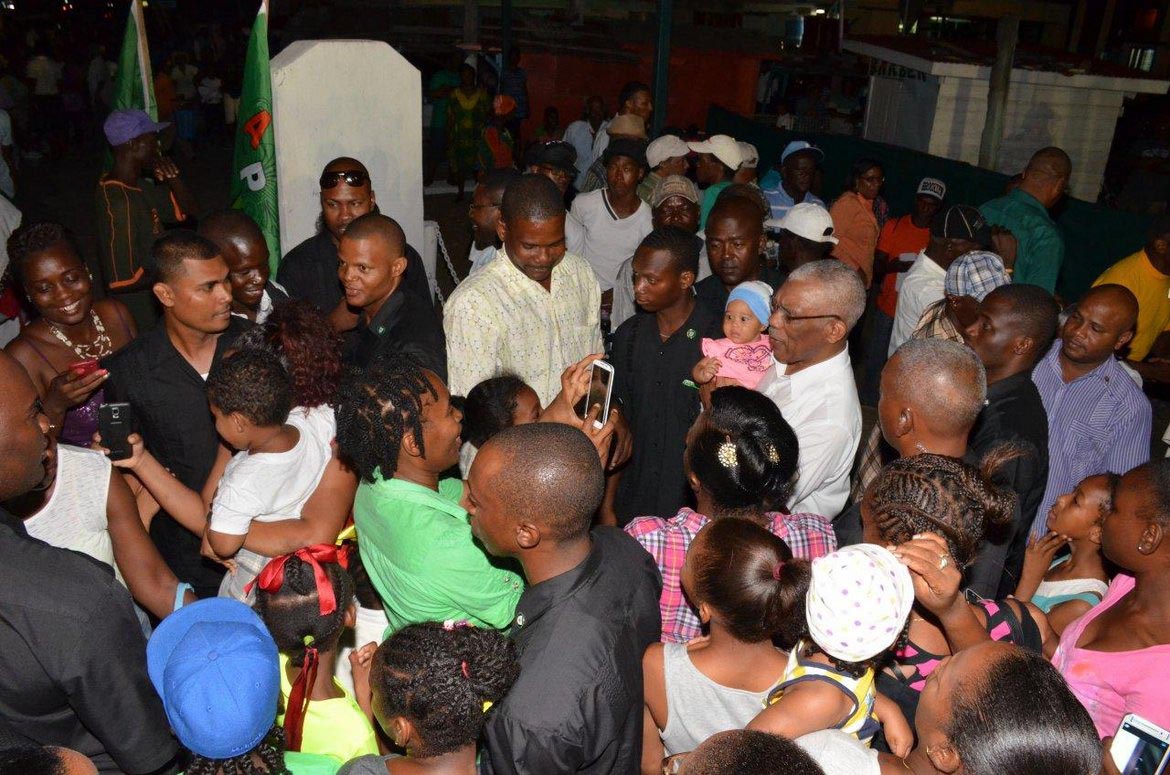 Even the little ones: President David Granger meets one of Rose Hall Town's littlest residents, during a meeting with the residents.
"When you choose your representatives, you are going to decide how the money in each of the communities is spent. You are going to have a say in how the drains are fixed, how to get street lights, how the schools are maintained…Sometimes people think local government elections is not important because we just had the big election last year, but we have to understand that local Government elections is the instrument that allows you to decide what is going to happen in your community. So it is very important for you to participate, for you to support your councillors and to get up and go out and vote on March 18," Mrs. Hughes said.
Meanwhile, Minister of Public Security, Mr. Khemraj Ramjattan, noted the LGE provides the opportunity for the efficient management of the country since the elected local representatives can communicate to the Central Government about the issues affecting citizens, and stymieing growth.
"Sometimes we at the central level are thinking about … matters like the Georgetown Prison unrest and you forget the community because your priorities are sometimes directed other ways. But when you have your councillors who know that the drains at the Arch [are] blocked,… or the road is not fixed, you can give us that wake-up call and make sure that there are allocations and subventions to address those," the Minister said.
Minister of Social Cohesion, Ms. Amna Ally and Minister of Public Health, Dr. George Norton also attended the meeting.