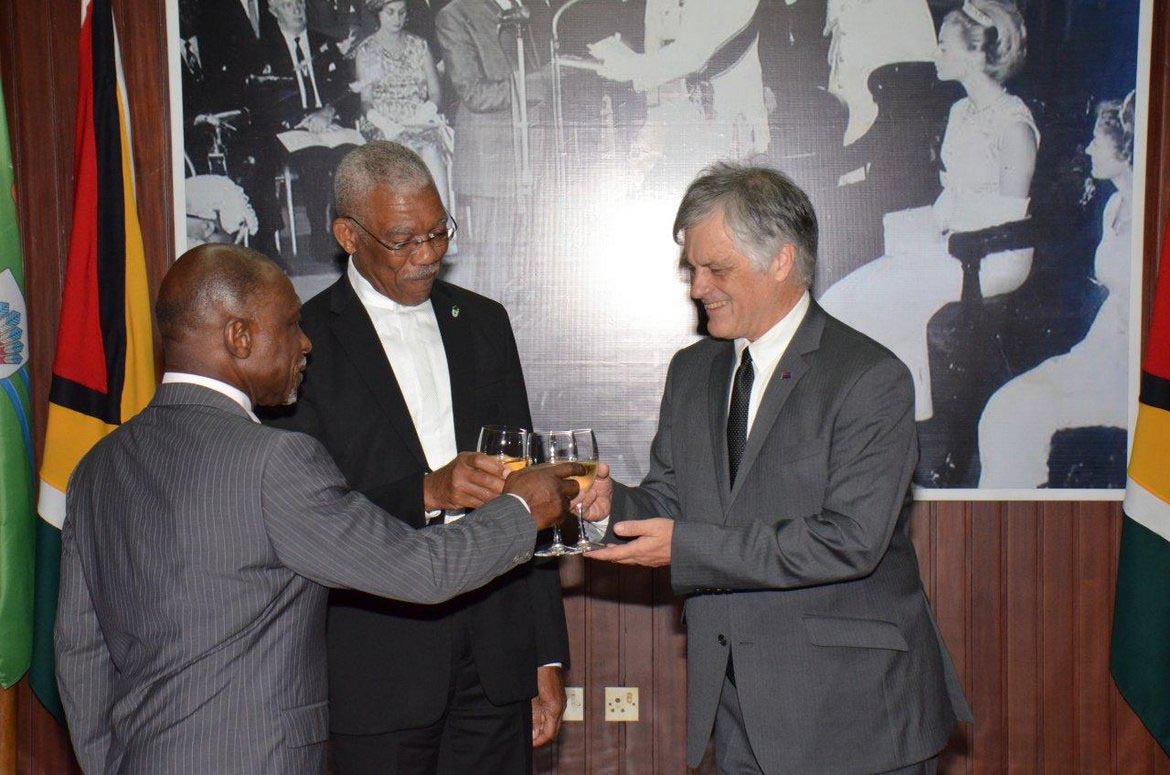 Georgetown, Guyana – (March 9, 2016) President David Granger, today, accredited His Excellency, John Pilbeam as the new non-resident High Commissioner of the Commonwealth of Australia to Guyana. The new High Commissioner is based in Trinidad and Tobago.
In presenting his Letters of Credence to the President, Mr. Pilbeam spoke of the friendly and fruitful diplomatic relations that Guyana and Australia share for over 40 years. The First Australian High Commissioner presented his credentials in Guyana in April 1974.
According to Mr. Pilbeam, sport, particularly cricket, is the bedrock of the relations between the two nations; noting that legendary Guyanese players such as Mr. Clive Lloyd, Mr. Lance Gibbs, Mr. Rohan Kanhai, Mr. Shivnarine Chanderpaul and Mr. Ramnaresh Sarwan all have strong fan bases in Australia.
"Guyana is the first place in which I have presented credentials outside of Port of Spain and I have to admit that the plans of the Australian cricket team to visit for a week in June, play a large part in that decision. A large number of Australian cricket fans will also be visiting Guyana then and we need to prepare with your Government for that," the High Commissioner said.
However, quite apart from cricket, Guyana has benefited significantly from its relations with Australia, particularly in the areas of capacity building, scholarships and joint-aid programmes. Last year, Australia funded projects to support the fight against cervical cancer, youth empowerment and provide safe water sources for two communities.
President David Granger (centre), Minister of Foreign Affairs, Mr. Carl Greenidge (first, left) and the newly installed Australian High Commissioner to Guyana, His Excellency John Pilbeam share a toast after the accreditation ceremony.
"Though we are far away, Australia is pleased to maintain strong partnership with Guyana internationally. You would recall that our Prime Minister joined with other Commonwealth leaders in Malta in November to reaffirm our unequivocal support for the maintenance and safeguarding of Guyana's sovereignty and territorial integrity," Mr. Pilbeam said.
Meanwhile, similar sentiments were expressed by President Granger, who said that diplomatic relations between the two countries have deepened Guyana's membership in the Commonwealth of Nations, of which Australia is a founding member.
"Guyana looks forward to continuing to work with Australia to finding solution to the problems of small states and particularly, to the security concerns of small states…We take this opportunity to extend gratitude to Australia for the support and development assistance received over the years, through scholarships, direct aid programmes and through CARICOM initiatives," the Head of State said.
He added that with Mr. Pilbeam's appointment, Guyana envisages increased collaboration between the two countries at the multilateral level; pointing out that there is much scope for cooperation, particularly within the context of the United Nations 2030 Agenda for Sustainable Development, the 2015 Paris Agreement on Climate Change and the Small Island Developing States (SIDS) Accelerated Modalities of Action also called the Samoa Pathway.
"We look forward also to your appointment becoming a catalyst to strengthen bilateral relations and we welcome the interest expressed by Australian companies to invest in Guyana…We assure you of our cooperation as you execute your duties," President Granger said.
The Commonwealth has been an important voice in the global community, it has championed democracy and human rights and it has highlighted the plight of small states. Australia, commendably, has used its experience and standing within the Commonwealth to call attention to the concerns of small states.