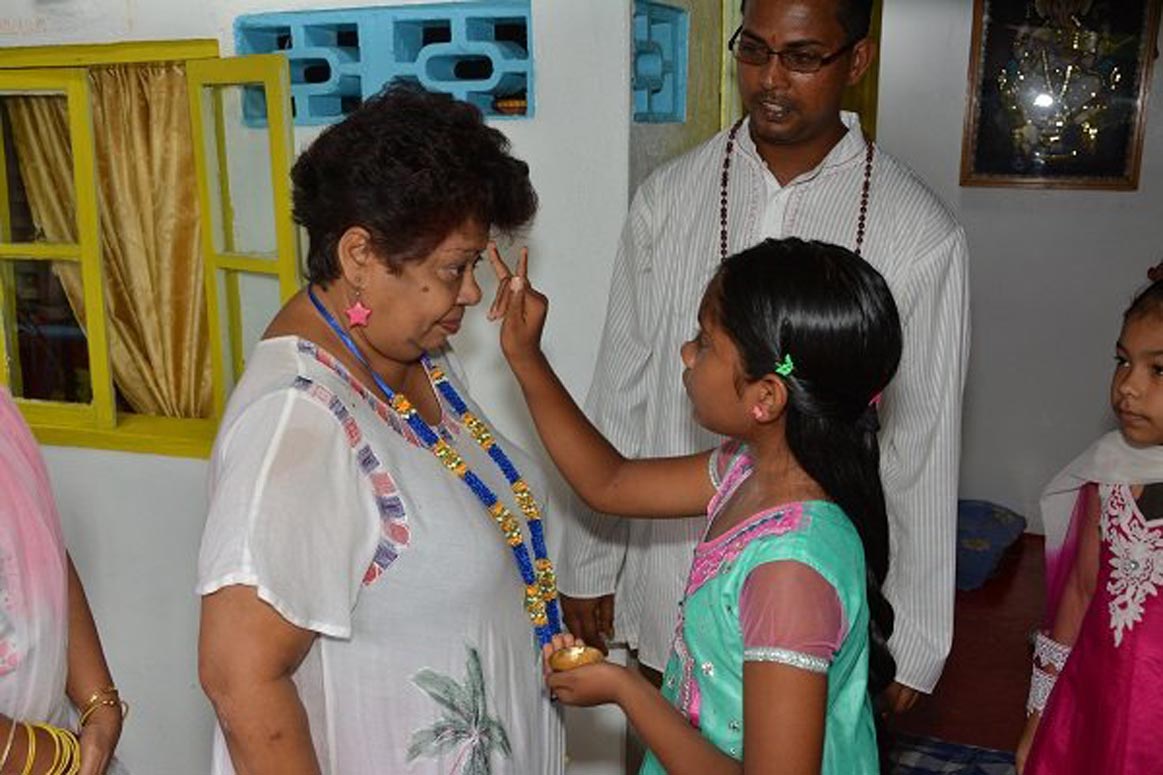 Georgetown, Guyana – (March 6, 2016) Minister of Social Cohesion, Ms. Amna Ally, today, emphasised the importance of social cohesion to Guyana's development, in her message to the devotees at the Shri Samayapuran Mariamma Mandir, Ogle, Greater Georgetown.
She also spoke of the importance of unity for nation building and asserted that efforts must be made by all citizens to ensure that Guyana's motto, "One People, One Nation, One Destiny" is realised.
Addressing the small gathering at the mandir, Minister Ally said that President David Granger has mandated that the Ministry capitalises on every opportunity to erase the barriers of inequality, racial and other forms of discrimination and segregation and to undertake and promote endeavours that would foster a more cohesive and cooperative society.
As such, the Minister has invited religious organisations and other groups to partner with her Ministry to devise strategies to promote nationhood. Two weeks ago Minister Ally held the first such meeting with members of the Muslim community.
This little devotee applies a 'tikka' to Minister of Social Cohesion, Ms. Amna Ally's forehead on her arrival at the Shri Samayapuran Mariamma Mandir for a function, earlier today.
Communitarianism
Today, Minister Ally commended the organisers at the Ogle mandir for responding to this national call, noting that these efforts will only be successful when groups and organisations take responsibility for facilitating and promoting such engagements.
"As a Government we are talking about social cohesion and the need for it, but we believe when the religious institutions, the churches, the mosques, the temples, the groups, the communities and all the other organisations do… what you are doing, it will make the task of the Administration less arduous,"
Minister Ally added, "It will provide an opportunity [for] people to know what social cohesion is, the advantages of having a socially cohesive society and how we each can contribute to making our society a socially cohesive one." The Minister pointed out that social cohesion is about bringing people together, celebrating differences and working together to achieve set goals for the development of Guyana and as such, each Guyanese must play his or her part in nation-building.
Minister called on Guyanese to work to eradicate barriers, respect differences and find common ground.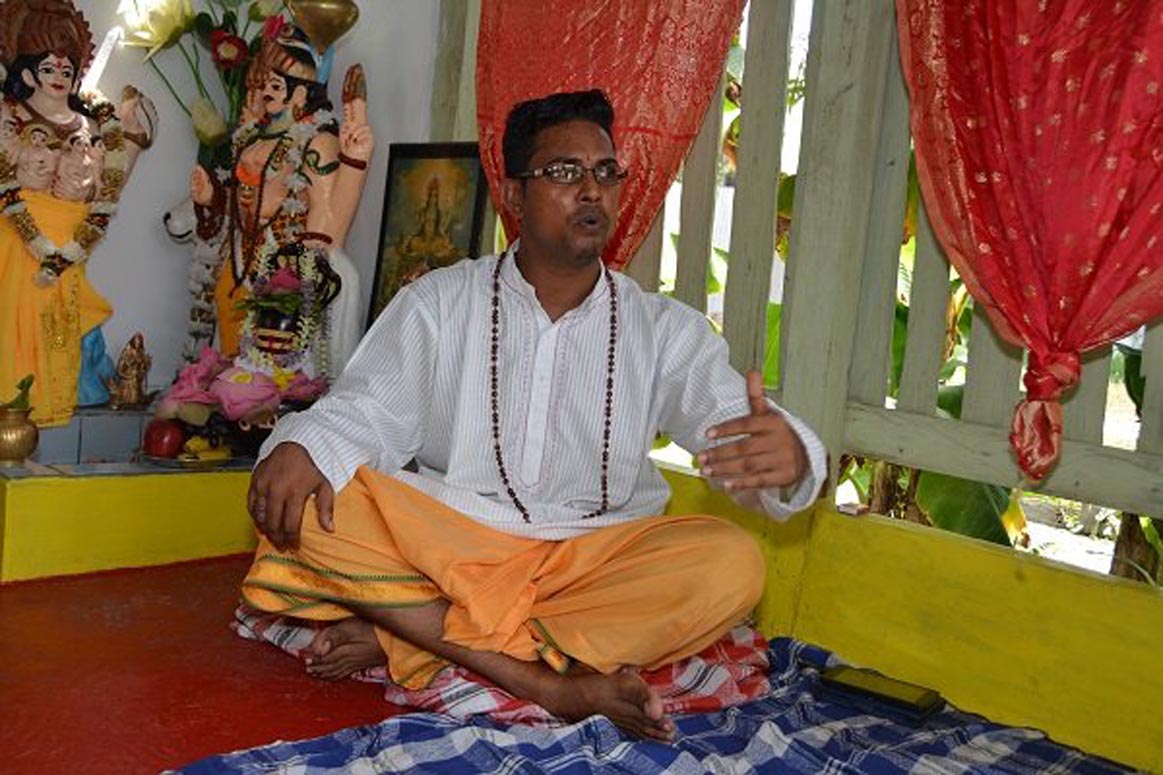 Pandit Deodatt Tillack gestures as he makes a point while delivering his message.
"That is why we have the 'Three Bs' [plus Breakfast and Books] Programme, to ensure that children attend school and get a good education so that they can have a level playing field for opportunities in nation building. People must have a sense of belonging; people must respect each other and be allowed to participate in their society. They must be included in the processes of development and decision making; they must have equal access to facilities, social services, education, healthcare and job opportunities," Minister Ally reiterated.
In his brief remarks, Pandit Deodatt Tillack pledged that his mandir will partner with the Government on initiatives that will benefit the citizens and the entire country.
"We want to commend the efforts of the Government for this initiative. We should all work for the good of the country. As we dedicate ourselves to our religion, we also have the right to work towards the good of the country too. We worked selflessly under the former Administration and we intend to work selflessly under this Government too," he said.
Meanwhile, Pastor Ronald McGarrell of the Inter Religious Organisation (IRO), who was among attendees at the mandir, praised the Government's initiative and encouraged all Guyanese to support it. He too pointed out that Guyana's potential can only be realised when there is national unity.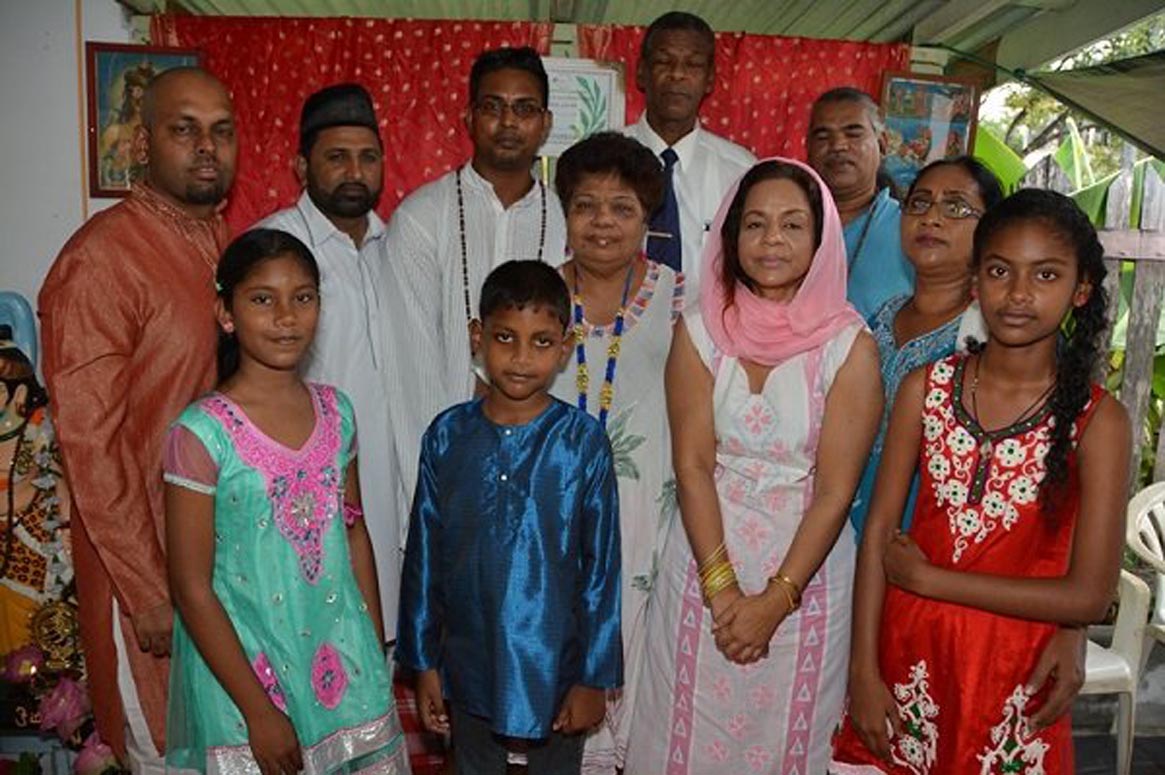 Minister Ms. Amna Ally (centre) along with Pandit Tillack (third from left), Pastor Ronald McGarrell (back row, centre) and devotees at the Shri Samayapuran Mariamma Mandir, Ogle after this morning's service.