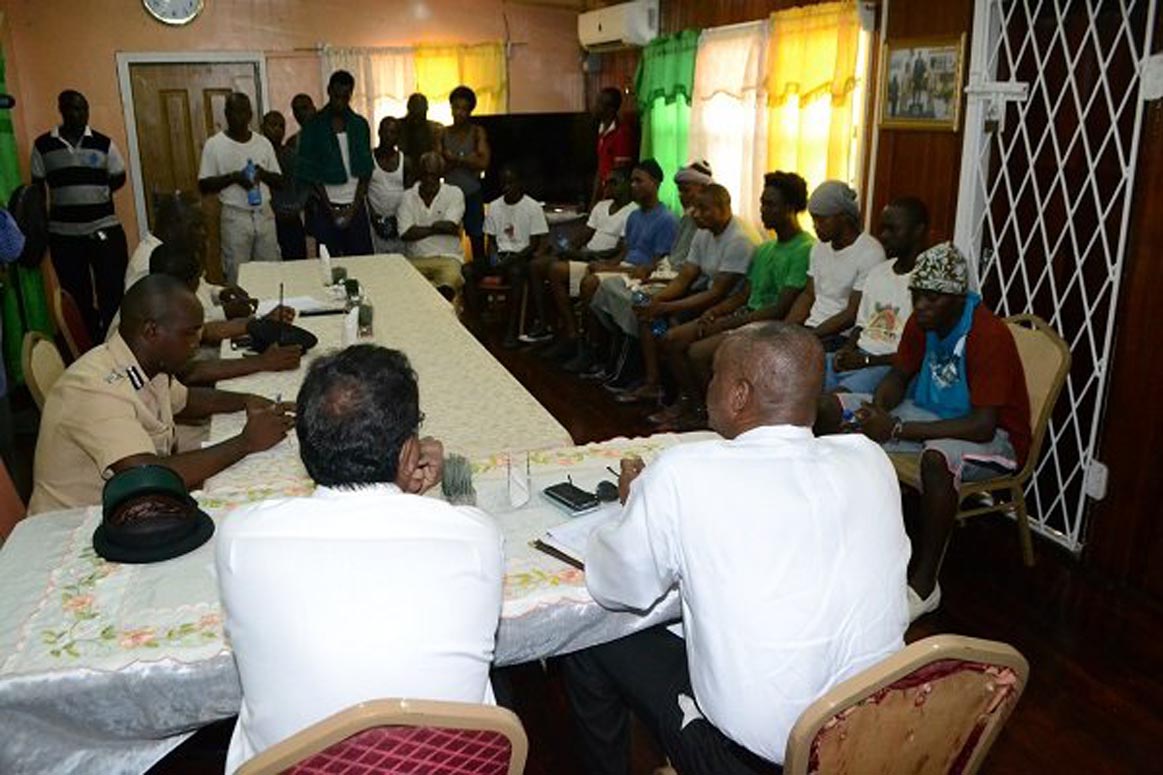 Georgetown, Guyana – (March 04, 2016) President David Granger, through the Minister of Public Security, Mr. Khemraj Ramjattan has established a three-member Commission of Inquiry (COI)to probe the Georgetown Prison riot, which claimed the lives of 17 prisoners and left five nursing serious injuries at the Georgetown Public Hospital Corporation.
"We have to determine the causation, why it occurred and why it was so violent because this has never occurred before and secondly, whether the Standard Operating Procedures (SOPs) were adhered to with the conduct of the officials… The families can be assured that the Government is aware of their plight and is doing the best to ease their discomfort," President Granger said.
On Thursday, as news broke that the men had died, the President immediately convened a National Security Committee meeting where he instructed that the Commission be established to investigate the tragedy, as well as to provide recommendations on the way forward to ensure that there is never a recurrence.
Former Judge, Mr. James Patterson will head the Commission while the other two members are former Director of Prisons, Mr. Dale Erskine and Human Rights activist, Ms. Merle Mendonca.
Additionally, Minister of State, Mr. Joseph Harmon and Minister of Public Security, Mr. Khemraj Ramjattan at a press conference today, hours after meeting with Prisoners of the Georgetown Prison, announced that the Welfare Department of the Georgetown Prison will work in tandem with the Ministry of Social Protection to assist with funeral costs and to provide other kinds of support for the dead men's grieving relatives.
Further, beginning immediately, the quality of meals given to the prisoners will be enhanced and prisoners will now be allowed to make calls to their families thrice per week, an extension from the previous policy of two calls per week. The Minister noted that once additional telephone lines have been installed, prisoners may be granted as many as five calls per week.
Minister Ramjattan also said that effective immediately, Deputy Director of Prisons, Mr. Gladwin Samuels will proceed on six weeks annual leave to accommodate the investigations.
'Gentleman's pact'
These decisions came forthwith after Minister Harmon and Minister Ramjattan, had met with some aggrieved inmates from the prison to hear their concerns to determine how Government can speedily address them, to arrest the protests in the jailhouse and to determine a way forward.
During that meeting, held at the Prison Officers Hall on Camp Street, the two senior ministers entered into a "gentleman's pact" with the prisoners that all protest actions will now cease as they have committed to addressing immediately complaints about the quality of food being served and have agreed that the Commission will address the more technical grievances.
At a media briefing following the hour-long meeting, Minister Harmon said that the Government will make every effort to keep the pact as it intends to ensure that the prisoners are held in humane conditions.
Minister of State, Mr. Joseph Harmon and Minister of Public Security, Mr. Khemraj Ramjattan listen as some inmates of the Georgetown Prison air their grievances, during a meeting held at the Prison Officers Hall.
"We are going to try to keep our end of the bargain and they are going to keep theirs. We feel that what has happened will aid in the security arrangements in the prison and we will do all that we can as a Government to ensure that the prisoners live and work in humane conditions that should make their lives a little comfortable. We know a prison isn't a hotel, but certainly as a Government, we have to ensure that they are certain minimum standards which must be met and we will work to ensure that happens," he said.
Grievances
Meanwhile, Minister Ramjattan said that the meeting was informative and represents the first step in restoring order at the Georgetown Prison.
"I must say that they had a lot of grievances; grievances with the conditions in the prison, grievances with some of the officers of the Prison; grievances that have to do with the lengthy detention periods that they are in; not having trials. Some of them even have grievances against some judges and magistrates and some of them have a different story as to what caused the incident to be so heightened to the extent it caused deaths and so on," he said, adding that "they promised that they are going to calm down now that they have seen two senior members of Government because that's what they wanted and they had the opportunity while they were passing, to speak to you too."
He noted that those matters which can be dealt with administratively will be addressed forthwith. The Commission will address the other matters.
"Those that are more technical, getting evidence and all, this will be dealt with by the panel of investigators. The three-person Commission will start, as soon as possible, to hear the complaints of the prisoners and I want as many prisoners as possible to give their complaints on what is happening, the systems in place and all of that for purposes of remedying that which they are complaining about," he said.
The Minister reiterated that the Government intends to put measures in place to ensure that this incident never recurs, as such; officers may be transferred or removed from the Georgetown Prison to facilitate this.
"It could very well be all of those things because although the allegations have been made against some of the senior ranks here, we would want to hear from the officers too of course," the Minister said, giving further assurances that "Those things that can be done immediately… I will recommend that whatever can be done, be done."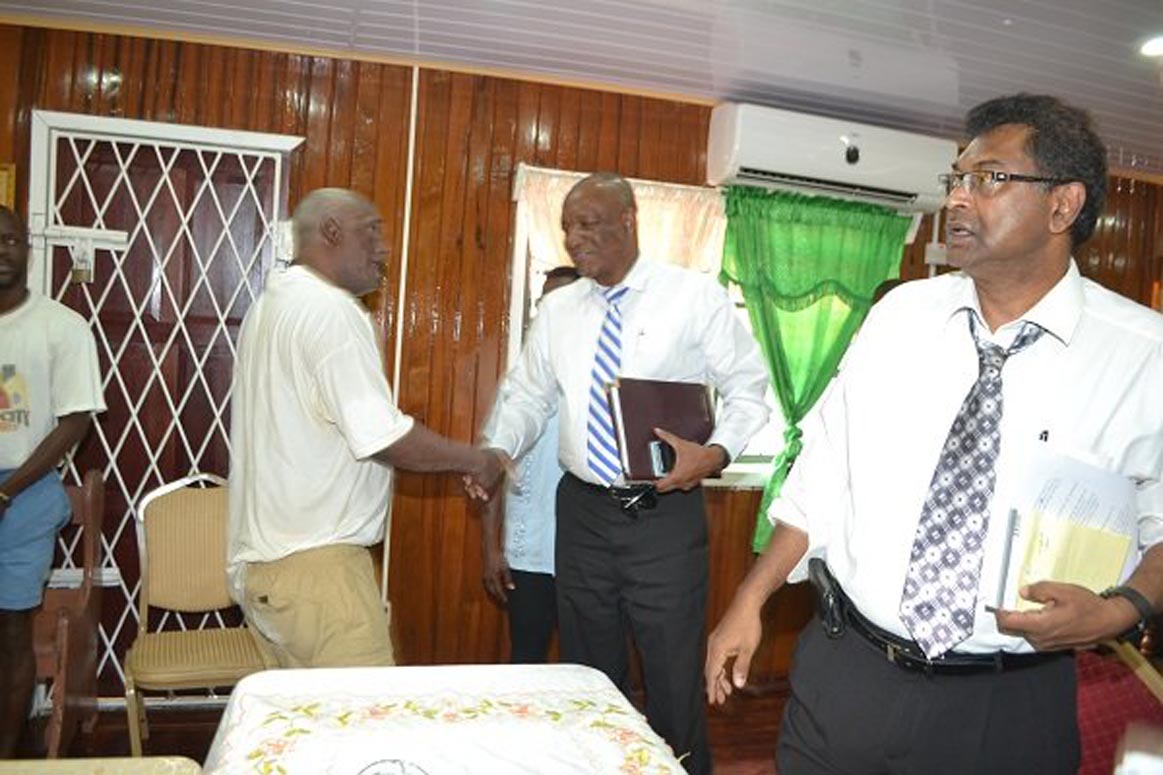 Minister of State, Mr. Joseph Harmon shakes hands with one of the prisoners at the meeting. Minister of Public Security, Mr. Khemraj Ramjattan is pictured at right.
Minister Ramjattan also noted that the Government viewed meeting with the prisoners as an opportunity to hear their grievances first-hand in order to address deficiencies at the facility and enhance national security.
"I feel that it is a useful thing talking to them, hearing their versions too, at our level, because sometimes they could be speaking to prison authorities and the prison authorities listening to them but not acting. We need, at our level, to meet them sometimes and talk to them. It is very useful information we got this morning. They seem to be very credible in what they were saying so indeed now that we are in a better position we are going to act on those things," he said.