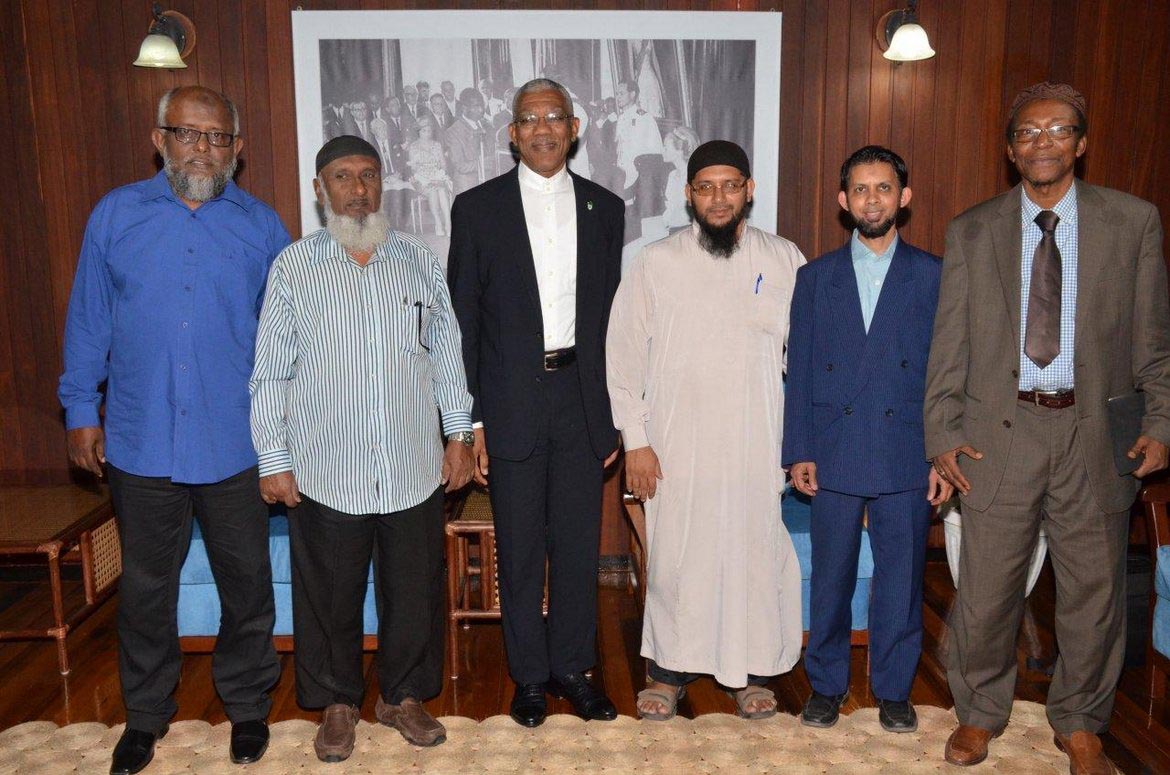 Georgetown, Guyana – (March 2, 2016) Executive Members of the Guyana Islamic Trust, today, paid a courtesy call on His Excellency, President David Granger at the Ministry of the Presidency.
Dr. Sabeel Ahmed, in an invited comment, said that the meeting was successful, noting that the discussions centered on issues such as social cohesion, Islam and the Trust's humanitarian works, among other matters.
"The meeting went very well. I feel excited. The President is very sympathetic to the needs of the Muslim community and is very much willing to welcome a helping hand to work together to solve the country's problems. We discussed some of the social problems in this country and how the Muslims and the Government and the rest of the people can work together to solve those problems," Dr. Ahmed said.
He further said that the group, which included Mr. Wasir Baksh, Mr. Mohamod Mujay, Shaik Abdool Aleem Rahim and Shaik Mohamed Awwal, also discussed the common misconceptions about Islam and Muslims and he is anxious to assure the nation that "Islam is a peaceful faith. It speaks about justice, morality and equality for all."
The Guyana Islamic Trust was one of the 12 groups President Granger conferred with the insignia of the Medal of Service at the 2016 Investiture Ceremony, held on Guyana's 46th Republic Anniversary, at the Arthur Chung Convention Centre. The group was recognised for its contributions to education and community service.
From left: Mr. Wasir Baksh, Mr. Mohamod Mujay, President David Granger, Shaik Abdool Aleem Rahim, Dr. Sabeel Ahmed and Shaik Mohamed Awwal.