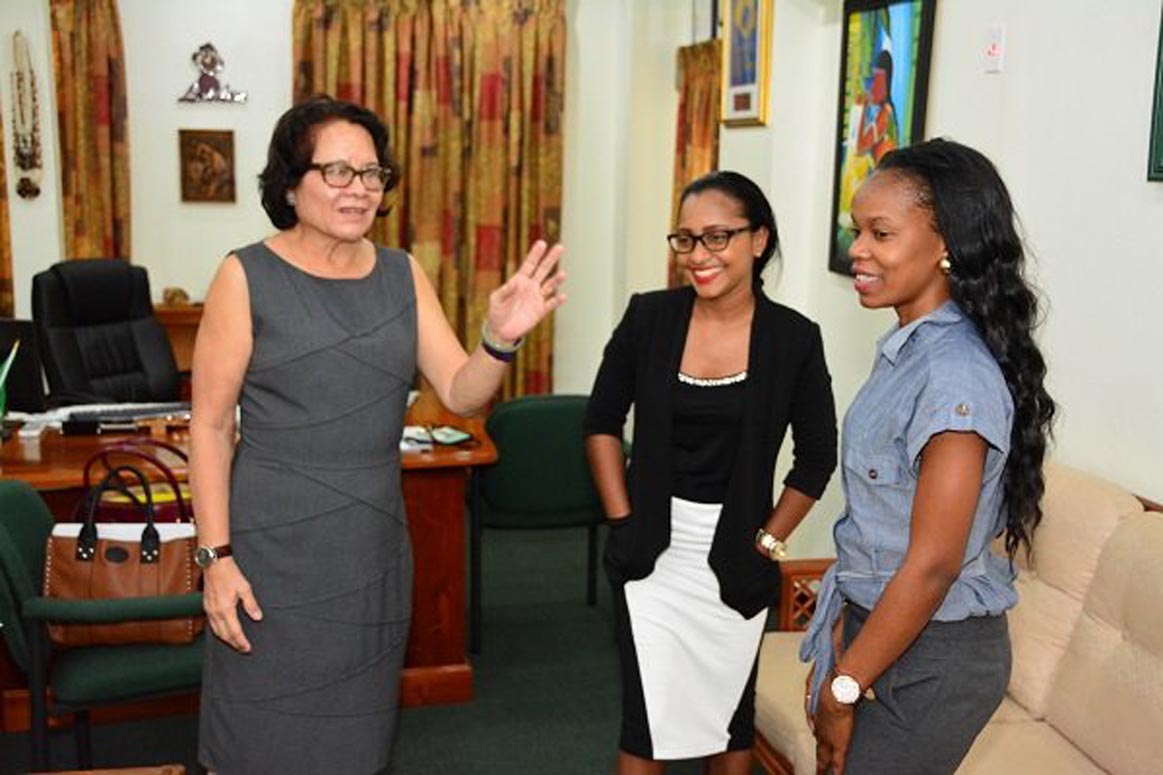 Georgetown, Guyana – (March 2, 2016) First Lady, Mrs Sandra Granger, today, met with representatives of Community Care, a Berbice-based home care provider, to explore possible areas of collaboration.
Ms. Nikita Wong, Chief Operating Officer of Community Care and Ms. Nickesha McPherson, Care Supervisor at the organisation, met with the First Lady at her State House office.
In an invited comment, Ms. Wong said that the meeting was fruitful as Mrs. Granger had informed her of the steps that she needed to take to ensure that her staff are certified, and had guided her on how to better manage and advance her business.
Mrs. Granger said when the group first approached her with their objectives she was immediately interested because of their reach to far-flung areas like Bartica and other areas inEssequibo, in addition to offering services in Berbice and Georgetown. Further, she said, the group's mandate "to empower single mothers, mainly, and young women, with the skills to create a career and to become self-sufficient was particularly appealing as it ties in to my women empowerment programmes."
First Lady, Mrs. Sandra Granger (left) and representatives of Community Care; Ms. Nikita Wong (centre) and Ms. Nickesha McPherson (right), share a light moment after today's meeting.
The First Lady also noted that the organisation's work was similar to initiatives that she has undertaken. She specifically referenced the five-day Care of the Elderly certification programme held in November 2015 at the Recreation Centre of the Palms Geriatric Institution and encouraged the representatives to contact the Ministry of Social Protection "to determine how they too can have their staff certified and recognised as professionals in the field."
Meanwhile, Ms. McPherson, who is also the Care Provider for Georgetown, said she conducts individual training sessions, ranging from one day to three months, and manages the organisation's staff. She too was pleased with the outcome of the meeting.
Since President David Granger's assumption to office nine months ago, the First Lady has spearheaded and supported a number of initiatives aimed at improving the lives of vulnerable members of society.