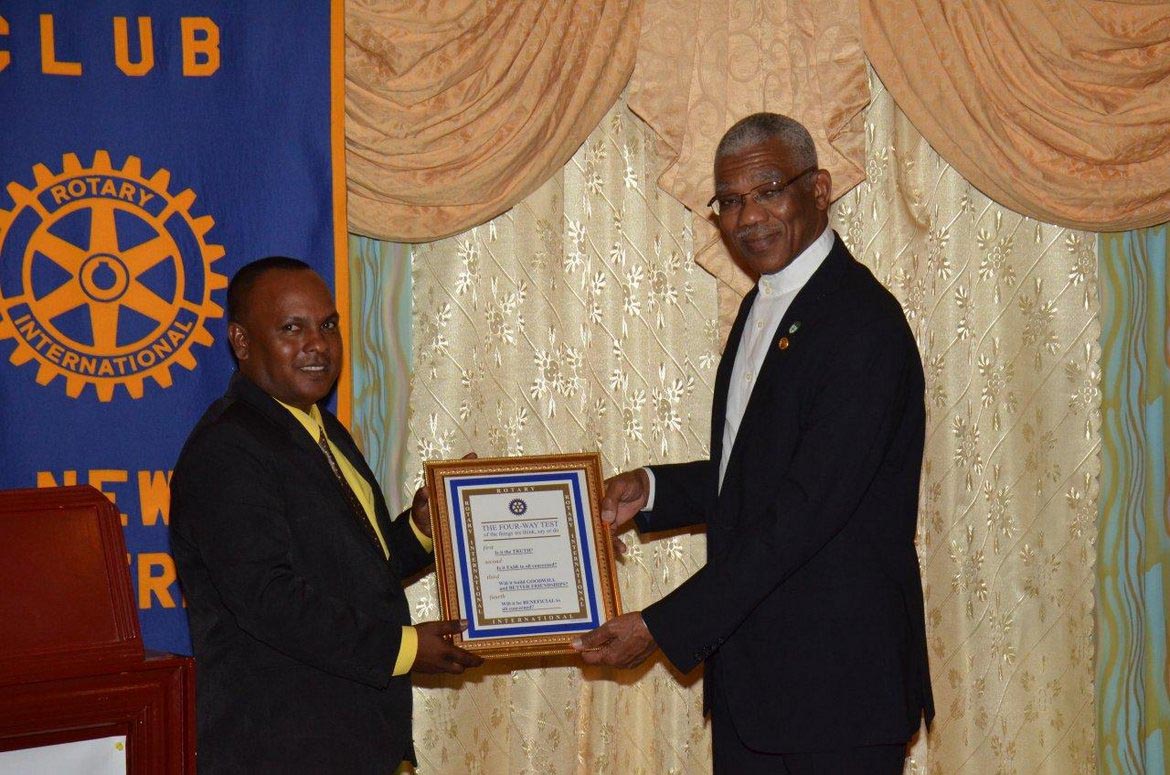 Georgetown, Guyana – (February 28, 2016) President David Granger, on Saturday evening, called on the Rotary Club of New Amsterdam to play its part in ensuring that the East Berbice-Corentyne (Region Six) becomes a commercial and economic hub, taking the lead in Guyana's economic recovery.
Speaking at the Club's World Understanding and Peace Dinner, to an audience, which included the Club's president Mr. Chris Hicks, past president, Mr. Narine Sooknanan and Director of Club Service, Tajpaul Adjodhea, the President said that the Corentyne region is a sleeping giant, which if awakened, can ensure Guyana's growth and development. While every citizens must do their part to make this a reality, he pointed out that it is non-governmental organisations (NGOs) such as the Rotary Club that must lead those efforts.
"President Granger said, "[East Berbice-Corentyne] can lead the economic recovery of the entire country. It can influence the economic development of the Caribbean community through the CARICOM Single Market and Economy (CSME). This is no exaggeration… This region comprises 96 communities. It is the only region with three towns. Guyana needs strong regions… We need economically robust regions and that is why we are paying attention to strengthening our regions. The Corentyne is a sleeping giant. It needs to be aroused from its slumber. It needs to fulfil its unquestionable potential of the food bowl of the country and the Caribbean.'
Noting that the East Berbice-Corentyne Region is the only region to be bordered by two countries; Brazil and Suriname; is the third largest administrative region, spanning over 36,000 kilometres and is bigger than Belize, Burundi, Jamaica, Trinidad and Tobago, the President said that the residents here must now take the initiative and steps to build a strong, resilient, economically robust region, which will take the country forward.
"The Corentyne enjoys an interesting and an enjoyable democratic spread. This region is steeped in heritage and history. It is rich in cultural diversity. The Corentyne is the agricultural heartland in Guyana, richly endowed with fertile, cultivable lands. There are three sugar estates; Albion, Rose Hall and Skeldon. This region has produced over 130,000 tonnes of sugar in 2015. This region is home to the country's largest water control system, evidenced in the Black Bush Polder scheme. It is supported by fishing, farming, cattle rearing, timber, bauxite mining [and] shipping. The region is the country's cattle ranch, its sugar bowl, its rice pot. Its fish market and a market place for its commodities. The Corentyne also possesses untapped potential for tourism; eco and heritage tourism," President Granger said.
President Granger receives a token from the President of the Rotary Club of New Amsterdam, Mr. Chris Hicks.
Cohesion is key
At the same time, the President noted that this region has been a victim of depopulation, dropping from approximately 150,000 persons in 1980 to about 110,000 in 2012. This, he opined, has had an adverse impact on its growth and development; however, he added, the East Berbice-Corentyne stands to be a force to be reckoned with if the necessary work and cooperation is received. This must start with the elimination of personal, political, racial and cultural biases and divisiveness, he said.
"We need to get rid of the backward culture, which keeps us divided…and which has often manifested itself in division and strife and which has retarded this region's development and I believe, is a contributory factor to migration…We have social problems, but [they] can only be addressed when members of the regional government sit down with the Central government. We cannot run a country by promoting misunderstanding and conflict… [You] must reject the politics of division which tries to keep this region in little enclaves. This region does not belong to any political party," President Granger said.
Noting that "fortune favours the brave, but fortune for the economic revival will not drop from the sky", the President said that an action plan is needed for the region if its true potential is to be realised. This strategy must be based on a shared vision and focused on three areas: education, empowerment and enterprise. An advocate of communitarianism, the President posited that the plan must begin at the community and grassroots levels before it reaches to the top.
"Such a plan can be the basis of transformation for this region into an economic powerhouse. Economic development is not a racial issue. The economy does not belong to a political party. It is a public good. If the Corentyne prospers, the country will progress. You are important to the whole country. This Corentyne action must begin from the bottom up; from our communities. Community life should be reinvigorated. Economic revival of villages will allow this region to become a magnet.," President Granger expressed.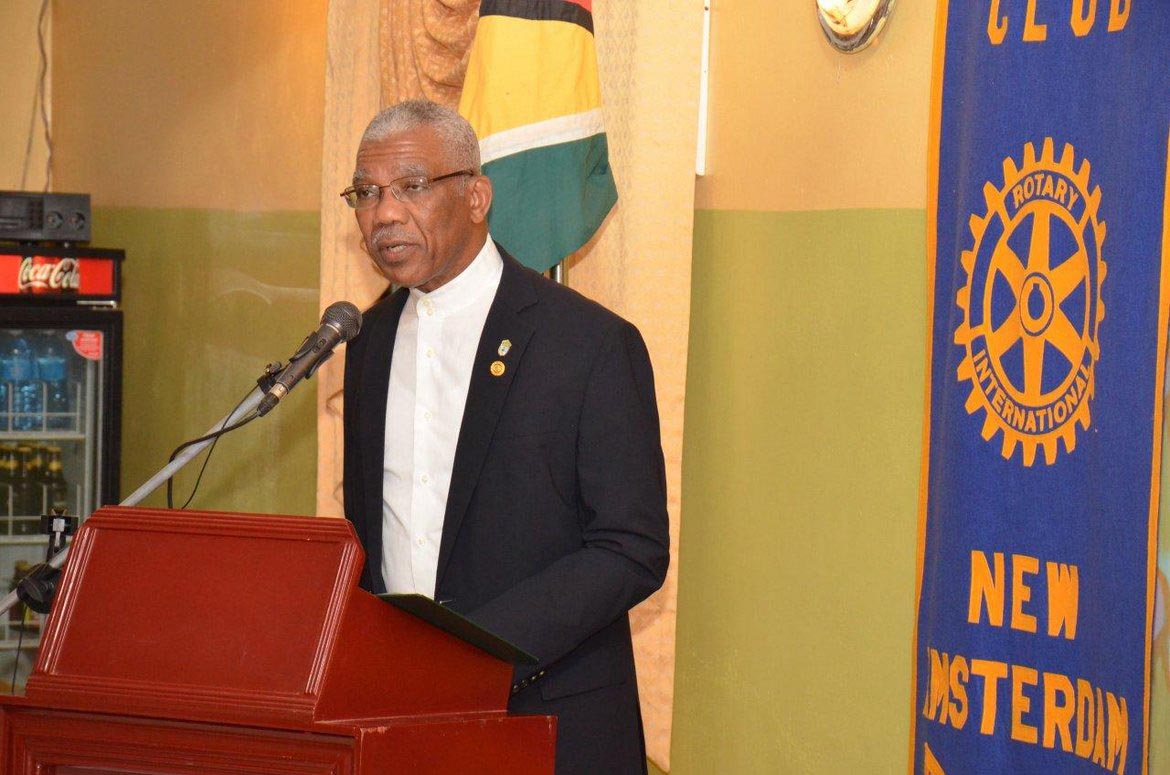 President David Granger addresses the gathering at the Rotary Club of New Amsterdam's World Understanding and Peace Dinner, held in Berbice last evening.
Local Government Elections
He also spoke of the importance of Local Government Elections in advancing the region, noting that it is one of the most critical ways in which citizens become empowered to develop their communities, villages, regions and country.
"When people are disempowered, councils are removed and IMCs implemented, they don't feel a sense of belonging. They don't own their communities. Garbage piles up, potholes proliferate, no street lights, Zika is on its way. These are problems that can be solved in… communities and we want to remove all those IMCs and replace them with elected councils. If they don't shape up and perform – as long as I am here, there will be Local Government Elections every three years, move them… We have a new opportunity to re-empower ourselves," he told the gathering.
Security
The President also said that he wants to see a safe, prospering country, to which persons would be encouraged to return and as such he has been holding regular meetings with Commissioner of Police to ensure that systems are being put in place to curb crime. He said that already, monthly aerial patrols are conducted from Charity to the Corentyne, to protect fishermen and clamp down on piracy.
Meanwhile, in his address, the past president of the Club praised the President's presentation. Mr. Sooknanan said he had a number of concerns about the economy and future of Guyana. However, he is now positive that once President Granger's plan is put into action his region, and the country, will prosper. "I am sure that with the help of President Granger at the head that we will make it," Mr. Sooknanan said.
The Director of Club Service echoed these sentiments. Mr. Adjodhea said it is reassuring to know that the Administration has the good of the Guyanese people at heart and are helping them to help themselves. "Rotarians, it is time for us to wake up and move the Corentyne forward," he charged.