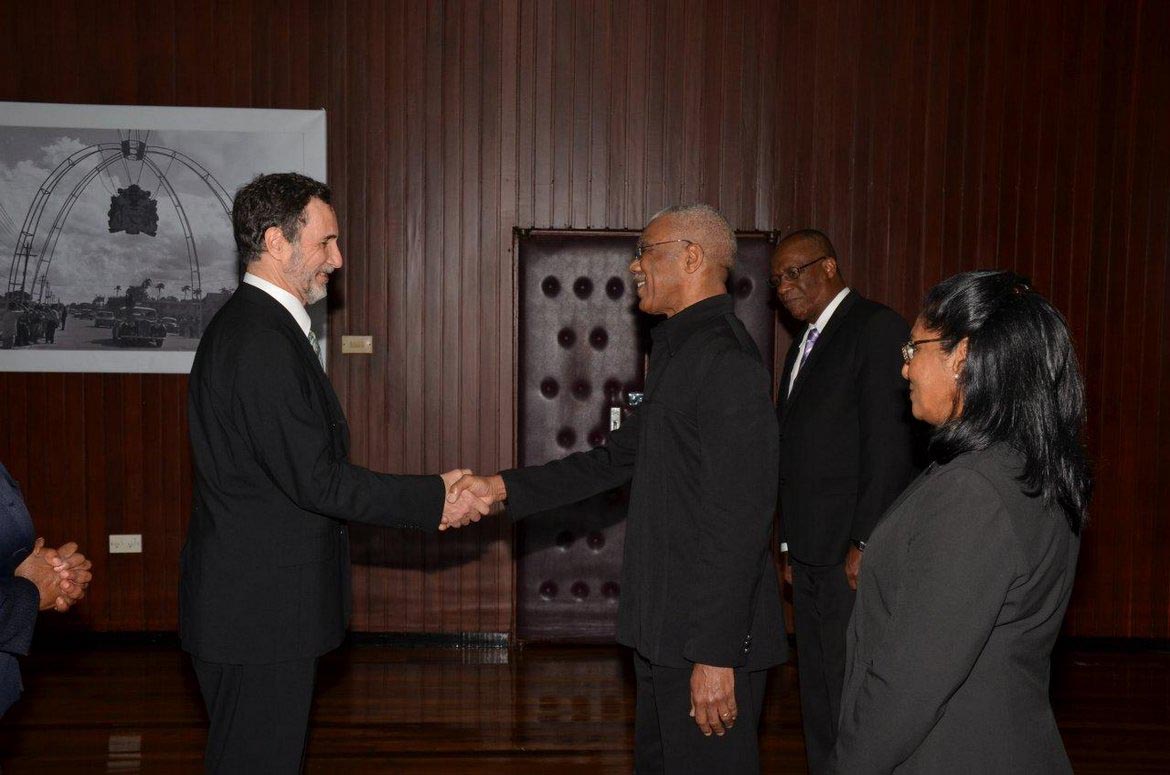 Georgetown, Guyana – (February 24, 2016) President David Granger, this morning, accepted the Letters of Credence from Ambassador Mordehai Amihai-Bivas, accrediting him as Non-resident Ambassador (Designate) of the State of Israel to Guyana. The accreditation took place at the Ministry of the Presidency.
Presenting the letters to the President, the new Ambassador said that Israel sees the vast potential Guyana has, and as such, is prepared to partner and work with the country to develop bilateral relations, especially in the areas of Climate change and education.
"Your Excellency, both Israel and Guyana share important qualities. Both countries are young, independent countries and both have a stronger sense of nationhood in spite of our nation's youth… Guyana is a blessed land with wonderful people and abundant natural resources. Its national heritage has not been devastated by over exploitation… With the awareness of climate change and effects of deforestation, Guyana is well situated to be among the leaders of sustainable development. We have found a partner in Guyana and Israel stands ready to offer its support," he said.
His Excellency, President David Granger exchanging a handshake with newly accredited Non-resident Ambassador of Israel to Guyana, Mr.

Mordehai Amihai-Bivas, at the Ministry of the Presidency this morning.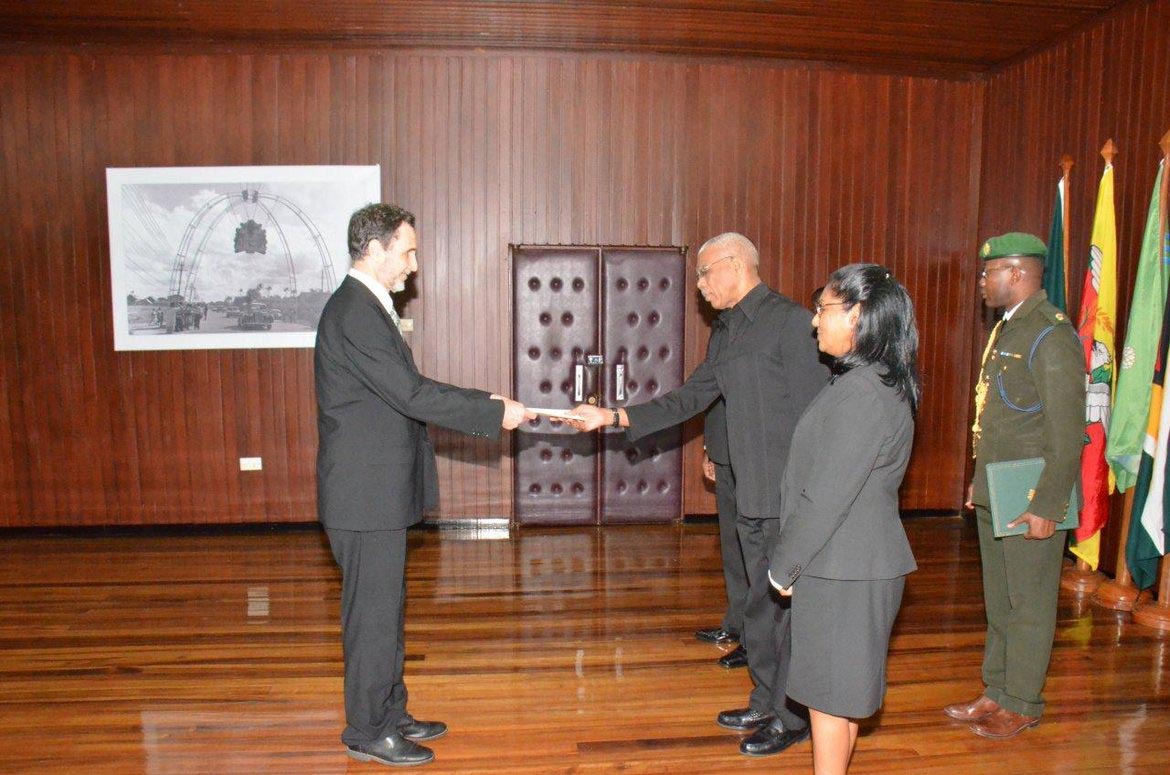 Ambassador Mordehai Amihai-Bivas presenting his Letters of Credence to His Excellency, President David Granger at the Accreditation Ceremony at the Ministry of the Presidency.
President Granger in accepting the Letters of Credence from the Ambassador, said that the accreditation affords Guyana and Israel the opportunity to continue to work together for the maintenance of international peace and security and to deepen relations in pursuit of peace and the sustainable development of both states.
"Guyana remains committed to pursuing the economic and social development of its people in an atmosphere of peace and stability. We believe that peace is essential for there to be national development. Peace and security, also, strengthen the ties of amity and comity between nations and regions. Guyana rejects the use of non-peaceful means to resolve differences between states. We deplore the threat of or use of force to settle disputes. Guyana holds steadfast to the mission of ensuring that the Caribbean Region remains a zone of peace. We resolutely are committed to the ideal of international peace and security," he said.
He noted that Guyana and the State of Israel share several intersecting development priorities. Agriculture, in particular, he said, can be an area of stronger focus for the exchange of expertise between our two countries.
"We seek to cooperate, also, in the areas of food security, information technology, poverty alleviation, public health and public infrastructure. The pursuit of these commonalities could be the basis for our continued cooperation at the bilateral level. ," President Granger expressed.
Minister of State, Mr. Joseph Harmon, who is acting Foreign Affairs Minister while Minister Carl Greenidge, is out of the country and Ms. Deborah Yaw, Director General (acting) were also present at this morning's ceremony.
Ambassador Amihai-Bivas replaces Mr. Amiram Magid, whose tour of duty ended in 2014.