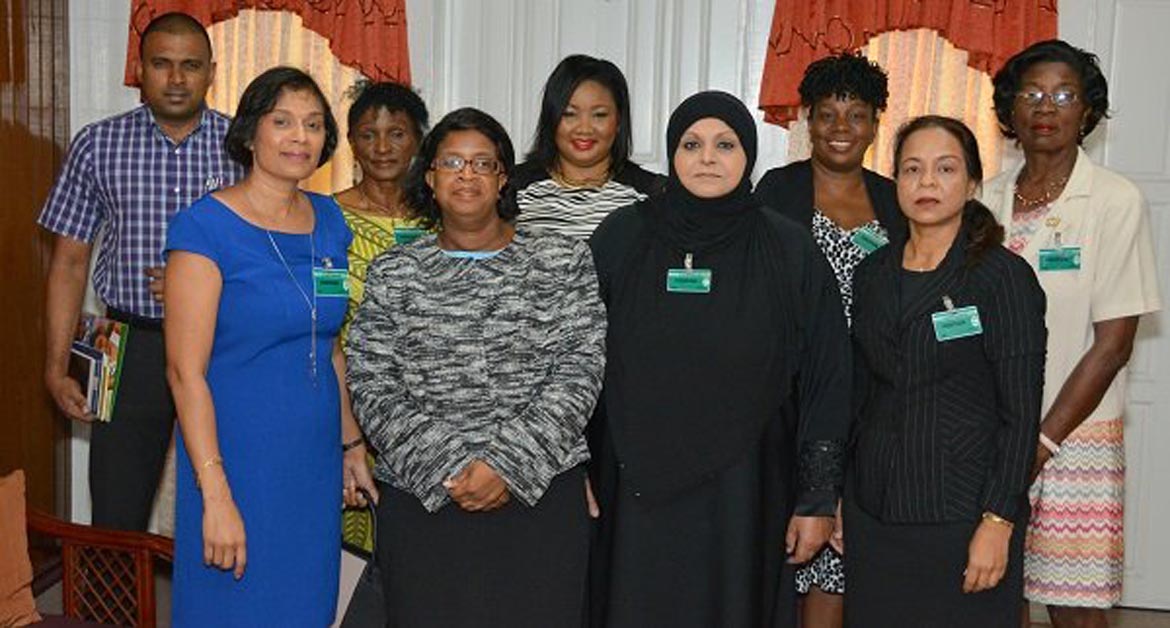 Georgetown, Guyana – (February 24, 2016) First Lady, Mrs. Sandra Granger, today, met with members of the Rights of the Child Commission (RCC), at her State House office, with a view of exploring possible areas for partnership.
In an invited comment, ROC Chairperson, Ms. Aleema Nasir told the Ministry of the Presidency that the group took a decision to seek avenues for partnership with the First Lady as it is cognisant of her advocacy for the welfare of young people.
Mrs. Granger, in a brief comment, said the exploratory meeting was interesting and informative. "The group shared ideas with a view to pooling resources to serve a wider cross-section of society," she said.
Meanwhile, Chief Executive Officer of the RCC, Mr. Amar Panday said the overall objective of the meeting was to inform the First Lady about the Commission's mandate and to invite her to participate in its capacity-building workshops, which are held in every region.
Rights of the Child Commissioners (from left, back row) CEO Mr. Amar Panday, Ms. Cynthia Massay, Ms. Marissa Austin, Ms. Colleen Anthony, Ms. Sandra Hooper and, front row; Ms. Sarojanie Rambaran, Deputy Chairperson, Ms. Rosemary Benjamin-Noble; Chairperson, Ms. Aleema Nasir and Ms. Pamela Nauth
In addition, Ms Cynthia Massay, RCC's advocate for children with disabilities, said the Commission plans to focus a lot more on meeting these children's needs this year and anticipates working with the First Lady in this endeavour.
The First Lady is a firm supporter of Government's programmes to enhance the lives of children through education, co-curricular activities and social welfare programmes. In addition to partnering with the Ministry of Social Cohesion, which administers the 'Three Bs' + Breakfast and Books Programme, the First Lady has also teamed up with Rethink Initiative – Kind Soles Project, the United Nations Population Fund (UNFPA) to find new strategies to reduce the incidence of teenage pregnancy and, most recently, ChildLink Guyana Incorporated.
The National Commission on the Rights of the Child (NCRC) was established in 1992 and later renamed the Rights of the Child Commission (RCC). There are six regional committees on the RCC which serve as monitoring bodies and advocates of child rights.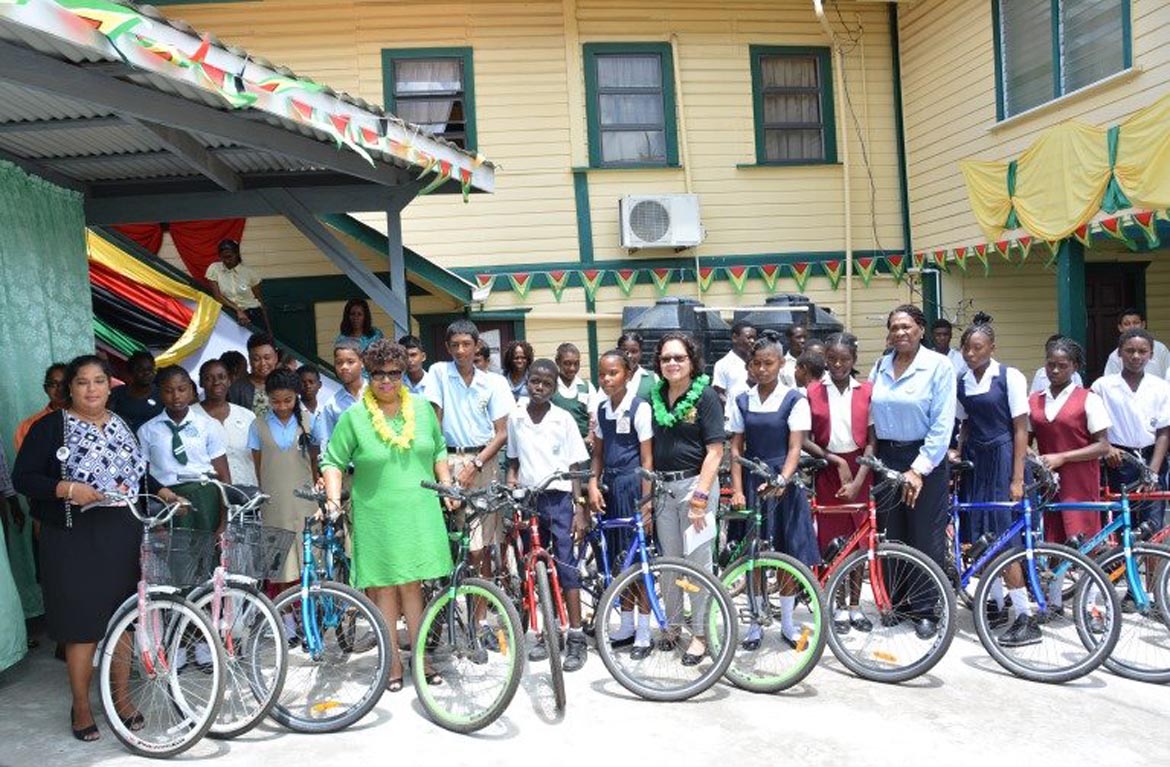 First Lady, Mrs. Sandra Granger smiles as she receives a briefing package on the Rights of the Child Commission from Chairperson, Ms. Aleema Nasir, as the other Commissioners look on, during a meeting this morning at her State House office.