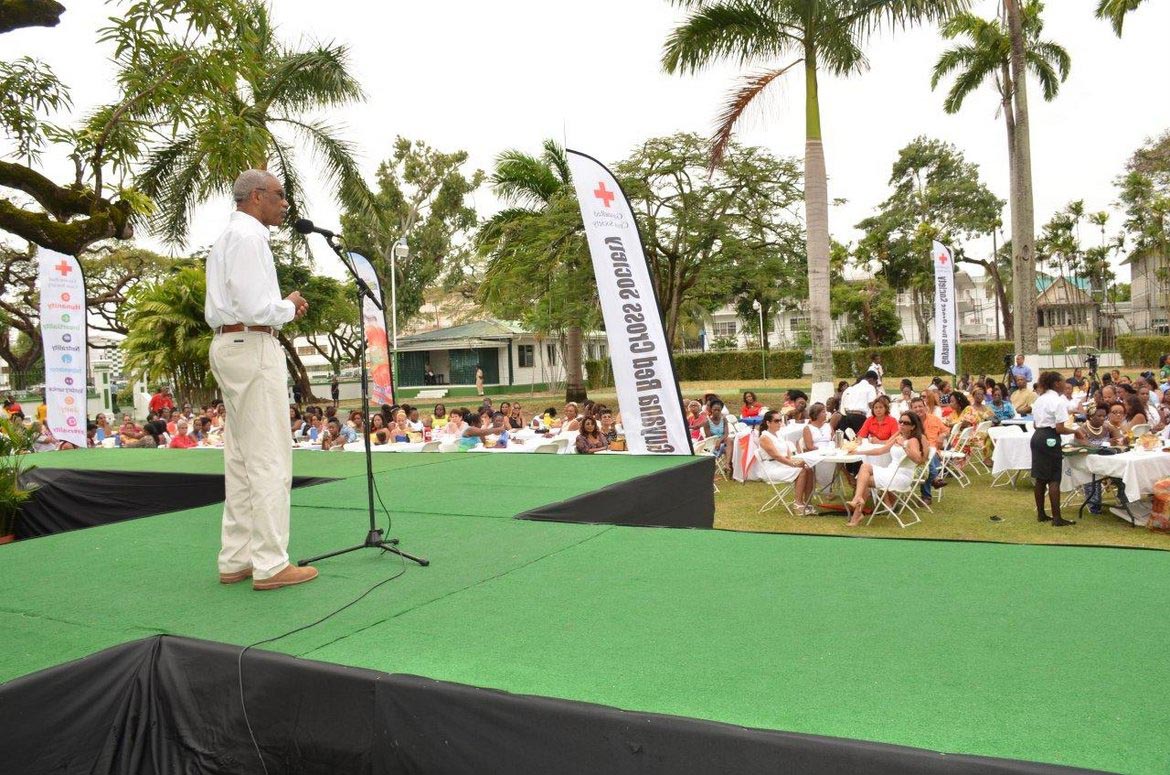 Georgetown, Guyana – (February 21, 2016) A light shower of rain this afternoon did not put a damper on the spirit of the large crowd that turned out at the Guyana Red Cross Society's Tea Party and Fashion Show, held on the State House lawns, where President David Granger was officially inducted as patron of the organisation.
President Granger, who graciously accepted the honorary position, thanked the charity and assured them that under his patronage, support from the Government of Guyana in the form of a subvention will be maintained at a "healthy level".
"There is so much we have to thank the Guyana Red Cross Society for; since its establishment in 1967 in Guyana as a national element, which is no longer associated with the British Red Cross Society, and over the last 49 years we all learnt to embrace the work that the Red Cross is doing," President Granger said.
President David Granger addresses the gathering at the Guyana Red Cross Society's annual Tea Party and Fashion Show, held on the lawns of State House.
He also informed the gathering that during his tenure as President, State House will be the venue for the staging of the Tea Party, which is an annual fundraising event that is hosted by the Society.
"[The Red Cross] is always there with us in the time of flood, in the time of fire, in the time of disease, particularly epidemic disease. It is always been a source of support, a source of relief to thousands and thousands of citizens in Guyana," the President said.
Meanwhile, General Secretary of the Guyana Red Cross Society, Ms. Dorothy Fraser thanked the President and First Lady, Mrs Sandra Granger for their generosity and hospitality.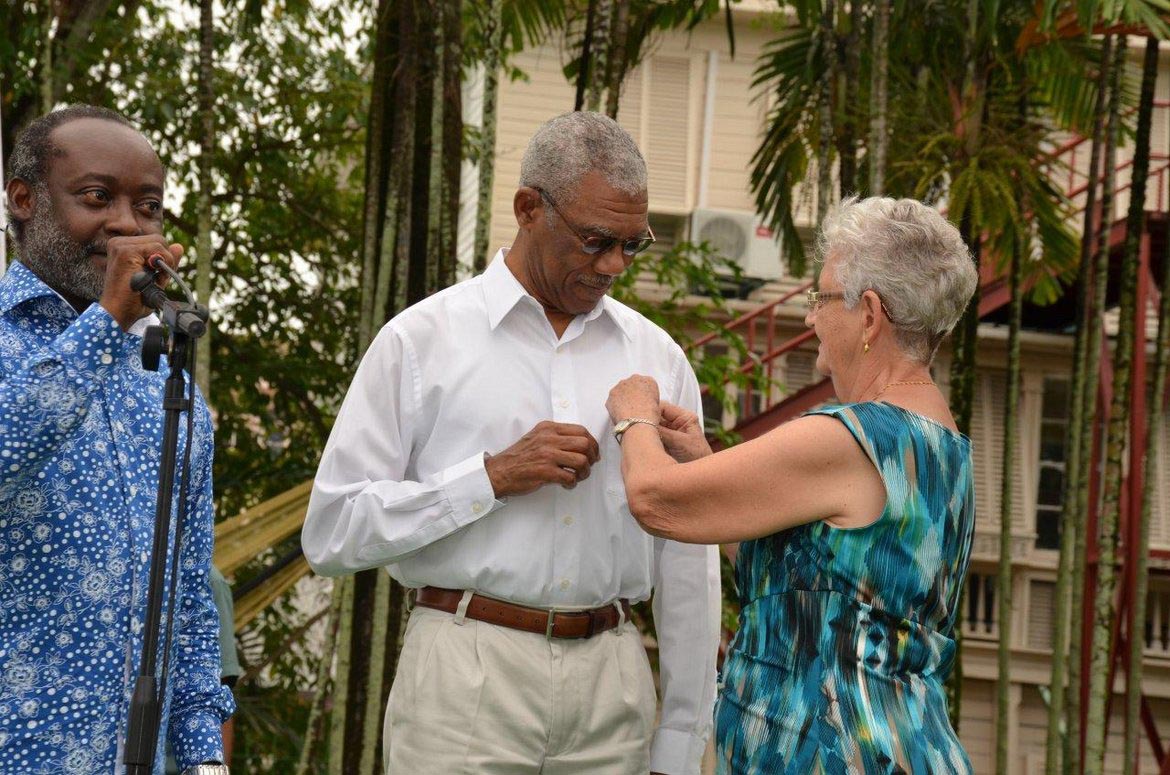 General Secretary of the Guyana Red Cross Society, Ms. Dorothy Fraser pins the Red Cross badge on President David Granger's shirt to formally induct him as patron. (Russel Lancaster, who chaired the event, is pictured left).
The brief remarks were followed by a fashion show that highlighted the creativity and talent of local fashion designers.
The Society was established in 1948 as a branch of the British Red Cross. In 1967, after Guyana gained its independence its name was changed from the British Red Cross to the Guyana Red Cross Society. The humanitarian non-governmental organisation provides a range of services, addressing both immediate and long-term needs, including emergency shelter, food and medicine, water and sanitation, disaster preparedness, first-aid training and activities, blood donor recruitment and other humanitarian services.