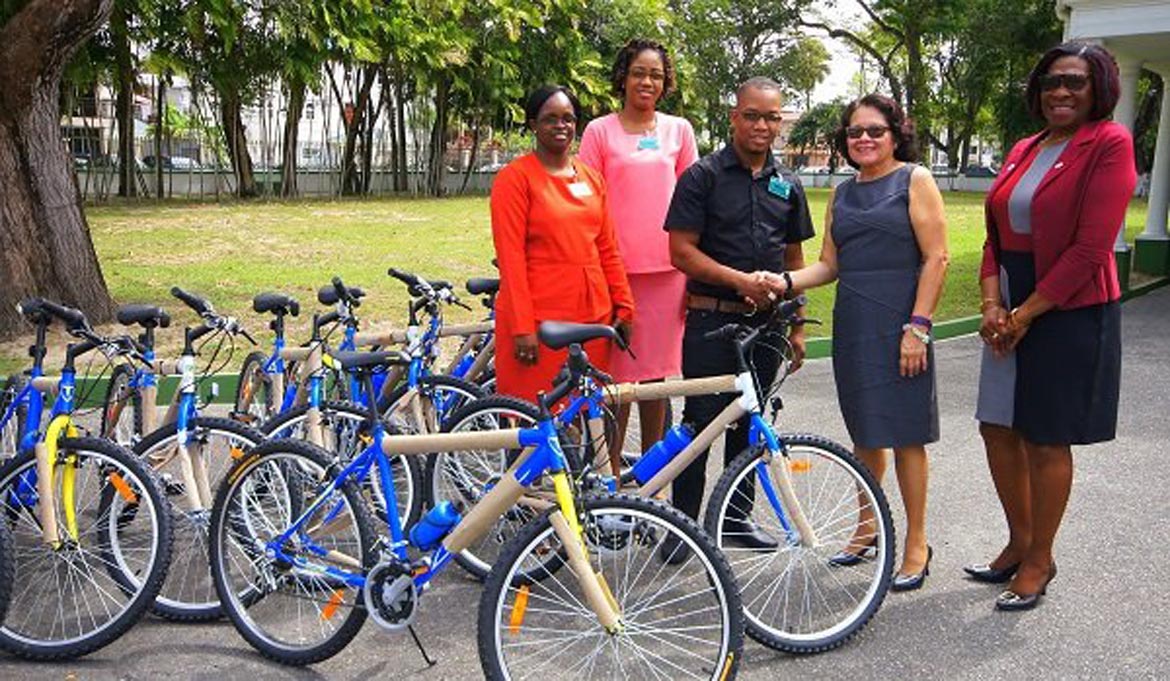 Georgetown, Guyana – (February 22, 2016) The Government of Guyana's Boats, Buses, Bicycles- 'Three Bs' + Breakfast and Books programme continues to receive widespread support from the business community with the management of Nigel's Supermarket being the latest group to throw their weight behind the initiative.
Nigel's Supermarket Manager, Mr. Devon Charles, today, presented 10 bicycles to First Lady, Mrs. Sandra Granger at State House. Mr. Charles said that this donation is made is the spirit of the season of Lent, and it is the first tranche of a larger donation that the Nigel's will be making to the programme in honour of Guyana's 50th Independence Anniversary.
"We are glad to be a part of this and we plan to donate 50 bicycles this year; 10 now, 10 in May, 10 in October and 20 in December," Mr. Charles said.
Nigel's Supermarket Manager, Mr. Devon Charles presents 10 bicycles to First Lady, Mrs. Sandra Granger, while the Supermarket's Finance Director, Ms. Donnys Albert and Executive Assistant, Ms. Shonnet Collin (left and second from left respectively) look on. Ms. Yvonne Smith from the First Lady's Office is at right.
Meanwhile, Mrs. Granger expressed her gratitude to the management of Nigel's Supermarket on President David Granger's behalf. "We are very appreciative of this gesture and the President is very happy that his 'Three Bs' programme is getting bigger as we go along," the First Lady said.
In January, President Granger announced that the programme will be expanded to include a well-balanced breakfast and books, all in an effort to increase school attendance rates across the country and ease the financial burden on parents, particularly single-parents and less fortunate families.
Since the launch of the 'Three Bs' programme last year, during President Granger's 70th birthday celebrations, several students from the most vulnerable communities countrywide have received bicycles. The President's call for assistance in ensuring that every school age child attends school was met with a tremendous national response and, in addition to the hundreds of bicycles donated and distributed; two 30-seater buses and several boats have also been donated and distributed to communities with Guyana's most at-risk students.