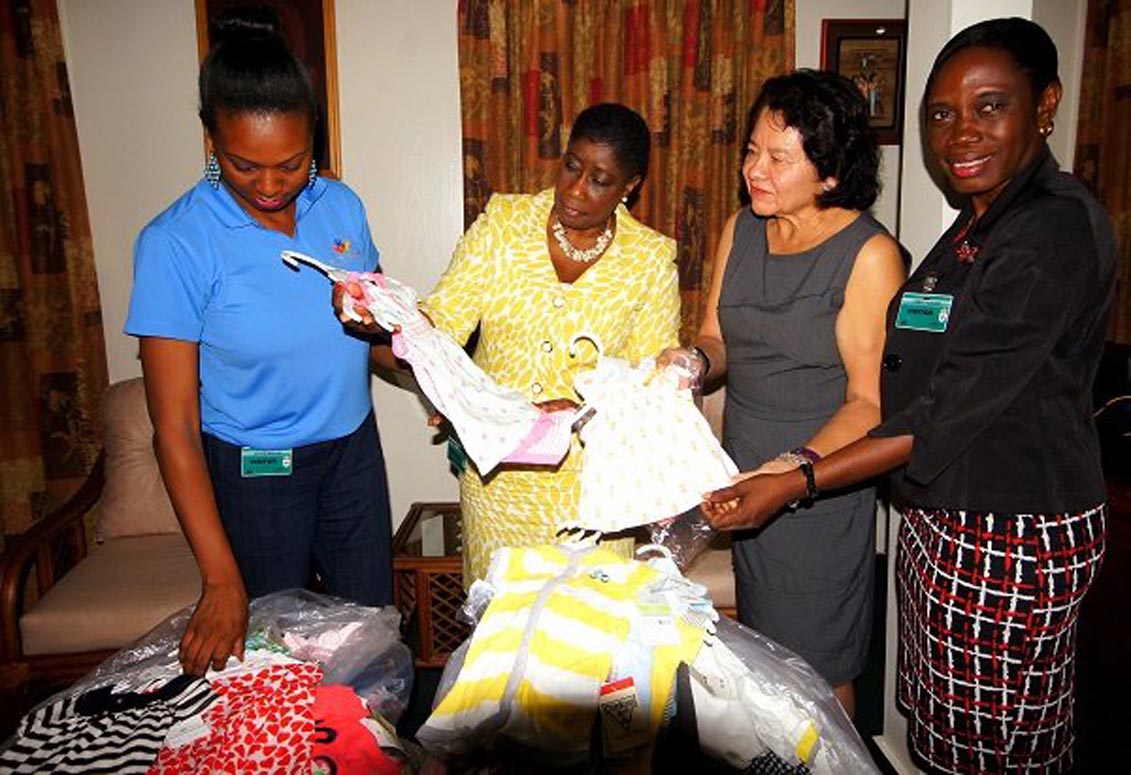 Georgetown, Guyana – (February 22, 2016) Founder and President of the Caring For Others Foundation, Ms. Eslene Richmond-Shockley, today, donated children's clothing for adolescent mothers, who are beneficiaries of the Women Across Differences (WAD) Organisation's programmes.
First Lady, Mrs. Sandra Granger, who is the patron of WAD, along with Ms. Clonel Boston received the items from Mrs. Richmond-Shockley, during a courtesy call at her State House office. Mrs. Granger, who is actively involved in the empowerment of adolescent mothers, said she is pleased to be associated with both organisations as they are both working towards a worthy cause. This second donation from Caring for Others, Mrs. Granger said, is much appreciated, adding that the first was a well-received gesture as the mothers have been receptive to the aid being offered to them.
Further, the First Lady said, discussions were held with Mrs. Richmond-Shockley about more ways in which the two organisations can partner to empower girls and women in need. Mrs. Richmond-Shockley, in an invited comment, told the Ministry of the Presidency that her visit to the First Lady was simply to follow-up on discussions which had been held earlier. She noted that she is pleased to see the programme reaching its intended target group, which encourages her organisation to continue to give support.
In addition, Ms. Boston, who took the opportunity to express her gratitude to the Caring for Others group, said she is pleased to see the organisation investing in the lives of adolescent mothers. Ms. Boston noted that while WAD focuses on a comprehensive educational programme for the young mothers, donations of this kind allows them to give another level of much-needed support as most of the teen mothers are unemployed.
WAD is a non – governmental organisation, which was started in 1996, but was officially launched in 1999 and registered under the Company's Act in the same year. The organisation focuses on enabling women to empower themselves through access to social and economic resources. Meanwhile, Caring for Others (Guyana) Incorporated provides aid to vulnerable groups around the world and has been working closely with the Government over the past months, resulting in a number of outreaches countrywide.
First Lady, Mrs. Sandra Granger and Ms. Clonel Boston of Women Across Differences display a pretty yellow dress as Ms. Shabakie Fernandes, representative of Caring for Others (Guyana) Incorporated and Mrs. Eslene Richmond-Shockley, President/Founder of Caring for Others Foundation, look at another dress.