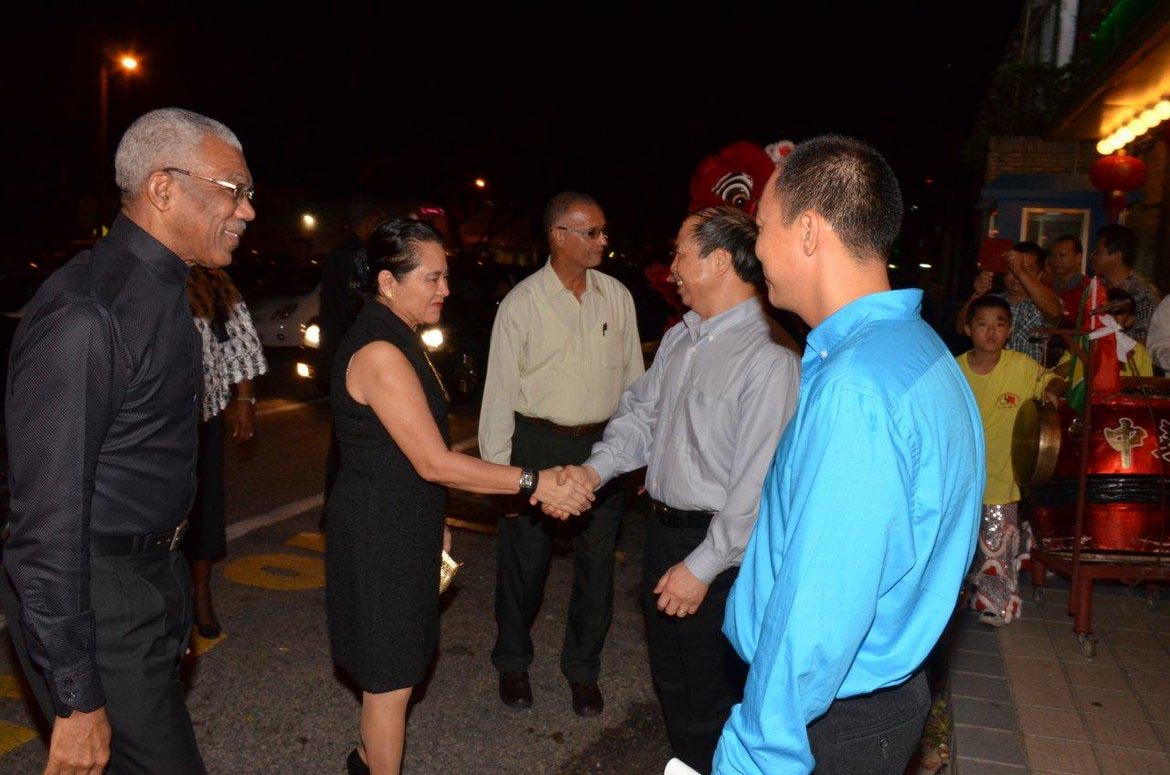 My wife and I thank the Chinese Association of Guyana and the Chinese Community for their kind invitation to this traditional dinner on the occasion of the 'Year of the Red Monkey.'
We thank you also for the privilege of addressing you on this happy festival. We are sure that the festival is observed not only in the People's Republic of China but among the millions of persons of Chinese origin all around the world in the diaspora.
We would like to congratulate the Confucius Institute – which was co-founded by the University of Guyana and Dalian University of Foreign Languages two years ago and inaugurated by His Excellency Zhang Limin, the Ambassador of the People's Republic of Guyana.
Ambassador Zhang pointed out that China has an ancient history and splendid culture. The Confucius Institute at our national university provides a bridge for cultural exchanges and mutual understanding between Guyana and China. Ambassador Zhang quoted President Xi Jinping as saying: "Civilizations have become richer and more colorful with exchanges and mutual learning."
It is our wish, also, that the Confucius Institute will be a platform for mutual learning between Guyanese and Chinese peoples.
President David Granger and First Lady Mrs. Sandra Granger are greeted upon their arrival at the New Thriving Restaurant
Our two republics – the People's Republic of China and the Cooperative Republic of Guyana – are 15,000 km apart. Despite this distance and the demographic and geographical disparities, we have been united by bonds of blood, history and friendship. We must celebrate that history, strengthen those bonds, celebrate our history and deepen that friendship to the mutual benefit of our peoples and for posterity.
Chinese arrived in Guyana 163 years ago as indentured labourers and they were welcome then. Recent waves of entrepreneurs continue to arrive today, this time as independent investors, and they are welcome again.
Persons of Chinese origin made important contributions to Guyana. They were also always well represented in the professions – academia, accountancy, agriculture, aviation, business, engineering, finance, law, medicine, sport and tourism. The first President of Guyana, Mr. Arthur Chung, was a descendant of Chinese immigrants. The first President of the British Guiana Trade Union Congress, Theophilus Lee, initiated the legislative process which led to constitutional reform and Independence, the 50th anniversary of which we shall soon celebrate.
Chinese enterprise in Guyana today has been fostered by 44 years of friendly diplomatic relations and resourceful commercial connections. Our government is committed to fortifying that friendship between the Cooperative Republic of Guyana and the People's Republic of China. Guyanese welcome the Chinese who want to contribute to transforming the economic landscape once again as they did more than a century and a half ago.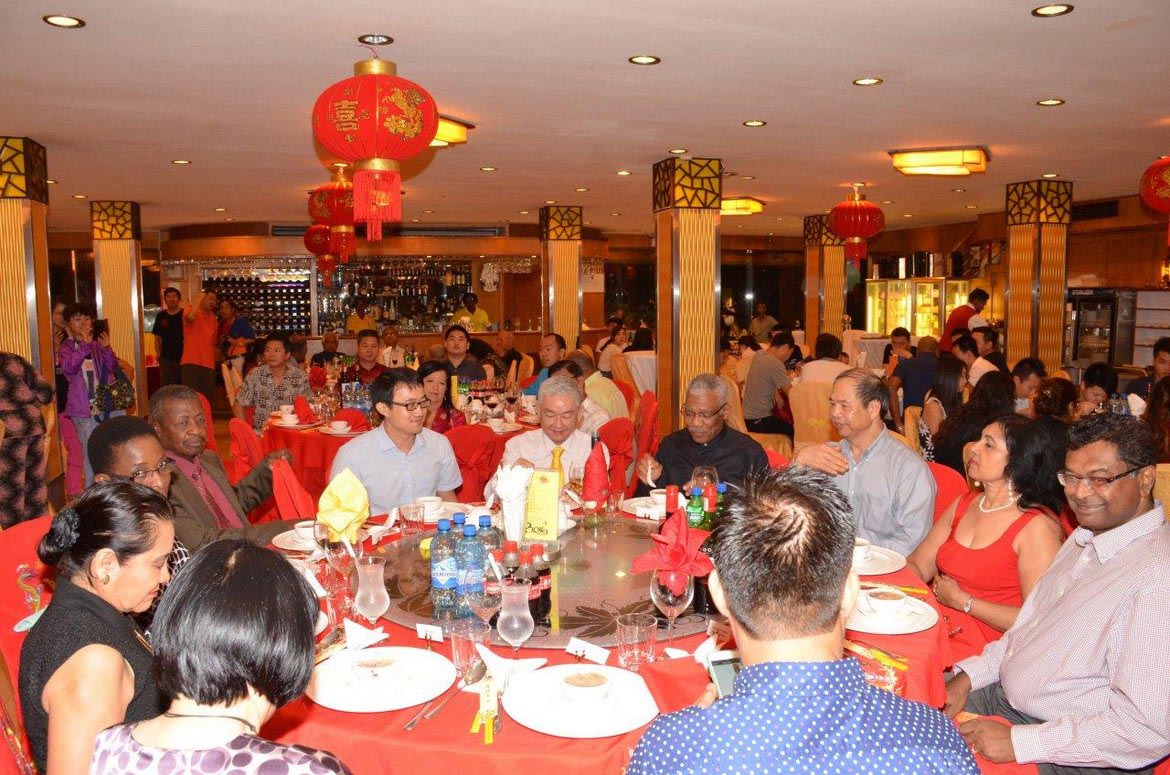 President David Granger and First Lady Mrs. Sandra Granger (second from left) having dinner with Chinese Ambassador to Guyana, Zhang Limin (on President Granger right) and other members of the Chinese community in Guyana. Minister of Public Security, Khemraj Ramjattan and his wife and Speaker of the National Assembly, Dr. Barton Scotland were also in attendance.
Guyana, after all, is the largest Caribbean country and is a land of promise and potential. Guyana possess abundant natural resources. Guyana is the host headquarters of the Caribbean Community. Guyana is the only English-speaking country on the continent of South America. The possibilities for economic growth are limitless.
Guyana would like to see a thriving manufacturing sector. There is much more to economic growth than merely buying and selling goods. We must first produce the goods we want to sell. We must balance what we import with what we export.
Guyana, therefore, welcomes investors not only in trading, but also in agro-processing, energy-generation, engineering, fishing, housing, information technology, manufacturing, mining, telecommunications and tourism. Everyone wins with an enlarged, export-driven economy.
Guyana looks to foreign investors including the Chinese. Investors can be assured of the encouragement of our Ministries – Agriculture, Business, Finance, Foreign Affairs, Natural Resources, Public Infrastructure, Public Telecommunications and the Presidency itself – as they seek to explore, expand and enlarge new markets for products made in Guyana.
It is my honour, therefore, on behalf of the government and people of Guyana to extend best wishes for a productive New Year to the government and people of the People's Republic of China and to the members and families of the Chinese Association of Guyana. on the occasion of the Chinese New Year – the Year of the Red Monkey.
Happy New Year! I thank you.