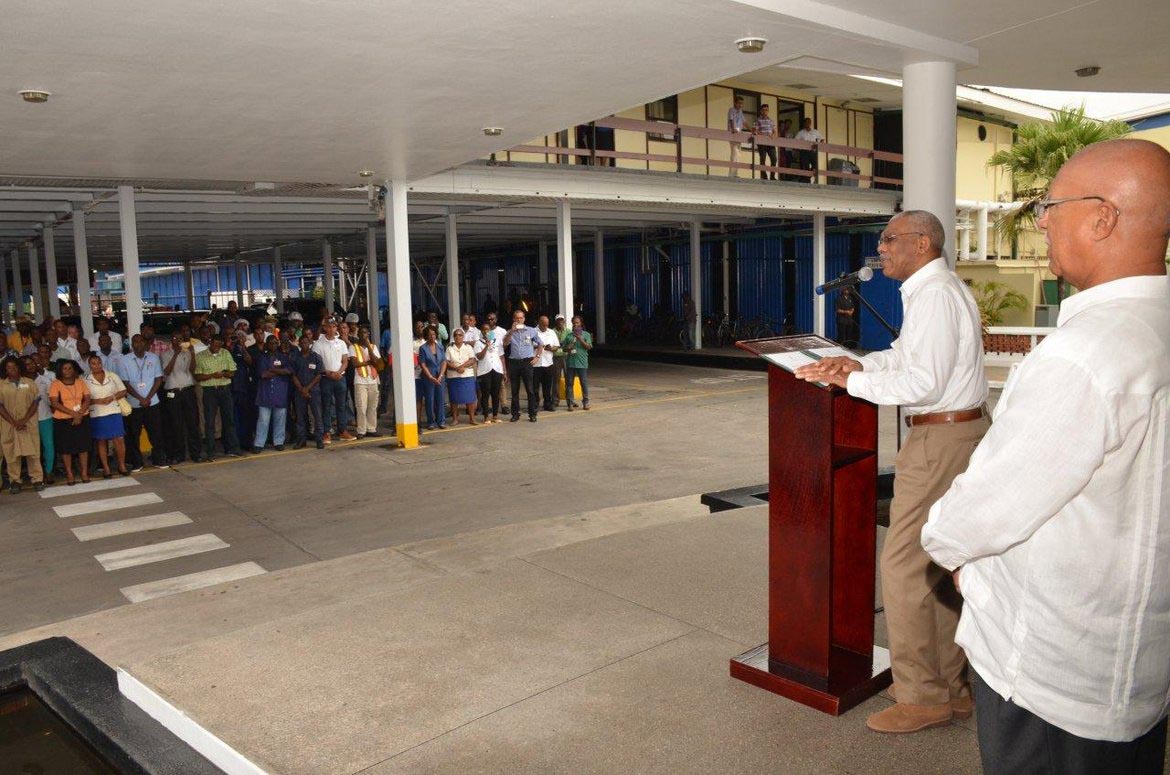 Georgetown, Guyana – (February 12, 2016) President David Granger, today, reiterated that his Administration will continue to strengthen and support communities to create jobs in agro-processing so that they can produce commodities for local corporations even as he praised Banks DIH as a pioneer in manufacturing in Guyana.
The President was at the time addressing staff of company, following a tour of the Thirst Park facility this morning.
After touring the factory and getting a first-hand look at the various products being made and packaged, the President said the company is a pacesetter and a pioneer in the industry and that he is convinced that Guyana's industrial and business future is being led by a corporation that has a vision and the interest of Guyanese at heart.
President David Granger addresses Banks DIH staff at Thirst Park, Georgetown. Chairman of the Board of Directors and Managing Director, Mr. Clifford Reis is pictured at first, right.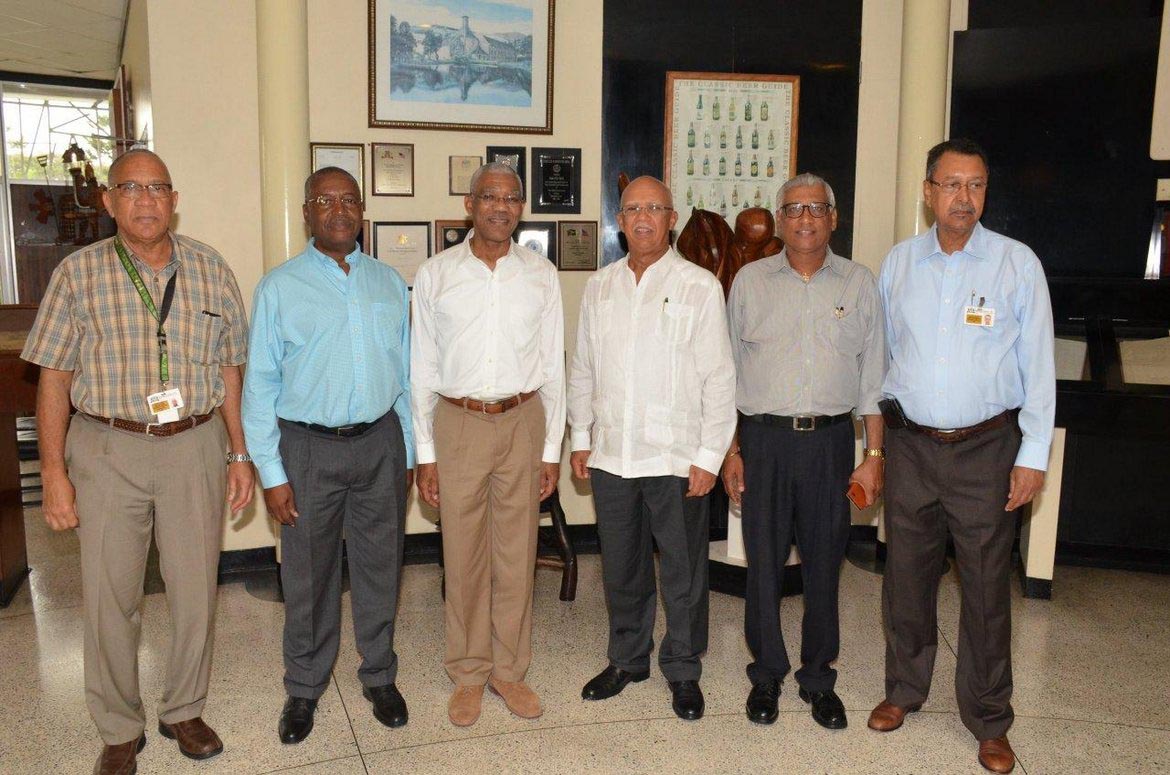 From L-R- Director, Mr. Paul Carto, Co-Managing Director, George McDonald, President David Granger, Chairman and Managing Director, Mr. Clifford Reis, Engineering Services Director, Mr. Shabir Hussein and Operations Director, Mr. Michael Pereira
"When I look around, the Guyanese employees; the engineers, the expertise, the care they exercise in giving citizens quality products, I really feel very, very proud of you Banks DIH," President Granger said. "…This is not just [just] a profiteering company, it is a company that is going to enhance the relationship with communities."
Communities and villages are very capable of producing raw materials like fruits and milk and other agricultural commodities that could be supplied to companies like Banks, he said. "Communities are where people live and if we can provide employment in the communities, Guyana will not only be a happier country, but this will be a richer company… I do believe that from what I've seen today that you will continue to lead us into a realm, an era of economic prosperity," the President said.
Guyana's economy has been heavily reliant on the traditional sectors; rice, sugar, timber, bauxite, gold and diamond. These sectors however, are at the perils of price volatility on the world market. As such, the country must venture into non-traditional areas like agro-processing and manufacturing.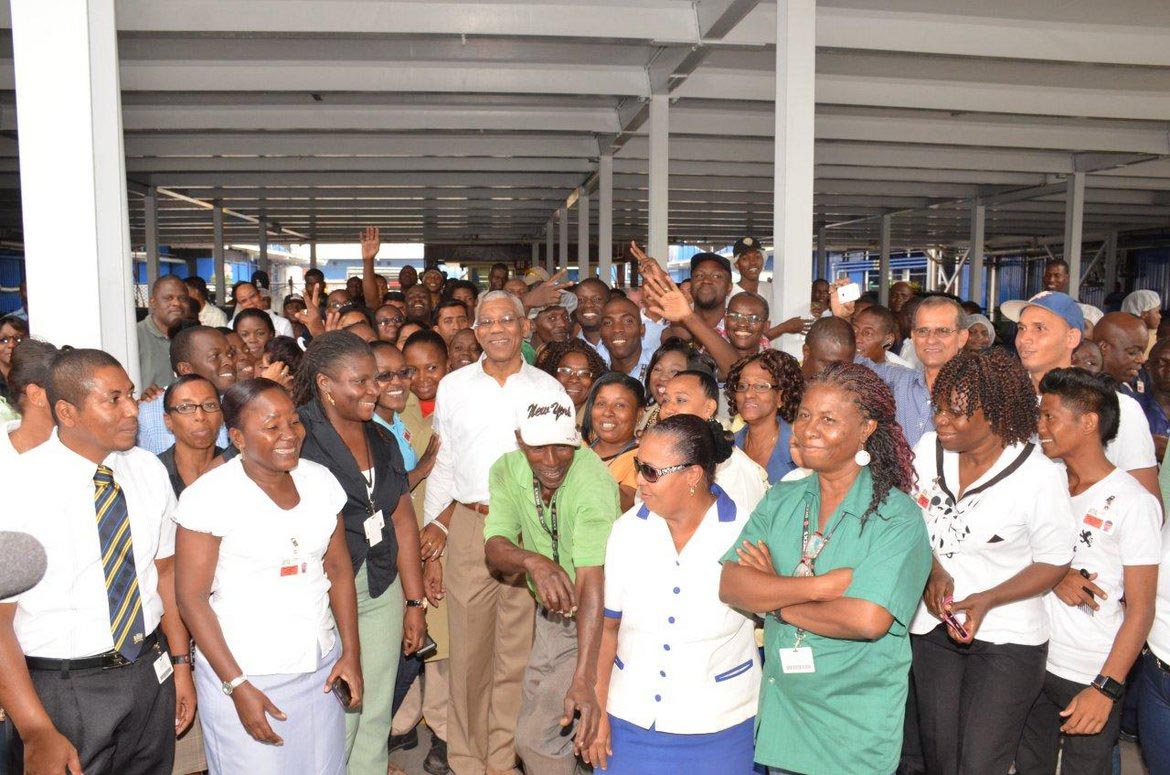 President David Granger greets Banks DIH staff
President Granger said that his Government is looking to increase the supply of meals to over a quarter of a million school children and that Banks DIH can play a significant role in this process. "I would like to guarantee them healthy, Guyanese meals and what I saw convinces me that this is going to be one of the vanguard companies in providing cheap, nutritious food for our children and our adults," he said.
At a little over 60 years old, Banks DIH is home to popular household brands like Trisco, Icee, Homestyle, Demico Ice Cream, the finest rum and a host of other quality products that are produced under the highest standards and is ISO certified.
Over 800 Guyanese are employed at the Thirst Park facility alone, and the company has branches, outlets and distributors across the country.
President David Granger being given a tour of Banks DIH's Thirst Park factory by Chairman of the Board of Directors and Managing Director, Mr. Clifford Reis.