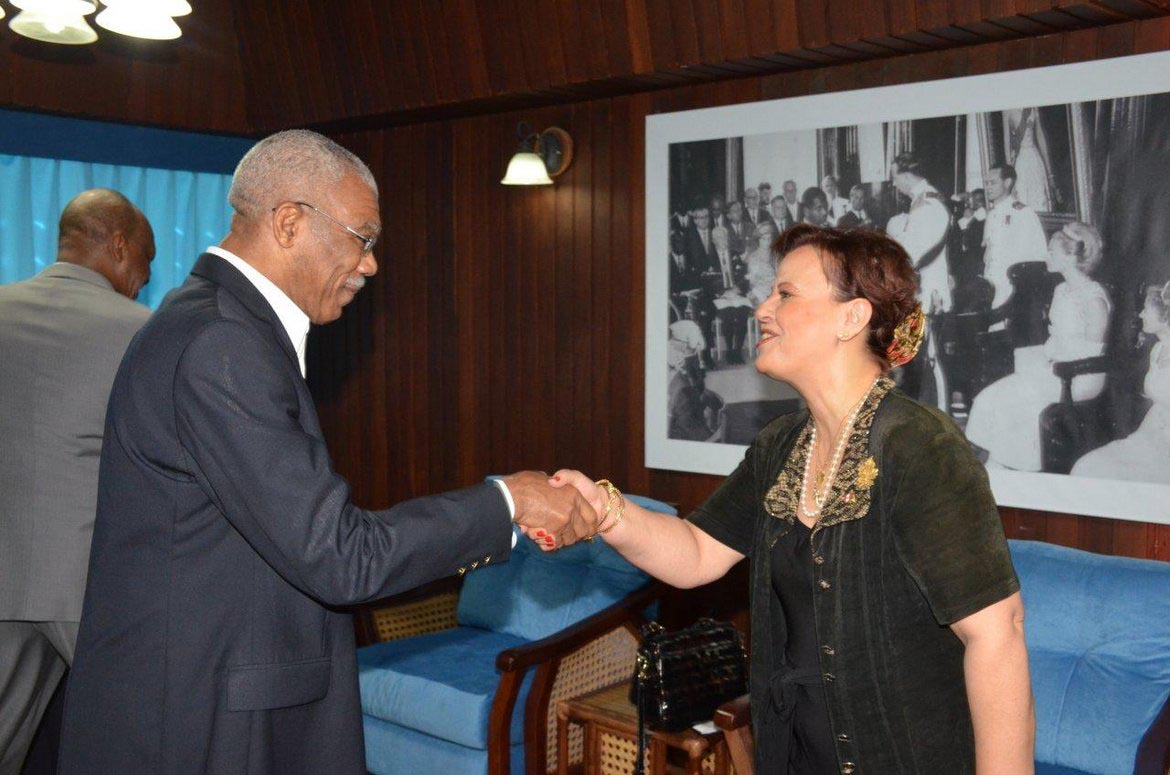 Georgetown, Guyana – (February 11, 2016) President David Granger, today, met with members of the Canadian Branch of the Commonwealth Parliamentary Association (CPA), who are in Guyana to explore possible areas of collaboration in an overall effort to foster closer ties among Commonwealth Parliamentarians.
The visiting delegation was accompanied by Canadian High Commissioner to Guyana, Mr. Pierre Giroux, during the meeting at the Ministry of the Presidency.
In a brief comment after the meeting, Member of Parliament (MP) of the House of Commons in Canada, Ms. Alexandra Mendѐs said that the Canadian Branch of the CPA is interested in collaborating with Guyana, particularly as it relates to exchanging experiences and services of training.
President David Granger greets Member of Parliament of the Canadian House of Commons, Ms. Alexandra Mendѐs, at the Ministry of the Presidency.
"There are many opportunities to learn from each other and that is one of the reasons why we came," Ms. Mendѐs said.
The initiative was promulgated by former Canadian MP, Mr. Joe Preston to establish working relationships with legislatures in the Commonwealth Caribbean and foster greater collaboration among Commonwealth Parliaments, she added.
"We are following on Mr. Preston's first project… to make it little more concrete and bring it a more definite agreement between the two countries," Ms. Mendѐs said.