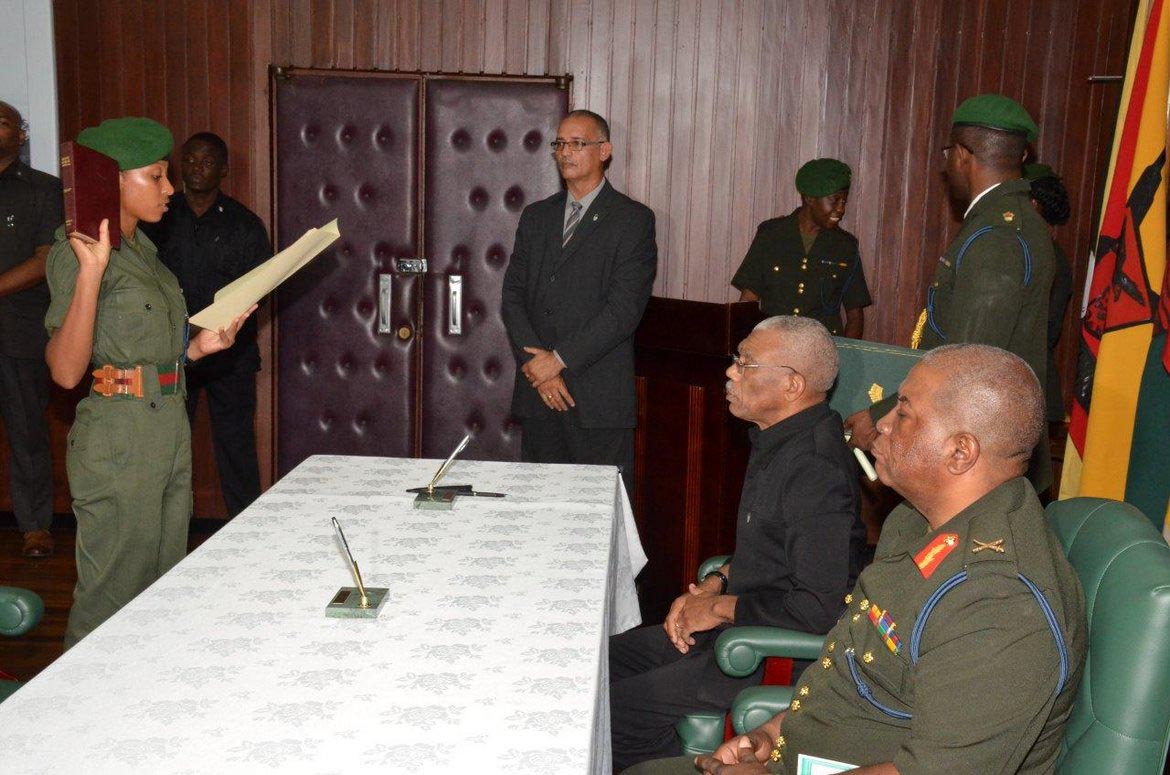 Georgetown, Guyana – (February 9, 2016) Fourteen Guyana Defence Force (GDF) officers, today, took their Oath of Allegiance and received their Instruments of Commission from Commander-in-Chief, President David Granger at a simple ceremony at the Ministry of the Presidency.
The newly-commissioned officers successfully completed the Standard Officers Course (SOC) No. 48. They are now vested with the legal authority and privileges in accordance with Article 13:01 of the Defence Act to function as officers of the Force.
In his remarks, President Granger told the officers that, "your duties entail that you have an obligation to obey the Constitution of the Cooperative Republic of Guyana, you have an obligation to comply with the Defence Act and you have an obligation to practice the values and standards of the Guyana Defence Force."
He reminded them of the oath in which they swore to bear true faith and allegiance to the country, to support and defend the State against all enemies and to perform those duties without fear or favour and without affection or ill-will. The Head of State himself took this oath 50 years ago in 1966 when he became an officer.
Second Lt. Corenna Van Lewin taking her Oath of Allegiance in the presence of President David Granger and Guyana Defence Force's Chief of Staff, Brigadier General Mark Phillips at the Ministry of the Presidency
"These are heavy words; to operate without fear or favour. Even when you come against a ferocious enemy, you should be fearless or even if you are to deal with relatives in the community where you grew up, you cannot show them special favour and times will come when you will be tested to act without fear or favour or without ill-will in the performance of you duties," the President said.
He also urged them to embody and uphold the high personal and professional standards of their new rank and challenged them to continue to develop themselves academically.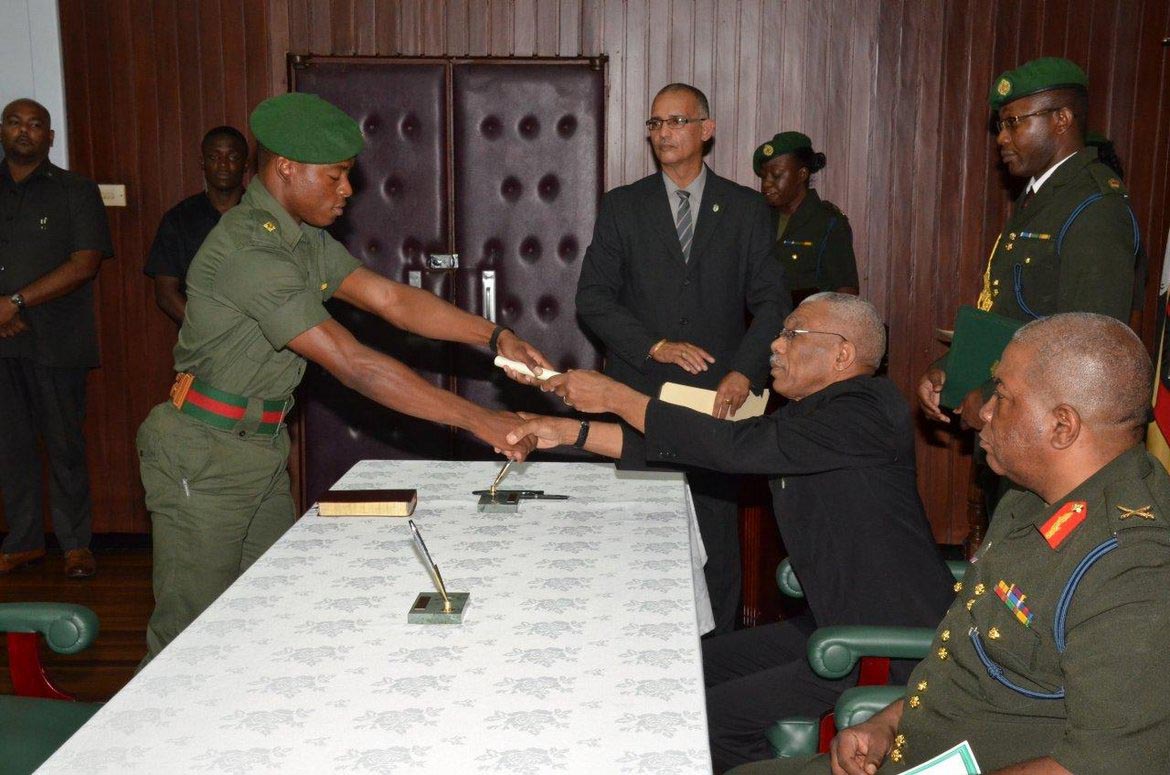 Second Lt. Garvon Douglas receiving his Instrument of Commission from President David Granger
"Your conduct will be subject to scrutiny. I, therefore, command you to be exemplary leaders of the Defence Force. I encourage you to continue to study, to be disciplined, to be dignified and to be loyal to our country," President Granger said.
Meanwhile, best student Second Lt. Cleveroy Patrick who spoke on behalf of the new officers said that the knowledge and skills gained from SOC No. 48 has served to strengthen the officer's commitment to serve Guyana.
SOC No.48 was declared open in May last year by President Granger at the Colonel Ulric Pilgrim Officer Cadet School, Base Camp Stephenson, Timehri.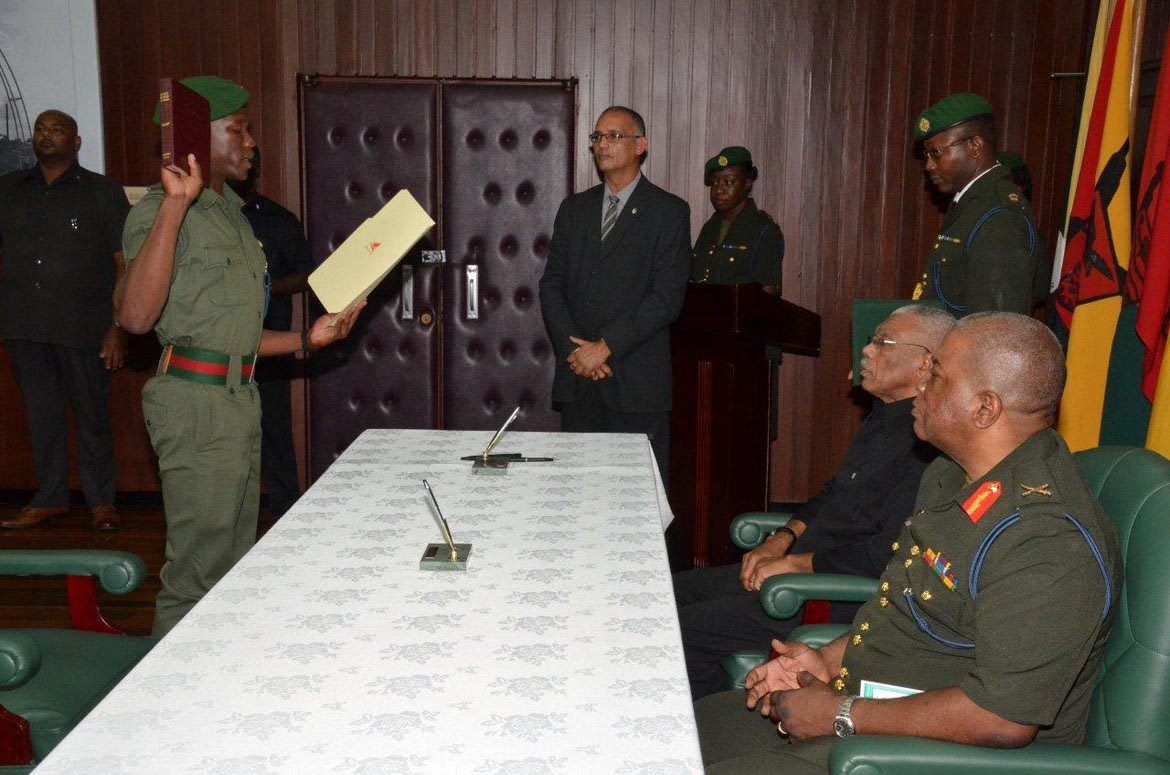 Best graduating student of Standard Officers Course No.48, Second Lt. Cleveroy Patrick reciting the Oath of Allegiance