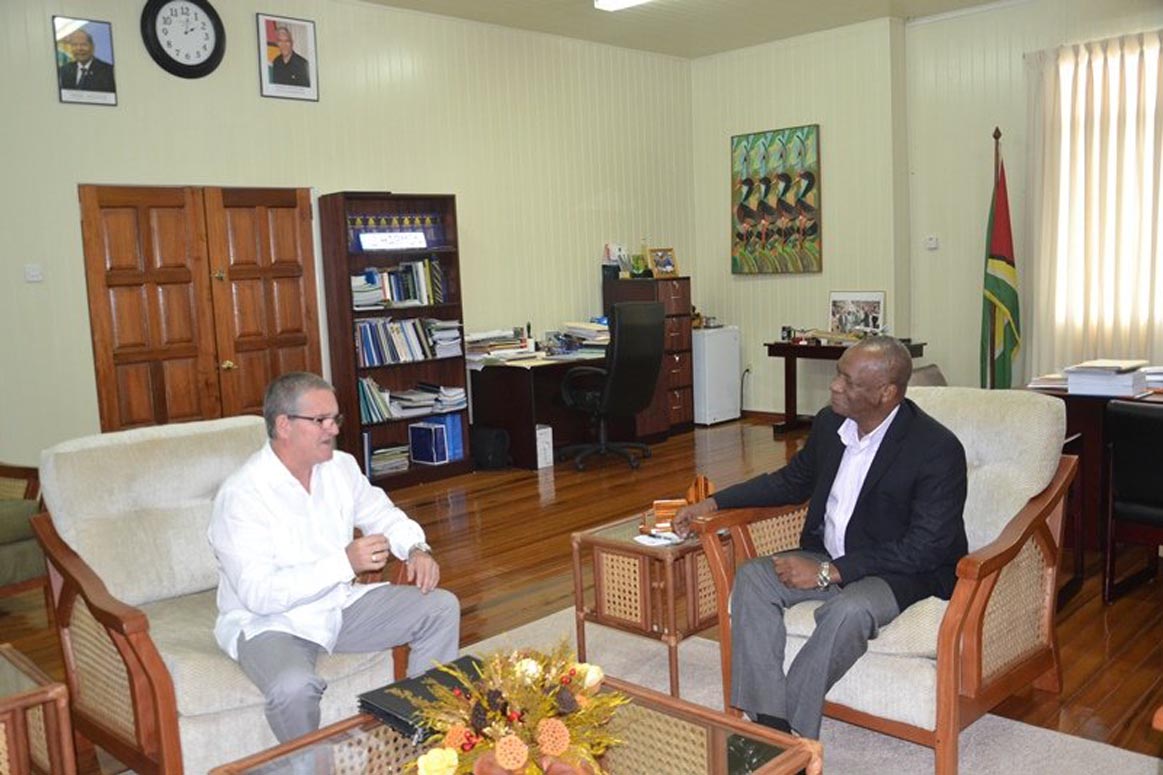 Georgetown, Guyana – (February 3, 2016) The Government of Guyana, with support and funding from the Cuban Government, will soon embark on the construction of a state-of-the-art medical services and care facility designed to meet the needs of persons with disabilities.
During a meeting at the Ministry of the Presidency today, Minister of State, Mr. Joseph Harmon, and Cuban Ambassador to Guyana, Mr. Julio Cesar Gonsalez Marchante, focused on implementing the agreement between the Cuban Government, the Ministry of Health and the Ministry of Education, which was signed under the previous administration in 2013.
"The project was started some time in 2013, but it had been stymied along the way. Yesterday, at Cabinet, the decision was made that we will proceed with this project and we will expedite it as much as we possibly can. So the Ambassador came to see me and was happy that we have taken the step of advancing it," Minister Harmon said.
He reiterated that the Government was committed to the project, which should have already been completed.
"The problem we had in the past is the venue. There were some issues with the venue, which was chosen at the West Demerara Hospital. The next venue was at the Cyril Potter College of Education, but the Ambassador visited that location and it didn't seem adequate so we are looking at another location," the Minister said.
Once completed, the 24 hour facility will boast modern facilities that will cater to the medical, educational and social needs of differently-abled persons. It will also be staffed by doctors and specialists in this field.
"Cuba is providing the technical facilities, the funds and the human resources, the doctors, the medical personnel. It is going to provide care as well as education and some level of medical facilities," he said.
The search for a new site is anticipated to take two months, thereafter, construction will commence.
Cuban envoy, Mr. Julio Cesar Gonsalez Marchante makes a point, during discussions with Minister of State, Mr. Joseph Harmon, today.