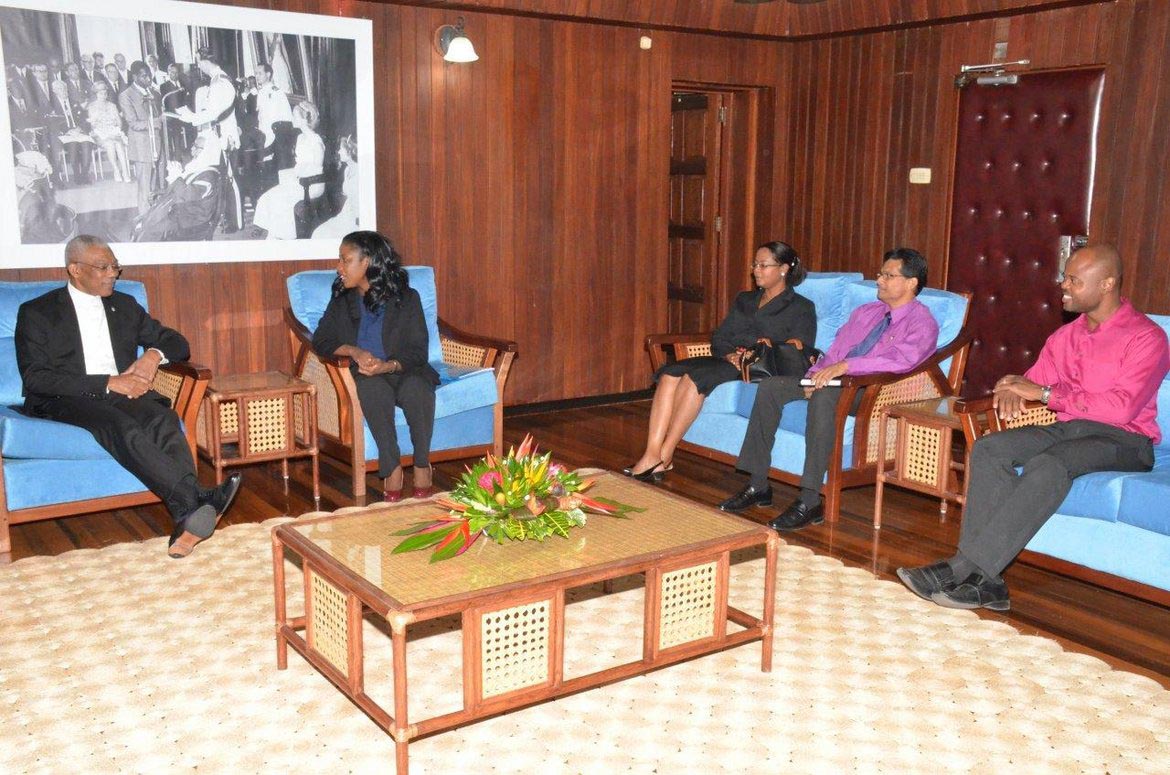 Georgetown, Guyana – (January 23, 2016) Chief Executive Officer of Volunteer Youth Corp (VYC), the implementing agency for the United States Agency for International Development's (USAID) Guyana Civil Society Leadership (GCSL) Project, Mrs. Goldie Scott, Chairperson of the National Coordinating Coalition Incorporated (NCC), a group of 12 Non-Governmental Organisations, Mr. Dmitri Nicholson and other project representatives paid a courtesy call on President David Granger at the Ministry of the Presidency, yesterday.
Nicholson, who is also the Executive Director of Youth Challenge (Guyana) Incorporated, said that the meeting with the President was a fruitful one. "We were able to understand from the President's perspective what helps our national focus and where our civil society organisations may be best situated for national types of intervention. We think also that the advice from the President [in] helping to give us focus really created an opportunity for us to meet with other stakeholders within the Government to be able to create the platform to support civil society," he said.
Even as Guyana grapples with the high rate of suicide in Guyana, Mrs. Scott noted that while the current GCSL Project is focused on capacity building in the area of tackling HIV, the NCC is interested in becoming involved with the National Suicide Prevention Plan. She added that these types of national issues cannot be targeted in isolation but must be done in partnership with the Government.
"We want to ensure that [Civil Society Organisations] CSOs in Guyana have a voice, that they are included in national decision making, that there is a strong partnership with the Government and they are seen as important actors on any national issue," Mrs. Scott said.
According to the VYC website, The GCSL project seeks to provide technical assistance to the NCC in strengthening the network for greater impact and sustainability of the national HIV response, advocate more effectively for critical issues and strengthen partnership with the Government and Private sector to promote an enabling environment for civil society actors in the national HIV response. In addition to tacking HIV, the NGOs that make up the NCC also work on other areas in health and a wide range of areas related to youth development.
Ms. Goldie Scott, CEO of the Volunteer Youth Corp making a point to President David Granger as the other members of the Guyana Civil Society Leadership Project look on.