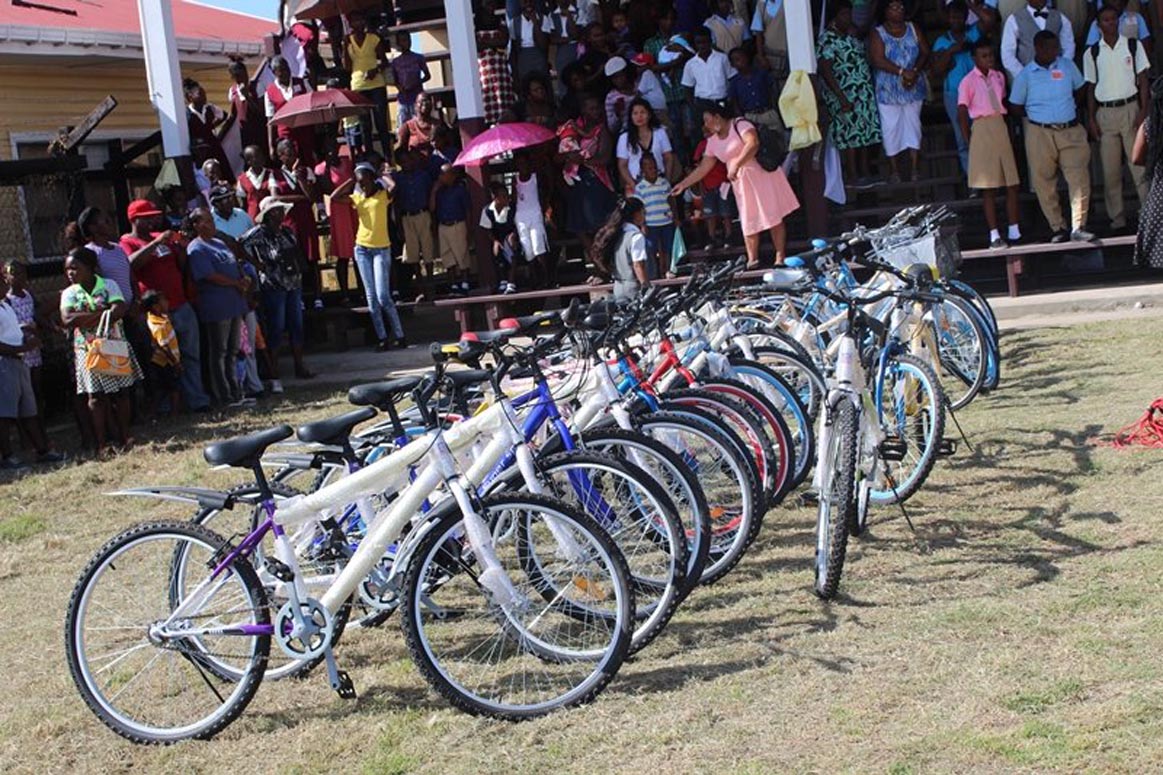 Georgetown, Guyana – (January 17, 2016) Fifty students from in East Berbice-Corentyne (Region Six), today, received bicycles under President David Granger's 'Buses, Boats and Bicycles' ('Three Bs') initiative, aimed at ensuring that all of Guyana's children are able to attend school.
The bicycles were donated to the programme by Hamshire resident, Mr. Peter Lewis, and handed over by Minister of Social Cohesion, Ms. Amna Ally and First Lady, Mrs. Sandra Granger.
Of the 50 bicycles that were handed over, 10 were handed over to students from the Scottsburg area, 20 to the students of Whim and Fyrish and 20 to those in the Glasgow Housing Scheme. Among the beneficiaries were students from the Berbice High School, New Amsterdam Multilateral School, Tutorial Academy, Vryman's Erven School and Lower Corentyne Secondary.
Some of the bicycles that were presented to students of Glasgow Housing Scheme. Students from the Berbice High School, New Amsterdam Multilateral, Tutorial Academy and Vrynan's Erven School received their bicycles from this lot.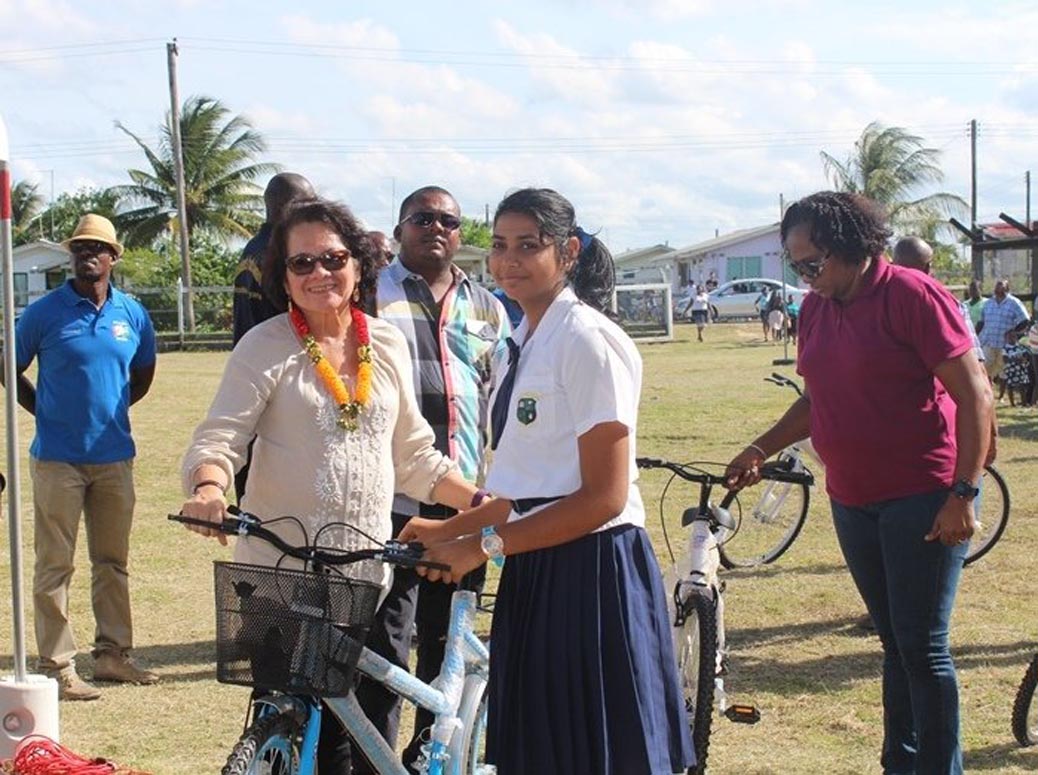 First Lady, Mrs. Sandra Granger smiles as she presents this bicycle to a student from the Glasgow Housing Scheme, Corentyne, Berbice.
Mr. Lewis said that he has always given back to his community and the Region; especially to the children, but was inspired to do more when the President announced his 'Three Bs' initiative. He noted that he too sees education as a priority for the development of the country at large and as such he thought it fitting to support the project. "I would like to encourage others out there, who are in a position to help, to come and make a donation. It is a good cause. It is for the children, who are our future leaders," he said.
The businessman used the opportunity to pledge to donate of a bus for the Region's children, in the coming months.
Minister Ally, under whose purview the 'Three Bs' programme falls, told the students that the bicycles boats and buses were acquired to help realise the President's vision for a more educated Guyana. The Minister noted that for too long too many of the nation's children have been denied a proper education because of poverty and other factors.
"A day will come when no child will be able to complain that they live too far and they are unable to go to school; that they have to walk far distances to get to their schools. We are going to be proud of this initiative," she said.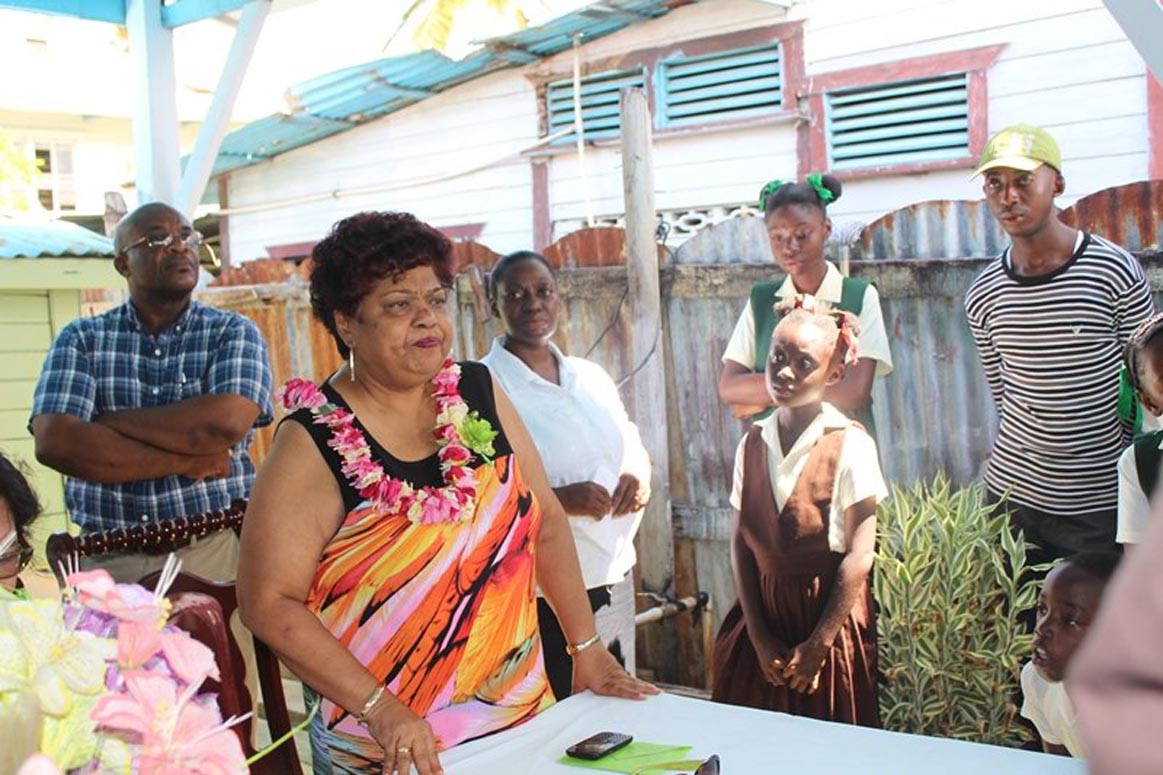 Minister of Social Cohesion, Ms. Amna Ally addressing students at Whim, earlier today.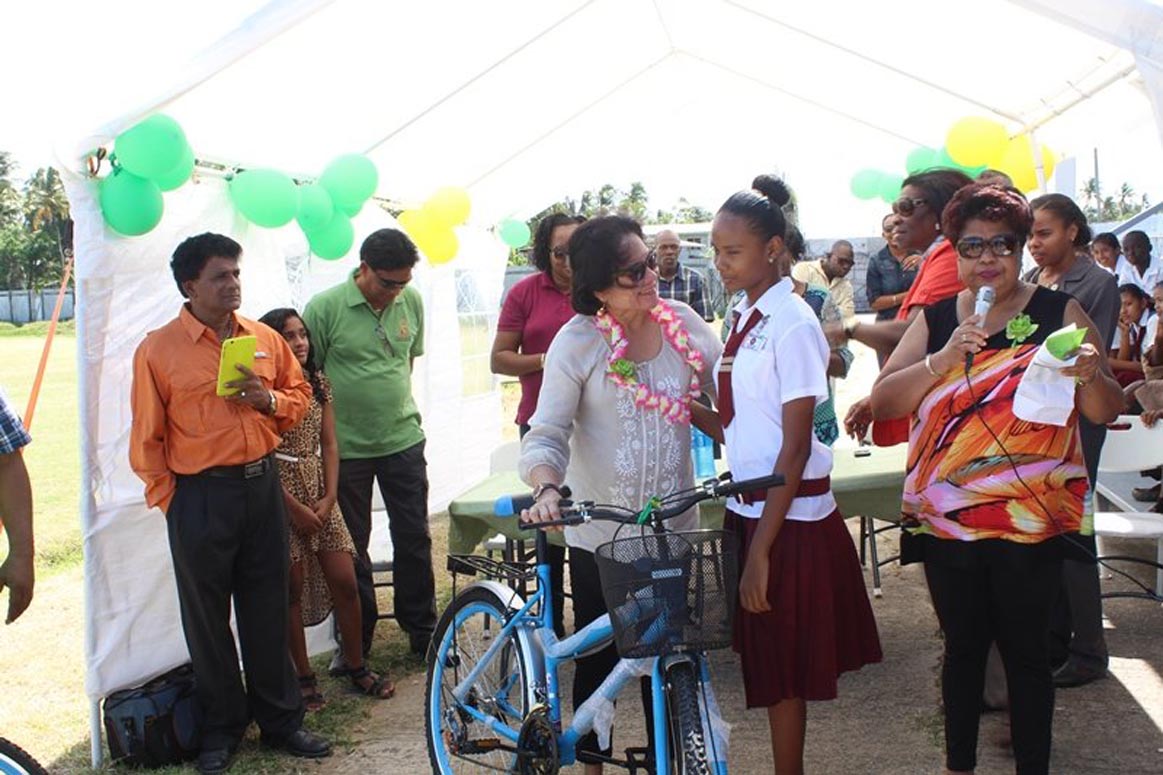 First Lady, Mrs. Sandra Granger comforts this student who burst into tears of joy upon receiving her bicycle, this morning, at the Scottsburg Community Centre Ground.
The Minister also reminded the children to be cautious on the roadways, noting that while Government is focused on providing a good life for all and equal access to education, they too have a responsibility for their personal safety and care of those bicycles, which have been given to them.
Meanwhile, in the wake of the spate of suicides recently, Minister Ally pleaded with the students not to give up despite their hardships and to be their brother's keeper at all times. She encouraged them to remember that with support from friends, teachers, neighbours and others, they can endure and overcome the most difficult of problems.
"I want to say to you there is a light at the end of the tunnel… I want to ask each of you present to make it your business to talk with your neighbours, your families, your friends, and your schools and try to impart the knowledge that now is not the time to give up…. Far too many people [are] giving up on life and we can't afford that. Our young people are valuable resources and we depend on them," she said.
In brief remarks, the First Lady charged the students to take care of the bicycles, noting that it must serve to strengthen their resolve and drive to pursue their education.
The Regional Educational Officer and the Headmistresses of the schools, identified the beneficiaries of the programme in that Regions, based on their need and the distance they have to travel to get to school. Meanwhile, Minister Ally said that her Ministry, through the Ministry of Education, will be monitoring the attendances and performances of the students, who have benefited under the 'Three Bs' initiative to ensure that it is having the desired effect.
Today's bicycle distribution exercise follows closely on the heels of a similar event, on Friday, where President David Granger commissioned two 30-seater buses in Mahaica-Berbice (Region Five). In the coming weeks, a boat is expected to be commissioned for the students of the Canje River. To date, five boats, two buses and a number of bicycles have been handed over to students in several communities across the country.
Minister within the Ministry of Public Infrastructure, Ms. Annette Ferguson, Region Six Member of Parliament, Mr. Charrandass Persaud and Region Five's Member of Parliament, Ms. Jennifer Wade also attended the presentation ceremonies.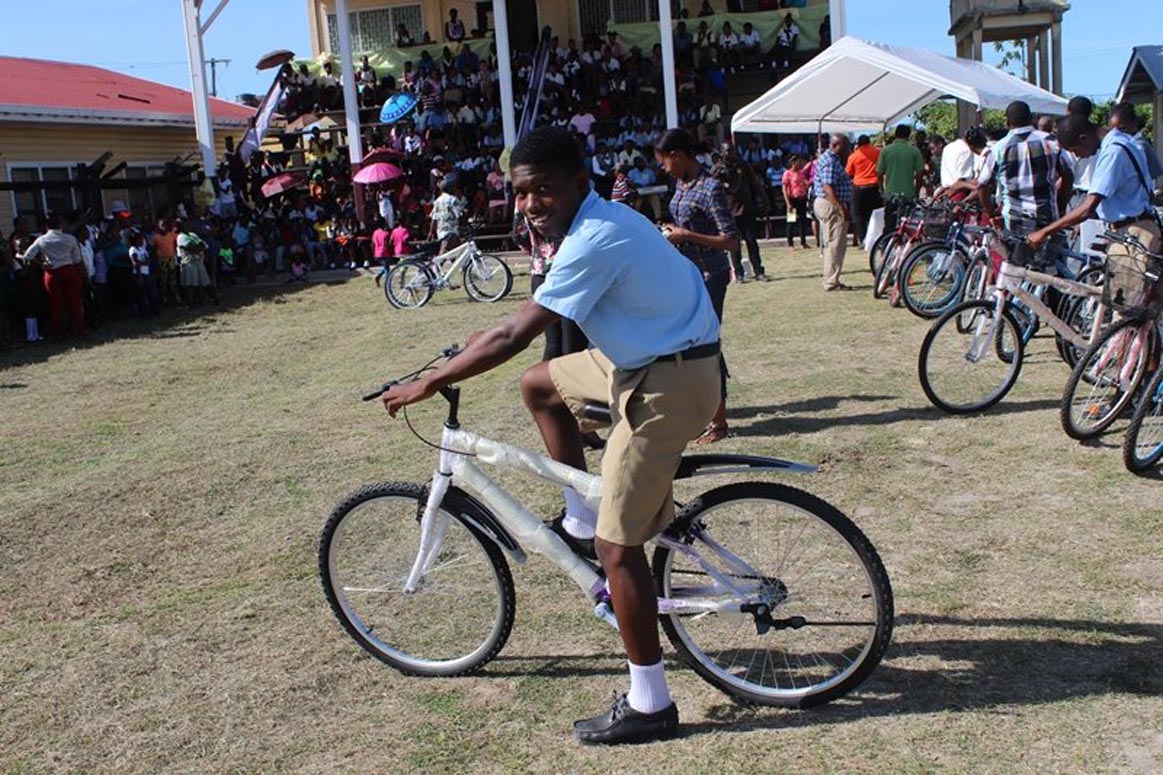 This lad from the New Amsterdam Multilateral School could not wait to take a ride on his new bike, which he received today via President's David Granger's 'Three Bs' initiative.