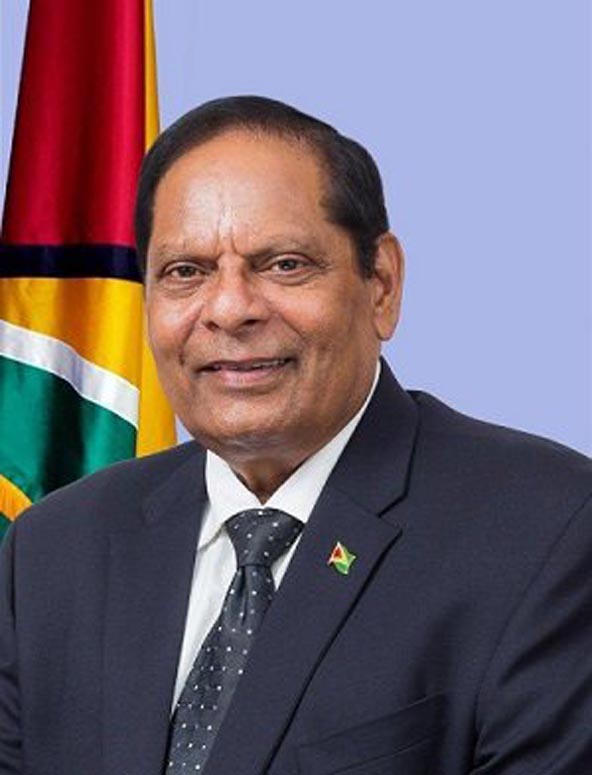 GEORGETOWN – The Office of the Prime Minister (OPM) dismisses and rejects the malicious, wicked and utterly false article relating to Cabinet portfolios as published in today's edition of the Guyana Times. OPM calls on all Guyanese to be aware of the campaign being executed by the Ramroop media group against the Coalition Government, particularly the Indo-Guyanese members and specifically Prime Minister and First Vice President, The Honourable Moses Nagamootoo.
Reeling from the abysmal failure of the PPP's widespread call to supporters in North America to picket Prime Minister Nagamootoo on his current trip to New York, the Bharrat Jagdeo-facilitated Ramroop media group has resorted to its familiar tactic of manufacturing untruths and misinformation, attempting to pass it off as credible journalism. (It must be remembered as well that the failed New York protest calls follow identical calls to picket Prime Minister Nagamootoo in Toronto last year which also fell on deaf ears.)
This is vile, reprehensible, unprofessional and against all journalistic ethics and codes. OPM calls on all Guyanese to forthrightly condemn this dastardly politically directed campaign.
OPM also calls on the Guyana Press Association (GPA) to take note of this clearly decipherable trend of abuse of media for the purposes of political attacks, spreading misinformation, falsehoods and exciting the populace.
This latest attack by Guyana Times strategically follows the recent announcement that Prime Minister Nagamootoo's portfolio has been expanded and includes:
• Leader of Government business in the National Assembly
• Public Information
• Constitutional Reform
• Governance
• Supervising/coordinating functions with ministries involved with domestic affairs
• Cabinet co-chair
Minister Raphael Trotman who previously held the Governance portfolio has formally handed over all matters relating to Governance to Prime Minister Nagamootoo. Transfer of Governance staff to OPM has also been completed.
Further, His Excellency, President Brig. David Granger, was clear and deliberate in this presentation to Parliament:
"The Ministry of the Presidency has been reconfigured to combine the offices of the President, Vice-President and Prime Minister and Ministers of State, Citizenship and Social Cohesion. This combination enhances governance and, especially through the Office of the Prime Minister, manages the government's business and legislative agenda in the National Assembly."
This statement has been deliberately and mischievously misrepresented by Guyana Times for the purposes of its abominable and odious misinformation scheme.
His Excellency, President Granger and Prime Minister Nagamootoo continue to work closely to move Guyana forward in the interest of achieving a better life for all Guyanese.
Despite persistent but failed attempts to weaken the Coalition Government the Jagdeo/Rohee Opposition is evidently on a relentless campaign to spread and perpetuate confusion and mischief while ignoring and disregarding the requirements for ethical practices in journalism.
OPM also views as timely, the recollection of pertinent facts with regard to this PPP orchestrated campaign:
1. It was the Nagamootoo-piloted No Confidence Motion that was the precursor to the loss of power by Jagdeo/Ramotar regime.
It is obvious that Prime Minister Nagamootoo's No Confidence Motion has been accepted by the PPP as critical to its demitting office and the Prime Minister is being targeted in the foulest of ways for an unrelenting assault on his character and portfolio. This media onslaught bears the hallmarks of a racist obsession with denuding the powers and influence of the Prime Minister. In recent times the politics of Opposition Leader Jagdeo has been personal and vindictive – the thrust being an attempt to demean Prime Minister Nagamootoo, purely as an act of spite and vengeance for tabling the fateful No Confidence Motion.
2. PPP Prime Minister Sam Hinds' office was housed at Wight's Lane in Kingston, in a facility that was inadequate, congested, cramped, dusty and cobwebbed and wholly unfit.
This necessitated a move to more suitable accommodation for OPM, following the historic May 11, 2015 elections. It is evident that the PPP is using its web of media influence and resources in attempting to divert attention from this embarrassing revelation with regard to how former Prime Minister Hinds was being shabbily and disrespectfully treated.
3. The official residence of the Prime Minister was in such a neglected state that repairs are still ongoing under the auspices of the National Trust as the building is a heritage site. Another source of discomfiture for the former PPP regime.
4. It was the Guyana Times which published similar falsehoods, such as the fake article about government seeking to acquire a fleet of high priced, luxury SUVs. This story, like others, was debunked and exposed as fiction by the Coalition Government.
It is now beyond doubt that the primary purpose of Guyana Times is to function purely as a PPP propaganda rag in conjunction with TVG, and other media appendages, such as the recently acquired iNews website, and other outfits owned and operated by Dr. Ranjisinghi 'Bobby' Ramroop, who, it is well known, shares a close personal relationship with Opposition Leader Jagdeo. Citizen's Report, the internet news website, and the Freedom House operated radio station also form part of this media cabal.
OPM alerts the public to this and advises citizens not to be taken in by the daily flood of opposition lies, falsehoods, mischief and untruths emanating from the Ramroop media group which is operating with an unmistakable agenda that is politically directed.
Prime Minister of the Co-operative Republic of Guyana, the Hon. Moses Nagamootoo