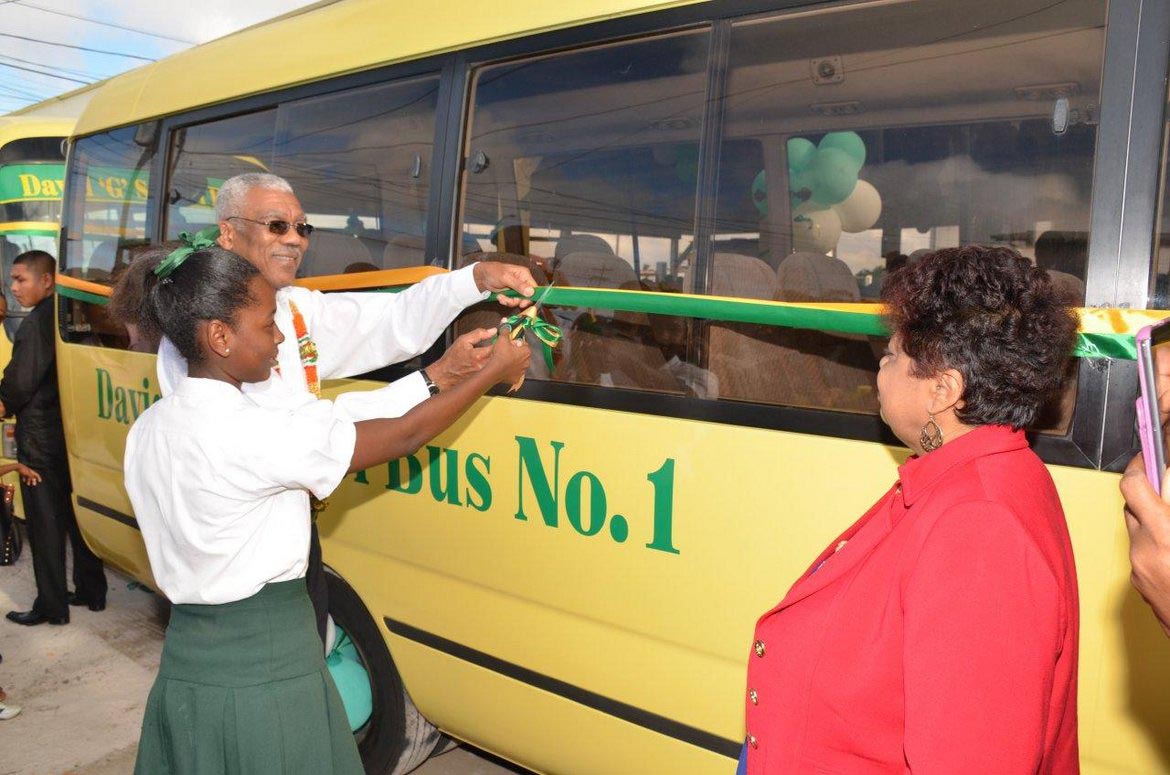 Georgetown, Guyana – (January 6, 2016) President David Granger and his Administration came in for high praise, today, when he presented the keys to two 30-seater buses for school children to the Region Five, Regional Democratic Council (RDC).
The vehicles were donated by corporate citizens to the President's "Boats, Buses and Bicycles" ('three Bs') programme which aims to lessen the financial burden of transportation on parents of school-age children.
The President was accompanied by Minister of Social Cohesion, Ms. Amna Ally, who has been instrumental in garnering support from the business community, along with several other Government Ministers. A large number of residents turned out to welcome the Head of State and his Cabinet, at the commissioning ceremony held in the RDC compound at Fort Wellington.
President David Granger and a student of the Fort Wellington Secondary School participate in the ceremonial ribbon-cutting to officially commission the vehicles, while Minister of Social Cohesion, Ms. Amna Ally looks on
A group, organised by Mr. Brian Tiwarie of BK International Incorporated, donated the buses. Some of those who were part of the group are Mr. Nazruddin Mohammed of Jumbo Jet Trucking Service and Auto Sales, Mr. Eaton Chester, Managing Director of Citizens Bank, Mr. Eddie Boyer from National Hardware, and Canada–based Guyanese Mr. Art Ricknauth and Gordon Winter, who organised a fund raiser.
When he was on the campaign trail five years ago, President Granger said that he met a school child at Trafalgar, West Coast Berbice, who told him that her parents have to spend $5,000 per week in transportation costs alone, so that she could attend the Berbice High School in New Amsterdam. He noted that this situation obtained in many other communities across Guyana. As such, one of the first interventions he made after assuming office in May 2015 was to launch the 'three Bs' initiative.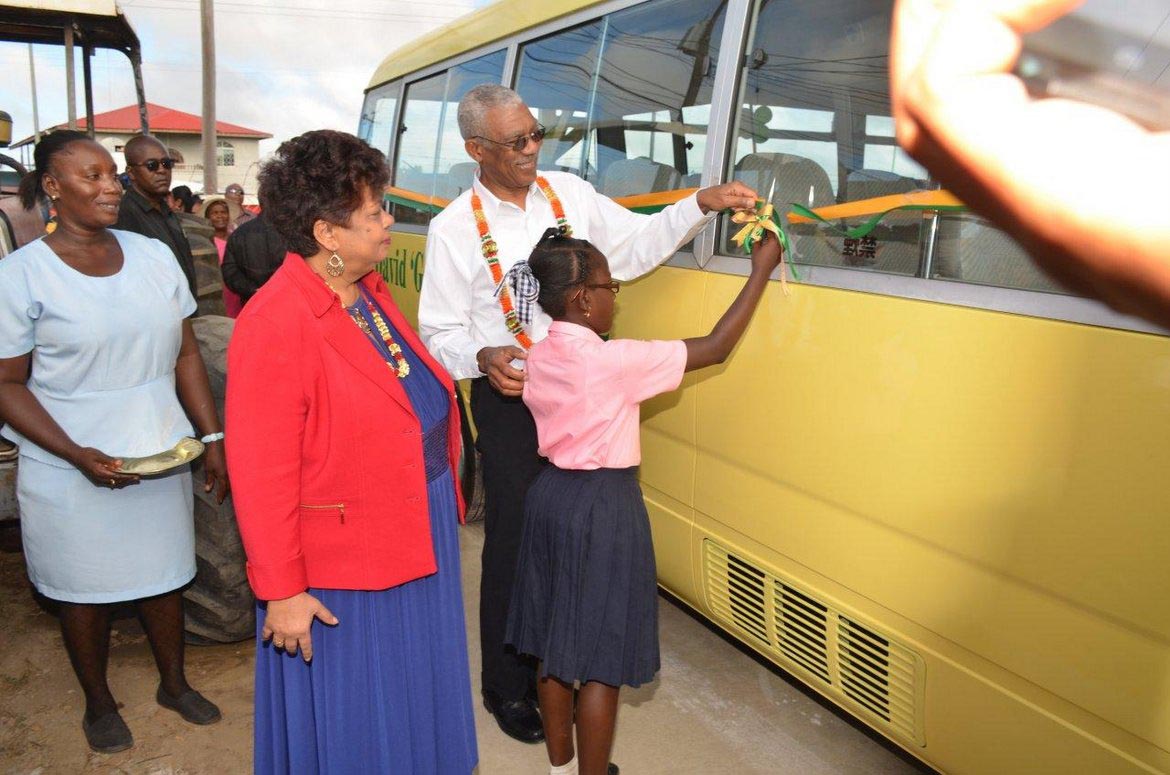 President David Granger and Minister Amna Ally commissioning bus number two with the help with a primary school student from Region 5.
"We cannot accept a situation [where] every single month 400 children are dropping out [of]school…many of them drop out because their parents cannot afford to keep them in school, they cannot afford the transportation[costs]," President Granger said.
Emphasising the importance of education in eradicating poverty, the President said that once all of Guyana's children are given equal opportunities to access education, the country will develop rapidly because education and economic prosperity are intrinsically linked. He noted that children who did not have access to basic education are more likely to be unemployed and fall prey to negative activities.
"We are an Administration that is not daunted by problems. We solve problems and one of the problems of youth unemployment is the problem of enterprise," the President said.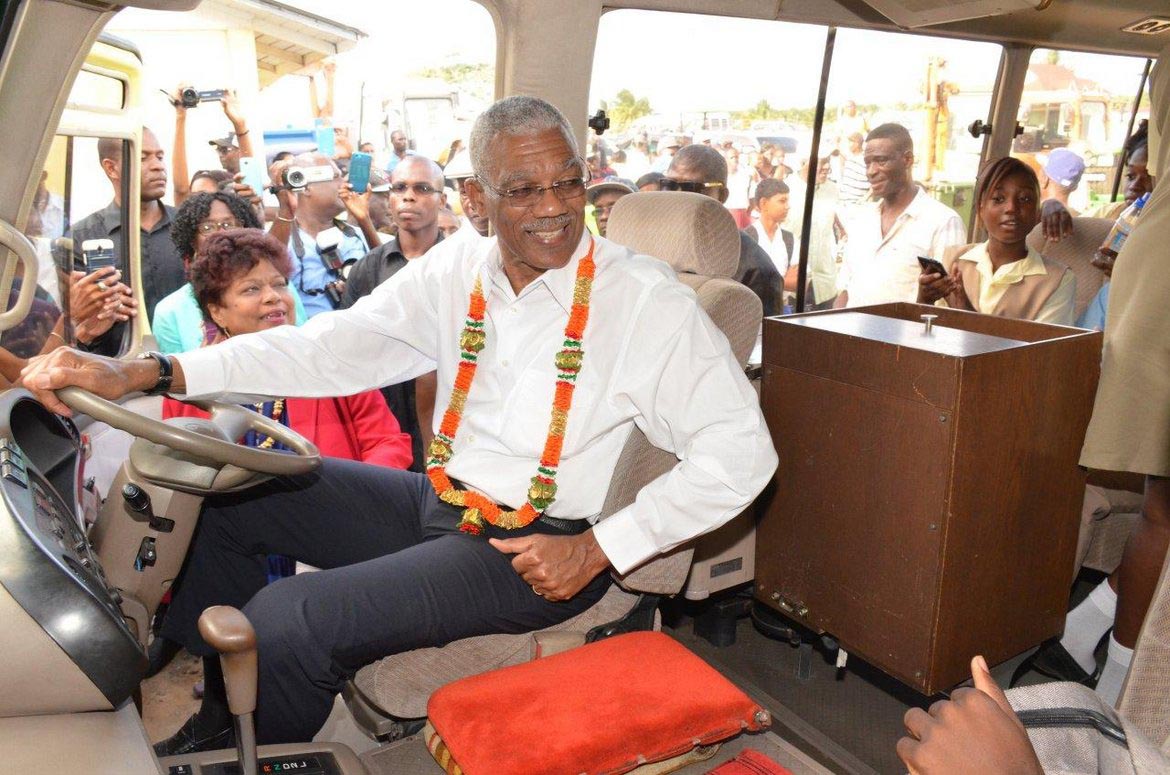 President David Granger takes the wheel of one of the newly commissioned buses
According to the President, many young people are only looking at gold mining, the Guyana Police Force and the army for jobs; however, he pointed out that Region Five is one of the most bountiful regions in Guyana with the potential to become an economic powerhouse.
"Region Five produces sugar, rice, cattle, coconut and everything else that the Eastern Caribbean wants… but you have to unlock your talents and you have to get involved in agro-processing; produce something, make something, sell something… you can get rich out of what Region Five produces and we will help you to help yourselves," the Head of State said.
He also said that the school buses, "will link communities to education and education will link to employment and employment will link to enterprise….we are going to set up schemes to enable you to get the micro-financing to get involved in agro-processing."
Meanwhile, Minister Ally, in her remarks, said while they are only handing over two buses today, there is much more to come in the future under the 'three Bs' project. The Minister also reiterated the Administration's vision of a united Guyana where there is no discrimination on the basis of race or religion. "Only peace, togetherness, love and unity will improve your lives; whether you are black, blue, white or green, the David Granger Administration has a place for you," Minister Ally said.
To date, President Granger has handed over six boats and hundreds of bicycles to communities under the 'three Bs' programme. Additionally, before the end of the month, another boat will be commissioned at Moraikobai, Region Five.