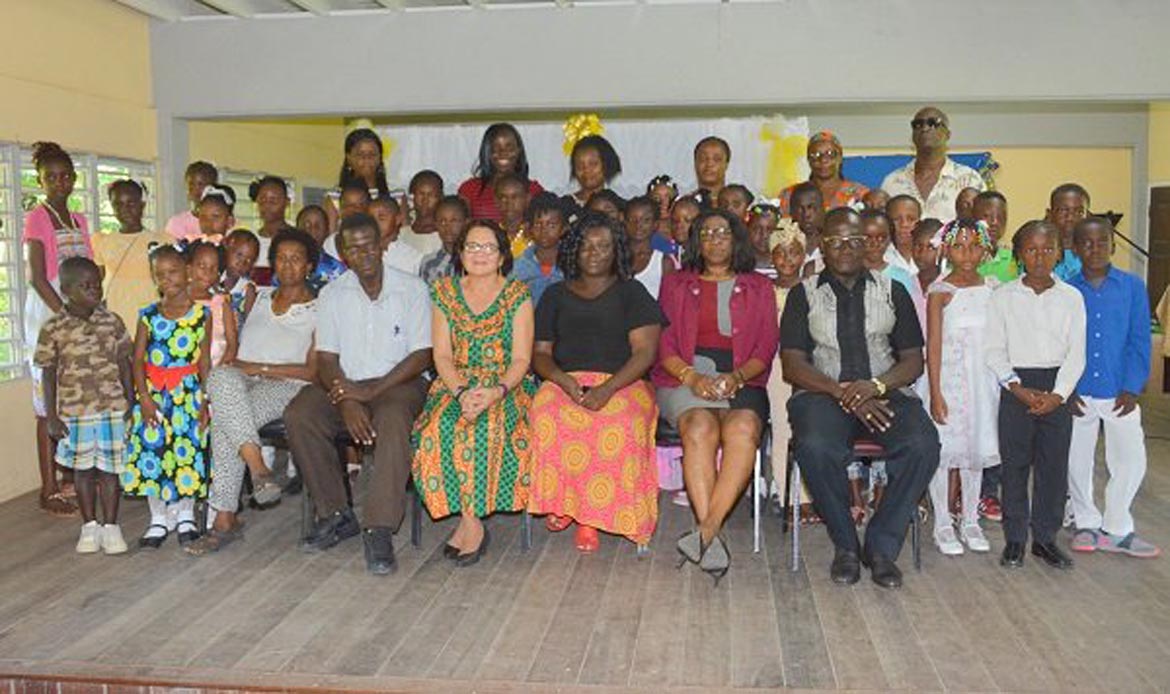 Georgetown, Guyana – (January 13, 2016) Thirty students of Region One (Barima-Waini) received bicycles, while more than 500 received shoes and other school gear, today, under President David Granger's 'Boats, Buses and Bicycles' ('three Bs') initiative aimed at ensuring that all Guyana's children are able to attend school.
Minister of Social Cohesion, Ms. Amna Ally and First Lady, Mrs. Sandra Granger presented the bicycles to students of the North West Secondary School, at a simple ceremony held this morning at the North West Secondary School. The bicycles were donated by a citizen from Essequibo.
Meanwhile, students from the Mabaruma Primary, Hosororo Primary, Koberimo Annex, Barabina Primary Schools along with children in the surrounding areas of Wainaina, Coomacka and Mabaruma Settlement, received shoes, books and clothing to equip them with the necessary kit they need for school.
The First Lady smiles, as Minister Ally hugs a Hosororo Primary School student who displays her new shoes.
Minister Ally hands over the brush-cutter to a representative of the Wainaina Village, Region One.
Additionally, in fulfilling a promise, which was made to the residents of Wainaina late last year, Minister Ally handed over a brush-cutter to the residents to assist them in ensuring that their surroundings are well kept.
The 'Boats, Buses and Bicycles' initiative started back in July 2015 when President David Granger celebrated his 70th birthday and made a call for support for the initiative that aims to ensure that transportation is provided so that children can get to school safely and comfortably. Since then, there has been a tremendous national response, with private citizens and businesses donating buses, boats and engines and bicycles to the programme.
Minister Ally, within whose purview the programme falls, told the students that the donations are being made in keeping with realising the President's vision to ensure that the nation's children can access a sound education.
"His Excellency is a very passionate President when it comes to education and he wants to see every child in school. He wants to see every child gaining equal access to education and he wants to ensure that the inequalities that exist are reduced. With the many rivers in this region, there is no doubt this region will also be beneficiary of boats," she said at the North West Secondary School.
According to the Minister, the Government understands that there are children in every region with urgent needs and this initiative is one of a number of steps being taken to remedy inequalities. It is a start, she noted, and the Government remains optimistic that the programme will eventually grow to accommodate every child, who is in need.
"We are going to do everything that is possible to see every one of our children have access to education. People want to see this country grow and so they are supporting the President's initiative," she said.
First Lady, Mrs. Sandra Granger, in brief comments, charged the students to take care of the bicycles, noting that it must serve to strengthen their resolve and drive to pursue their education.
"This is to ensure that children get to school, that you don't get to school tired, that you can access an education because Guyana needs educated, enlightened persons to take it forward. We are hoping that you can see and dream and do so in our country to drive us forward," Mrs. Granger said.
Meanwhile, Regional Chairman, Mr. Brentnol Ashley, in his remarks, thanked the Government on behalf of the region, noting that education is indeed the key to development and that the gesture will help to ensure that the students can perform to the best of their abilities.
"The RDC is grateful for this venture of sharing bicycles and shoes. The RDC remains committed to its priority of education, to ensuring that every child, in every corner, is given the opportunity of gaining quality education. We will remain committed to any activity which can ensure that the children of Region One are given a quality education," he said.
Meanwhile, the shoes, which were donated under the 'Rethink Initiative – Kind Soles Project' started by Mr. Ernie Ross, Guyana's Honorary Consul in Trinidad and Tobago, in support of the President's efforts to ensure that all children are able to attend school, were given to more than 500 students, many of whom had been going to school bare feet or wearing slippers.
This is the second collection of shoes that has been distributed, from an expected total of 30,000 pairs that will be given to students in need in the hinterland regions of Guyana, over the coming months.
The shoes, referred to as "the shoes that grow" are specially designed to ensure that it can still fit the children as they age, since it is expandable. The shoes are estimated to be able to fit each child for a period of about four to five years.
To date, five boats, a number of bicycles and hundreds of pairs of shoes have been handed over to school children in several communities across the country. The President is also expected to commission a number of buses this month.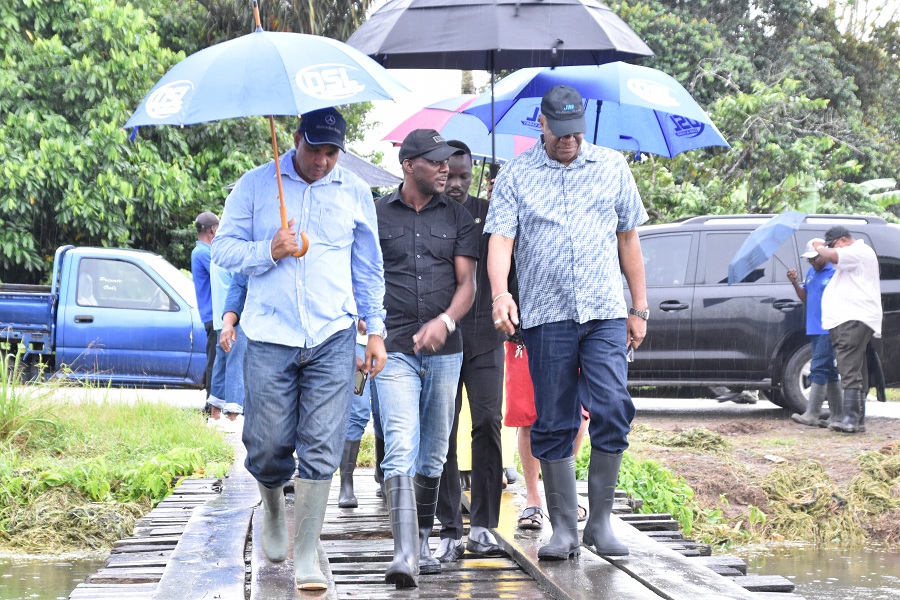 This shy First Former of the North West Secondary School holds on to her brand new, pink bicycle as First Lady, Mrs. Sandra Granger, places a comforting hand on her shoulder.