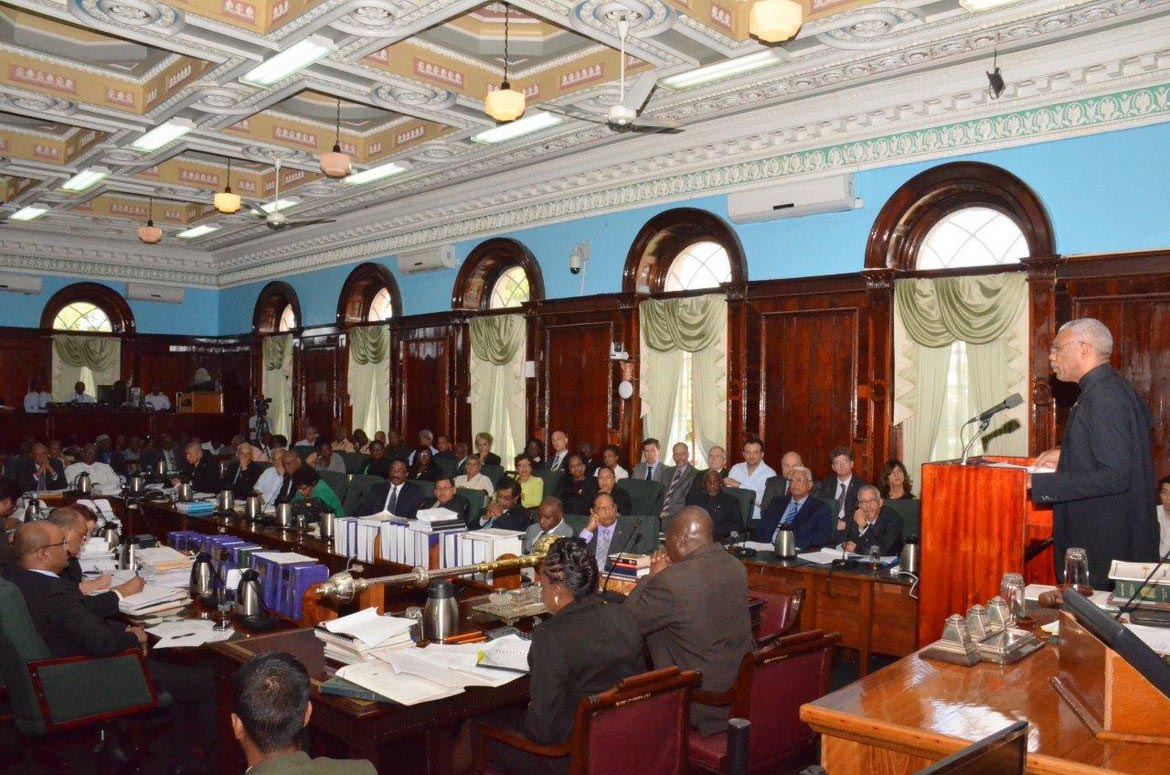 Georgetown, Guyana – (January 14, 2016) President David Granger said 2016 presents a new opportunity for Guyana to "hasten economic development" by diversifying the traditional sectors and venturing into more value-added enterprises that will promote sustained economic growth, in keeping with Government's vision to provide a good life for all Guyanese.
"It is time for a fresh start – a new beginning. It is time to redouble our efforts to eradicate poverty. Our government is committed to promoting sustained economic growth with enhanced distributive justice so that inequalities are reduced and opportunities are increased," the President said, in his fourth address to the Eleventh Parliament, since he took Office in May 2015.
The public gallery at Parliament Building was packed to capacity as the Joint Services heads, members of the diplomatic corps, heads of governmental organisations and members of civil society turned up to listen to the Head of State outline his Administration's vision for the next 11 months and beyond.
President David Granger addressing Parliament, today during his third appearance in the House since taking office.
The Head of State used the opportunity to call for an end to the divisive, winner-takes-all political culture and for it to be replaced with one that exemplifies inclusionary, participatory, multi-party democracy. He added that his Administration, "aspires to strengthen national unity, expand national infrastructure, fortify national institutions, ensure national security and extend public services. We shall continue to work to regain public trust by improving and extending education, health, sanitation, water supply, electricity services and, affordable housing to the people."
50th Independence Anniversary
Even as the country celebrates its 50th Independence Anniversary this year, which has been designated the "Year of Renaissance", efforts must be devoted to the rebirth and the renewal of the promise of economic independence and resilience.
"We became independent and made a covenant among ourselves that we would, in a free state, aspire to enjoy a better life than we had to endure in a colony. We toiled to repair a country that had been damaged by disunity and division. We strove to create a community of comity and unity. We sought to satisfy the needs of our people by expanding public education, health, communications and transportation services," President Granger said.
He reminded Parliament that Independence did not come cheaply or easily and, as such, Guyanese need to look to the future as one people in order to create a better country for future generations, rather than dwelling on the pain of the past.
"Independent statehood vested us with the responsibility of being guardians of our territory, custodians of our national patrimony and masters of our own destiny. Our new status imposed an obligation to improve our citizens' access to public services. Independence promised expanded opportunities and enhanced security. It engendered hopes of a 'good life' for all," he said.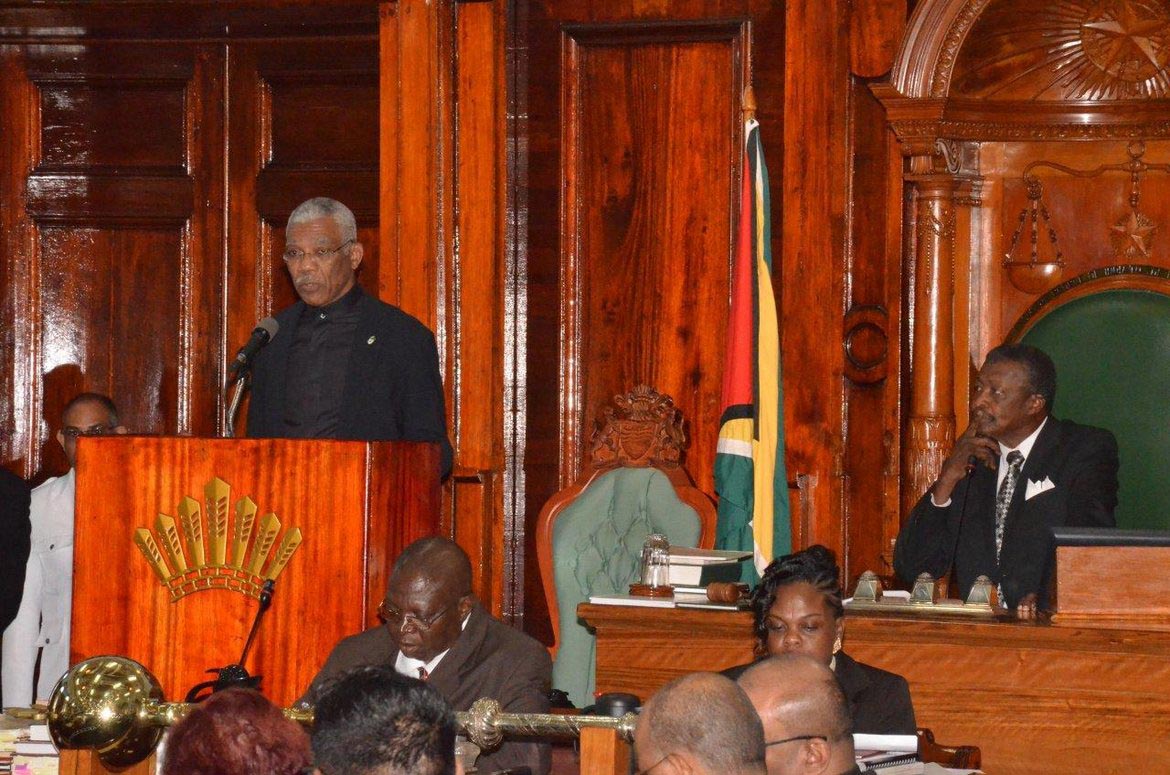 President David Granger, during his address to the Eleventh Parliament, this afternoon.
A resilient economy and a good life
According to the President, Guyana can no longer depend solely on the traditional sectors of rice, sugar, bauxite, gold, diamond and timber. Excessive dependence on these sectors resulted in the country being exposed to the volatility of global commodity prices. He added that the necessary reforms need to be implemented in order to build an economy that is more adaptive to changes and responsive to the challenges of the global economy. The President also spoke of the importance of economic diversification and venturing out more into the area of value-added enterprises; while at the same time, focusing on the services sector and on building a strong tourism and hospitality industry.
In keeping with this, the Government has reconfigured its Cabinet to give leadership to the renewed national effort to rebuild the economy. The reconfiguration combines the Offices of the President and Prime Minister and the Ministries of State and Social Cohesion to strengthen the governance structure. The President appealed to the Legislature for partnership and support in the common pursuit of economic independence.
"We can, together, continue to seek investment for the sustainable development of our natural resources. We can, together, ensure that the benefits of the exploitation of these resources redound to enhancing the quality of life of all Guyanese," he said.
Delivery of enhanced public services
Reiterating his call for a well-trained and 'unbribable' public service, President Granger said that his Government will continue to work to ensure that there is equal access to basic public services throughout the length and breadth of Guyana. He emphasised that these services are an essential and indispensable function of Government and as such reforms will continue to be implemented to ensure its efficiency and integrity.
"Public services build public trust through common access, fairness, timeliness and usefulness. Public services play a vital role in creating an enabling environment for businesses and the efficient functioning of markets. The quality of public services determines citizens' quality of life," he said.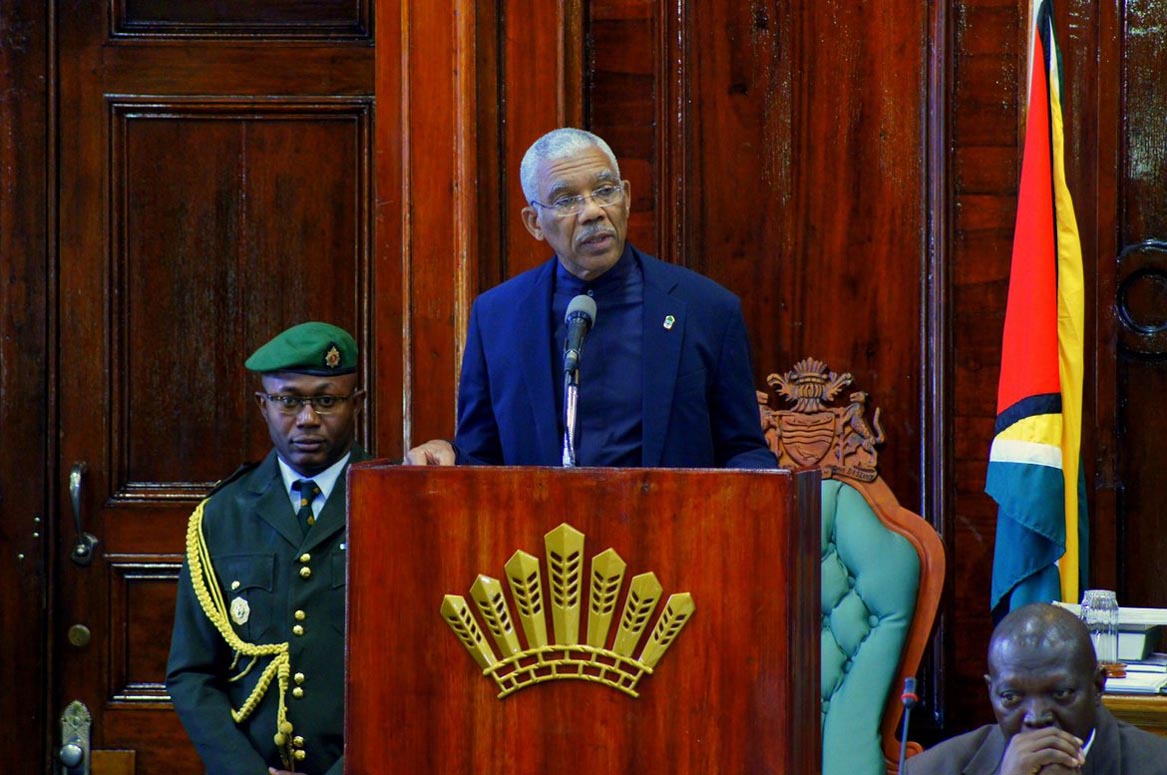 New portal of development
The Head of State also spoke of Government's commitment to a digital economy as a new portal of development. The Ministry of Public Telecommunications was established at the end of last year to facilitate this process.
"Data and information and communications technologies, increasingly, will become [the] drivers of economic growth. They will allow us to develop new products and services, improve competitiveness and transform the business, health and education sectors. We will ensure that more teachers, more students and more schools go online over the next decade," President Granger said.
Green economy
Climate resilience is another important area the President touched on, as Guyana, a small, low-lying, developing state, can ill-afford to ignore the consequences of climate change. He noted that the rise in sea level and extreme weather phenomenon, all associated with climate change, will present formidable challenges to the nation.
"Our country's goal is to achieve a 'green economy' – one characterised by greater use and dispersion, throughout Guyana, of renewable sources of energy such as wind, solar and hydro power. Our infrastructure is incapable of coping with the consequences of flooding, drought and damage to our sea defences. We will, over the course of the next decade, be implementing a national climate resilience and adaptation strategy that includes disaster risk reduction measures," the President said.
Security
With regard to security, the Head of State said that this year the Government plans to establish an environment of enhanced human safety and public security by implementing policies to counter the threats of national and transnational crimes, violence and disorder. Additionally, the government will continue to focus on improving investigative and detective capabilities, and regaining the people's confidence in the Guyana Police Force.
"We shall equip the enforcement arms of the State with the resources to enable them to serve our citizens and safeguard our Independence," he said.
The President called on the members of Parliament to lead by example as elected representatives of the people.
"The people of Guyana look to us for leadership. We must open avenues of co-operation and agreement so that we can join hands and hearts for the common good. We invite this honourable House to combine its talents to realise the aspirations and ideals to which we committed 50 years ago," the President said.